Health & Beauty | May 2008
Challenge to be Open-Minded

JOY! - PVNN
Without an open-minded mind, you can never be a great success.
- Martha Stewart
Wesak is over; the spiritual New Year has begun. The jungle provided me with some memorable lessons last Monday.


When you walk with an open mind and an open heart through natural settings, looking for signs, open to guidance, many wonderful things can be revealed to you.


In the middle of explaining that nature spirits usually look more like beings from Tolkien's Middle Earth than Tinkerbell, a tiny boot straight out of a fancy fairy cobbler shop, filled with an explosion of soft white fluff, literally fell out of the sky and into my hand. I caught it in midair unable to believe my eyes. "Apparently one can't disregard Disney fairies either!" I grinned, appropriately chastened.


Not all of my lessons were soft and cute.


I had prayed to live more consciously, then, ravenous from our walk, had unconsciously stuffed my face, forgetting I had three teeth removed on Friday leaving my lower left jaw raw and vulnerable... I now had food lodged under my bridge pressing against an infected tooth, the gum was swelling rapidly.


I got into the hot spring and held my mouth open under the sulfur scented stream of water pouring out of the ground. Pain engulfed me.


I removed the label 'pain' and replaced it with 'extreme sensation,' it's amazing how much that simple exercise helps. I focused myself into using the sensation to imagine drawing every toxin that had been channeled into my body through my root canals, back out to be washed away. Finally the force of the water pushed the food particle back out and the sensation subsided to more bearable levels.


I stood on the edge of the pool looking out into jungle praying for more help with my mouth when a jewel green hummingbird no bigger than my finger landed on a vine just a couple of feet from my face. He stared at me quite unafraid, so close I could have reached out and touched him. I stared back, so caught up in this magical encounter that in that moment I did indeed forget about my mouth.


I managed a laugh when he flew away and I felt the pain again. It's all about focus, if pain at this level can cease to exist in the presence of a hummingbird, then it doesn't have to exist at all, it certainly doesn't have to return when he flies away.


Unfortunately, I am still mastering that degree of focus, but I'm beyond grateful for the pain management skills that let me enjoy the rest of the day.


Your challenge this week is to go into nature and open yourself to receive guidance or perhaps a gift. David is still out at the springs doing mud massage until the rains come, consider heading in that direction while you still can.


If you need help with living the life of your dreams you can contact me at 044-322-129-1128 or joy(at)experiencejoy.com. I specialize in life transformation, and guarantee immediate positive results with all of my work. See ExperienceJoy.com for details.

Click HERE for more Challenge Corner
---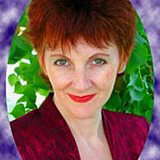 JOY! Is an internationally acclaimed life transformation coach, famous for her unreasonable success in helping people move through their challenges with her unorthodox approach and emPOWERment tools. For more information, visit her website ExperienceJoy.com or call 044-322-129-1128.
Click HERE for more articles by JOY!
Tell a Friend
•
Site Map
•
Print this Page
•
Email Us
•
Top