Editorials | Issues | May 2009
Year of Ups and Downs for Brenda Martin

Canadian Press
go to original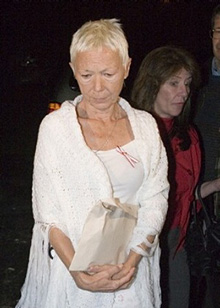 Brenda Martin arrives at her mother's home in Trenton, Ontario Friday May 9, 2008. Martin's friend Deborah Tileman is shown at right. (Canadian Press/Fred Chartrand)
It's been a year of ups and downs for Brenda Martin since regaining her freedom after languishing in a Mexican prison, and the woman whose plight captured national headlines says she hopes Canadians are now more sympathetic and share her distrust of Mexico's justice system.


The 52-year-old, who celebrates the one-year anniversary of her release from prison this Saturday, is living in small-town Trenton, Ont., a couple hours east of Toronto.


She's struggled to find work after a brief stint in telemarketing, and has mostly been a homebody, eager to stay out of the spotlight and avoid talking about her past.


"I'm actively searching for employment but I find that because a lot of things have been written about me, I find the doors closed quite a bit," she said in a telephone interview. "Nobody says it, but I feel it."


Her incarceration in Mexico still haunts her - all two years, two months and 22 days of it, she's quick to note - but she's slowly adapting back to life in Canada.


"The last year has been a year of trying to give myself some credit for dealing with the situation, making sure that I'm as healthy as I can be and looking after myself," Martin said.


"It's had its ups and downs."


She was first arrested and put in a Guadalajara jail on Feb. 17, 2006, on charges that included money laundering and being part of a criminal conspiracy.


Years earlier she had worked as a chef for Alyn Waage, who would later be fingered as the mastermind of an international pyramid scheme that bilked 15,000 investors of nearly US$60 million.


She worked for Waage in Puerto Vallarta for less than a year and was paid around $24,000 in severance, which she partially invested in a company he operated.


Martin said she assumed his enterprise was legit but the investment got her entangled into his legal mess, even though he swore an affidavit claiming Martin knew nothing of the scheme. Waage was sentenced in 2005 to 10 years in a U.S. federal prison.


Martin maintained her innocence - and still does to this day - and waited for her day in court.


Weeks stretched into months and she spent about a year behind bars before the media picked up on her story and pressure was put on Ottawa to respond.


Her tearful pleas for release topped newscasts and made front pages for months, but she found her body and mind deteriorating. She was eventually put on suicide watch and vowed to kill herself if convicted.


Although Prime Minister Stephen Harper called his Mexican counterpart to discuss the case, he and his government said throughout her ordeal that it was a "very complicated" legal matter and that they had to respect Mexico's sovereignty.


In April 2008, a Mexican court found Martin guilty and sentenced her to five years in jail and ordered her to pay a fine.


On May 9, just days after being transferred to a women's prison in Kitchener, Ont., Martin was granted full parole and immediately went to her mother's house in Trenton.


She still hasn't forgiven Canadian officials.


"The Canadian government stands back and allows it because of the sovereign nation argument - I just can't understand that," she said. "I think the Canadian government shouldn't be able to stand back or shy away from doing something."


Martin hopes her hellish experience serves as a lesson to Canadians about what she calls the dangers of visiting Mexico, particularly considering the other troubling incidents in recent years involving Canadian tourists.


In 2006, Dominic and Nancy Ianiero of Woodbridge, Ont., were found murdered at a five-star resort near Playa del Carmen. The case remains unsolved and two women from Thunder Bay, Ont., were dragged into the investigation and named as murder suspects by Mexican authorities.


In January 2007, 19-year-old Adam DePrisco was killed outside an Acapulco nightclub. A Mexican doctor blamed the teen's death on a hit-and-run driver, but his family and friends believe he was beaten to death.


In May 2007, Jeff Toews, 34, of Grande Prairie, Alta., was found severely injured on the grounds of a Cancun resort and later died. His family accused officials of covering up a brutal beating, while prosecutors claimed the man fell off a balcony.


And a B.C. family is still pleading with the federal government to help Pavel Kulisek, who was arrested in March 2008 on charges of promoting drug trafficking and organized crime. His family says the father of two young girls was wrongly taken in when an acquaintance, who was an accused drug kingpin, was arrested.


"It should become evident to Canadians by now that there's a bad thing going on in Mexico," Martin said.


"The government in Mexico assumes you are guilty, simple as that, and you stay in prison until either your country gets you out of there or you're proven innocent - which in most cases doesn't happen."


Martin is happy to be back at home but things could be better. She's dealing with some health issues and continues to see a psychiatrist.


Although the community has been welcoming, she still gets some awkward looks from strangers and questions about her past that she'd rather not answer.


"It's been a struggle. I'm slowly getting there, I'm trying to take little steps all the time," she said.


"I'm very happy to be free, let's put it that way."
Tell a Friend
•
Site Map
•
Print this Page
•
Email Us
•
Top