Entertainment | Restaurants & Dining | October 2009
The Art of Dining & Living Well: The Art of Creative Parking is in Danger

Liana Turner - PVNN
October 27, 2009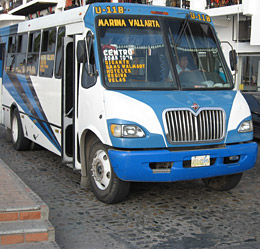 If the officers succeed, our way of traveling through our city could become orderly and boring. Well, at least we'll still have taxis and buses.
Jalisco is the birthplace of many fine artists and art forms, such as Mariachi, those colorful and gifted strolling musicians with the Charro pants and big hats. The great Carlos Santana was born in Jalisco, as was super-famous Vicente Fernandez. The renowned artist and muralist, Jose Clemente Orozco, was also born here. Tequila is made in Jalisco. In fact, if it isn't made here, it is not really Tequila at all.


One of our most refined and widely practiced art forms is in danger now. There are some very determined uniformed people on foot and in cars and trucks, and their aim is to stop the practice entirely. What I'm talking about here is the art of "creative parking", also known as "just stop anywhere anytime".


It has been practiced here for decades, but lately, with the tour buses and their reserved spaces, and the stationary vendors being put onto the streets in the Olas Altas area, taking up several more spaces, well, the art has flourished in recent years.


Even the construction of new parking garages hasn't seemed to stop these strong-willed people. Their motto... "If you can't find a parking spot, make one", has become the motto of just about everyone in town. And not only locals are accomplished. All kinds of visitors from out of town and other countries have learned the art from example, and are becoming quite proficient in their own right.


The limits of creativity of parking artists are boundless and borderless. If there are two cars parallel parked together, but not far enough apart to park in the same orientation, then they just go diagonal in between the two. Brilliant! I never would have thought of it.


There is also the occasional person who will park in the street even though there is a vacant spot nearby, sometimes even blocking that spot in the process. This must be the artist's way of saying to the world, "I am just a little more important than anyone else here, and I don't have time for frivolities like the rest of you". Or maybe they are saying, "Sorry, but I don't know how to park this huge SUV, and my heels are too high to do any kind of walking".


If there is no room on the street, the sidewalk will do in a pinch, but only for 30 minutes or less... usually. If there is a taco stand nearby, anything goes. Double parking, triple parking, whatever. And if all else fails, and there is no place to get out of the way, they're not ashamed to assert their right to just park in the street and block everyone.


The trick here is that when they are ready to re-enter traffic in a moving state, they start rolling without looking for traffic coming up behind them. Hey, they were blocking the traffic anyway, so that lane belongs to them, right?


These clever artists are very proud, and if anyone tries to give them grief for practicing their art, they will become indignant, and chastise the person who is being held up, who now becomes the offender who just doesn't appreciate fine talent when he sees it.


What these uniformed officers claim to be doing is restoring order, but at what cost? The creativity of hundreds of thousands of people, and their ability to pass down their talents to their children will be forever lost. If the officers succeed, our way of traveling through our city could become orderly and boring. Do we really want that?


Well, at least we'll still have taxis and buses.


Liana Turner, is the chef and owner of Paradise Bakery and Catering. Serving the "Best Cinnamon Rolls in Vallarta," along with delicious sandwiches, salads, main dishes and yummy sweet treats every day but Sunday, and providing all styles of catering services, from pre-prepared meals to-go for informal gatherings to full service elegance for dinners, cocktail parties, wedding receptions and special events, Paradise Bakery & Catering is located at Sierra Aconcagua 299, Prolongacion Brasil, Colonia Lazaro Cardenas, Puerto Vallarta. For more information, call (322) 222-5133 or visit VallartaCatering.com.

Click HERE for more articles by Liana Turner.
• R E A D E R S ' C O M M E N T S •

I read this article and thought that it was right on the mark. I would like to add CREATIVE DRIVING to the list. We have been living and visiting Mexico for more than twenty years and we always drive here. Truthfully we have never encountered the style of driving that is here in Puerto Vallarta. Here are some examples we have seen: right turns from far left lanes, left turns from far right turn lanes, driving in the oncoming lanes so they can get to the left turn signal before it changes, running red lights and stop signs, going the wrong way on a one way street, racing to the topa and slamming on the brakes, no courtesy to other drivers, etc...


Something Liana didn't mention, when you live here it is hard enough to find a place to park, so answer me this: why do the shop owners block off parking in front of their shops? If I was going to shop there it would be nice to park there. I understand the tour bus thing, but there are many of these small stores that we don't end up shopping at because of the blocked off parking.
- Brian Schmidt
---
Tell a Friend
•
Site Map
•
Print this Page
•
Email Us
•
Top