Editorials | Issues
Mexico Has Put Authoritarianism and Censure Behind It: President Calderón

Suzanne Stephens Waller - Presidencia de la República
go to original
January 19, 2010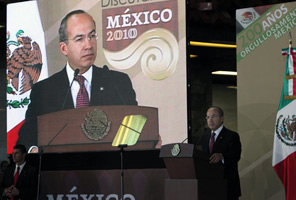 As part of Independence Bicentennial and Revolution Centennial celebrations, President launches Let's Discuss Mexico Program, and calls for frank, open debate to analyze country's future. (Presidencia de la República)
Mexico City - President Felipe Calderón declares that Mexico has left behind authoritarianism, oppression and censure and that we have become a democratic nation, in which freedoms are unrestrictedly exercised.


"There is freedom to think, criticize and dissent. Freedom to organize to fight for ideas and for or against rulers. We have a system of checks and balances that controls the exercise of public power and is the most effective antidote to the arbitrary decisions that have caused the country so much harm over the years," he said.


At the National Museum of Anthropology and History, during his inauguration of the Let's Discuss Mexico Program, during the Independence Bicentennial and Revolution Centenary festivities, the President underlined the fact that nowadays, problems and conflicts are solved in accordance with democratic rules as a result of which his government will continue with the substantial changes required by the country.


"Federal Government has proposed and will continue proposing substantial changes that seek to destroy the logic of the possible and offer responsible, viable and above all, lasting solutions to Mexico's structural problems," he added.


A propos of this, the Mexican president stressed that these changes, which are being carried out in key areas of the economy and institutions, will make it possible to remove the obstacles that prevent Mexicans from achieving Mexico's full development potential. They are political changes that give citizens more power while making politicians accountable.


"The aim is to put Mexico on the route to effective democracy rather than just effective suffrage. As I said on September 2, it is time to make thoroughgoing changes, not only through small, adaptable steps tolerated by people's understandable resistance, but to make the reforms and transformations that Mexico needs to overcome resistance and assume risks," he explained.


Accompanied by his wife, Margarita Zavala, President Calderón declared that we must continue to fight to turn Mexico into a country of laws and freedoms and preserve it from those that threaten it from outside the law.


Evoking the leaders of the Revolution, he said that dreamt of a fairer nation and that it is up to Mexicans today to redouble their efforts to eradicate extreme poverty, marginalization and inequality, burdens that limit the development of millions of people.


"These ideals that marked the Independence and Revolution movements: the ideals of equality, development, democracy, and of the men and women of 1810 and 1910 should encourage us in 2010 to implement the profound changes required by the country," he said.


The President declared that the Let's Discuss Mexico Program is a discussion program that will compare ideas on the country's past, present and future and enrich the democratic debate.


TV and radio broadcasting, scheduled to begin on January 25, will consist of 150 programs in which 500 specialists will participate.


"Only a few times in history has our country organized a public forum and rarely, perhaps never has it organized one with so many voices, historians, humanists, scientists, artists and writers to discuss and analyze our history, culture and identity," he said.


President Calderón urged society to reflect profoundly on our country's social, economic and political reality and to make 2010 an unforgettable year for future generations.


"Mexico today needs a frank, open debate, with mature, profound, pluralistic reflection, on what we have been, what we are and what we can and want to be. Mexico deserves to evaluate the reasons and works that will make us feel deeply proud of being Mexican," he said.

• R E A D E R S ' C O M M E N T S •

Dear Editor: With beautiful Mexico turning the page on it's feudal past and it's class system that caused a society scale gendered population, Which brought with it division and prejudice - even strife. Many in Mexico turned to the dark arts, Voodoo, witchcraft, black magic, even the occult, as they felt themselves prejudiced against by their fellow Mexicans. Joining the democratic process, which has given peace to the populations of the Countries now living in true democracies, through good and fair Governance and better living conditions, living in safety and good health with the ability to vote without fear, raise a family without their homes being broken into, without their wives, their children and themselves being attacked. The Hereditary Colonial Process that created Democracy and helped people to be part of the process, has made this all possible. Improvement comes with Democracy with all the people taking part without fear. Congratulations to Mexico on becoming a Democratic Country.
Tell a Friend
•
Site Map
•
Print this Page
•
Email Us
•
Top