Puerto Vallarta, Mexico
- I love roots! I love teas and salves made from the roots of plants, and I love learning about the roots of words that we use daily. In my new book, I explore some root words, along with the how to use root medicines in our daily lives for healing.
The word "medicine" is derived from the Sanskrit root word
ma
, meaning "measure" or "balance." Medicine is about restoring balance, not knocking ourselves out with a pharmaceutical hammer, when a gentle herb could do the job.
Herbal medicines restore balance. They have specific, powerful compounds that function on many levels, causing physical or emotional responses in our body, mind, and spirit.
Herbs can be used for many of the biological processes we experience during our life cycle as well as for several specific physical and mental dis-eases we may undergo. Notice that I have hyphenated the word "dis-ease" to call attention to its root meaning: being "out of ease."
The roots of our well being are in a healthy gut. Called the "second brain," because the intestines work directly in cooperation with the first brain in our cranium, making loads of brain chemicals. Too often, antibiotics, stress, and food allergies cause persistent digestive problems that mess up the gut and, hence, our first brain.
Let me share with you a delicious, easily prepared recipe rooted in the second brain - and the one in our skull. Speaking of roots, I have added Ginkgo Biloba to this recipe. Gingko is one of the world's oldest trees with an immense root system. The gingko provides medicine for gut and memory, her root system instructs us to share our own roots as we build our healing connections with each other.
Your intestinal mucosa will love this smoothie recipe from my new book as it soothes inflammation and provides healing nutrients.
MUSIC TO MY MUCOSA - A RECIPE
Ingredients:
½ cup hemp or almond milk
½ cup strong green tea
1 cup raspberries or blackberries (fresh or frozen)
40 milligrams ginkgo biloba extract (with 24 percent ginkgo flavonoid glycosides)
5 grams glutamine powder
1 teaspoon fresh turmeric juice or 1 tablespoon ground turmeric
Dash of freshly ground black pepper
½ teaspoon black currant seed oil or evening primrose oil
Procedure:
Add all the ingredients to a blender and blend until combined. Drink daily for 1 month.
Each of these ingredients supports the healing process. The green tea and curcumin in the turmeric are powerful anti-inflammatories, which are potentiated by the black pepper. Ginkgo has been shown to heal intestinal mucosal cells, and glutamine is an important fuel for the intestinal lining.
Note: Ginkgo biloba extract can increase the efficacy of Warfarin so consistent use of ginkgo should be done with professional advice and monitoring warfarin levels.
My new book,
Natural Woman: Herbal Remedies for Radiant Health at Every Age and Stage of Life
will be out in December, Published by Shambhala books and distributed by Random House. Consider giving it as a gift to members of your root system.
"Natural Woman weaves together story, tradition, and timeless wisdom into a modern approach that helps us thrive in our lives as women. Leslie Korn's new book inspires us to nurture our health and our well-being in all stages of life."
- Bevin Clare, President, American Herbalists Guild
I love hearing from you, so feel free to drop me a note at
lekorn(at)cwis.org.
---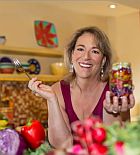 Leslie Korn has lived and worked in Banderas Bay since 1973 conducting research in Traditional Medicine of Mexico. She is a Harvard Medical School and Harvard School of Public Health-educated clinician in clinical practice in Mental Health Nutrition, Integrative Medicine and the prevention of dementia and cognitive decline. She is the author of 7 books including 'The Good Mood Kitchen.' To learn more about her work, visit DrLeslieKorn.com. She can be reached at lekorn(at)cwis.org.

Click HERE to read more articles by Leslie Korn.