Puerto Vallarta, Jalisco, Mexico
- Take your taste buds on a world tour and you don't even have to leave Puerto Vallarta to do it! Daiquiri Dick's Restaurant is known for its international cuisine and their bi-weekly dinner special menu offers several delicious appetizers, main courses and desserts for your enjoyment.
Executive Chef Ignacio Uribe, Chef de Cuisine Hugo Mejia and Sous Chef Rogelio Garcia have created a spectacular array of dishes for this special menu, which is being served from 5:00-11:00 pm through January 31.
Appetizers
• Deep Fried Oysters with a Mango Ginger Sauce
• Rosemary Smoked Beef Carpaccio with Basil Pistou Drizzle and Pine nuts
• Broccoli and Spinach Soup with White Wine and Drizzled with Mint Crème
Main Courses
• Almond & Pecan Crusted Baked Salmon, Mushroom Ragout, Spinach with Honey Mustard
• Grilled Prime Rib with Grilled Sweet Corn, Veggies and Beef Jus
• Spaghetti with Shrimp in a Tomato Sauce with Bacon, Capers and Olives
Desserts
• Apple Pistachio Upside Down Cake with Vanilla Ice Cream
• Carrot Cake
Daiquiri Dick's popular a la carte dinner menu is also available.
The restaurant's super-friendly and attentive staff treats you as a family friend as you enjoy terrace, patio or beach dining. If you have an early dinner you can catch a fabulous sunset. But no matter what time you dine, incredible views of Banderas Bay enhance every breakfast, lunch or dinner at Daiquiri Dick's, where every meal is
An Exceptional Experience.
Don't feel like going out to eat? For an evening at home, cocktail hour on your balcony, or a picnic lunch for a trip or day at the beach, ask about the restaurant's line of take-out sandwiches, hors d'oeuvres, breads and pastries.
Open Mon–Thu from 8 am–11 pm & Fri–Sun from 11 am–11 pm, Daiquiri Dick's offers elegant dining in a relaxed atmosphere for breakfast, lunch & dinner. Visa and MasterCard accepted. Reservations are recommended and can be made online at
ddpv.com.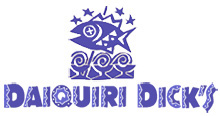 Daiquiri Dick's contemporary design exudes a quiet elegance that invites relaxation, and its tropical location at Olas Altas 314 on Los Muertos Beach offers the perfect atmosphere for enjoying spectacular views of Banderas Bay. For reservations call (322) 222-0566. For more information, visit DDPV.com.
Click HERE to read more about Daiquiri Dick's.