Puerto Vallarta, Jalisco, Mexico
- Take your taste buds on a world tour - without leaving Puerto Vallarta! No need to pack your bags, just head over to Daiquiri Dick's Restaurant on Los Muertos Beach.
Daiquiri Dick's Restaurant is known for its international cuisine and their bi-weekly dinner specials offer a wide selection of tastes. There are many delicious appetizers, main courses and desserts featured on this special a la carte menu.
Executive Chef Ignacio Uribe, Chef de Cuisine Hugo Mejia and Sous Chef Rogelio Garcia have created a spectacular array of dishes with authentic flavors but with new twists. The menu runs through March 15, 2020 and is being served, along with the regular menu, from 5:00 to 11:00 pm.
Appetizers
• Grilled Octopus with Roasted Baby Potatoes and Argentinian Chimichurri Sauce
• Avocado - Papaya Salad with Toasted Hazelnuts and Papaya Seed Vinaigrette
• Italian Pizza with Arugula, Cherry Tomatoes and Almond Crusted Goat Cheese
Main Courses
• Red Snapper Fillet with Preserved Citrus Gremolata, served over Citrus Cous Cous
• Grilled Pork Chop Marinated in Rosemary, Fennel Seeds, Lime Juice and Olive Oil
• Linguine with Shrimp in a Pecan Artichoke Pesto Sauce
Desserts
• Plum Cardamon Crumble with Pistachios
• Chocolate Grenache Tart
There is a commitment to excellence in dining that keeps the process interesting for the chefs, as well as for the patrons. Executive Chef Ignacio says, "It helps us expand our expertise. We like to offer diners a wide variety of foods in as many styles as we know."
Daiquiri Dick's, An Exceptional Experience.
Open Mon–Thu from 8 am–11 pm & Fri–Sun from 11 am–11 pm, Daiquiri Dick's offers elegant dining in a relaxed atmosphere for breakfast, lunch & dinner. Visa and MasterCard accepted. Reservations are recommended and can be made online at
ddpv.com.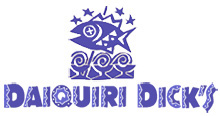 Daiquiri Dick's contemporary design exudes a quiet elegance that invites relaxation, and its tropical location at Olas Altas 314 on Los Muertos Beach offers the perfect atmosphere for enjoying spectacular views of Banderas Bay. For reservations call (322) 222-0566. For more information, visit DDPV.com.
Click HERE to read more about Daiquiri Dick's.