Puerto Vallarta, Mexico
- When you crave a great meal in casually elegant surroundings, there's no better place than Daiquiri Dick's on Los Muertos Beach. This popular beachfront restaurant in Puerto Vallarta's Romantic Zone strikes just the right chord with its classy beach house feel and deliciously innovative cuisine.
Daiquiri Dick's menu is always evolving and their bi-weekly a la carte dinner specials make it easy to sample cuisines from all over the world.
Every two weeks there's a new selection of World Flavors. Executive Chef Ignacio Uribe, Chef de Cuisine Hugo Mejia and Sous Chef Rogelio Garcia have created a wide selection of new tastes on their latest special menu, which is being served from 5:00-11:00 pm through February 13, 2020.
Appetizers
• Salmon Cakes with Jicama Carrot Slaw and Ginger Dressing
• Grapefruit Salad with Shrimp and Fresh Coconut
• Shrimp and Pork Deep Fried Golden Pouches with Sweet & Sour Sauce
• Authentic Italian Pizza of the Day
Main Courses
• Pad Thai Noodles with Shrimp, Cabbage, Peanuts, Tofu, Egg, Soy Sprouts, Tamarind Sauce
• Thai BBQ Chicken with Garlic and Pepper, served with Green Papaya Salad and Rice
• Pork Tenderloin Marinated in Gochujang Sauce and served with Rice
Desserts
• Deep Fried Plantain Served with Vanilla Ice Cream
• Coconut Flan
Come take in the sunset and enjoy these specials, along with the restaurant's regular a la carte menu, from 5:00-11:00 pm through February 13, 2020.
Don't feel like going out to eat? For an evening at home, cocktail hour on your balcony, or a picnic lunch for a trip or day at the beach, ask about the restaurant's line of take-out sandwiches, hors d'oeuvres, breads and pastries.
Daiquiri Dick's: An Exceptional Experience
Open Mon–Thu from 8 am–11 pm & Fri–Sun from 11 am–11 pm, Daiquiri Dick's offers elegant dining in a relaxed atmosphere for breakfast, lunch & dinner. Visa and MasterCard accepted. Reservations are recommended and can be made online at
ddpv.com.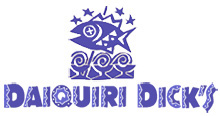 Daiquiri Dick's contemporary design exudes a quiet elegance that invites relaxation, and its tropical location at Olas Altas 314 on Los Muertos Beach offers the perfect atmosphere for enjoying spectacular views of Banderas Bay. For reservations call (322) 222-0566. For more information, visit DDPV.com.
Click HERE to read more about Daiquiri Dick's.