Puerto Vallarta, Mexico
- Ever since 'Tu Casa en Vallarta' closed its doors in mid-March to help flatten the curve of COVID-19, some of our family of friends have been asking us to share some of their favorite NWJ! recipes. So, on Thursday, July 16 at 4 pm, No Way José! will be preparing an award-winning three-course meal Live on Facebook!
This Week's Facebook Live Cooking Demo Menu:
• NWJ! Table-side prepared Caesar Salad
• Beef Medallions with Raicilla Sauce
• Buñuelos
For those of you who are in town,
Tu Casa en Vallarta
is opening their open-air Terrace, where dine-in service of the three-course menu that is being prepared for the FB Live Cooking Demo will be available on Thursday, July 16 at 4:00 pm.
This traditional NWJ! meal - Tableside-prepared Caesar Salad + Beef Medallions in Raicilla Sauce + Buñuelos will be served for only $499 pesos per person. Add a recommended wine or cocktail for each course for only $629 pesos per person. (Cash only please. No credit card terminals functioning.)
On Thursday, July 16, two of La Zona Romantica's favorite musicians, Fernando Gonzalez and Eduardo Leon, will entertain diners on the No Way José! Terrace.
And, to make your afternoon out
even more
special, two of Vallarta's favorite musicians, Fernando Gonzalez and Eduardo Leon, will be playing live on the NWJ! Terrace. These two talented musicians make any event a special event, so make your reservation at
reservations(at)nowayjosemx.com
and come out and enjoy an unforgettable dining experience in a safe environment.
At
Tu Casa en Vallarta,
your safety is our priority. Seating is limited to 4 people per socially distanced table, and by reservation only, please. All sanitary and safety guidelines are observed. Masks are required upon entering and exiting the restaurant. No exceptions.
For those who will be joining us for "Cooking with your Cocina de Amor" from the comfort of your own home, please RSVP to
info(at)nowayjosemx.com,
to confirm your participation in the
Facebook
live broadcast on Thursday, July 16 at 4:00 pm and be sure to request your copy of the recipes.
If you DO tune in to the cooking demonstration on Facebook Live, please consider making a donation to help one of the most charming service teams in La Zona Romantica survive the pandemic. No Way José! owners, Julie Guerrero and José Alfredo Gonzalez, are doing everything they can to help their staff while the restaurant is, for the most part, closed - but every little bit helps. No amount is too small. If you can help, please send PayPal donations to: help@nowayjosemx.com.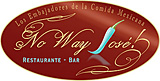 No Way José! is on the south side of downtown at 5 de Febrero 260, just over the Vallarta street bridge on your left heading south from the Malecón. Reservations are required and can be made by emailing Reservations(at)NoWayJoseMx.com. For more information, visit NoWayJoseMx.com, or join us on Facebook for real-time updates and special offers.

Click HERE to learn more about No Way José!