Puerto Vallarta, Mexico
- One of the most popular Mexican patriotic holidays is September 16th,
El Día de la Independencia.
Sadly, yet understandably, the City of
Puerto Vallarta has cancelled
all of this year's municipal Mexican Independence Day activities to help prevent the gathering of large crowds in public places.
At No Way José!, the month of September, known as
El Mes de la Patria
(The Month of Our Nation), remains one of our favorite times of the year, and though the restaurant remains (for the most part) closed, on Thursday, September 10, we will be celebrating the
210th anniversary of Mexico's independence
on our open-air terrace with great food and traditional Mexican music presented by some of the Zona Romantica's favorite musicians.
While we can only seat 35 people on the Terrace, we want to offer those who
make reservations
a night to remember with all of the food, fun and festivities you have come to expect at a No Way José! fiesta.
For this special evening, we will be serving the local favorite "Mexico Lindo," a traditional Tampiqueña dish that includes a chile relleno, taco dorado, enchilada and beef filet; plus a guayaba cheesecake for only $350 pesos. Our regular menu will NOT be served, but full bar service will be available, along with Sexy Coffees or Bananas Flambe a la No Way José! for a well-deserved treat. Cash only, please.
And, to make the evening even more special, some of the Zona Romantica's favorite musicians - Fernando Gonzalez, Eduardo Leon, Gabrielle Tenney & Flor de Nazareth - will throw their spotlight on regional styles of Mexican music from boleros to Mexican pop for an evening of song, dance and inspiration from our
México lindo y querido.
Seating is limited, so make your reservation TODAY by sending an email to
reservations(at)nowayjosemx.com
and join us on September 10 as we celebrate Mexico's independence in a safe environment. Socially distanced tables. Sanitary guidelines. And yes, masks upon entering and exiting the restaurant are mandatory. No exceptions.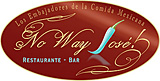 No Way José! is on the south side of downtown at 5 de Febrero 260, just over the Vallarta street bridge on your left heading south from the Malecón. Reservations are required and can be made by emailing Reservations(at)NoWayJoseMx.com. For more information, visit NoWayJoseMx.com, or join us on Facebook for real-time updates and special offers.

Click HERE to learn more about No Way José!