October 28 Update:
Starting Friday, October 30, No Way José! will be open from 2:00 pm to 7:00 pm. To
comply with local authorities and close by 8:30 pm,
7:00 pm will be the last reservation accepted.
Puerto Vallarta, Mexico
- No Way José! opens for Season 12 on Tuesday, October 27, 2020, and welcomes you back to "Tu Casa en Vallarta" with open arms - from afar, with smiling faces - under our masks, and with all your NWJ! favorites returning for you to enjoy - at safely distanced tables.
Make plans to come out on opening night and enjoy the sexy sounds of Piel Canela and the classic NWJ! fiesta energy. We are operating at 50% capacity on the Terrace so please reserve your space at
reservations(at)nowayjosemx.com
The restaurant is observing all COVID-precautions regulated by the City of Puerto Vallarta:
• Masks required entering and leaving the restaurant
• Temperature check at door. No access if your temperature registers above 37°C/98.6°F
• Use of hand gel upon entering the restaurant
• Limited seating at socially distanced tables
• Masks required when walking through the dining area to the washrooms
"These past few months have been challenging for everyone, and we hope that you are all safe and healthy amid the COVID-19 pandemic. We feel extremely fortunate to be able to welcome our family of friends back to Tu Casa en Vallarta. As the state of this global public health challenge changes from day to day, we remain focused on keeping our employees and our clients safe, healthy, and informed. Never hesitate to
contact us
if you have any specific questions or concerns. We hope to see you again soon in
Tu Casa en Vallarta
," NWJ! co-owner/operator José Alfredo Gonzalez said.
Put these three dates on your calendar!
• Tuesday, October 27 - We open our doors to Season 12!
• Saturday, October 31 - Annual Halloween Costume Contest - No purchase necessary - We take your photo - Upload to FB - the most LIKES wins a dinner for 2.
• Sunday, November 1 - Annual Catrina Costume Contest - join us for dinner and enjoy the sexy Piel Canela PV by Fernando Gonzalez. The Catrin & Catrina receiving the loudest applause by our family of friends wins a dinner for 2.
Love Never Dies at No Way José! We're observing all COVID requirements, so space is limited. Make your reservations early and don't miss safely-distanced fun, delicious food & drink, sexy music, and the joy of being alive.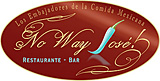 Open Tuesday through Sunday from 5 pm to 11 pm (Closed Mondays until December), No Way José! is on the south side of downtown at 5 de Febrero 260, just over the Vallarta street bridge on your left heading south from the Malecón. Reservations are required and can be made by emailing Reservations(at)NoWayJoseMx.com. For more information, visit NoWayJoseMx.com, or join us on Facebook for real-time updates and special offers.

Click HERE to learn more about No Way José!