Puerto Vallarta, Mexico
- Here's the latest news from Purr Project, a non-profit, no-kill feline shelter located just north of Puerto Vallarta, Mexico, that provides homeless cats and kittens a recuperative stay with the ultimate goal of adopting them out to loving homes sterilized, vaccinated and disease free.
SHELTER UPDATE
In past years, we've had several hurricanes in November. This year we've been fortunate to have none, but it's been HOT! Mexican officials issued warnings about the unusual heat wave affecting much of the Pacific Coast of Mexico for the last few weeks. We have ceiling fans in the casitas for the inside cats, but the yard cats look for cool places in the heat of the day... often on the cooler tiles of the ranch house porch. Combined with the high humidity, it's tough on our staff and volunteers, but that's life in the tropics!
THE PURR NURSERY
The nursery continues to be very full with over 50 kittens in line for adoption. Dr. Alberto continues to help Dra. Eva by coming the shelter one day a week to help catch up on spay/neuters. We only had fourteen kittens dumped at the shelter in October, but we also had only three adoptions. One step forward and two steps back!! Every available casita and the clinic is being used for them.
Our masked kitten kuddler volunteers come on Thursdays for playtime to the little ones and to help Dra. Eva in the clinic. All new cats and kittens get tested, bathed, dewormed and are given some good kitten chow and a safe place to rest. Then they are vaccinated if they are old enough. Mama Camilla accepted two new tiny orphans and is now nursing them along with her four!
ADOPTIONS
Adoptions have been very disappointing over the last two months. We had fourteen adopted in August with the help of the special Kitten Adoption Event at PetCo. We are hoping to organize another one for a weekend later in November and will announce it on Facebook... please follow us! We bring a variety of beautiful, sweet kitties to the PetCo Adoption Center every Saturday morning for the weekend. So come check us out if you are looking for the PuRR-fect furry companion.
PURR PROJECT 2021 CALENDAR
The 2021 calendar is hot off the press and ready to go. Until we have some place where we can set up to sell calendars and our logo items, you can only get them here in Vallarta by contacting Marilyn Khan at
exkhan(at)usfamily.net.
They are still only $250 pesos and of course feature all the Mexican, US and Canadian holidays, as well as some of our photogenic PuRR kitties. MEOW!
GRACIAS! THANKS! MERCI! DANKE! ARIGATO!
We understand that it's a hard year for everyone and that so many worthy causes need help. So we are grateful for every donation, large or small, and the good wishes that come with them. Many Thanks to all those who have set up
monthly donations
through PayPal, have
Virtually Adopted
or have purchased a 2021 calendar.
For more Kitty news, please visit
PurrProject.com.
---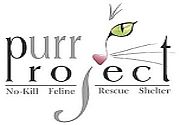 PuRR Project is a Non-Profit shelter in Puerto Vallarta, Mexico that provides homeless cats and kittens a recuperative stay with the ultimate goal to adopt them out to loving homes. All of our residents have been sterilized, vaccinated and are disease free. We accomplish this through our own efforts as well as collaboratively with other animal welfare organizations. Both monetary donations as well as donations of dry cat food are most welcome – and much appreciated. Donations 501(c)(3) tax-deductible in the U.S. For more information, visit PuRRProject.com or send an email to info(at)PurrProject.com.