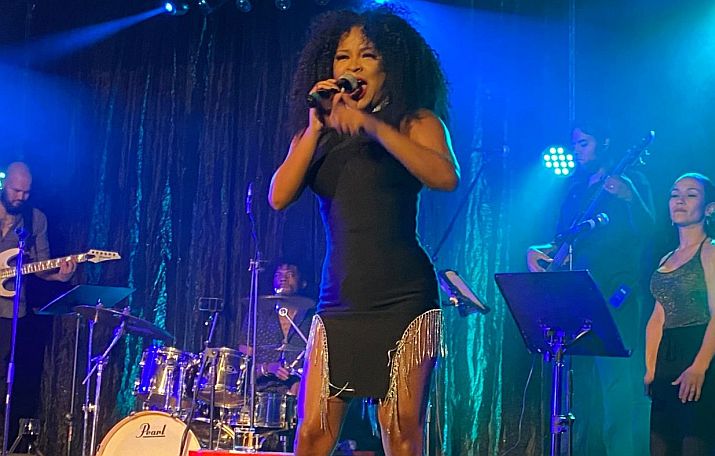 Puerto Vallarta, Mexico – Act2PV has enjoyed an incredible week of Pride celebrations and fun, as well as an incredible season of entertainment! The management, performers and staff are so grateful for the incredible support they have received this year. It means a lot to everyone.
Act2PV has extended its regular show season through Tuesday, May 31 and invites you to attend some of their exciting 5-star shows! Act2PV will be closed from June 1-15, but will begin their summer season of shows on June 16, and tickets are available on their website.

Act2PV Continues to Thrill Audiences with its 5-Star Entertainment!
Bringing you the BEST OF THE BEST entertainment for 2022, Act2PV is the only 5-star venue in Vallarta and it truly has something for everyone, including high-quality theatrical productions, internationally renowned musical cabaret, and hilarious drag shows.
Act2PV's incredible entertainment, with its amazing sound and lighting systems, is on par with any theater in North America… at a very affordable price! Come early and enjoy a drink in the beautiful, fully-equipped Encore bar. Drinks are also served during the show for your enjoyment.
Act2PV has been designated by TripAdvisor as the #1 Entertainment Venue in the Banderas Bay and #2 on the list of "Things to Do in Puerto Vallarta!"
Here are some of Act2PV's 5-star reviews on TripAdvisor:
"…Any night of the week is the right night to visit Act2PV!"
"Such a fun place to go for shows – great shows, atmosphere, & drinks. We've been twice now & have plans to go to a few more…" (Google)
"What a great venue for cabaret and other events. Very clean and an old Hollywood feeling…"
"Love the energy of this place. The excitement, the great people and the anticipation of what's coming next!" (Google)

Act2PV Showguide (May 27 – 31)
Always check the website at act2pv.com for any last-minute changes to the show schedule.
Fascinating Friday, May 27
9:30 pm – It's Raining Men – Featuring international vocalist Joi Carter and the sexiest male dancers in Puerto Vallarta sizzling with sensual choreography, sexy strip tease, seductive music, and the hardest bodies you've ever seen!
Sexy Saturday, May 28
6:30 pm – Queens of Country – Bobbi Goddard pays comedic and musical tribute to the women who made their mark in country music
7:00 pm – It's Britney tribute concert starring Ximena Esparza
8:30 pm – TINA, a Tina Turner tribute starring PV's Queen of Entertainment, Diana Villamonte
9:00 pm – Broadway Backwards, The handsome and talented Louis Whitaker puts a new twist on your favorite Broadway show tunes that were originally written for a woman!
Sunday Funday, May 29
7:00 pm – Follies LaRouge – Vaudeville, Broadway, & Burlesque show starring the Follies LaRouge Dance Troupe
7:30 pm – So Much Soul, featuring Vallarta's very own soul-singer, Kevin-Anthony and his LIVE ROXSAND BAND, singing the soul classics of our lifetimes!
9:00 pm – Draguísimas, a celebration of the Mexican drag icon, Supermana, starring Edgar Sánchez and Daniel Vives
Magnificent Monday, May 30
7:00 pm – Whitney Houston Show The Queen of PV entertainment and Voice of Mexico Runner-Up, Diana Villamonte, presents her tribute to Whitney Houston, featuring her LIVE BAND
9:30 pm – Reveal Sexy "Peek-a-Boo Revue." You'll be immersed in provocative and cheeky, sultry and delightfully decadent fun
Top-Notch Tuesday, May 31
7:30 pm – Jersey Boys, featuring Marc Lopez in a quartet of handsome guys, singing and dancing to the music of The Jersey Boys, Frankie Valli and the Four Seasons
8:00 pm – This is Amy, a tribute to Amy Winehouse featuring Brenda Gaviño and her live band
Act2PV will be closed from June 1 – June 15
To buy tickets for shows starting June 16, please go to their website.
Be sure to check out the many reviews for Act2PV shows on TripAdvisor, Google and Facebook, then go to act2pv.com for more show information, additional performance dates, and to purchase your tickets. Payment by PayPal (VISA & MasterCard) now available online on our website! Tickets are also available at the box office, now open 4-10 pm Monday to Saturday (closed on Sunday).

The Act2PV Entertainment complex is located on the corner of Insurgentes and Basilio Badillo on the South side of Puerto Vallarta. For more information, call (322) 222-1512, or follow Act II on Facebook. Click HERE to learn more about Act2PV.