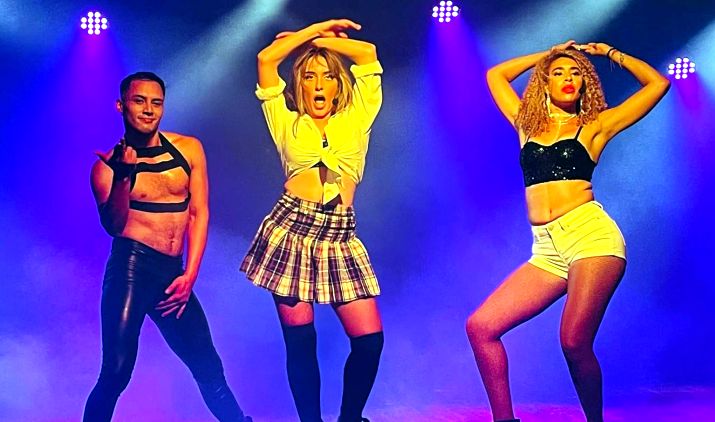 EXTENDED BY POPULAR DEMAND! Encore performances April 30, May 14 & May 28 at 7 pm
Puerto Vallarta, Mexico – Whether you are a fan of Britney Spears or are not all that familiar with her songs, you won't want to miss the final performance of 'It's Britney, B*tch!' on Tuesday, April 5 at Act2PV. Between the talented singers, the sexy dancers, the creative choreography and the clever costumes, this high-energy show is a must-see!
Ximena Esparza stars in this incredible new cabaret show celebrating the music of one of the most successful artists of all time, 90's Pop Princess, Britney Spears. She is joined by the talented Miana Melendez, whose portrayals of Madonna, Christina and Rihanna are impressive, and a team of professional dancers – Francisco Guízar, Luiger Paez, Sue Valero, and Ariel Zaldivar – led by the show's gifted choreographer, Edgar Román.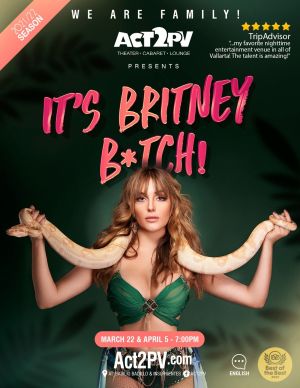 Performing such hits as Baby One More Time, Oops! I Did it Again, Lucky, I'm a Slave 4 U, and Circus, among other songs that made Spears the best-selling teenage artist of all time, Ximena and #TeamBritney exemplified why Britney is credited with influencing the revival of teen pop during the late 1990s and early 2000s.
Videos of Britney were interspersed throughout the performance, giving the crew time to create the vision that Ximena, Edgar and the show's producer, Alfonso López, had for each musical number. This added a personal touch that made the audience feel as if they were in the presence of the star herself.
And, speaking of stars, Ximena is no stranger to the Act2PV stage. She appeared in its first production, Chorus Line, and has been cast in almost every Act2PV production ever since. She is now performing in the lead role of Sophie in Act2PV's Mamma Mia! and also stars in Act2PV's highly-acclaimed show, The Best of Broadway. Ximena's incredible energy, commanding stage presence, impressive dancing skills, and brilliant vocals are put to use perfectly in this new show that can only be described as a simply spectacular!
Judging by the opening night audience's response, It's Britney, B*tch! will outlive its scheduled two-show run as part of Act2PV's Cabaret Festival. But for now, the final performance is set for Tuesday, April 5 at 7:00 pm – don't miss it!
Tickets are available at act2pv.com, or at the box office, open 10:00 am to 10:00 pm daily.

The Act2PV Entertainment complex is located on the corner of Insurgentes and Basilio Badillo on the South side of Puerto Vallarta. For more information, call (322) 222-1512, or follow Act II on Facebook.