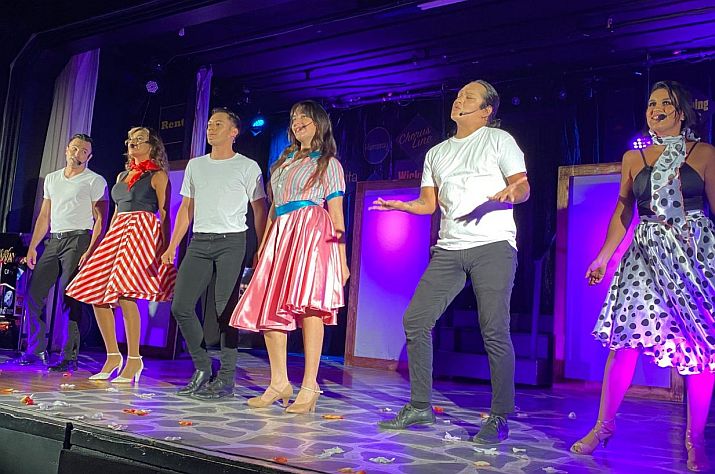 Puerto Vallarta, Mexico – Act2PV is excited to begin its wonderful summer season on Thursday, June 16! The shows being performed this week are some of Act2PV's most popular shows, but the summer schedule will change each week, so be sure and check out the weekly schedule to see what's playing.
AUDITIONS! Voice of Vallarta, 5th Season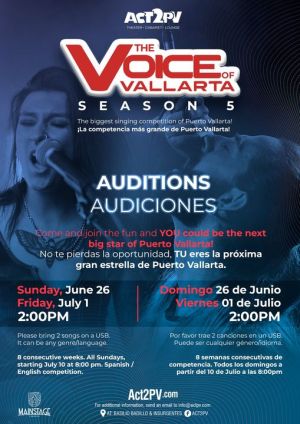 Act2PV is also excited to announce Voice of Vallarta auditions being held on Sunday, June 26 or Friday, July 1 at 2:00 pm. Act2PV's Voice of Vallarta is the largest vocal competition in the Banderas Bay area, and your participation in this competition could open many doors for you. Plus, the winner will receive some very special prizes! This competition will run for 8 weeks, starting on Sunday, July 10 at 8:00 pm.
If you are interested in auditioning, please come to Act2PV on one of the dates listed above. Bring a USB with music tracks for two songs (in English or Spanish) that show off your voice! If you need additional information, please contact us at info(at)actpv.com.
Bringing you the BEST OF THE BEST entertainment for 2022, Act2PV is the only 5-star venue in Vallarta and it truly has something for everyone, including high-quality theatrical productions, internationally renowned musical cabaret, and hilarious drag shows.
Act2PV's incredible entertainment, with its amazing sound and lighting systems, is on par with any theater in North America… at a very affordable price! Come early and enjoy a drink in the beautiful, fully-equipped Encore bar. Drinks are also served during the show for your enjoyment.
Act2PV has been designated by TripAdvisor as the #1 Entertainment Venue in the Banderas Bay and #2 on the list of "Things to Do in Puerto Vallarta!"
Here are some of Act2PV's 5-star reviews on TripAdvisor:
"…Any night of the week is the right night to visit Act2PV!"
"Such a fun place to go for shows – great shows, atmosphere, & drinks. We've been twice now & have plans to go to a few more…" (Google)
"What a great venue for cabaret and other events. Very clean and an old Hollywood feeling…"
"Love the energy of this place. The excitement, the great people and the anticipation of what's coming next!" (Google)

Act2PV Showguide (June 16-17)
Always check the website at act2pv.com for any last-minute changes to the show schedule.
Terrific Thursday, June 16
7:30 pm – TINA, a Tina Turner tribute starring PV's Queen of Entertainment, Diana Villamonte
9:30 pm – Raunch Dressing, starring hilarious NYC drag icon, Hedda Lettuce, in a drag show, featuring green hair, crisp stand-up comedy, quick wit and fresh comedic songs
Fascinating Friday, June 17
7:00 pm – The Best of Broadway, Act2PV's blockbuster musical revue featuring singing and dancing from your favorite Broadway musicals
9:30 pm – It's Raining Men – featuring Act2PV's super sexy male dancers along with incredible (and sexy) vocalist, Bigi!
Be sure to check out the many reviews for Act2PV shows on TripAdvisor, Google and Facebook, then go to act2pv.com for more show information, additional performance dates, and to purchase your tickets. Payment by PayPal (VISA & MasterCard) now available online on our website! Tickets are also available at the box office, now open 4-10 pm on show days.

The Act2PV Entertainment complex is located on the corner of Insurgentes and Basilio Badillo on the South side of Puerto Vallarta. For more information, call (322) 222-1512, or follow Act II on Facebook. Click HERE to learn more about Act2PV.