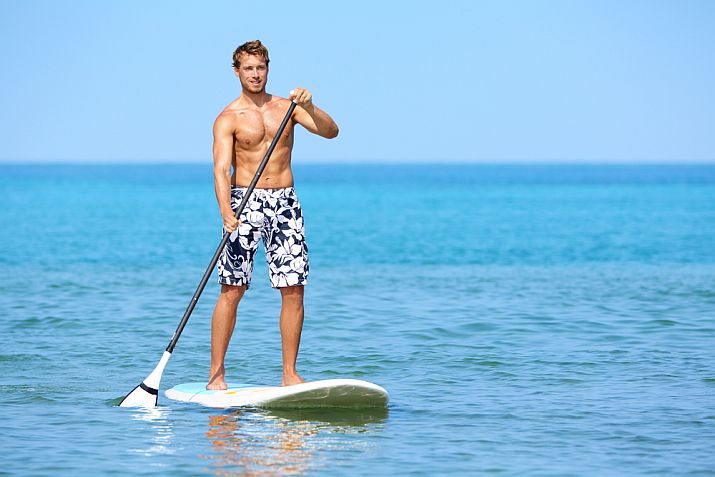 Puerto Vallarta, Mexico – Our first introduction to standing on a surf board with a paddle was a wet one. It took several attempts to learn our balance points but the landing was always soft and forgiving. Stand Up Paddle, known as SUP, has become increasingly popular in Puerto Vallarta over the past few years.
SUP is an all-ages sport. Competitions are regular and entertaining, up and down the coastline, with Sayulita hosting a variety of annual events.
SUP might be new in Puerto Vallarta but to surfers, it's been around for a long while. Hawaiian surfers called it "Board Surfing" and when the surf wasn't high, they could still be in the water and move about at will, waiting for a big one to come along.
The idea is to place your feet parallel faced toward the head of the board. Using your large back muscles, pull a long stroke, making sure your grasp is a shoulder width apart, otherwise you'll wear yourself out quickly with short movements. A sesh (session) is the length of time one works out on their board and the goal is to lengthen the seshes on a daily basis in an effort to improve balance, strength, and endurance. It's an alternative to the gym and we like the outdoor aspect. In Puerto Vallarta, summer is a great time to strengthen skills and lengthen seshes; the water can be a method to cool off in the intense heat and humidity.
Some think Puerto Vallarta's surf is a little too rough and that may be true for the beginner, though the ocean is unpredictable. We have seen the Bay of Banderas at Los Muertos Beach as smooth as a pond. We've found calm waters in the bay at Yelapa, north in Sayulita, and Bucerias, and to the south, off the shores of Las Animas and Quimixto. Mismaloya, with its protected cove, is ideal for SUP. It's not necessary to schlep your board to these destinations but we do see them often toted onto buses. Boards in zippered cases are a common site in oversized baggage at the airport, as well.
Tours of Stand Up Paddle are very common and it's nice to have a guide who can teach you the fundamentals. Ask at any beach kiosk in Puerto Vallarta or any of the above mentioned locations and you're likely to find just what you're looking for, along with someone knowledgeable and experienced. We recommend SUP as a great form of exercise; low impact and easy for anyone.
Que es cómo es.
---

The number one selling and listing agency in the greater Bay of Banderas region since 2011, Timothy Real Estate Group is a locally-owned and operated real estate brokerage with a strategic location in the city's Romantic Zone. Because the Puerto Vallarta area has varying neighborhood personalities, we practice localized real estate and, with 5 sales offices around the bay, we know our communities well. If you are looking to sell or purchase a property in the Banderas Bay area, download their Free Real Estate Buyer and Seller's Guides to learn more, then contact one of the Timothy Real Estate Group agents for the best experience in Puerto Vallarta real estate. For more information, visit TimothyRealEstateGroup.com.