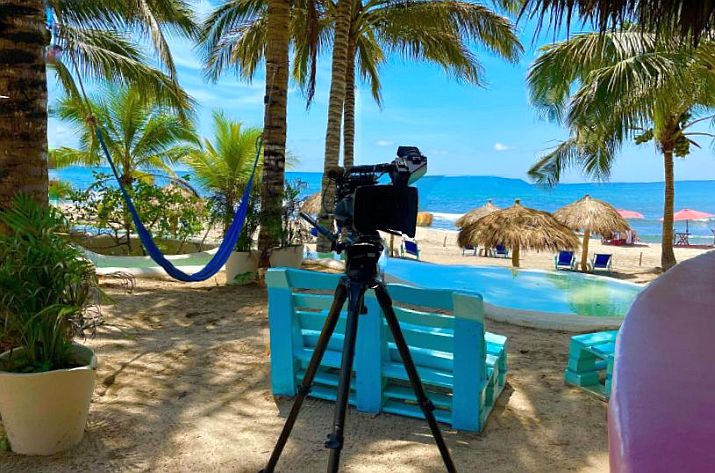 Puerto Vallarta, Jalisco, Mexico – A new episode of HGTV's wildly popular 'House Hunters International' TV series featuring Timothy Real Estate Group agent Taniel Chemsian will be aired on June 28th and 29th.
This marks the 22nd time Puerto Vallarta's #1 real estate brokerage and real estate agent Taniel Chemsian have been featured on this popular HGTV program that's watched by millions of viewers in over 50 countries. Timothy Real Estate Group and Taniel first appeared on the reality TV series back in 2012.
In Season 175, Episode 11 of the HGTV reality show, called "Working in the Cloud, Mexican Style," Taniel helps a couple looks to escape their hectic lives by working remotely in the relaxed Riviera Nayarit area of Mexico find the home of their dreams. The move will take them away from their young granddaughter, so their main priority is plenty of space for a home office and family visits.
For more information, click HERE.
If you are in the U.S. and in need of your 'PV fix,' be sure to tune in to HGTV USA on Tuesday, June 28th at 10:31 pm | 9:31 pm CDT and/or Wednesday, June 29th at 1:31 am | 12:31 am CDT as Taniel continues his fantastic run of showcasing some of the finest properties in the Banderas Bay area.
About Taniel Chemsian:
Taniel Chemsian is one of the top real estate sales associates for Timothy Real Estate Group in Puerto Vallarta, Mexico. He moved to Puerto Vallarta from Los Angeles in 2003, became a real estate agent in 2006 and has never looked back. He has sold hundreds of homes in the region over the last 16 years, and is often seen on House Hunters International (HGTV). He has been featured more than any other agent in North America on the series. Puerto Vallarta is second only to Paris for the most HHI episodes filmed in any one city. For more information, visit his website, his Facebook page, or contact him at taniel(at)timothyrealestategroup.com.
---

The number one selling and listing agency in the greater Bay of Banderas region since 2011, Timothy Real Estate Group is a locally-owned and operated real estate brokerage with a strategic location in the city's Romantic Zone. Because the Puerto Vallarta area has varying neighborhood personalities, we practice localized real estate and, with 5 sales offices around the bay, we know our communities well. If you are looking to sell or purchase a property in the Banderas Bay area, download their Free Real Estate Buyer and Seller's Guides to learn more, then contact one of the Timothy Real Estate Group agents for the best experience in Puerto Vallarta real estate. For more information, visit TimothyRealEstateGroup.com.