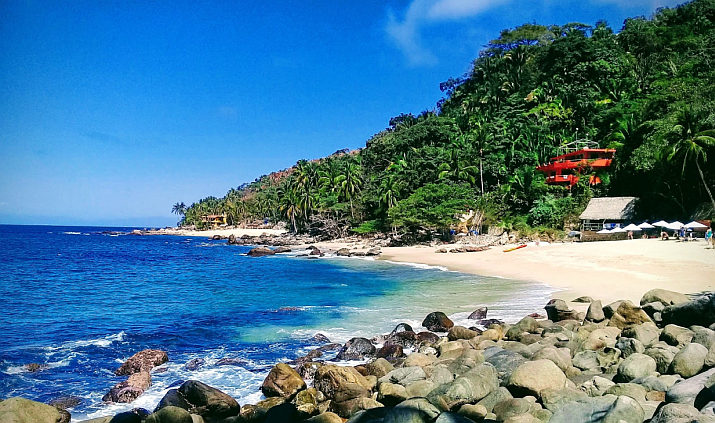 Puerto Vallarta, Mexico – Pizota, a small village south of Puerto Vallarta, in the state of Jalisco, is not a privately owned island, contrary to what many people believe. In the first place, it's a coastal village and not an island.
There are no privately owned beaches in Mexico; the Federal government has possession of them and can use any beach for military practices if they so choose. That said, we've never seen or heard of the Mexican Navy commandeering surf boards and snorkel gear so they can run around in heavy uniforms in the sand.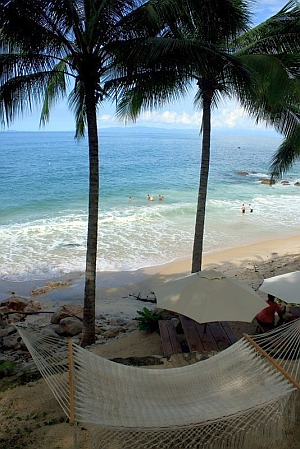 Pizota does have private tours that come from Puerto Vallarta to dive, snorkel, swim and party, but they can't keep others from having the same fun. Although there have been all sorts of fascinating rumors, including the owner of the Chivas football team trying to build a complex or resort at Pizota, it continues to possess its identity as a small indigenous village twenty minutes south of Yelapa.
Pizota reminds us of Yelapa back in the 80's; remote and jungly. Both places are accessible only by boat and it's lovely to get away from the traffic of Puerto Vallarta, or any city actually, where horns honk, buses rumble and traffic cops blow whistles.
There is none of that in Pizota; for adventure you can walk up to the waterfall and have a swim, or take a short horseback ride. There are the ubiquitous beach cafés and the food is remarkable in any one of them. The village people are welcoming and love visitors, yet we make it very clear to our guests to be respectful, pick up after ourselves, and leave no footprint.
Another falsehood about this small village south of Puerto Vallarta is that there is no place to stay. So not true. People in Pizota have caught on to Airbnb, Trip Advisor and other tourist sites; there are plenty of accommodations. We simply suggest you make your plan before you go. There are huts and houses, but (thank goodness) nothing resembling the monstrosities of the Sheraton or Four Seasons.
The best way to get to Pizota is to take a boat from Boca de Tomatlan, which you can reach by bus from Puerto Vallarta for 14 pesos. Catch the orange and white bus by the OXXO on the corner of Basilio Badillo and Constitución. Panga (boat) prices may vary but we found the standard fare from Boca, round trip, was around 250 pesos. That's a deal when you consider the price of fuel. Tip the skipper, and have fun discovering new places and possibilities. Que es cómo es.
---

The number one selling and listing agency in the greater Bay of Banderas region since 2011, Timothy Real Estate Group is a locally-owned and operated real estate brokerage with a strategic location in the city's Romantic Zone. Because the Puerto Vallarta area has varying neighborhood personalities, we practice localized real estate and, with 5 sales offices around the bay, we know our communities well. If you are looking to sell or purchase a property in the Banderas Bay area, download their Free Real Estate Buyer and Seller's Guides to learn more, then contact one of the Timothy Real Estate Group agents for the best experience in Puerto Vallarta real estate. For more information, visit TimothyRealEstateGroup.com.