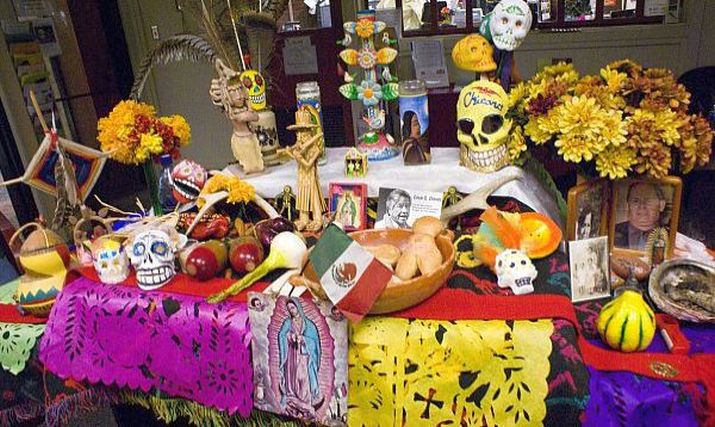 Puerto Vallarta, Mexico – Our first Day of the Dead experience in Puerto Vallarta was long before 2008, when UNESCO recognized the holiday on its list of Intangible Cultural Heritage of Humanity, those traditions that are passed down from generations.
Día de los Muertos is an occasion of the reaffirmation of life and is celebrated by all Mexicans, regardless of religious or ethnic or origins. You will be fascinated by the ofrendas, altars covered in marigolds emanating their rich earthy scent, multitudes of candles, and intriguing offerings to the dead.
While we walk along, admiring the ofrendas, moving from one display to another, most of us miss the meaning of this important day for the locals of Puerto Vallarta. The entire purpose of the Day of the Dead is to honor those who have passed beyond this world and, in doing so, asking their guidance for when it's time for us to follow such a pathway.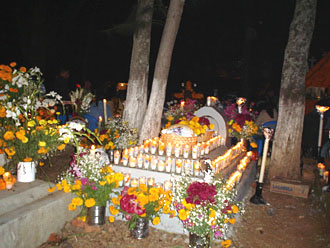 Ofrendas are found in various plazas, in private homes, on doorsteps, and in the cemeteries. The expectation is that the dearly departed will pop in for a visit. To lure them, friends and family place photographs of those who are gone, plus items they loved when they inhabited this world.
It's not unusual to find cigars, a pack of cigarettes, a favored lighter and matches, shot glasses with tequila, bottles of alcohol and cans of beer or soft drinks. Books, letters written in this realm, candy, food, perhaps a piece of clothing they wore. Chocolate, a cup of tea or coffee, fruit, tamales, lipstick, a pipe, jewelry; an unfinished crochet project, embroidery scissors, thimbles, a pack of cards, dice, dominoes and musical instruments are also commonplace.
It's sad to see children's toys, well loved dolls, small trucks and cars, but we must remember the whole purpose is joy. Candles are everywhere, to help light the way back from the land of the dead to that of the living for this one night of the year.
Here in Puerto Vallarta, November 2 is celebrated with joy. Brightly decorated ofrendas grace the outer corridors of the Municipal building in El Centro, and larger-than-life Catrinas are on display along the Malecón. The city's traditional Dia de Los Muertos parade returns this year, but it will be smaller than usual and all Covid-19 protocols will be in place.
Recently, the people of Puerto Vallarta have taken to having La Catrina painted on their faces. The Catrina, a symbol of death itself, is a reminder that no matter who you are, how much money or social status you have, we all end up dead; the great equalizer. You can paint your own face (there are great tutorials on YouTube) or pay a small fee to have someone with talent do it for you. It's fun and a safer way to costume yourself than wearing a mask and a welcomed new tradition in Old Town Puerto Vallarta.
Que cómo es es.
---

The number one selling and listing agency in the greater Bay of Banderas region since 2011, Timothy Real Estate Group is a locally-owned and operated real estate brokerage with a strategic location in the city's Romantic Zone. Because the Puerto Vallarta area has varying neighborhood personalities, we practice localized real estate and, with 5 sales offices around the bay, we know our communities well. If you are looking to sell or purchase a property in the Banderas Bay area, download their Free Real Estate Buyer and Seller's Guides to learn more, then contact one of the Timothy Real Estate Group agents for the best experience in Puerto Vallarta real estate. For more information, visit TimothyRealEstateGroup.com.