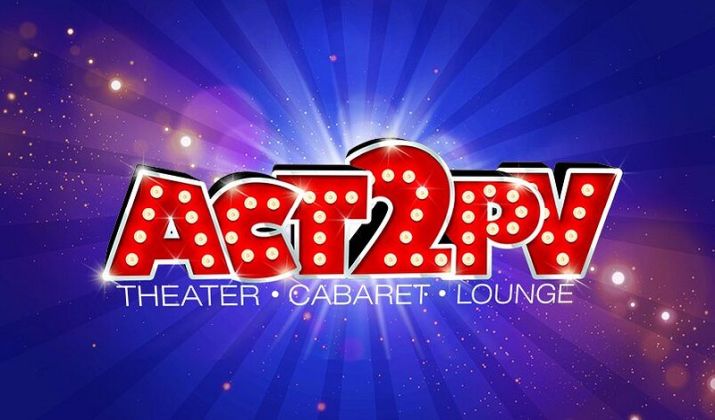 Puerto Vallarta, Mexico – Are you looking for something fun to do? How about seeing some 5-star shows in air-conditioned comfort? The best summer entertainment in Vallarta is at Act2PV where, this week, you can enjoy musical tributes, cabaret shows, dance performances and more.
CURRENT SHOWS

Voice of Vallarta Singing Competition (6th week)
Sundays at 8:00 pm
Last week's show was great and there was a HUGE audience! Now, there are just 9 contestants left! Come and support your favorite contestant during this 8-week competition! Your vote counts! This week, all contestants will sing a duet with a current or former VOV contestant and the judges (and audience) will vote on who progresses on to the next show! Tickets are available at act2pv.com and at the box office, open 4:00-10:00 pm on show days.
NEW! Now, you can watch a LIVE STREAM of the competition from the comfort of your own home! Just click HERE to buy your ticket and you will receive a website link for the broadcast.


It's Raining Men
Fridays at 9:30 pm
Act2PV has the sexiest male dancers in Puerto Vallarta, and they are starring in this super sexy show, along with the sultry vocalist, BIGI, as "Mistress of Ceremonies." SENSUAL choreography, SEXY striptease, and SEDUCTIVE music… the hardest bodies you've ever seen… bumping and grinding to your heart's content! This unique burlesque show is a feast of flesh and fantasy, with plenty of chiseled bodies to grate your wildest dreams on. Leave your inhibitions at home and get your ticket now! IT'S RAINING MEN… and the storm is coming to Act2PV!

Los Hermanas Vallejo
Saturdays at 9:30 pm
Dionisio, one of Puerto Vallarta's most iconic theater groups, celebrates its tenth anniversary by presenting Las Hermanas Vallejo, a variety show featuring the talents of more than ten actors on stage! The protagonists of this show are the Vallejo sisters, Betty and Letty, a couple of old producers from Mexico City who have been characterized as tyrants in the entertainment industry. You will enjoy more than 1 ½ hours of monologues, songs, dance and drag. Laughter is guaranteed! (Performed in Spanish)

So Much Soul
starring Kevin-Anthony and The Roxsand Band
Sundays at 7:30 pm
Kevin-Anthony and his Roxsand Band put the capital "S" in SOUL with this exciting new show, "So Much Soul!" Incorporating rhythm and blues and gospel music with "punch-you-in-the-gut" emotions, Kevin delivers REALLY GOOD SOUL MUSIC, featuring the classics of our lifetimes… both old and new! With songs from Soul's greatest artists, including Otis Redding, Al Green, Elton John, James Brown, Madonna, Shania Twain and so many more, So Much Soul will give YOUR soul the very boost you didn't even know you needed!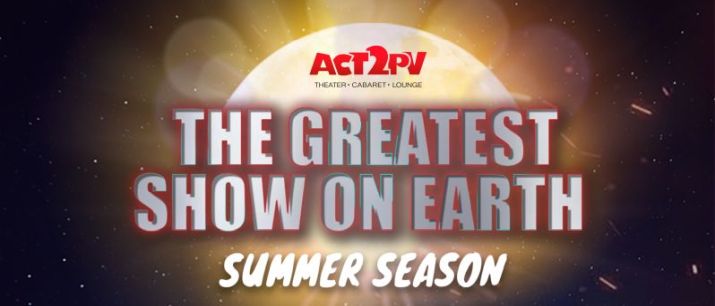 The Greatest Show On Earth
Wednesdays at 7:00 pm
"The Greatest Show on Earth," is back by popular demand! On Wednesday nights, you can see a FREE SHOW featuring performances by Act2PV's incredible entertainers! Sometimes they sing songs from their own shows, but very often, they "go rogue" with new show ideas! Everyone loves this new show concept and this FREE show is definitely worth your time. Donations are much appreciated and are divided among the performers. Make your reservation today for this fun, fun event!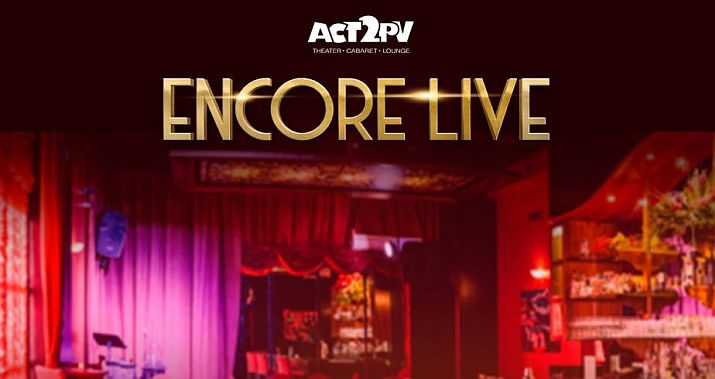 Encore Live! (NO COVER)
Wednesdays & Fridays from 5:00 to 10:00 pm
Finally, Act2PV has created a place for you to connect with friends, old and new! On Wednesdays and Fridays during the summer, you can enjoy incredible drink specials, including a Martini sampler, and listen to light music at the same time! No cover! Happy Hour from 5:00 to 7:00 pm, with live music starting at 8:00 pm. So, if you are looking for an inviting space to meet, pre- or post-dinner drinks, wine tastings, karaoke and more… Encore Live is the place to be!

Act2PV Showguide (August 12-19)
Always check the website at act2pv.com for any last-minute changes to the show schedule.
Fun Friday, August 12
5-10 pm – Encore Live! – Live music, special drinks, Happy Hour 5-7 pm
9:30 pm – It's Raining Men – featuring Act2PV's super sexy male dancers along with incredible (and sexy) vocalist, Bigi!
Super Saturday, August 13
9:30 pm – Las Hermanas Vallejos – a celebration of the 10th anniversary of the most iconic local theater group – Dionisio, starring the talent that has shaped the group for a decade! (Performed in Spanish)
Special Sunday, August 14
7:30 pm – So Much Soul, featuring Soul-Singer Extraordinaire and Broadway star, Kevin-Anthony!
8:00 pm – Voice of Vallarta, 6th Week – an exciting singing competition to choose the best voice in Puerto Vallarta!
Wonderful Wednesday, August 17
5-10 pm – Encore Live! – Live music, special drinks, Happy Hour 5-7 pm
7:00 pm – The Greatest Show on Earth, a FREE SHOW featuring many of Act2PV's entertainers!
Fabulous Friday, August 19
5-10 pm – Encore Live! – Live music, special drinks, Happy Hour 5-7 pm
9:30 pm – It's Raining Men – featuring Act2PV's super sexy male dancers along with incredible (and sexy) vocalist, Bigi!
Be sure to check out the many reviews for Act2PV shows on TripAdvisor, Google and Facebook, then go to act2pv.com for more show information, additional performance dates, and to purchase your tickets. Payment by PayPal (VISA & MasterCard) now available online on our website. Tickets are also available at the box office, now open 4-10 pm on show days.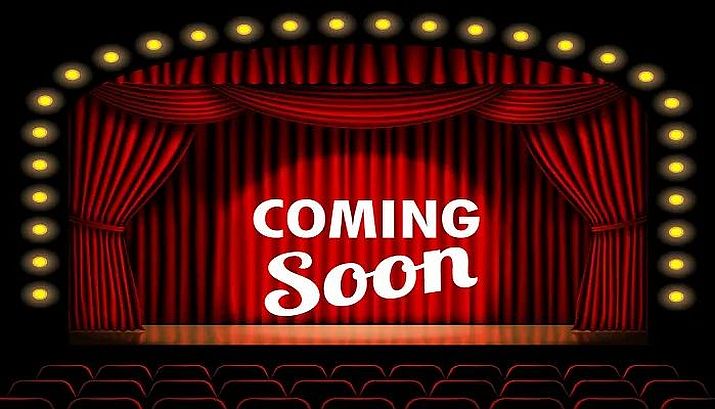 Coming Soon
The JLo Show, starring Losanna – Aug 27 & Sept 9 at 8:00 pm
Fast Love featuring Luis Villanueva – Aug 20 & Sept 2 at 7:00 pm
I'm Every Woman starring Diana Villamonte – Aug 26 at 7:00 pm, Sept 3 & 10 at 7:30 pm

The Act2PV Entertainment complex is located on the corner of Insurgentes and Basilio Badillo on the South side of Puerto Vallarta. For more information, call (322) 222-1512, or follow Act II on Facebook. Click HERE to learn more about Act2PV.