Technology News
YouTube Gives Users Ability to Flag Content tThat Promotes Terrorism

Craig Kanalley - Huffington Post
go to original
December 16, 2010

In response to concerns it's become a means of radical promotion, YouTube has now added an option for flagging content that is terrorist in nature.


When you flag a video as inappropriate, "promotes terrorism" now appears as an option under the "violent or repulsive content" category on the Google-owned website (see screenshot below).


Sen. Joe Lieberman (I-Conn.) called the new terrorism flag a "good first step toward scrubbing mainstream Internet sites of terrorist propaganda."


Lieberman first voiced concerns about radical Islamic videos on YouTube in May 2008, according to a YouTube blog post.


The site opted to make no changes at the time but encouraged users to use the flagging feature. Now "promotes terrorism" is a flag option.


But not all are fans of the change, according to the Los Angeles Times.


George Washington University law professor Jeffrey Rosen says it is "potentially troubling" and that the phrase "promotes terrorism" can be subject to interpretation.


Some have criticized the move of giving YouTube's massive audience this ability:

| | |
| --- | --- |
| | For starters, by putting the "crowd" in charge of this, YouTube is effectively throwing its hands up and saying it's no longer the site's job to determine what content belongs and what doesn't. And, as we all know, the main thing we learn when we trust the "wisdom of the crowd" is that the crowd doesn't have much wisdom. |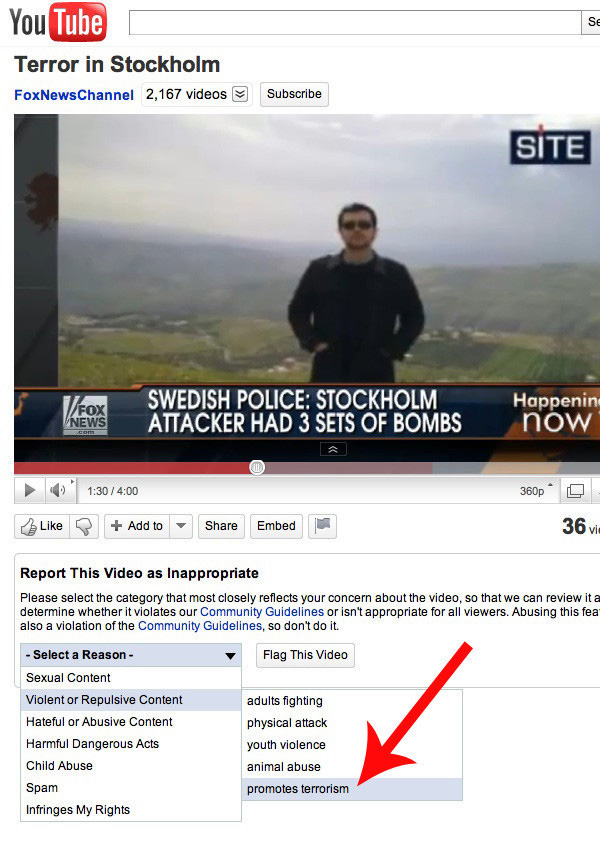 Tell a Friend
•
Site Map
•
Print this Page
•
Email Us
•
Top