Travel & Outdoors | June 2007
Tijuana and Wrestling: A Good Match

Pablo Jaime Sáinz - San Diego Union-Tribune
go to original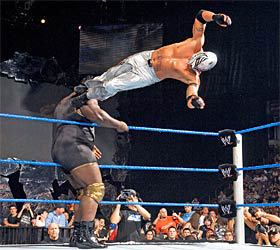 San Diego native Rey Mysterio, here getting his head kicked in at a recent SmackDown, returns to the ring in the main event when the WWE Raw Tour Summer Slam comes to Tijuana on Wednesday. (WWE)

WWE Raw Tour Summer Slam

8:30 p.m. Wednesday; Plaza de Toros La Monumental de Playas de Tijuana, Tijuana; about $30 to $200; 011-52-664-681-1985; or www.ticketmaster.com.mx

On this Fourth of July, American wrestling will invade Tijuana.


City residents will ditch the common lucha libre masked-luchadores for the fireworks when the WWE Raw Tour Summer Slam comes to the Playas de Tijuana bullring Wednesday. Tijuana marks the beginning of a four-show visit to Mexico that also includes Mexicali and Mexico City.


The first time the WWE visited TJ was in September of last year.


"We're coming back to Tijuana because the first event there was fantastic," said Rafael Morffi, director of live events marketing for the WWE, from the company's headquarters in Connecticut.


The day of that show, also held in the Playas bullring, 4,000 people queued up to buy tickets, Morffi said. The bullring was filled to its capacity of 15,000, he added, many of them from across the border.


"When we got to Tijuana, it was not surprising to see a lot of people from San Diego," Morffi said.


This time is not likely to be any different since popular San Diego-native Rey Mysterio will return to the ring after his knee injury this year in SmackDown in San Diego.


In the main event, a six-man tag-team match will feature: John Cena, Bobby Lashley and Rey Mysterio vs. Umaga, Randy Orton and King Booker. Among the other Raw superstars are Jeff Hardy, Super Crazy and Carlito.


No wonder the WWE program is being advertised in Tijuana as "The Biggest Party of the Summer."


"There's a lot of passion in the TJ fans," Morffi said.


Lucha libre, or Mexican wrestling, is part of the city's character. Each weekend there are matches at the Municipal Auditorium that bring some of the better known luchadores in Mexico.


"Mexican lucha libre is a faster style," said San Diego lucha libre promoter Ruben Zamora. "American wrestlers are taller and stronger, but they're slower."


Still, the American version represents a novelty for Tijuanans, something that breaks the mold of the same ol' lucha libre matches.


"Mexican fans love American wrestling; they love American wrestlers," Morffi said.


Not everybody in Tijuana's wrestling scene is happy that the WWE is coming to town, especially local lucha libre promoters.


Bernardo "Barney" Galvan is a promoter with Baja Star Wrestling. He organizes lucha libre events at the auditorium almost every weekend. He has complained that the WWE prices are "extremely high" for the general Tijuana population. Tickets for the Raw event cost between 300 and 2,000 pesos (about $30 to $200). He said the most expensive ticket for the lucha libre matches costs 300 pesos.


When the WWE came to Tijuana last September, he said, he felt the punch.


"People saved their money the week before the show, and then they were broke the week after the event," Galvan said. "It's not the same to have this type of event in Mexico City, which has 20 million people, than to have it here in Tijuana, a much smaller city."


Galvan said he even had to cancel the June 29 match because there hasn't been much demand for it.


"People are expecting the WWE show," he said.


While the WWE live events are known for all their spectacular stages, lights and sound systems, the lucha libre matches Galvan puts together are more basic: You have the ring and the luchadores, with a sprinkle of lights and some songs. "We can't offer the show and special features they'll see at Raw. It's not because of lack of ideas or creativity. We just don't have the economy to put up a show like that."


For those who prefer not to spend their Fourth of July at a wrestling match, San Diego's Viva la Lucha! will have lucha libre matches Saturday at the Southwestern College Gym in Chula Vista. Rey Misterio Sr. and Hijo de Rey Misterio vs. Psicossis and Fobia are on the bill. Matches begin at 7:30 p.m., and tickets are $10 for children and $20 for adults. For details, call (619) 425-6760 or log on to www.vivalalucha.com.

Pablo Jaime Sáinz writes for the Union-Tribune's Spanish-language newspaper, Enlace.
Tell a Friend
•
Site Map
•
Print this Page
•
Email Us
•
Top