Free Newsletter!
Click HERE to read a serialized and updated version of
Polly G. Vicars' sell-out book, Tales of Retirement in Paradise
.
Vallarta Living
Living in Puerto Vallarta Mexico
For many the thought of living in - or even near - a major tourist resort is about as appealing as a buying a condo in Disneyland. But here in Vallarta, the incredible natural beauty, combined with a small town atmosphere and the inherent warmth and friendliness of the local people, attracts foreign residents who enjoy the good life.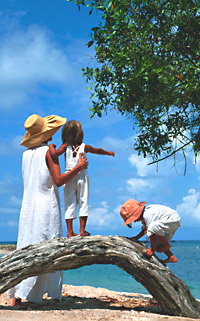 With a colorful blend of the old and the new, the Banderas Bay region offers an unrivaled combination of simple pleasures and sophisticated charms. Fine dining restaurants, art galleries, upscale shopping centers, internet cafes and nightclubs peacefully coexist alongside taco stands, street-side vendors and open air markets selling Mexican handcrafts, and strolling Mariachi bands.


But much of Puerto Vallarta's magic is in the hearts of her people. Often described as "one big, happy family," Vallartenses are known for their hospitality and for going out of their way to welcome foreign residents. And, since the Mexican people are extremely tolerant of different lifestyles, international residents and Mexican locals can live side-by-side in harmony - provided that the expatriate can learn to be creative and adaptable.


Puerto Vallarta is an unhurried refuge for people seeking more than just a beautiful beach. Those of us who choose to live here embrace the challenge of learning patience and understanding. Taking the time to "stop and smell the roses" along the road to becoming bicultural gives us the opportunity to grow - and to enjoy a more relaxed way of life.

• B E L O W T H E F O L D •
September 22 Vallarta News Brief and Upcoming Events

Banderas News Team

There's always so much going on in Puerto Vallarta and around Banderas Bay, it can be difficult to keep up with it all. Here's a look at some of this weekend's local earthquake relief efforts, a few other community announcements, and a couple of events you won't want to miss.

---
The Boutique Theatre Welcomes New Managing Director

Catherine Caldera

Puerto Vallarta's Boutique Dinner Theatre is thrilled to announce the newest addition to its team. Melissa Tropp has stepped into the role of Managing Director, and is expected to release their schedule of shows and events for the 2017-2018 season in the next few weeks.

---
USAR Vallarta Joins Rescue Efforts in Mexico City

Lorena Sonrisas

The USAR Puerto Vallarta team traveled to Mexico City Tuesday night to join in the search and rescue efforts after the 7.1 earthquake struck Tuesday afternoon, turning buildings into dust and debris, and killing at least 240 people. Here's how you can help.

---
Regional Non-Profit Organization Conference Sept 28-29

Paco Ojeda

The first regional Non-Profit Organization Conference will take place on September 28 and 29 at the Centro Empresarial in Nuevo Vallarta. The organizers' goal is to provide local non-profits with information and resources to help them increase societal participation in their projects.

---
ASPV Students to Present 'Fiddler on the Roof JR.'

Amanda González Moreno

The American School of Puerto Vallarta has the answer to those who might think: 'If I were a rich man...' I'd go to Broadway to see 'Fiddler on the Roof.' The show, featuring around 40 students, premieres October 12, with additional shows on Oct. 13 & 14. All shows are at 8 pm.

---
VII American Express Punta Mita Gourmet & Golf Classic

Ricardo Acerco

The Punta Mita Gourmet and Golf Classic returns to Riviera Nayarit November 30-December 3. Now in its 7th year, this prestigious event offers everything a lover of luxury could wish for: a long weekend filled with food, wine and golf, in one of the most beautiful destinations in the world.

---
Timothy Real Estate Group Launches New Website

Hector Medina

After months of hard work, Timothy Real Estate Group is delighted to officially announce the launch of their new website. Visitors to timothyrealestategroup.com will find a fresh design and an enhanced user-friendly experience for Puerto Vallarta real estate buyers, sellers, and investors.

---
San Pancho Patron Saint Festival Sept 25-Oct 4

Lorena Sonrisas

Every year from September 25 through October 4, the small town of San Francisco (known as 'San Pancho') Nayarit, celebrates a nine-day festival honoring its namesake, Saint Francis of Assisi, that includes not only veneration of the patron saint, but a whole lot of merry making too.

---
Riviera Nayarit Joins International Beach Cleanup Day

Norma Hernández

Keeping the Banderas Bay region's beaches clean helps its image with tourists, plus it helps the environment and raises the quality of life for those who live here. That's why the Riviera Nayarit CVB is joining the crews working on September 23 as part of International Beach Cleanup Day.

---
'Techos de Esperanza' Helping Victims of Mexico Quake

BanderasNews.com

The 8.1-magnitude earthquake that rattled Mexico on September 7th was the strongest earthquake to hit the country in over a century, affecting some 800,000 people in Oaxaca. Your donation to the Techos de Esperanza campaign will help affected families get through another day.

---
Expats in Mexico Launches 'I Love Mexico' Video Contest

PRNewswire

Expats In Mexico celebrated its first anniversary by launching an 'I Love Mexico' video contest on September 16. The winner of the contest will receive a $300 Amazon gift certificate. Second place will win a $200 gift certificate and third place a $100 gift certificate.

---
Puerto Vallarta Celebrates International Car-Free Day

Paco Ojeda

Puerto Vallarta will join the thousands of cities around the globe in celebration of International Car-Free Day on September 22. The celebration encourages people to spend one carefully prepared day without cars, and to reflect publicly and collectively on the lessons of this experience.

---
Site Map
•
Print this Page
•
Email Us
•
Top