Free Newsletter!
Click HERE to read a serialized and updated version of
Polly G. Vicars' sell-out book, Tales of Retirement in Paradise
.
Vallarta Living
Living in Puerto Vallarta Mexico
For many the thought of living in - or even near - a major tourist resort is about as appealing as a buying a condo in Disneyland. But here in Vallarta, the incredible natural beauty, combined with a small town atmosphere and the inherent warmth and friendliness of the local people, attracts foreign residents who enjoy the good life.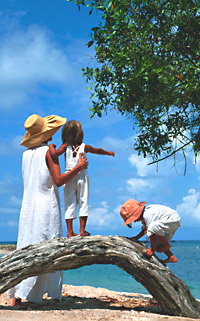 With a colorful blend of the old and the new, the Banderas Bay region offers an unrivaled combination of simple pleasures and sophisticated charms. Fine dining restaurants, art galleries, upscale shopping centers, internet cafes and nightclubs peacefully coexist alongside taco stands, street-side vendors and open air markets selling Mexican handcrafts, and strolling Mariachi bands.


But much of Puerto Vallarta's magic is in the hearts of her people. Often described as "one big, happy family," Vallartenses are known for their hospitality and for going out of their way to welcome foreign residents. And, since the Mexican people are extremely tolerant of different lifestyles, international residents and Mexican locals can live side-by-side in harmony - provided that the expatriate can learn to be creative and adaptable.


Puerto Vallarta is an unhurried refuge for people seeking more than just a beautiful beach. Those of us who choose to live here embrace the challenge of learning patience and understanding. Taking the time to "stop and smell the roses" along the road to becoming bicultural gives us the opportunity to grow - and to enjoy a more relaxed way of life.

• B E L O W T H E F O L D •
DIF Recognizes the Praiseworthy Work of Becas Vallarta

María Francesca

As part of the city's anniversary celebrations, every year on May 31st, 'Premio Vallarta' awards are given to citizens who have acted for the benefit of the community. This year, an award will be presented to a NGO for the first time, and the winner is... Becas Vallarta!

---
ExPats in Vallarta June Happy Hours and Events

Sara Wise

ExPats in Vallarta, a totally social group with informal fellowship and assistance for Expat residents or visitors living, working, investing, or considering a move to Puerto Vallarta or the greater Banderas Bay area, has announced the events scheduled for the month of June 2017.

---
Puerto Vallarta Mayor Driving Urban Bypass Road Project

puertovallarta.gob.mx

Puerto Vallarta's municipal administration is making great strides towards the completion of the urban bypass roads that will connect different areas of the city, give drivers more options when traveling from north to south, and reduce the number of vehicles on the city's main avenues.

---
A New Service at Los Mangos (and a humble tribute...)

Paco Ojeda

Inspired by a recent trip to Entre Amigos, the Puerto Vallarta Public Library, Biblioteca Los Mangos, now has a bulletin board at the entrance that provides visitors with information about all the weekly courses and workshops available for children, teens & adults, as well as special events.

---
May 26 Puerto Vallarta News Brief & Weekend Events

Banderas News Team

There's always so much going on in Puerto Vallarta and around Banderas Bay it can be difficult to keep up with it all. Here's a look at some of this week's Puerto Vallarta news headlines, community announcements and a couple of this weekend's events that you won't want to miss.

---
Vallarta Institute of Musical Arts Summer Concerts

Andrea Jupina

IAM PV recently announced the first two performances of its summer concert series. First, the Salty Paw Jazz Orchestra will be returning to The Jazz Foundation on Sunday, June 4; followed by an evening with the Puerto Vallarta Chamber Orchestra at Los Mangos Library on Friday, June 9.

---
Construction Boom in Puerto Vallarta's Romantic Zone

Taniel Chemsian

A continued year-over-year robust growth in foreign tourism has had a considerable impact on the local real estate market and construction boom. Not since the last major residential development, from 2003-2007, has the city experienced such an explosion of new condo developments.

---
Kaiser Maximilian Celebrates 22 Years & Restaurant Week

Banderas News Team

Kaiser Maximilian is celebrating 22 years as one of Puerto Vallarta's finest restaurants so, in addition to participating in Restaurant Week 2017, which runs through May 31st, they'll be serving their special $399 peso, three-course menu for lunch and dinner through June 8th.

---
Romance and Desire: The Villas & Haciendas of Vallarta

Tropicasa Realty

Clooney has one. So do Spielberg & JLo. What is it about villas that make them the desire of virtually every A-Lister? A few reasons, chief of which is privacy. And, here in Puerto Vallarta, you'll find some of the finest haciendas and villas at a fraction of the cost of those in Lake Como.

---
The Riviera Nayarit Has Great Events Lined Up for June

Riviera Nayarit CVB

Travelers visiting the Riviera Nayarit in June will have an abundance of things to see and do, as the fun-filled experiences that make 'Mexico's Pacific Treasure' such a highly sought-after destination continue with a variety of top-notch festivals and tournaments scheduled.

---
Craving the Rains? Welcome to the 'Vallarta Tease'

Bill Semeyn

We are in the period I call the 'Vallarta Tease.' It starts in May and lasts well into June. What happens is that the warm maritime air flowing in from the Bay all day hits the mountains and the cloud buildups look so sinister you're ready to 'bet the farm' that its going to rain. But it doesn't.

---
New Requirements for Bringing Your Pet into Mexico

BanderasNews.com

Bringing your pet into Mexico is not as simple as it once was. A new, more stringent law regarding cats and dogs entering Mexico went into effect on January 1, 2017. Mexico started enforcing the new requirements, which include two additional health certifications, in February 2017.

---
VYC Summer Sailing Camp: Optimist, Lasers & Windsurf

Richard Williams

Vallarta Yacht Club Summer Sailing Camps are back, and this year they are bigger and better than ever. With classes offered for all levels, from beginner to advanced sailors, students ages 7-21 can now choose to learn Optimist dinghy, Laser dinghy or sailboard.

---
Puerto Vallarta Celebrates 99th Anniversary May 26-31

Marie Callan

From May 26-31, 2017 Puerto Vallarta will commemorate its 99th anniversary of its induction as municipality and 49th of its elevation to the category of city during the Festival Cultural de Mayo, an annual 'May Fest' celebration that includes free concerts, sporting and cultural events.

---
Site Map
•
Print this Page
•
Email Us
•
Top