Free Newsletter!
Click HERE to read a serialized and updated version of
Polly G. Vicars' sell-out book, Tales of Retirement in Paradise
.
Vallarta Living
Living in Puerto Vallarta Mexico
For many the thought of living in - or even near - a major tourist resort is about as appealing as a buying a condo in Disneyland. But here in Vallarta, the incredible natural beauty, combined with a small town atmosphere and the inherent warmth and friendliness of the local people, attracts foreign residents who enjoy the good life.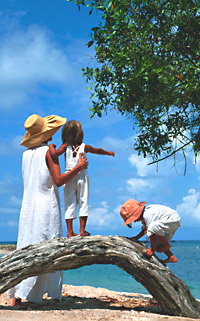 With a colorful blend of the old and the new, the Banderas Bay region offers an unrivaled combination of simple pleasures and sophisticated charms. Fine dining restaurants, art galleries, upscale shopping centers, internet cafes and nightclubs peacefully coexist alongside taco stands, street-side vendors and open air markets selling Mexican handcrafts, and strolling Mariachi bands.


But much of Puerto Vallarta's magic is in the hearts of her people. Often described as "one big, happy family," Vallartenses are known for their hospitality and for going out of their way to welcome foreign residents. And, since the Mexican people are extremely tolerant of different lifestyles, international residents and Mexican locals can live side-by-side in harmony - provided that the expatriate can learn to be creative and adaptable.


Puerto Vallarta is an unhurried refuge for people seeking more than just a beautiful beach. Those of us who choose to live here embrace the challenge of learning patience and understanding. Taking the time to "stop and smell the roses" along the road to becoming bicultural gives us the opportunity to grow - and to enjoy a more relaxed way of life.

• B E L O W T H E F O L D •
Puerto Vallarta Among Mexico's Top Vacation Destinations

Marie Callan

Finding a reason to travel to Mexico isn't difficult. However, picking the perfect place to spend your summer vacation is another story. Fortunately, US News has just released their Top 10 Best Mexico Vacations rankings - and it comes as no surprise that Puerto Vallarta is on the list.

---
Real Estate Development Underway on Mexico's Costalegre

MLS Vallarta

Information regarding Costalegre is hard to come by. The principal players tend to keep anything concerning the region to themselves, partly to protect their privacy and, to some degree, inhibit development. But, as the government works on infrastructure, development is underway.

---
Puerto Vallarta, Mexico News Brief & Weekend Events

Banderas News Team

There's always so much going on in Puerto Vallarta and around the Republic, it can be difficult to keep up with it all. Here's a look at some of this week's Mexico headlines, plus Puerto Vallarta news, community announcements and a couple of weekend events you won't want to miss.

---
Vallarta-Nayarit Real Estate Vlog Episode 1: AMPI

BanderasNews.com

Mexico is moving in the right direction, working to raise the real estate standards to protect buyer and seller interests. In her first Puerto Vallarta Riviera Nayarit Real Estate Vlog, Laura talks to the President of Vallarta A.M.P.I., the Mexican Association of Real Estate Professionals.

---
American Legion Hosts Dolphin Swim for Kids with Cancer

Stan Francis

Twenty-one Puerto Vallarta area kids undergoing treatment for cancer had an unforgettable day of fun and adventure while swimming and cavorting with dolphins this past Saturday, June 18. The American Legion Post 14 and Vallarta Adventures made the event possible.

---
What You Need to Know About Banking in Mexico

Ron Morgan Properties

Whether living in Mexico as a full-time resident or visiting your vacation home in Vallarta, opening a bank account is a smart idea for numerous reasons, like avoiding costly currency exchange fees. Here is an overview of what you need to know when opening a Mexican bank account.

---
Tropical America Palm Ranch Needs Volunteer Gardeners

Carla Piringer

How would you like to get out of Puerto Vallarta for a day trip into the beautiful farm country just north of Nuevo Vallarta? Tropical America, a 50 acre working palm and tropical plant ranch near Mezcales, needs volunteers to do numerous tasks around the farm. Here's how you can help.

---
Western Union Makes Sending Money to Mexico Easier

Business Wire

Western Union Company has grown its reach in Mexico with the ability to send money from the U.S. directly into nearly all bank accounts in Mexico. U.S. customers can now send money into bank accounts in Mexico via the Western Union mobile app, website and retail agent locations.

---
'Se Buscan Heroes' Campaign Saves Las Islas Marietas

Jorge Jiménez

Just six months after the Riviera Nayarit Convention and Visitors Bureau launched the 'Se Buscan Heroes' communications and donations campaign, the compliance rate for regulations pertaining to the conservation of Las Islas Marietas reached 99% in the months of April and May of 2016.

---
Biblioteca Los Mangos' Super Summer Courses for Kids

Marie Callan

Have you ever thought that your sons or daughters have super powers? From July 18-August 12 Los Mangos Library will present not just another summer camp, but a 'We Are Heroes' Super Summer Course, which aims to help kids discover and develop their powers through fun activities.

---
The 'Wheezes & Sneezes' of Summer Allergies

BanderasNews.com

With the hot and humid weather of summer, the symptoms of allergies are in full swing for many. If you suffer from the 'wheezes and sneezes,' there are 10 things you must be aware of according to Robin Wilson, an ambassador for the Asthma and Allergy Foundation of America.

---
PVRPV Offers Summer Savings on Vallarta Vacations

Aurora del Sol, Los Muertos Beach

PVRPV Puerto Vallarta Vacations is offering a Summer Vacation Special at Aurora del Sol, just $150 USD/night for any reservations booked from July 17 to October 31, 2016. Located right on Los Muertos Beach in the heart of Old Town, this 2 bedroom, 2.5 bath condo boasts breathtaking views.

---
The Cheapest Easiest Deep Detox You Ever Had

Jaqui Karr

With the increase in the number of chemicals introduced in the last fifty years, there has been a dramatic increase in incidences of auto-immune disease, allergies and common infections. Holistic Bio Spa Vallarta offers an ionic foot bath that is the easiest deep detox treatment ever.

---
XII National Clean Beaches Convention Postponed

Riviera Nayarit CVB

The National Water Commission announced Saturday that the XII National Clean Beaches Convention, which was set to take place June 22-25 in Nuevo Vallarta, has been postponed due to conflicting schedules. The good news is that President Peña Nieto will preside over the inauguration.

---
'Summer on the Island' Courses for Children Ages 7-12

BanderasNews.com

Summer is about to begin and with it the school holidays. What better way for kids to spend them than in a fun and creative way? That is why the Vallarta Institute of Culture is offering Summer Courses on the Island for children ages 7-12 from July 18 through August 5, 2016.

---
Vallarta's Playa de Oro Awarded Blue Flag Certification

María Francesca

Puerto Vallarta's natural attributes help it stand out as one of the best vacation destinations in the world, as was recently proven when Playa de Oro was awarded Blue Flag certification by the Foundation for Environmental Education's international jury of environmentalists.

---
Vallarta Athletes Exceed National Paralympic Goals

Lorena Sonrisas

The Puerto Vallarta athletes on the Jalisco team in the 2016 National Paralympics not only reached their goal of winning 8 gold medals, but also brought home 1 silver and 2 bronzes, helping the State of Jalisco win its 13th consecutive title as the sports competition's National Champions.

---
It's Sea Turtle Nesting Season in Puerto Vallarta

Marie Callan

Created in 1981, the Puerto Vallarta sea turtle conservation program now draws thousands of tourists to the shores of Banderas Bay every summer for the annual turtle hatching season, which runs from late June to December, and offers visitors an educational vacation experience.

---
It's Ba-ack! Summer Sizzle Returns to Daiquiri Dick's

BanderasNews.com

The temperatures are heating up and, with the return of their popular Summer Sizzle, so is the kitchen at Daiquiri Dick's Restaurant. Get ready to take your taste buds on a world tour without leaving Puerto Vallarta! The first leg of the journey begins in Asia, and runs through June 30.

---
June 17 Vallarta News Brief & Weekend Events

Banderas News Team

There's always so much going on in Puerto Vallarta and around Banderas Bay, it can be difficult to keep up with it all. Here's a look at some of this week's Puerto Vallarta news headlines, community announcements and a couple of this weekend's events that you won't want to miss.

---
Four Tips to Help You Make This Father's Day Memorable

BanderasNews.com

Regardless of the country or culture, the love of fathers crosses international borders. As Father's Day approaches, for the U.S., Mexico, and a few other countries, remember to share your appreciation of your dad on his special day, which this year falls on Sunday, June 19.

---
Vallarta Homeowner's Associations: What you Should Know

John Youden

Most people looking to buy a primary or second home in Puerto Vallarta tend to center their search around their individual needs and preferences. When a property that fulfills the criteria is found, few bother to find out how the homeowner's association (HOA) functions. But they should.

---
Nayarit Ocean Fest at B Nayar Village & Resort

Penny Isabel

Mark your calendars for June 26! The First Annual Nayarit Ocean Fest at B Nayar Village & Resort is promising to be an event you really don't want to miss. The mission of the event is to celebrate the ocean and collaborate on how to protect the beautiful Bay of Banderas at our doorstep.

---
Pulpito Drag Derby Doubles Fun, Attendance, Profits

Amapas Neighborhood Association

Thanks to many generous sponsors and great crowd participation, the third annual Pulpito Drag Derby, which kicked off the 2016 edition of Vallarta Pride, netted $50,200 pesos for street improvements and lighting in the Pulpito area, plus an additional $5,000 pesos for SETAC.

---
The What and Why of the Mexican Real Estate Trust

MEXlend Mortgages for Mexico

Buying real estate in Mexico is a little different than at home, and the Fideicomiso (Bank Trust) is perhaps the most misunderstood aspect of purchasing property in Mexico. MEXLend, the premier mortgage broker in Mexico, explains the What and Why of the Mexican Real Estate Trust.

---
Vallarta Life: Meet Purr Project's Crazy Cat Ladies

Banderas News Team

In this edition of Vallarta Life, Laura talks with Pamela Sullivan and Marilyn Khan, two Puerto Vallarta women who are sometimes referred to as 'crazy cat ladies.' But after they take you on a tour of the PuRR Project Cat Ranch, they don't seem so crazy, after all.

---
Site Map
•
Print this Page
•
Email Us
•
Top