Free Newsletter!
Click HERE to read a serialized and updated version of
Polly G. Vicars' sell-out book, Tales of Retirement in Paradise
.
Vallarta Living
Living in Puerto Vallarta Mexico
For many the thought of living in - or even near - a major tourist resort is about as appealing as a buying a condo in Disneyland. But here in Vallarta, the incredible natural beauty, combined with a small town atmosphere and the inherent warmth and friendliness of the local people, attracts foreign residents who enjoy the good life.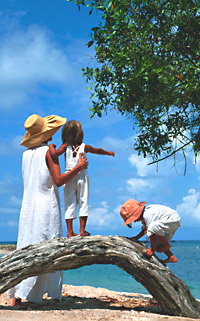 With a colorful blend of the old and the new, the Banderas Bay region offers an unrivaled combination of simple pleasures and sophisticated charms. Fine dining restaurants, art galleries, upscale shopping centers, internet cafes and nightclubs peacefully coexist alongside taco stands, street-side vendors and open air markets selling Mexican handcrafts, and strolling Mariachi bands.


But much of Puerto Vallarta's magic is in the hearts of her people. Often described as "one big, happy family," Vallartenses are known for their hospitality and for going out of their way to welcome foreign residents. And, since the Mexican people are extremely tolerant of different lifestyles, international residents and Mexican locals can live side-by-side in harmony - provided that the expatriate can learn to be creative and adaptable.


Puerto Vallarta is an unhurried refuge for people seeking more than just a beautiful beach. Those of us who choose to live here embrace the challenge of learning patience and understanding. Taking the time to "stop and smell the roses" along the road to becoming bicultural gives us the opportunity to grow - and to enjoy a more relaxed way of life.

• B E L O W T H E F O L D •
Rare Plant Blooms at Vallarta Botanical Gardens

Bob Price

Vallarta Botanical Gardens has made a name for itself as a place of learning, where knowledgeable staff educates visitors on the vast diversity of Mexico's plant species. Last week, they proudly announced the first blooming of a rare plant, the 'Ursulaea macvaughii.'

---
Davannayoga Presents an Evening With Sebastian Siegel

Anna Laurita

On October 16 at 7 pm, Davannayoga, a traditional-style yoga school in Puerto Vallarta, will host a special evening with Sebastian Siegel on contemporary applications of Not Mistaking the Finger for the Moon, including a screening of his acclaimed documentary, 'Awakening World.'

---
This Month's Vallarta Hot Property at Tropicasa Realty

Torre Malibu 201

Do you want to own a 1 bedroom, 2 bath completely remodeled and updated condominium that has a view, a pool, is close to the beach, and within walking distance to all the great nightlife, restaurants, bars, galleries on Puerto Vallarta's south side? Then Torre Malibu 201 is for you!

---
Celebrate Oktoberfest in Mexico at Kaiser Maximilian

Laura Gelezunas

It is October, and you know what that means... it's time for Oktoberfest! Here in Puerto Vallarta, European Chef Andreas Rupprechter is serving up an Oktoberfest menu in addition to the traditional Austrian cuisine that has made Kaiser Maximilian one of PV's favorite restaurants.

---
Vallarta Continues to Entice Real Estate Investors

BanderasNews.com

When does a vacation turn into a long term business investment? When one is caught up in the splendor and enchantment of a vacation in Puerto Vallarta, Mexico! Want to know more? Tune in to HGTV on October 8 for the 6th PV episode of 'House Hunters International.'

---
What Does October Have in Store for You?

October 2015

The night sky shines a bit brighter over Banderas Bay. Laura Gelezunas, a Puerto Vallarta Real Estate Agent with Ron Morgan Properties, is happy to share her guide to the tropical stars with you. Many believe these heavenly bodies are key to making the most out of life in Mexico.

---
Puerto Vallarta Has a New Mayor with New Priorities

aznoticias.mx

After being sworn in on September 30th, the new Mayor of Puerto Vallarta, Arturo Dávalos Peña, gave a clear, precise - even promising - speech outlining what his government will do, including specific commitments and established deadlines for results, during his 3-year term in office.

---
October 2 Vallarta News Brief and Upcoming Events

Banderas News Team

There's always so much going on in Puerto Vallarta and around Banderas Bay, it can be difficult to keep up with it all. Here's a look at some of this week's Puerto Vallarta news headlines, a few community announcements, and a couple of upcoming local events that you won't want to miss.

---
Vallarta Collects 12 Tons of Electronics for Recycling

puertovallarta.gob.mx

Last week's 'Mueve tus Electronicos' e-waste recycling campaign exceeded the Puerto Vallarta Department of Environment and Ecology's goal by about 2 tons. Thanks to the participation of conscientious citizens, almost 50 tons of electronics have been recycled to date.

---
Vallarta Businesses Offering Pink Specials in October

HealthCare Resources

October is Breast Cancer Awareness Month, which is an annual campaign to increase awareness of the disease. Here in Puerto Vallarta, many local businesses are participating in the month-long campaign to raise breast cancer awareness by offering their clients 'pink' specials.

---
Canadian Priest Helps Vallarta's Poorest Get Education

Journal Pioneer

Canadian Priest, Eloi Arsenault, has been traveling to Puerto Vallarta, Mexico - part vacation, part philanthropy - since 2010, bringing with him donations to help support the students at Volcanes School. He is currently collecting funds in Canada to help the kids get a better education.

---
Boardwalk Realty PV: In Mexico, It's All About Honey

Adam Garcia

The use of honey in Mexico dates back to the time of the Mayans, and honey remains popular in the country through the present day. Here in Puerto Vallarta, local honey can be purchased on the streets, and we often buy from the man who caters to those walking down Basilio Badillo.

---
Democrats Abroad Back Bi-Partisan Fix for FATCA

Mike Heffron

Following yesterday's ruling from Judge Thomas M. Rose, Democrats Abroad (DA) have called for immediate action by Treasury and the IRS that would relieve the severe and unnecessary effects FATCA has on Americans living abroad. DA favors a switch to residency-based taxation.

---
Luis Miguel to Perform in Puerto Vallarta November 15

Lorena Sonrisas

Mexican singer and international icon, Luis Miguel will perform a live concert at the Puerto Vallarta International Convention Center on Sunday, November 15th as part of his 'Mexico 2015' tour, which started in January in Puebla, and will resume on November 12th in Monterrey.

---
Sayulita, Talpa and Mascota Among New Pueblos Mágicos

Marie Callan

At the Segunda Feria Nacional de Pueblos Mágicos held in Puebla last weekend, the nearby villages of Sayulita, in the Riviera Nayarit, and Talpa de Allende and Mascota, in Jalisco, were among the twenty-eight new destinations added to the list of 'Magic Towns' in Mexico.

---
Vallarta Vacation Property of the Week from PVRPV

Paramount Bay 408 C - Condo

Paramount Bay 408 C is a newly renovated two bedroom, two bath condominium featuring contemporary decor that is luxurious without compromising comfort. Conveniently located in Puerto Vallarta's prestigious Amapas neighborhood, this condo offers all of the comforts of home.

---
October 2015 Puerto Vallarta Health News & Clinics

Pamela Thompson

Where did the summer go? It has whizzed by, hot and humid. We now look forward to our 'snowbirds' returning for the winter season. Here at Healthcare Resources Puerto Vallarta, we have all kinds of clinics, speaker programs, and Breast Cancer Awareness events planned for October.

---
Vallarta Had a Lot to Celebrate on World Tourism Day

Nuestras Noticias

Puerto Vallarta had a lot to celebrate on World Tourism Day. Authorities named 100 children Guardians of PV's Tourism Heritage, and this year's 865,000 passenger on a national flight and 1,875,000 international passenger were welcomed at the Gustavo Diaz Ordaz International Airport.

---
The City of Puerto Vallarta is Taking Out the Trash

Banderas News Team

As we reported back in July, Puerto Vallarta's acting mayor, Javier Pelayo Méndez, is working to provide a definitive solution to the garbage collection problem in several of the city's colonias. Last Friday, a brigade of municipal workers went out to pick up the garbage themselves.

---
Site Map
•
Print this Page
•
Email Us
•
Top