Free Newsletter!
Click HERE to read a serialized and updated version of
Polly G. Vicars' sell-out book, Tales of Retirement in Paradise
.
Vallarta Living
Living in Puerto Vallarta Mexico
For many the thought of living in - or even near - a major tourist resort is about as appealing as a buying a condo in Disneyland. But here in Vallarta, the incredible natural beauty, combined with a small town atmosphere and the inherent warmth and friendliness of the local people, attracts foreign residents who enjoy the good life.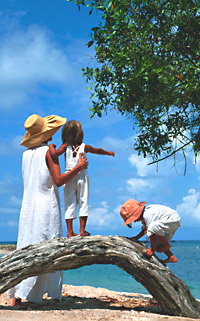 With a colorful blend of the old and the new, the Banderas Bay region offers an unrivaled combination of simple pleasures and sophisticated charms. Fine dining restaurants, art galleries, upscale shopping centers, internet cafes and nightclubs peacefully coexist alongside taco stands, street-side vendors and open air markets selling Mexican handcrafts, and strolling Mariachi bands.


But much of Puerto Vallarta's magic is in the hearts of her people. Often described as "one big, happy family," Vallartenses are known for their hospitality and for going out of their way to welcome foreign residents. And, since the Mexican people are extremely tolerant of different lifestyles, international residents and Mexican locals can live side-by-side in harmony - provided that the expatriate can learn to be creative and adaptable.


Puerto Vallarta is an unhurried refuge for people seeking more than just a beautiful beach. Those of us who choose to live here embrace the challenge of learning patience and understanding. Taking the time to "stop and smell the roses" along the road to becoming bicultural gives us the opportunity to grow - and to enjoy a more relaxed way of life.

• B E L O W T H E F O L D •
Get Ready for a Sensational Summer at Daiquiri Dick's

Banderas News Team

The seasons are changing and so are things at one of Puerto Vallarta's favorite restaurants. From new summer hours and menus to the return of the Summer Sizzle, Sunday Brunch with Jorge and Lenin and Sunset Piano with Antonio, Daiquiri Dick's remains 'An Exceptional Experience.'

---
Mexico's 2016 Tianguis Turístico: Breaking News

Travel Pulse

Having recouped its standing as one of the world's top ten most visited countries according to the WTO, Mexico pulled out all the stops at the 41st Tianguis Turístico, showcasing its cultural & artisanal diversity and introducing new developments in Vallarta-Nayarit and other areas.

---
8 Tips for a Great Mother's Day Celebration in Vallarta

Marie Callan

She held you in her arms when you were a baby. She took care of you when you didn't feel well or had a rough day at school. She may even help care for your own kids these days. What are the best ways to show mom your appreciation and thank her for all that she does this Mother's Day?

---
Vallarta's Casa Velas Promotes New Wedding Package

BanderasNews.com

Couples tying the knot can enjoy a 'Beyond All-Inclusive, Beyond All-Compare' Presidential Suite wedding promotion at Casa Velas, a boutique adults-only hotel and ocean club on the Marina Vallarta Golf Course in Puerto Vallarta.

---
Two Ways to Celebrate Mother's Day at Daiquiri Dick's

Media Diva International

Mom's special day is just around the corner, and you don't want to get caught without a plan. From May 7-9, Daiquiri Dick's Restaurant on Vallarta's Los Muertos Beach is serving up delicious specials to celebrate the ladies we love and help you make this Mother's Day wonderful.

---
Mexico SUP & Paddleboard Team Selection in Sayulita

Riviera Nayarit CVB

The top Stand Up Paddle (SUP) and paddleboard competitors in Mexico will be in Sayulita, the Riviera Nayarit's Surf Capital, from May 6-8, competing for one of the fifteen spots open to the men and women that will make up the Mexican National SUP and Paddleboard Team.

---
Vallarta Restaurant Week Ready and Improved for 2016

BanderasNews.com

During a press conference earlier this week, Vallarta Restaurant Week organizers announced improvements for this twelfth edition. Among them, a smaller, completely redesigned menu guide; a new monthly, bilingual email newsletter; and a new, dedicated website for Restaurant Week.

---
Cinco de Mayo: A Day to Celebrate Mexican Culture

BanderasNews.com

Throughout Mexico, as well as in many cities across the United States and any other country where there are people of Mexican descent, the fifth of May means partying in traditional Mexican style; but the significance of Cinco de Mayo goes beyond mariachi bands and piñatas.

---
Hook the Cure Returns to Puerto Vallarta Nov. 3

Gary Green

The Eleventh Annual Hook the Cure powered by IOTEC will return to Puerto Vallarta, Mexico on November 3, 2016. The four-day catch-and-release offshore tournament, an official event of the Redbone Celebrity Series, will benefit the Cystic Fibrosis Foundation.

---
Marriott Offers Group Travelers a Chance To Give Back

hospitalitynet.org

Group travelers staying at a Marriott property in Mexico or the Caribbean can help a local charity through the company's new 'Carry-on Charity' program. The program offers a credit to cover the cost of an additional checked bag so travelers can bring items to donate to local charities.

---
See 'This Changes Everything' at The Jazz Foundation

Costa Banderas Democrats Abroad

The Costa Banderas Chapter of Democrats Abroad Mexico will present 'This Changes Everything,' a film that examines the challenges of climate change and how environmental activists make a difference worldwide. It will be shown on May 11 at The Jazz Foundation on the Malecón.

---
Farm Work, Food and Fun in the Country with PVGC

Vallarta Garden Club

Attention local residents and gardening lovers! Here's a new opportunity to get out of Puerto Vallarta for a day into the beautiful farm country just outside of Mezcales. Join us for a day of farm work, fun and food any Wednesday in May (4, 11, 18, 25), from 9 am until early afternoon.

---
ExPats in Vallarta May 2016 Happy Hours and Events

Sara Wise

ExPats in Vallarta, a totally social group with informal fellowship and assistance for Expat residents or visitors living, working or investing in Puerto Vallarta or around Banderas Bay, or those considering it, has announced this month's schedule of events.

---
This Month's Hot Property from Tropicasa Realty

Villa Alborada

When you think of Sierra del Mar, you think lush hillsides, natural view perspectives of the ocean and the jungle beyond in a secure and gated enclave on Vallarta's southern shores. What may surprised you is that one home stands apart in architectural styling, and that is Villa Alborada.

---
April 29 Puerto Vallarta News Brief & Weekend Events

Banderas News Team

There's always so much going on in Puerto Vallarta and around Banderas Bay, it can be difficult to keep up with it all. Here's a look at some of this week's Puerto Vallarta news, community announcements and a couple of this weekend's events that you won't want to miss.

---
Children's Fishing Tournaments in the Riviera Nayarit

Jorge Jiménez

Two fun, friendly & free fishing competitions for kids are taking place in the Riviera Nayarit this weekend - the 2nd Annual Children's Fishing Tournament at La Cruz Marina on Saturday, April 30th, and the 2nd Annual Children's Surf Fishing Tournament in San Blas on Sunday, May 1st.

---
A Weekly Radio Show for PV's English-Speaking Community

Sean Harris

In August 2015, Michael Nolen started hosting 'The Good Morning Wake Up Show,' an English-language broadcast covering Puerto Vallarta news, weather, events and helpful information for the expat community. The show airs Saturdays on University of Guadalajara's 104.3 FM radio station.

---
Cirque du Soleil Theme Park to Open in Nuevo Vallarta

Lorena Sonrisas

During Tianguis Turístico 2016, held this week at Expo Guadalajara, Cirque du Soleil CEO Daniel Lamarre gave attendees more details about their new theme park, which will be built in Nuevo Vallarta, and centered around their newest show 'Luzia: A Waking Dream of Mexico.'

---
Puerto Vallarta Bug Season: The Mighty Mosquito

TREGROUP

Mosquitoes are not to be taken lightly when staying in the vicinity of the jungle in Puerto Vallarta. One chooses to holiday in paradise but must realize there are often caveats in heaven. We can name very few but we are completely aware of the mosquito's existence being one of them.

---
Las Alamandas: Great Deals for Family Summer Fun

PR Newswire

Las Alamandas Resort, midway between Puerto Vallarta and Manzanillo, offers a family retreat like no other. Seventeen spacious and luxuriously appointed suites are set alongside miles of unspoiled private beaches, tranquil lagoons, organic orchards, flowing estuaries and exotic wildlife.

---
Last Chance to Enjoy the OTFM-TC's 7th Season

Erin Staley

April 30th is the last shopping day of the Puerto Vallarta Old Town Farmers Market-Tianguis Cultural's 7th season, so be sure to come out to Lazaro Cardenas Park this Saturday to stock up on all of your favorite 'make it, bake it, grow it' products. The OTFM-TC's 8th season begins Nov 5.

---
Free Estero El Salado Boat Tours on Children's Day

María Francesca

On Saturday, May 30, in celebration of El Día del Niño, the Estero el Salado will be giving the children of Puerto Vallarta free one-hour boat tours through the estuary. Aboard 'La Aventurera' kids can learn about the eco-reserve's great diversity of wildlife and 3 species of mangrove.

---
Salty Dog Voyages: Banderas Bay Luxury Yacht Cruises

Marie Callan

If you want to explore the natural wonders of Puerto Vallarta's Banderas Bay, but don't want to take a typical 'Booze Cruise,' then Salty Dog Voyages are perfect for you! Climb aboard Salty Dog's 58-foot Azimut yacht for a truly luxurious day on the water that you will never forget.

---
Fairmont Costa Canuva Hotel to Open in Late 2018

MarketWatch.com

Luxury hotel operator Fairmont Hotels & Resorts and Mota-Engil Tourismo yesterday announced the development of a 250-room luxury hotel and private residences in the new master-planned 'Costa Canuva' community on the Riviera Nayarit. The hotel is slated to open in 2018.

---
PV to Conduct Tsunami Evacuation Simulation on May 6

observatoriobahia.mx

As part of the actions that the State and Municipal Civil Protection Departments implement to foster a culture of prevention in Puerto Vallarta, various public and private agencies have been invited to participate in a large-scale tsunami evacuation simulation on Friday, May 6th at 10:00 am.

---
Grant Maloy Smith 'Crossing The Border' at Casa Karma

Debbie White

CK Productions is thrilled to present a late season show on Wednesday, May 11 featuring Grant Maloy Smith, a renowned singer/songwriter who is a master of American Roots music. The setting for this spectacular event will be Casa Karma Boutique Resort on Puerto Vallarta's southern shores.

---
Islas Marietas Remain Open, Playa Escondida Off Limits

BanderasNews.com

On April 21, the Governor of Nayarit and the Conanp officially announced that Las Islas Marietas, an icon of Vallarta-Nayarit, will not be closed on May 9. Only the islands' Playa Escondida (Hidden Beach) will be temporarily off-limits for a few months of restoration & maintenance.

---
Site Map
•
Print this Page
•
Email Us
•
Top