Free Newsletter!
Click HERE to read a serialized and updated version of
Polly G. Vicars' sell-out book, Tales of Retirement in Paradise
.
Vallarta Living
Living in Puerto Vallarta Mexico
For many the thought of living in - or even near - a major tourist resort is about as appealing as a buying a condo in Disneyland. But here in Vallarta, the incredible natural beauty, combined with a small town atmosphere and the inherent warmth and friendliness of the local people, attracts foreign residents who enjoy the good life.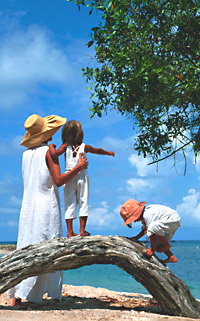 With a colorful blend of the old and the new, the Banderas Bay region offers an unrivaled combination of simple pleasures and sophisticated charms. Fine dining restaurants, art galleries, upscale shopping centers, internet cafes and nightclubs peacefully coexist alongside taco stands, street-side vendors and open air markets selling Mexican handcrafts, and strolling Mariachi bands.


But much of Puerto Vallarta's magic is in the hearts of her people. Often described as "one big, happy family," Vallartenses are known for their hospitality and for going out of their way to welcome foreign residents. And, since the Mexican people are extremely tolerant of different lifestyles, international residents and Mexican locals can live side-by-side in harmony - provided that the expatriate can learn to be creative and adaptable.


Puerto Vallarta is an unhurried refuge for people seeking more than just a beautiful beach. Those of us who choose to live here embrace the challenge of learning patience and understanding. Taking the time to "stop and smell the roses" along the road to becoming bicultural gives us the opportunity to grow - and to enjoy a more relaxed way of life.

• B E L O W T H E F O L D •
Arena Vallarta Hosts 2015 National Charro Championship

María Francesca

From January 29 through February 1st, twenty-four of Mexico's best Charro associations will gather in Puerto Vallarta to compete in the Fourth National Charro Championship 'Grand Premio 2015' at Arena Vallarta, just 20 minutes from the city's International Airport.

---
November 21 Vallarta News Brief and Weekend Events

Banderas News Team

There's always so much going on in Puerto Vallarta and around Banderas Bay, it can be difficult to keep up with it all. Here's a look at some of this week's Vallarta news headlines, some community announcements, and a couple of this weekend's events that you won't want to miss.

---
6th Riviera Nayarit Tourism Half Marathon & 10K

Banderas News Team

The Sixth Touristic Half Marathon of Riviera Nayarit is set to take place on November 22nd at 7:00 am, and the Conventions and Visitors Bureau is not only ready to welcome the record number of participants in this year's event but also to enhance the experience for the spectators.

---
4th World Stand Up Paddle and Paddleboard Championship

Riviera Nayarit CVB

Sayulita, the Riviera Nayarit's Surf Capital, will play host to the top stand up paddle and paddleboard competitors in the world from May 10-17, 2015, thanks to the work of the Mexican Tourism Board and the Riviera Nayarit Convention and Visitors Bureau.

---
Puerto Vallarta Working to Improve City Bus Service

Lorena Sonrisas

The modernization of public transportation has been a long-awaited and desired dream for Puerto Vallarta residents, and it looks as if it might soon be realized. The city plans to improve bus service in every way - from creating new routes to reducing the number of buses downtown.

---
Freshly Baked Goodness at Puerto Vallarta's OTFM-TC

Erin Staley

If you're visiting sunny Puerto Vallarta, be sure to stop by the city's favorite weekend attraction: the Old Town Farmers Market-Tianguis Cultural. While you're there, be sure pick up a loaf or two of Hans Casanova's freshly-baked, healthy and hearty, Chilean whole wheat bread.

---
Scotiabank Mexico to Launch 'Bank In Your Currency'

BBR Banking Services

Scotiabank will soon launch 'Bank In Your Currency' service at over 1,500 ATMs across Mexico. The service will provide MasterCard cardholders with the ability to instantly view, select, and manage the conversion to their 'home currency' of the Mexican Peso amount dispensed.

---
David Hoffman's Journey to Puerto Vallarta

David Hoffman

For those of you who are thinking about making a permanent move to Puerto Vallarta, Mexico, Tropicasa real estate agent David Hoffman shares his experiences. For him, the purchase of a Vallarta vacation home was life-changing. Perhaps it will be for you as well!

---
AMC Doubles Number of Households Reached in Mexico

Georg Szalai

AMC Networks has doubled the number of households they reach in Mexico, striking new agreements with most all of the of cable systems throughout the country, including Megacable and Telecable as well as Televisa's Sky Mexico, the country's largest pay TV operator.

---
Is your Favorite American Corporation Gay Friendly?

GAYPV Magazine

Tim Wilson, the founder/editor of Puerto Vallarta's GAYPV Magazine asks, 'Is your favorite U.S. corporation gay friendly?' Well, the 2014 HRC Corporate Equality Index report was just released, and it shows which corporations have the highest, and the lowest, gay-friendly scores.

---
'House Hunters International' Charity Auction & Raffle

Taniel Chemsian

One of the most incredible things about being involved with the House Hunters International Charity Event is the chance to see the wonderful giving spirit of the Puerto Vallarta community. For the first time this year we will be having a Silent Auction and at least 80 raffle prizes.

---
Pueblos Magicos Designation Proposed for Puerto Vallarta

Prensa Global

With the Federal Tourism Department set to designate 12 new 'Pueblos Mágicos' (Magic Towns) in Mexico in 2015, the President of the Puerto Vallarta-Bahia de Banderas Business Association, Jorge Villanueva, is seeking to have Puerto Vallarta added to the list.

---
The Red Room Cabaret Season Opener Party, Nov 23

Daniel R. Mininni

Act II Stages is gearing up for a great Winter season, and they can't wait to show you what's in store! On November 23, everyone in Puerto Vallarta is invited to this season's Grand Opening Party at The Red Room Cabaret, located inside the Act II Stages Entertainment complex.

---
Democrats Abroad Weekly Film Series Resumes December 3

David Kamp and Judy Snow

The Costa Banderas Chapter of Democrats Abroad Mexico is launching its Fifth Annual Film Series on a new night and at a new location. This year, the weekly films will be shown on Wednesday nights at 7:00 pm at the International Friendship Club in downtown Puerto Vallarta.

---
Design Your Life for More Happiness with Less Stuff

Umberto Ciccolella

As land, building, and condo association costs rise in Puerto Vallarta, condo square footage is shrinking. This means interior design is now even more important than before. Interior Designer Umberto Ciccolella offers tips to maximize your space with great design and functionality.

---
US Presidential Visits to Mexico Exhibit Opens at OPC

Pilar Perez

Deborah Aschheim's 'Bienvenidos Los Presidentes,' a multidisciplinary exhibition about collective memory and mythology that blends archival research, community interviews, and a broad range of source material with drawings, photographs, and video, opens at Vallarta's OPC Nov 26th.

---
Renovation of Marina Vallarta to get Underway Soon

Guillermo Gomez Pasten

With an investment of up to $100 billion pesos, a plan to revitalize Marina Vallarta will include renovation of the docks, piers, and tourist walkways, as well as the sidewalk cafes, restaurants, and boutiques - all designed to appeal to both foreign and domestic visitors.

---
Hairspray 3 Raises $79,936 to Help SETAC Fight AIDS

Tim Wilson

Over 300 SETAC supporters gathered at Mantamar Beach Club on November 8th for Hair Spray Night 3, a fabulous Fashion Show full of creativity and talent. Ten local stylists and make-up artists participated in the event, which raised $79,936 pesos to help fight AIDS in Puerto Vallarta.

---
Cancer Treatment Center to Open in Puerto Vallarta

Milenio.com

During his speech at the 'Sixth Annual Oncology Symposium,' the director of the Jalisco Institute of Cancerology announced that in early 2015 the agency will open an office in Puerto Vallarta that will be able to serve about 100 patients in the Banderas Bay region.

---
Sea Monkey Hosts 'Luau' in Support of PuRR Project

Marilyn Khan

On Friday, December 12th at 5 pm, Sea Monkey Restaurant will be hosting the Second Annual Pig Roast & Luau on the Beach to benefit Puerto Vallarta's no-kill feline shelter, PuRR Project. This year's event includes a special Polynesian dance performance by Academia Danza de Moorea.

---
Drink Turmeric-Chai Tea for Body & Brain Health

Dr. Leslie Korn

Many of us use turmeric in cooking and as a supplement as an effective and natural anti-inflammatory. While there are great quality supplements available, they can be expensive. Here's an easy recipe using the turmeric root or powder to make healthy Turmeric-Chai Tea.

---
Site Map
•
Print this Page
•
Email Us
•
Top