Free Newsletter!
Click HERE to read a serialized and updated version of
Polly G. Vicars' sell-out book, Tales of Retirement in Paradise
.
Vallarta Living
Living in Puerto Vallarta Mexico
For many the thought of living in - or even near - a major tourist resort is about as appealing as a buying a condo in Disneyland. But here in Vallarta, the incredible natural beauty, combined with a small town atmosphere and the inherent warmth and friendliness of the local people, attracts foreign residents who enjoy the good life.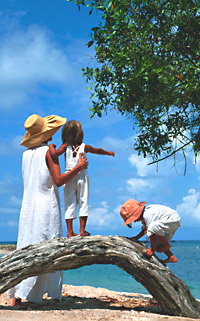 With a colorful blend of the old and the new, the Banderas Bay region offers an unrivaled combination of simple pleasures and sophisticated charms. Fine dining restaurants, art galleries, upscale shopping centers, internet cafes and nightclubs peacefully coexist alongside taco stands, street-side vendors and open air markets selling Mexican handcrafts, and strolling Mariachi bands.


But much of Puerto Vallarta's magic is in the hearts of her people. Often described as "one big, happy family," Vallartenses are known for their hospitality and for going out of their way to welcome foreign residents. And, since the Mexican people are extremely tolerant of different lifestyles, international residents and Mexican locals can live side-by-side in harmony - provided that the expatriate can learn to be creative and adaptable.


Puerto Vallarta is an unhurried refuge for people seeking more than just a beautiful beach. Those of us who choose to live here embrace the challenge of learning patience and understanding. Taking the time to "stop and smell the roses" along the road to becoming bicultural gives us the opportunity to grow - and to enjoy a more relaxed way of life.

• B E L O W T H E F O L D •
Vallarta News Brief & a Few Ways to Woo Your Valentine

Banderas News Team

There's always so much going on in Puerto Vallarta and around Banderas Bay, it can be difficult to keep up with it all. Here's a look at some of this week's Puerto Vallarta news, a few community announcements, and a couple of ways to romance your sweetheart on Valentine's Day.

---
3rd Annual Taste of Lo De Marcos Set for February 21

Alonso Diaz

The 3rd Annual Taste of Lo De Marcos, to be held at the Centro de Fiestas Los Delfines on Sunday, February 21, 2016 from 3-8 pm, will feature local restaurants, artisanal booths and live music, with proceeds benefiting local non-profits Amigos de Lo de Marcos and Comité de Acción Ciudadana.

---
Vallarta Vacation Property of the Week from PVRPV

Casa Marriott at Sayan Beach

This week, PVRPV proudly presents a stunning, recently built 3 bedroom, 3 bath, 2400 SqFt condo with amazing ocean views and beach access. Located in Sayan Beach condo building, Casa Marriott's ideal location offers views of Puerto Vallarta's Old Town, Playa Los Muertos, Los Arcos & jungle.

---
San Pancho Music Festival Celebrates its 16th Year

Chris Parsons

The 2016 San Pancho Music Festival will be held Friday, February 26th through Sunday, February 28th in San Francisco, Nayarit. This year the Music Festival will feature performing artists from the Riviera Nayarit region, as well as musicians from the United States, Canada and Mexico.

---
Valentine's Day is for Sweethearts at Daiquiri Dick's

Laura Gelezunas

What better way to celebrate Valentine's Day than to enjoy an intimate evening of wining, dining and romancing? Treating that special someone to a fabulous Valentine's Day dinner at Daiquiri Dick's is one of the best ways to make your sweetheart feel special.

---
CarnavalPV a Menagerie of Energy, Song & Colors

Tim Longpré

The 2016 CarnavalPV Parade was a celebration of life, energy and joy, treating the more than 35,000 residents and tourists that lined the 3 kilometer route to an unforgettable night filled with glitter, feathers, beads, paper mache, sequins, music and pageantry.

---
Treat Your Valentine to Something Sweet from OTFM-TC

Erin Staley

What better way to kick off Valentine's Day than to stroll through Puerto Vallarta's Old Town Farmers Market-Tianguis Cultural? Meet up with your sweetie, and enjoy a day of 'make it, bake it, grow it' shopping, live music, and plenty of 'sweet stuff,' like Xocodiva Artisan Chocolates.

---
Valentine's Day at the Marriott for Corazón de Niña

Banderas News Team

What better way to celebrate Valentine's Day than an intimate evening overlooking Banderas Bay at the CasaMagna Marriott Resort? This year while wining, dining, and romancing that special someone you can also help out the abused and abandoned children at Corazón de Niña.

---
Casa Cupula Puerto Vallarta Has Expansion in Mind

Tropicasa Realty

Casa Cupula Puerto Vallarta, one of the world's top-rated boutique hotels for the LGBT community, has expansion in mind. 'With record occupancy, we have the luxury of time to find the best way to build on this success,' says Don Pickens, owner of Milagro Properties LLC.

---
2016 Medical Matters Conference Speakers - Part 4

Pamela Thompson

The 2016 PV Medical Matters Conference sponsors - HealthCare Resources, the US Consular Agency, and the CasaMagna Marriott Puerto Vallarta Resort & Spa - are proud to welcome some very distinguished medical practitioners as featured speakers at this year's event.

---
Celebrate Mardi Gras in Vallarta at Daiquiri Dick's

Laura Gelezunas

Vallarta's Carnaval celebration extends into the kitchen at Daiquiri Dick's Restaurant. Executive Chef Ignacio Uribe, Chef de Cuisine Hugo Mejia and Sous Chef Rogelio Garcia have assembled a festive menu so you can get into the Mardi Gras mood with delicious food, through February 10.

---
Valentine Weekend at Tu Casa en Vallarta, No Way José!

José Alfredo Gonzalez

What better way to celebrate Valentine's Day than to enjoy an intimate evening of wining, dining and romance at Tu Casa en Vallarta? No Way Jose! invites you to join them for three evenings of live music and magic, along with a special Valentine's Day menu for lovers, February 12-14th.

---
Act II Presents Chi Chi Rones in 'Steel Cojones'

Debbie White

Internationally acclaimed entertainer and Emmy Award-Winner, Chi Chi Rones returns to Puerto Vallarta at Act II STAGES' Red Room for her 5th season with her one WoMan show - 'Steel Cojones.' With shows on February 16th and 23rd, this is a theatrical experience you won't soon forget!

---
Cross-Border Taxation Panel at Vallarta Real Estate Fair

Timothy Real Estate Group

Every year, one of the most popular features of the Vallarta Real Estate Fair is the Panel of Professionals. This year, for the first time, a panel of accountants from all three Free Trade nations has been assembled to give a tutorial on cross-boarder taxation on Saturday, February 20.

---
Purr Project Offers Cat Lovers 'Superior' Vallarta Tours

Marilyn Khan

You've heard many times about the 150+ cats and kittens living happily at the Purr Project Ranch. Now you can meet them! Superior Tours Vallarta is now offering visits to the shelter in 10-passenger air-conditioned vans every other Wednesday. There are still seats available for Feb. 10.

---
#Roxyfitness Run+SUP+Yoga Event in Nuevo Vallarta

Riviera Nayarit CVB

The Riviera Nayarit will be the first destination in Mexico to host the #Roxyfitness Run+SUP+Yoga, an exclusive event for women who like the sporting life. The event will take place on the beach at the Hard Rock Hotel Vallarta in Nuevo Vallarta on March 26, 2016.

---
Wine and Dine Your Valentine at Kaiser Maximilian

Media Diva International

Are you spending Valentine's Day in Puerto Vallarta? You can celebrate this sweetheart of a holiday with a romantic dinner at Kaiser Maximilian. Executive Chef Juan Carlos Palomer has created a tempting special a la carte menu with some wonderful selections especially for the occasion.

---
A Glimpse at What Lies Ahead for Vallarta-Nayarit

Travel Weekly

At last week's 26th Annual Gala Vallarta, the Puerto Vallarta and Riviera Nayarit tourist boards and CVBs, along with Banderas Bay area hotel owners, meetings planners and tour operators discussed what's ahead for Vallarta-Nayarit... and the future is brimming with new developments.

---
Site Map
•
Print this Page
•
Email Us
•
Top