Free Newsletter!
Click HERE to read a serialized and updated version of
Polly G. Vicars' sell-out book, Tales of Retirement in Paradise
.
Vallarta Living
Living in Puerto Vallarta Mexico
For many the thought of living in - or even near - a major tourist resort is about as appealing as a buying a condo in Disneyland. But here in Vallarta, the incredible natural beauty, combined with a small town atmosphere and the inherent warmth and friendliness of the local people, attracts foreign residents who enjoy the good life.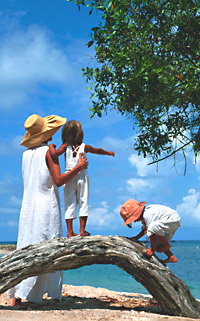 With a colorful blend of the old and the new, the Banderas Bay region offers an unrivaled combination of simple pleasures and sophisticated charms. Fine dining restaurants, art galleries, upscale shopping centers, internet cafes and nightclubs peacefully coexist alongside taco stands, street-side vendors and open air markets selling Mexican handcrafts, and strolling Mariachi bands.


But much of Puerto Vallarta's magic is in the hearts of her people. Often described as "one big, happy family," Vallartenses are known for their hospitality and for going out of their way to welcome foreign residents. And, since the Mexican people are extremely tolerant of different lifestyles, international residents and Mexican locals can live side-by-side in harmony - provided that the expatriate can learn to be creative and adaptable.


Puerto Vallarta is an unhurried refuge for people seeking more than just a beautiful beach. Those of us who choose to live here embrace the challenge of learning patience and understanding. Taking the time to "stop and smell the roses" along the road to becoming bicultural gives us the opportunity to grow - and to enjoy a more relaxed way of life.

• B E L O W T H E F O L D •
Democrats Abroad Every Tuesday Film Series: 'Mud'

David Kamp and Judy Snow

As part of their Every Tuesday Night Film series, the Costa Banderas Chapter of Democrats Abroad presents 2013's award winning drama, 'Mud'. This documentary-style film will be shown on March 11th, at 7 pm at the Paradise Community Center on the South side of Vallarta.

---
Bugambilia Festival Preview Reaps Matching Fund Offer

Kimberley Bennett

A generous donor has offered to match funds received by March 15th, up to $80,000 pesos, as a challenge to all of us who want to support the PV Garden Club's ongoing 'Vallarta Beautification' project. To date, the PVGC has planted over 200 trees and 1000 bougainvillea throughout the city.

---
March 7 Vallarta News Brief and Weekend Events

Banderas News Team

There's always so much going on in Puerto Vallarta and around the Republic, it can be difficult to keep up with it all. Here's a look at some of this week's Vallarta news headlines, some breaking Mexico news stories, and a couple of weekend events that you won't want to miss.

---
Mexico Not 'Springing Forward' Until April 6, 2014

BanderasNews.com

While Americans will be turning their clocks ahead for daylight-saving time on Sunday, March 9, 2014, for most of Mexico, daylight saving time does not begin until 2 am on Sunday, April 6th. So if you'll be traveling to Mexico this month, there will be an extra hour difference in time.

---
IFC Supports Dental Outreach for Boca de Tomatlán Kids

Janie Albright Blank

The International Friendship Club (IFC) recently became involved in a dental outreach program to bring dental services to school children in the Boca de Tomatlán area. This new program partners with a volunteer in Boca and a dentist in Puerto Vallarta.

---
Old Town Farmers' Market Captures Your Scents-ibilities

Erin Staley

This Saturday, while you're enjoying sunny Puerto Vallarta, stop by the OTFM-TC and lose yourself in the scents-ibilities of farm-to-table produce, artisan foods, one-of-a-kind clothing & accessories and home décor at this 'make it, bake it, grow it' market.

---
What's Up With WhatsApp? Mexico Sheds Some Light

Karl Baker

'Whatsapp' is the most popular texting service in Latin America, and Facebook has declared its market value is in the billions. That might surprise those accustomed to easy texting, but in places like Mexico, where monthly cell phone plans are uncommon, its a different story.

---
Fast Eddie Hosts Barbecue Benefit for Corazón de Niña
Banderas News Team

On Sunday, March 9th at 2 pm, 'Fast Eddie' will host a Texas Size Barbecue at La Cuiza, with entertainment by The Texas Embassy Blues Band and appearances by other performers, to benefit Corazón de Niña, a non-profit shelter for abused 12+ year-old girls in Puerto Vallarta.

---
2014 Carnaval Vallarta Delighted 15,000 Spectators

Tim Longpré

You didn't have to be a statistics expert or be equipped with a turnstile to see that Puerto Vallarta's 2014 Carnaval / Mardi Gras parade was a huge success - for organizers, downtown business and the 15,000 spectators who reveled in the fun.

---
PRD Legislators Pushing Full Marriage Equality Bill

TheNews.com

Legislators will try to push through a full marriage equality bill for the entire country during the current legislative sessions. Hopes are that those who voted for civil unions the last time around won't be as conservative and vote for full marriage rights for gay couples.

---
Spencer Day to Perform Dinner Show at No Way Jose!

Marie Callan

Dress to impress and head on out to 'Tu Casa in Vallarta' on March 12 for an exclusive dinner/show starring Spencer Day! For just $650 pesos, you'll enjoy a No Way José! award-winning 3-course meal and an up-close-and-personal show by one of the world's most beloved crooners.

---
Jorge Coste & Luis Valui Open at Galleria Dante

Claire Guarniere

Exhibitions by artists Jorge Coste and Luis Valui open at Galleria Dante on Friday, March 7th, as part of this week's Vallarta Southside Shuffle. Stop by to meet the artists and enjoy complimentary cocktails from 6-10 pm.

---
How Dr. Gundry's 'Diet Evolution' Changed My Lifestyle

Jeff Bates

Embarking on a diet conjures up images of temporary restraint from all the good things we love to eat. This reality is frequently accompanied by rapid weight loss, only to be regained at the conclusion of the diet. Dr. Gundry's 'The Diet Evolution' changed my diet paradigm.

---
5th Annual SETAC SETAC Duckaton 5 Raises $75,000

Marie Sanchez

The Fifth Annual Duckaton fundraiser became the biggest and best to date, raising $75,000 pesos for SETAC Tu Centro Comunitario and their fight against AIDs in Puerto Vallarta. More than 250 people attended the charity bash, which featured live music, fabulous food, and great prizes.

---
ExPats in Vallarta March Happy Hours and Events

Sara Wise

During the month of March, Expats in Vallarta will be having two Happy Hour gatherings, three Wine and Appetizer evenings, two Neighborhood Coffees, and a Special Event dinner. Come on down, enjoy a couple of cool ones, see some old friends and make some new ones!

---
Site Map
•
Print this Page
•
Email Us
•
Top