Free Newsletter!
Click HERE to read a serialized and updated version of
Polly G. Vicars' sell-out book, Tales of Retirement in Paradise
.
Vallarta Living
Living in Puerto Vallarta Mexico
For many the thought of living in - or even near - a major tourist resort is about as appealing as a buying a condo in Disneyland. But here in Vallarta, the incredible natural beauty, combined with a small town atmosphere and the inherent warmth and friendliness of the local people, attracts foreign residents who enjoy the good life.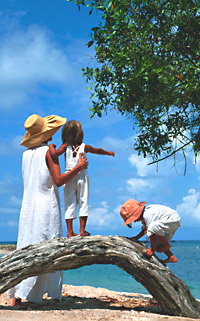 With a colorful blend of the old and the new, the Banderas Bay region offers an unrivaled combination of simple pleasures and sophisticated charms. Fine dining restaurants, art galleries, upscale shopping centers, internet cafes and nightclubs peacefully coexist alongside taco stands, street-side vendors and open air markets selling Mexican handcrafts, and strolling Mariachi bands.


But much of Puerto Vallarta's magic is in the hearts of her people. Often described as "one big, happy family," Vallartenses are known for their hospitality and for going out of their way to welcome foreign residents. And, since the Mexican people are extremely tolerant of different lifestyles, international residents and Mexican locals can live side-by-side in harmony - provided that the expatriate can learn to be creative and adaptable.


Puerto Vallarta is an unhurried refuge for people seeking more than just a beautiful beach. Those of us who choose to live here embrace the challenge of learning patience and understanding. Taking the time to "stop and smell the roses" along the road to becoming bicultural gives us the opportunity to grow - and to enjoy a more relaxed way of life.

• B E L O W T H E F O L D •
July 29 Banderas News Brief and Weekend Events

Banderas News Team

There's always so much going on in Puerto Vallarta, the Riviera Nayarit and the towns around Banderas Bay, it can be difficult to keep up with it all. Here's a look at some of this week's Puerto Vallarta news, community announcements and weekend events that you won't want to miss.

---
Sea Turtle Experience Debuts at Velas Vallarta

BanderasNews.com

Velas Vallarta has launched a sea turtle experience that allows guests to participate in conservation training, hatchling releases and nesting patrols in Puerto Vallarta. Available this summer and continuing through December, the new program adds to the resort's on-site Eco Tours.

---
How to Engage In or Decline a Political Conversation

Marie Callan

After last week's RNC and this week's DNC, U.S. politics are on everyone's mind - even here in Puerto Vallarta. But what's the best way to respond when someone asks you which candidate you support? International etiquette expert Sharon Schweitzer says you have several options.

---
Punta de Mita Property Investment on the Rise

The New York Times

Bill Gates' 2014 purchase of undeveloped beachfront land in Punta Mita has helped attract an influx of wealthy investors to Mexico's Riviera Nayarit. The purchase was seen as an endorsement of the region's potential, and surrounding communities are feeling the ripple effect.

---
San Sebastian Products & Services Expo at Plaza Caracol

Nuestras Noticias

Thirteen producers and entrepreneurs from the San Sebastian del Oeste region will showcase their products at Plaza Caracol in Puerto Vallarta this weekend. The public is invited to come out on July 29 & 30 to taste and buy regional goods and learn about the area's tours and services.

---
Daiquiri Dick's Summer Sizzle: The Flavors of Italy

Banderas News Team

Baby, it's HOT outside! Too hot to even THINK about cooking, much less spending hours standing over a steamy stove. Fortunately, the chefs at Daiquiri Dick's are serving up their a la carte Summer Sizzle menu, which features the Flavors of Italy through August 8th.

---
Do Your Part to Help Keep Puerto Vallarta Clean

Adam García

Instead of complaining about the amount of plastic bottles, cups and grocery bags on the streets and beaches of Puerto Vallarta, grab your own trash bag and take a walk. Wear protective gloves and pick up whatever lays in your path. Do your part to help keep our city clean.

---
PV Preparing a Very Special Day of The Dead Festival

observatoriobahia.mx

Plans are underway for the 2016 Day of the Dead Festival in Puerto Vallarta. As the holiday coincides with the XII Most Beautiful Bays of the World International Congress, this year's festivities will give our city a unique opportunity to share one of Mexico's traditions with the world.

---
Quick & Easy Recipe for the Ultimate Skinny Margarita

Ron Morgan Properties

On the rocks or blended, Margaritas come with a high caloric punch (up to 550 calories) which can do some damage to that beach body you've been working on. But fear not, we have found the ultimate skinny margarita recipe that has all the taste for less than half the calories.

---
July 22 Puerto Vallarta News Brief & Weekend Events

Banderas News Team

There's always so much going on in Puerto Vallarta and around Banderas Bay it can be difficult to keep up with it all. Here's a look at some of this week's Puerto Vallarta news and community announcements, plus a couple of this weekend's events that you won't want to miss.

---
Site Map
•
Print this Page
•
Email Us
•
Top