Free Newsletter!
Click HERE to read a serialized and updated version of
Polly G. Vicars' sell-out book, Tales of Retirement in Paradise
.
Vallarta Living
Living in Puerto Vallarta Mexico
For many the thought of living in - or even near - a major tourist resort is about as appealing as a buying a condo in Disneyland. But here in Vallarta, the incredible natural beauty, combined with a small town atmosphere and the inherent warmth and friendliness of the local people, attracts foreign residents who enjoy the good life.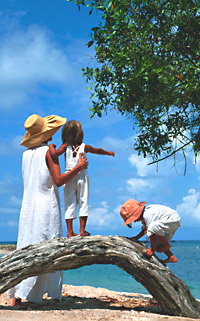 With a colorful blend of the old and the new, the Banderas Bay region offers an unrivaled combination of simple pleasures and sophisticated charms. Fine dining restaurants, art galleries, upscale shopping centers, internet cafes and nightclubs peacefully coexist alongside taco stands, street-side vendors and open air markets selling Mexican handcrafts, and strolling Mariachi bands.


But much of Puerto Vallarta's magic is in the hearts of her people. Often described as "one big, happy family," Vallartenses are known for their hospitality and for going out of their way to welcome foreign residents. And, since the Mexican people are extremely tolerant of different lifestyles, international residents and Mexican locals can live side-by-side in harmony - provided that the expatriate can learn to be creative and adaptable.


Puerto Vallarta is an unhurried refuge for people seeking more than just a beautiful beach. Those of us who choose to live here embrace the challenge of learning patience and understanding. Taking the time to "stop and smell the roses" along the road to becoming bicultural gives us the opportunity to grow - and to enjoy a more relaxed way of life.

• B E L O W T H E F O L D •
MEXLend: Financial Planning Key to Early Retirement

MEXLend Mortgages for Mexico

A smart financial strategy is the key to retiring early and securely. One step that can get you closer to your dreams of retirement is to choose a place where living costs are lower. This is one of the reasons why purchasing a second home in Mexico is such a popular option.

---
October 21 Vallarta News Brief & Weekend Events

Banderas News Team

There's always so much going on in Puerto Vallarta and around Banderas Bay, it can be difficult to keep up with it all. Here's a look at some of this week's Vallarta-Nayarit news headlines, community announcements and a couple of this weekend's events that you won't want to miss.

---
Daiquiri Dick's Special Menu Features A Taste of Asia

BanderasNews.com

Don't miss your chance to sample the internationally inspired dishes on the Fall/Winter Weekly Specials Menu at Daiquiri Dick's Restaurant in sunny Puerto Vallarta, Mexico. Every week you can visit a different country, and from October 24-30, Asia is the chosen culinary destination.

---
8th PV Episode of House Hunters Int'l Premiers Tonight

BanderasNews.com

If you are in the United States and needing your 'PV fix,' be sure to tune into Home & Garden Television (HGTV USA) on October 20 for the premier of the eighth Puerto Vallarta episode of 'House Hunters International,' starring Timothy Real Estate Group agent Taniel Chemsian.

---
Mexico to Offer Undocumented Migrants Legal Residency

The Monitor

Immigration officials have announced the revival of Mexico's Temporary Program for the Regularization of Migrants. Starting next year, undocumented foreigners who can prove they entered the country before Jan 9, 2015 will be granted legal temporary residency status.

---
Geckos Considered Auxiliary Pets in Puerto Vallarta

Timothy Real Estate Group

A question has recently come up about geckos. In Puerto Vallarta, we hear them after the sun goes down. For some it can be an annoying experience; at times even alarming. Geckos, however, are completely harmless. They are welcome in homes, where they eat mosquitoes and insects.

---
November Brings Top-Notch Events to Riviera Nayarit

Jorge Jiménez

Travelers visiting the Riviera Nayarit next month will have an abundance of things to see and do, as the cuisine, adventure and cultural experiences that make 'Mexico's Pacific Treasure' such a sought-after destination continue with top-notch festivals and tournaments scheduled.

---
South Side Shuffle Offers Fun and Friendly Shopping

Banderas News Team

Starting Friday, November 18, 2016, and every other Friday through April 21, 2017, Puerto Vallarta's Zona Romantica will come to life from 6 to 10 pm as locals and tourists alike head over to Basilio Badillo and Constitution streets to do the South Side Shuffle.

---
Celebrate Día de Los Muertos at El Arrayán Restaurant

Banderas News Team

Now is a great time to visit one of Puerto Vallarta's most popular Mexican restaurants - El Arrayan Cocina Tradicional. The chefs are proud of Mexican traditions, and the Day of the Dead is one of their favorites, so they've prepared a special Dia de Los Muertos menu that's 'to die for!'

---
Very Important Message for U.S. Voters in Vallarta

Costa Banderas Democrats Abroad

If you have registered to vote in the 2016 Presidential Election and have requested your absentee ballot, but have not yet received it from your State, you can get help in Puerto Vallarta on October 19 at I Shop & Mail in Plaza Peninsula and on Oct 21 at Mailboxes, Etc. in Old Town.

---
CK Productions Presents Second Splash & Dance Concert

Chris Kenny

Scheduled to be held on Wednesday, October 26, 2016 from 4:00 to 8:00 pm, CK Productions' Splash and Dance 2 will be a fun and truly unique event that features two of Vallarta's best bands playing live music, an appetizer buffet and swimming in the beautiful pool at Tacho's Park in El Pitillal.

---
Site Map
•
Print this Page
•
Email Us
•
Top