Free Newsletter!
Click HERE to read a serialized and updated version of
Polly G. Vicars' sell-out book, Tales of Retirement in Paradise
.
Vallarta Living
Living in Puerto Vallarta Mexico
For many the thought of living in - or even near - a major tourist resort is about as appealing as a buying a condo in Disneyland. But here in Vallarta, the incredible natural beauty, combined with a small town atmosphere and the inherent warmth and friendliness of the local people, attracts foreign residents who enjoy the good life.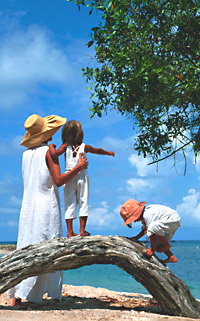 With a colorful blend of the old and the new, the Banderas Bay region offers an unrivaled combination of simple pleasures and sophisticated charms. Fine dining restaurants, art galleries, upscale shopping centers, internet cafes and nightclubs peacefully coexist alongside taco stands, street-side vendors and open air markets selling Mexican handcrafts, and strolling Mariachi bands.


But much of Puerto Vallarta's magic is in the hearts of her people. Often described as "one big, happy family," Vallartenses are known for their hospitality and for going out of their way to welcome foreign residents. And, since the Mexican people are extremely tolerant of different lifestyles, international residents and Mexican locals can live side-by-side in harmony - provided that the expatriate can learn to be creative and adaptable.


Puerto Vallarta is an unhurried refuge for people seeking more than just a beautiful beach. Those of us who choose to live here embrace the challenge of learning patience and understanding. Taking the time to "stop and smell the roses" along the road to becoming bicultural gives us the opportunity to grow - and to enjoy a more relaxed way of life.

• B E L O W T H E F O L D •
May 22 Puerto Vallarta News Brief & Weekend Events

Banderas News Team

There's always so much going on in Puerto Vallarta and around the Republic, it can be difficult to keep up with it all. Here's a look at some of this week's Mexico and Vallarta headline news, community announcements, and not-to-be-missed weekend events.

---
Ángeles en Libertad Collecting Bottlecaps for Cancer

Sofía de Vega

Ángeles en Libertad invites everyone to participate in this year's plastic bottlecap and aluminum pull-tab collection campaign. An entertaining awareness- and fund- raising event will be held at Los Arcos del Malecón in downtown Puerto Vallarta on June 27.

---
Pride Parade Will Demonstrate our Community's UNITY

VallartaPride.com

The 2015 Vallarta Pride festivities not only celebrate the LGBT community, but also those who decide to live life without prejudices. The largest showcase to demonstrate the UNITY of our society will be the Vallarta Pride Parade on May 23rd at 5 pm.

---
Vallarta's Street Stands: Eat Cheaply & Safely

Yahoo Travel

It's a weird, fun fact: The best food in Mexico is most likely found on the street. Dodgy as it may sound, street eating isn't just for intrepid travelers with stomachs of steel. Thanks to the proliferation of local food tours, it's now for everyone.

---
Grupo Ecologista de Nayarit Sea Turtle Drawing Contest

Riviera Nayarit CVB

Grupo Ecologista de Nayarit has extended an invitation for all kids ages 6-12 to enter their Third Save the Sea Turtles Drawing Contest, which seeks to raise children's awareness about this endangered species and the need for its preservation.

---
Restaurant Week - and Beyond! at Kaiser Maximilian

Laura Gelezunas

Kaiser Maximilian is celebrating 20 years as one of the city's finest restaurants, so in addition to participating in Vallarta Restaurant Week 2015, they'll be serving their special 3-course menu for lunch and dinner for $299 peso through June 15th.

---
6th Annual Riviera Nayarit Wind Festival in Bucerías

Marie Callan

Kitesurfers from all over Mexico are ready to hit the beaches of Riviera Nayarit as they prepare for three days of spectacular kitesurfing during the 2015 Festival del Viento (Wind Festival), scheduled to be held May 22-24th in Bucerias, Mexico.

---
Restaurant Week at No Way José! Supports Local Charity

Banderas News Team

What better place to enjoy Vallarta Restaurant Week than at Tu Casa en Vallarta? Award-winning Mexican restaurant, No Way José! is offering a scrumptious three course menu for just $299 pesos, and donating a portion of the proceeds to Cheryl's Shoebox.

---
Win a Romantic Trip for Two to Puerto Vallarta, Mexico

BelleTheMagazine.com

Puerto Vallarta, Mexico is the perfect place to have a destination wedding or honeymoon... it is truly one of the most romantic places on earth. In a celebration of love, the city is giving away five trips for two to this fascinating destination.

---
Meet Laura & The Kitchenettes at the Party in the Park

Banderas News Team

After the Vallarta Pride Parade, be sure to stop by Lazaro Cardenas Park, where you can meet the stars of Ron Morgan Properties' popular 'Recipes and Real Estate' video series, Laura Gelezunas and The Kitchenettes, on Saturday, May 23rd from 6 to 11 pm.

---
Southwest Reveals Prices of Houston-Mexico Flights

Houston Business Journal

Southwest Airlines has revealed the prices for its new international flights out of Houston. Effective October 15, 2015, Dallas-based Southwest will be offering flights to Cancun, Puerto Vallarta and Los Cabos, Mexico, for $149.

---
USA Wins 2015 ISA World SUP & Paddleboard Championship

Surfer Today

Team USA has conquered the 2015 ISA World StandUp Paddle and Paddleboard Championship, at Sayulita Beach, Riviera Nayarit, Mexico. The Americans secured six gold medals in the Surfing, SUP Distance, SUP Technical and Prone Technical divisions. Team Mexico came in at #6.

---
Puerto Vallarta Anniversary Celebrations May 21-31st

Banderas News Team

From May 21-31, 2015, Puerto Vallarta will commemorate its 47th anniversary as a city and 97th as a municipality in an annual celebration that includes cultural events such as concerts and dance performances, photo exhibitions, food festivals and fireworks.

---
Volabit Launches 'Whatsapp Personal Assistant'

Mario Cotillard

Puerto Vallarta-based Bitcoin startup, Volabit, recently launched a service for the popular messaging app, WhatsApp. The service will pay your phone bills, utilities, and other expenses with Bitcoin.

---
2015 Vallarta Restaurant Week at Si Señor Beach

Laura Gelezunas

There's great food and a vibrant atmosphere at Si Señor Beach Restaurant. They serve dishes with explosive, authentic Mexican flavors, and Vallarta Restaurant Week gives everyone a chance to sample this upscale Mexican cuisine at a very reasonable price.

---
Vallarta Pride Presents International Film Festival

VallartaPride.com

As part of Vallarta Pride 2015, a four-day International Film Festival will celebrate the creativity and diversity of the community through a series of award-winning films. These art movies will be shown at various venues around the city from May 19-24.

---
Enjoy Puerto Vallarta Restaurant Week at El Arrayán

BanderasNews.com

If you love to dine out, then get ready because Vallarta Restaurant Week is here! And if you love authentic Mexican cuisine, then be sure to visit El Arrayán Cocina Tradicional, where a three-course meal costs just $199 pesos through May 31, 2015.

---
May 15 Puerto Vallarta News Brief & Weekend Events

Banderas News Team

There's always so much going on in Puerto Vallarta and around the Republic, it can be difficult to keep up with it all. Here's a look at some of this week's news from Mexico and around the Bay, community announcements, and some not-to-be-missed weekend events.

---
Vallarta Pride 2015 Events Just Keep on Growing!

Tim Wilson

The Vallarta Pride 2015 list of events just keeps on growing! The festival kicks off this Sunday, May 17th at 6 pm with the March against Homophobia and doesn't end until Sunday, May 24th with the International Film Festival at Mantamar Beach Club.

---
Tour Operators Say Demand for Vallarta Remains Strong

Michelle Baran

Though vacation packagers say that bookings for Puerto Vallarta have held steady despite the disturbances that occurred on May 1st, we are happy to report that the travel advisory that had been published on the U.S. Embassy in Mexico website has been removed.

---
Daiquiri Dick's Supports SETAC with Vallarta Pride

Laura Gelezunas

This year's theme for Vallarta Pride is 'A Celebration of Unity,' so Daiquiri Dick's Restaurant will be participating by offering a refreshing cocktail as a special and donating a percentage of the proceeds to SETAC, Puerto Vallarta's LGBT Community Center.

---
PV Tourism Officials Meet with Cruise Line Executives

Marie Callan

After 3 cruise ships cancelled calls to Puerto Vallarta last week, Mexican government and tourism officials traveled to Miami on May 12th to discuss the skipped port calls and better communications with Florida Caribbean Cruise Association and cruise line executives.

---
2015 Vallarta Restaurant Week at The Blue Shrimp

Laura Gelezunas

The Blue Shrimp Restaurant is participating in Vallarta Restaurant Week 2015, giving you the chance to sample some of their 'Shrimply Delicious' dishes on a special three-course menu, with choices for each course, for just $299 pesos.

---
Vallarta Monitoring Beaches for Signs of 'Mar de Fondo'

BanderasNews.com

After receiving an alert Tuesday, Vallarta's Civil Protection Department immediately began monitoring the municipality's beaches for signs of the 'mar de fondo' phenomenon, an ocean swell that is gradually making its way up Mexico's Pacific coast.

---
Enjoy Vallarta Restaurant Week 2015 at Daiquiri Dick's

Laura Gelezunas

Vallarta Restaurant Week offers everyone a chance to dine at some favorite restaurants for a special price. Daiquiri Dick's has participated every year, and this year Executive Chef Ignacio Uribe and his team have designed a wonderful $299 peso menu.

---
Democrats Abroad May Social Hour at No Way José!

BanderasNews.com

The Costa Banderas Chapter of Democrats Abroad Mexico invites you to join them for a May 'Social Hour' on Thursday, May 28, 2015 from 5:00 until 7:00 pm. You'll enjoy an evening of fun, food and friendship in the air conditioned comfort of No Way José!

---
Restaurant Week at NWJ! Supports Cheryl's Shoebox

Julie Guerrero

Come celebrate José Alfredo's birthday on May 19 at Tu Casa in Vallarta. No Way José! is throwing him a feliz cumple fiesta in support of Cheryl's Shoebox, and donating a portion of the proceeds from each 2015 Restaurant Week menu sold through May 31st.

---
North American Travel Journalists Explore Vallarta

GAYPV Magazine

During their six-day stay, nearly 200 NATJA 2015 attendees, mostly from the US and Canada, explored a cross-section of Puerto Vallarta travel experiences, including hotels, tour companies, restaurants, nearby destinations, and other attractions.

---
Site Map
•
Print this Page
•
Email Us
•
Top