Free Newsletter!
Click HERE to read a serialized and updated version of
Polly G. Vicars' sell-out book, Tales of Retirement in Paradise
.
Vallarta Living
Living in Puerto Vallarta Mexico
For many the thought of living in - or even near - a major tourist resort is about as appealing as a buying a condo in Disneyland. But here in Vallarta, the incredible natural beauty, combined with a small town atmosphere and the inherent warmth and friendliness of the local people, attracts foreign residents who enjoy the good life.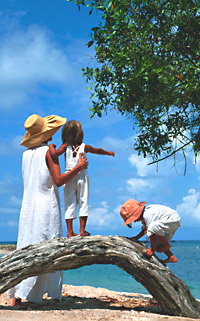 With a colorful blend of the old and the new, the Banderas Bay region offers an unrivaled combination of simple pleasures and sophisticated charms. Fine dining restaurants, art galleries, upscale shopping centers, internet cafes and nightclubs peacefully coexist alongside taco stands, street-side vendors and open air markets selling Mexican handcrafts, and strolling Mariachi bands.


But much of Puerto Vallarta's magic is in the hearts of her people. Often described as "one big, happy family," Vallartenses are known for their hospitality and for going out of their way to welcome foreign residents. And, since the Mexican people are extremely tolerant of different lifestyles, international residents and Mexican locals can live side-by-side in harmony - provided that the expatriate can learn to be creative and adaptable.


Puerto Vallarta is an unhurried refuge for people seeking more than just a beautiful beach. Those of us who choose to live here embrace the challenge of learning patience and understanding. Taking the time to "stop and smell the roses" along the road to becoming bicultural gives us the opportunity to grow - and to enjoy a more relaxed way of life.

• B E L O W T H E F O L D •
ExPats in Vallarta March Happy Hours and Events

Sara Wise

ExPats in Vallarta, a totally social group with informal fellowship and assistance for Expat residents or visitors living, working, investing, or considering a move to Puerto Vallarta or the greater Banderas Bay area, has announced this month's schedule of events.

---
Gold Presented to Riviera Nayarit at HSMAI Adrian Awards

Riviera Nayarit CVB

The Riviera Nayarit Convention and Visitors Bureau and their public relations agency, M. Silver - A Division of Finn Partners, have won Gold in the prestigious HSMAI Adrian Awards for the 'Riviera Nayarit on Discovery Channel's Nikon Birding Adventures' program, which aired in 2013 and 2014.

---
'Essence of Cuisine' Puerto Vallarta Cooking Classes

BanderasNews.com

Are you at a lost as to what to prepare for your guests and family when they come to visit? Take Dolores' Essence of Cuisine cooking class on March 24th and learn how to make some of the most delicious and easy to prepare breakfast dishes that Mexican cuisine has to offer.

---
Upcoming Shows on ACT II Entertainment's Main Stage

Daniel R. Mininni

If you haven't been to the ACT II Entertainment complex recently, you don't know what you're missing! In addition to the stellar productions on the Main Stage this month, there's a full line-up of music and entertainment going on in The Red Room Cabaret and Encore Piano Bar.

---
February 27 Vallarta News Brief and Weekend Events

Banderas News Team

There's always so much going on in Puerto Vallarta and around Banderas Bay, it can be difficult to keep up with it all. Here's a look at some of this week's Vallarta news headlines and community announcements, plus a couple of this weekend's events that you won't want to miss.

---
Mexico's Pacific Coast: A Honeymooner's Dream

Rachel Sewel

Discover Puerto Vallarta and Riviera Nayarit, two romantic destinations on Mexico's Pacific Coast. Whether seeking luxury & relaxation or adventure & excitement, the Banderas Bay region's white sand beaches, warm blue waters and stunning sunsets will make your honeymoon magical.

---
Roslyn Kind in Concert in Act II's Red Room Cabaret

Debbie White

The Red Room Cabaret at Act II Entertainment is bringing many well known and talented performers to Puerto Vallarta. One such artist is the fabulous Roslyn Kind, who is scheduled to perform four shows at The Red Room from March 2nd through 5th at 7:30 pm.

---
Casa Digna Reaches Colonias Throughout Puerto Vallarta

PuertoVallarta.gob.mx

Under the guidance of Mayor Ramón Guerrero Martínez, the Casa Digna program, which provides families in need with the material to rebuild or start constructing the home they deserve, has thus far benefitted 849 Puerto Vallarta families, who now have a better place to live.

---
Dine for a Cause with Broadway Bares at Casa Cupula

Don Pickens

By special arrangement with Broadway Cares/Equity Fights AIDS organization of New York, Casa Cupula will screen their most recent Broadway Bares show 'Rock Hard,' on March 14 at Taste Restaurant. The dinner event will be to benefit SETAC, Vallarta's LGBT community center.

---
Look 'Beach-a-Licious' in a TY-Bikinis y Más Original

Erin Staley

Get ready for a 'make it, bake it, grow it' adventure for the senses this Saturday at Vallarta's OTFM-TC. You'll enjoy the colors of our open-air market, the flavors of ready-to-eat foods, aromas of freshly-cut flowers, the rhythms of live music and stylish beachwear from TY-Bikinis y Más.

---
PV Writers Conference: Writing for the Digital Age

Bill Jory

The rules of writing have changed, Texas author Caleb Pirtle plans to tell participants at the upcoming Puerto Vallarta Writers' Conference, and success will only come by embracing the digital age. Pirtle, author of more than 55 books, will be keynote speaker at the March 6-8 conference.

---
Puerto Vallarta American Legion Hosts Two Fund Raisers

Dennis Rike

In March, American Legion Post 14 members will be hosting two fund raisers: the 3rd Annual Chili Cook-Off on March 14th at the El Rio BBQ Bar to benefit 4 Puerto Vallarta charities, and a Pre- St. Patrick's Day event at Murphy's Irish Pub on the 16th for community improvement projects.

---
PV Hosts Travel Bloggers to Promote Eco & LGBT Tourism

Puerto Vallarta Tourism Board

As part of the Puerto Vallarta Tourism Board's innovative public relations campaign, the city hosted a group of seven travel bloggers from February 18-22, 2015 to promote the destination's eco-tourism and LGBT offerings to the U.S. and Canadian markets.

---
Warren Brander & Boardwalk Realty Support PV Charities

BanderasNews.com

Boardwalk Realty real estate agent, Warren Brander, and owners, Michael Green and John Swanson, have made a joint commitment to support two Puerto Vallarta charities: Corazon de Niña, a local safe home for girls and boys, and Colina Spay & Neuter Clinic, which provides free services.

---
PVMC Presents De Colores Dinner, Dance and Auction

Allyn Dixon

Get ready for one of PV's most inspiring and unique events as The Puerto Vallarta Men's Chorus hosts its Third 'De Colores' fundraising gala on Saturday, March 21st at Oscar's Restaurant on the banks of the Rio Cuale and the edge of the Bahía de Banderas, in the heart of the city.

---
This Week, Daiquiri Dick's Offers PV a Taste of Italy

Laura Gelezunas

Don't miss your chance to sample innovative Italian food during the Winter Weekly Specials Menu at Daiquiri Dick's Restaurant in sunny Puerto Vallarta, Mexico. Every week visit a different country is featured, and Italy is the chosen culinary destination through March 1, 2015.

---
Get Out Your Dancing Shoes and Your Check Book!

Polly G. Vicars

This year's Becas Ball is less than a week away and Becas Vallarta members are hard at work to make this the best one ever. A limited number of tickets are still available for the February 28, 2015 event, but they are going fast, so get yours TODAY!

---
TREG's Donna Davies Hosts Scala Residences Open House

BanderasNews.com

Searching the Internet for just the right property can be frustrating, so Timothy Real Estate Group's Donna Davies will be hosting an Open House on Thursday, February 26th at Scala Residences, a fun, newly-renovated, urban style building in the heart of Puerto Vallarta, Mexico.

---
The Birds of Riviera Nayarit 'Air' on International TV

Jorge Jiménez

Five international TV stations — among them The Pursuit Channel and the Discovery Channel — will be airing James Currie's latest program on the endemic and migratory bird population of the Riviera Nayarit, taped here during his second, and most recent, visit to the destination.

---
Some Inexpensive Wines Surprise, Others Disappoint

Ed Schwartz

Sayulita resident Ed Schwartz, who has been involved in many aspects of fine wine for 30 years and has worked with top wineries in California, Italy and France, gives us the results of a recent tasting of inexpensive wines that are all available at the Alas Blancas store in Sayulita, Mexico.

---
February 20 Vallarta News Brief and Weekend Events

Banderas News Team

There's always so much going on in Puerto Vallarta and around Banderas Bay, it can be difficult to keep up with it all. Here's a look at some of this week's Vallarta news headlines, a few community announcements, and a couple of this weekend's events that you won't want to miss.

---
Purr Project Sunset Cocktail at Daiquiri Dick's

Marilyn Khan

Join fellow feline supporters at Daiquiri Dick's Restaurant from 5:30-7:30 pm on Tuesday, March 10, 2015 for the PuRR Project Happy Hour fund raiser. You'll enjoy cocktails, an array of hors d'oeuvres, and a front-row seat for one of Vallarta's fabulous sunsets - all for a good cause!

---
Second Annual Puerto de Chacala Music & Art Festival

Jerry Van Eeckhout

From March 12-15, 2015, the Second Annual Chacala Village Music Festival will bring musicians and other artists together in the Riviera Nayarit for a three day and night celebration of music... a festival... an unforgettable bringing-in-the-spring fling!

---
Bonnie Kilroe's 'Divas' Showcases 16 Celebrities

Debbie White

With an edgy cabaret style and the class and elegance of an old supper club, Bonnie Kilroe entertains and engages her audiences with her natural comedic talent, striking good looks and versatile vocals. Don't miss her 'Divas' show at The Red Room Cabaret, Feb. 27th-March 10th.

---
Enhance Your Style with Chelow Jewelry from OTFM-TC

Erin Staley

Puerto Vallarta's Old Town Farmers Market will wow you with farm-fresh produce, ready-to-eat goodies, traditional Mexican instruments, artisan chocolates, handmade body products, whimsical decor, fashionable apparel and the craftsmanship and creativity of Chelow jewelry.

---
9th Vallarta Writers Conference to Offer Tweeting Tips

Bill Jory

If you have written a book and you want to sell it, empowerment writer Donna Dahl will be providing a social media marketing formula at the 9th Puerto Vallarta International Writers' Conference, scheduled to be held March 6-8, 2015 at Biblioteca Los Mangos.

---
2015 Arts for the Turtles Fundraiser in Nuevo Vallarta

Harry Piwerka

This year's 'Arts for The Turtles' will be held on Feb 25th. Proceeds from the event support the work of the Nuevo Vallarta Turtle Preserve, which is dedicated to saving the sea turtles of Banderas Bay. Hosted by Bahia del Sol, the Preserve is the largest in the State of Nayarit.

---
Site Map
•
Print this Page
•
Email Us
•
Top