Free Newsletter!
Click HERE to read a serialized and updated version of
Polly G. Vicars' sell-out book, Tales of Retirement in Paradise
.
Vallarta Living
Living in Puerto Vallarta Mexico
For many the thought of living in - or even near - a major tourist resort is about as appealing as a buying a condo in Disneyland. But here in Vallarta, the incredible natural beauty, combined with a small town atmosphere and the inherent warmth and friendliness of the local people, attracts foreign residents who enjoy the good life.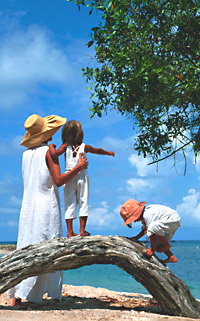 With a colorful blend of the old and the new, the Banderas Bay region offers an unrivaled combination of simple pleasures and sophisticated charms. Fine dining restaurants, art galleries, upscale shopping centers, internet cafes and nightclubs peacefully coexist alongside taco stands, street-side vendors and open air markets selling Mexican handcrafts, and strolling Mariachi bands.


But much of Puerto Vallarta's magic is in the hearts of her people. Often described as "one big, happy family," Vallartenses are known for their hospitality and for going out of their way to welcome foreign residents. And, since the Mexican people are extremely tolerant of different lifestyles, international residents and Mexican locals can live side-by-side in harmony - provided that the expatriate can learn to be creative and adaptable.


Puerto Vallarta is an unhurried refuge for people seeking more than just a beautiful beach. Those of us who choose to live here embrace the challenge of learning patience and understanding. Taking the time to "stop and smell the roses" along the road to becoming bicultural gives us the opportunity to grow - and to enjoy a more relaxed way of life.

• B E L O W T H E F O L D •
Savor the Flavors of Argentina at Daiquiri Dick's

BanderasNews.com

A trip to Argentina is the perfect opportunity to indulge in some serious feasting but, thanks to Daiquiri Dick's weekly specials, you can savor the flavors of Argentina right here in Puerto Vallarta through May 3, 2015.

---
Puerto Vallarta Hosts Sold-Out NATJA Conference

Exhibit City News

The 2015 North American Travel Journalists Association (NATJA) Conference & Marketplace, scheduled to be held May 4-9 in Puerto Vallarta, Mexico, will be the largest conference for the association with over 100 active journalists confirmed to attend.

---
Mexico to Televise the Fight of the Century for Free

Sean Wagner-McGough

If you don't want to pay $100 USD for the Mayweather vs. Pacquiao fight, you might want to head south of the border, because the entire country of Mexico is getting the fight for FREE! Televisa and Azteca have agreed to air the fight, so if you have a TV, you're good to go.

---
Rosa Mexicano - Dining That Delights All Senses

Ed Schwartz

Recently, we had a thoroughly delightful dinner at Rosa Mexicano in Punta da Mita and it wasn't just the food, although the food alone would have been worth several visits. The view is unforgettable, the restaurant is romantic, and the service is warm and friendly.

---
Taste Restaurant @ Casa Cupula Has a New Executive Chef

CasaCupula.com

Casa Cupula is proud to announce the appointment of Chef Agustin Garcia as the Executive Chef of Taste Restaurant. Chef Garcia has recently returned to his native Puerto Vallarta after a six year stint in the Los Angeles area, where he managed four restaurants.

---
Get Ready for an Unforgettable Vallarta Pride 2015

Tim Wilson

Puerto Vallarta is getting ready for Vallarta Pride 2015. Scheduled to be held May 17-25, this will be the third annual event. This year's theme is 'A Celebration of Unity,' and promises to be an unforgettable moment in Puerto Vallarta's LGBT history.

---
Puerto Vallarta, Mexico: Love Bugs & Other Wheels

Boardwalk Realty

Tourists visiting Mexico often express surprise at the abundance of Volkswagens in Puerto Vallarta. Mexico has been the home of auto manufacturing for many decades, the Volkswagen being one of the largest contributors to the country's economy.

---
Colonia Volcanes Ladies Learn a Useable Skill & Trade

Kelly Grams

These past three months of practice have brought the Sewing Seeds students in Puerto Vallarta's Colonia Volcanes to a level that demands more complicated projects. Soon, these teachings will become a new 'skill' that can be utilized in many directions.

---
April 24 Puerto Vallarta News Brief & Weekend Events

Banderas News Team

There's always so much going on in Puerto Vallarta and around Banderas Bay it can be difficult to keep up with it all. Here's a look at some of this week's local news, a few community announcements, and a couple of this weekend's events that you won't want to miss.

---
Latcho & Andrea Dinner Show in Tu Casa en Vallarta

Julie Guerrero

On Wednesday, May 6th, The Blond Gypsies, Latcho & Andrea, come back to 'Tu Casa en Vallarta' for an evening of Gypsy Rumba and Flamenco guitar music complemented by a Best-of-Vallarta three-course prix fixe meal, and a complimentary glass of wine.

---
A-Listers & Celebrities Visit The Riviera Nayarit

Jorge Jiménez

The domino effect continues as more and more celebrities and A-listers show their preference for the Riviera Nayarit. Selena Gómez heads a long list of celebrities that have recently traded the red carpet for the golden beaches on Mexico's Pacific Coast.

---
Site Map
•
Print this Page
•
Email Us
•
Top