Free Newsletter!
Click HERE to read a serialized and updated version of
Polly G. Vicars' sell-out book, Tales of Retirement in Paradise
.
Vallarta Living
Living in Puerto Vallarta Mexico
For many the thought of living in - or even near - a major tourist resort is about as appealing as a buying a condo in Disneyland. But here in Vallarta, the incredible natural beauty, combined with a small town atmosphere and the inherent warmth and friendliness of the local people, attracts foreign residents who enjoy the good life.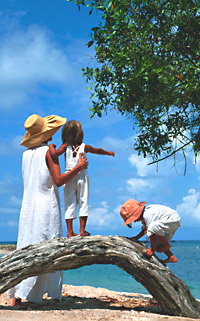 With a colorful blend of the old and the new, the Banderas Bay region offers an unrivaled combination of simple pleasures and sophisticated charms. Fine dining restaurants, art galleries, upscale shopping centers, internet cafes and nightclubs peacefully coexist alongside taco stands, street-side vendors and open air markets selling Mexican handcrafts, and strolling Mariachi bands.


But much of Puerto Vallarta's magic is in the hearts of her people. Often described as "one big, happy family," Vallartenses are known for their hospitality and for going out of their way to welcome foreign residents. And, since the Mexican people are extremely tolerant of different lifestyles, international residents and Mexican locals can live side-by-side in harmony - provided that the expatriate can learn to be creative and adaptable.


Puerto Vallarta is an unhurried refuge for people seeking more than just a beautiful beach. Those of us who choose to live here embrace the challenge of learning patience and understanding. Taking the time to "stop and smell the roses" along the road to becoming bicultural gives us the opportunity to grow - and to enjoy a more relaxed way of life.

• B E L O W T H E F O L D •
Celebrate Mexico's Day of the Dead at Daiquiri Dick's

Marie Callan

Skip the usual Halloween tricks, and head over to Daiquiri Dick's Restaurant on Puerto Vallarta's famous Los Muertos Beach, where they've taken a cue from Mexico's Day of the Dead to create a Día de Los Muertos menu with traditional dishes and ghoulishly good Halloween treats.

---
Marina Vallarta Golf Classic to Benefit Los Mangos

Adriana Garcia

Los Mangos Library and Cultural Center invites everyone to participate in the Vallarta Golf Classic Tournament at Marina Vallarta Golf Club on November 1st. The charity tournament will raise funds for the library's cultural projects and Augie's Quest to help find a cure for ALS.

---
Kaiser Maximilian Announces Festival Gourmet Guest Chef

Laura Gelezunas

A world of experience lands in Puerto Vallarta for the 20th Annual Festival Gourmet. From November 13-23, 2014, chefs from around the world will be sharing their talents and best cuisine at restaurants around the city. Kaiser Maximilian welcomes 'Untitled' Executive Chef, Chris Bradley.

---
PURRfectly Wonderful Fundraising Events this November

Marilyn Khan

PuRR Project now has over 150 adorable cats and kittens in residence. Donations and fund raising events are the only source of financing to provide food, shelter and veterinary care for these rescued animals, so we're kicking off our high-season with some PURRfectly wonderful events.

---
6 Vallarta Restaurants Make TripAdvisor's Top 10 List

Karina Macias

In the 'Best Fine Dining Restaurants in Mexico' category of the 2014 TripAdvisor Traveler's Choice Awards, six of the the Top 10 Restaurants are right here in Puerto Vallarta! Congratulations go out to: Café Des Artistes, Vista Grill, Ocean Grill, Bistro Teresa, Le Kliff and Trío.

---
Celebrating Life and Death in Puerto Vallarta

María Francesca

In Puerto Vallarta, the dead will soon walk the Earth — so let the parties begin! Starting on October 30th and continuing through November 3rd, there will be Day of the Dead altars, Catrina displays, singing, dancing, and other traditional activities throughout the downtown area.

---
Vallarta-Nayarit Classic Rock Fest Lineup

BanderasNews.com

As the world's first and only festival celebrating classic rock, Vallarta-Nayarit Classic Rock Festival fans can expect 3 days of performances by some of the greatest musicians from the 60s, 70s and 80s. Whether you love roots rock, blues, soft or hard rock, you won't be disappointed!

---
Umberto Ciccolella Opens Puerto Vallarta Design Studio

BanderasNews.com

So you have your dream home in paradise, now what? Help will soon be available right here in Puerto Vallarta! On November 1, interior designer Umberto Ciccolella is opening a new design studio at Lázaro Cárdenas 286 between Vallarta and Constitución in Old Town.

---
Season's First BECAS Breakfast at Vitea November 19th

Polly G. Vicars

Since their inception, Becas Breakfasts have been raising money to fund the educations of Puerto Vallarta's young people of limited resources. This season's first event will be held on Wednesday, November 19th at the beautiful oceanfront bistro, Vitea. Make plans now to join us!

---
Old Town Farmers Market Gearing Up for 6th Season

Erin Staley

Over 80 local producers have spent their summers readying themselves for the 6th season of Vallarta's favorite weekend attraction: the Old Town Farmers' Market-Tianguis Cultural. We're just one week away from another fun-filled season of 'make it, bake it, grow it' shopping.

---
Daylight Savings Time Ends in Mexico October 26th

Banderas News Team

There's just a couple of days left before we get that opportunity for an extra hour's sleep in the morning. That's right, daylight saving time 2014 officially ends for most of Mexico at 2 am on Sunday, October 26th - this weekend! Be sure to set your clock back 1 hour Saturday night.

---
Vallarta Life: Shopping for Sexy & Stylish Swimwear

BanderasNews.com

For many, living in Puerto Vallarta means spending a lot of time at the beach. But trying to find the perfect swimsuit that is sexy, stylish and fun, is not always easy. Luckily, PV is home to Curvas Peligrosas, a shop where the speciality is bathing suits for women who are not a Size 2.

---
October 24 Banderas News Brief & Upcoming PV Events

Banderas News Team

There's always so much going on in Puerto Vallarta and around Banderas Bay, it can be difficult to keep up with it all. Here's a look at some of this week's Vallarta news headlines, some community announcements, and a couple of upcoming local events you won't want to miss.

---
Tianguis Lo de Marcos Plans Opening Day Excitement

Alonso Diaz

Scheduled to open November 1st, Tianguis Lo De Marcos will feature the works of over 40 talented artisans including growers of organic produce, and a food court with a handful of select providers selling an impressive selection of food items you are not likely to find elsewhere.

---
Trash Can Fire Causes Evacuation of Galerías Vallarta

Lorena Sonrisas

Approximately 60 people were evacuated from the Galerias Vallarta shopping center on Tuesday night after a fire broke out in a hallway within the mall. At 10:30 pm, the city's Civil Protection and Fire Departments responded to a call reporting a trash can fire near the mall's casino.

---
Mexican Wedding Traditions for Your Vallarta Ceremony

Rev. Lynn Rogers

With so many romantic and picture-perfect venue options and a wide variety of cultural and culinary delights, Puerto Vallarta is a great choice for your dream wedding. As you plan your personalized ceremony, you might consider incorporating some local Mexican wedding traditions.

---
El Arrayán Restaurant Celebrates El Día de Los Muertos

BanderasNews.com

Every year on November 1 and 2, Mexicans celebrate Día de los Muertos in honor of their deceased loves ones. Here in Puerto Vallarta, El Arrayán is serving a traditional menu and erecting an altar as part of the Asociación Vallarta Centro's 'Pasaporte del Festival de Muertos.'

---
Dog Saved on Vallarta Beach Sheds Light on Strays

Amy Judd

Vancouver resident Kathryn Richardson was on vacation with her husband in Puerto Vallarta when they spotted a stray dog on the beach in front of the Barcelo Hotel. The dog had clearly not eaten in weeks, so she called the SPCA PV, and they picked up 'Sandy' the next morning.

---
Recipes & Real Estate: Sweet Salsa at Paramount Bay
Media Diva International

Recipes and Real Estate, because it's the kitchen that sells the house. In this episode, Laura Gelezunas and the Kitchenettes show us how to make Tangy Sweet Salsa and Avocado Margaritas at Paramount Bay Condo 708 in Colonia Amapas, just 5 minutes south of downtown Puerto Vallarta.

---
Charity Bingo Resumes at Nacho Daddy November 12th

Kathleen Palmer

Are you ready for some BINGO? We are delighted to announce that Nacho Daddy Restaurant & Bar in Puerto Vallarta's Zona Romántica is hosting the new season of the ever-popular Charity BINGO in support of two very special local charities: Pasitos de Luz and Colina Spay & Neuter Clinic.

---
SEMARNAT Establishes 2014-2015 Whale Watching Season

El Sol de Nayarit

Each year from December to March, the waters off the coast of Puerto Vallarta offer some of the most spectacular whale watching in the world. SEMARNAT recently announced the 2014-15 whale watching season in the Banderas Bay region will begin on Dec 8 and end March 23.

---
Site Map
•
Print this Page
•
Email Us
•
Top