Free Newsletter!
Click HERE to read a serialized and updated version of
Polly G. Vicars' sell-out book, Tales of Retirement in Paradise
.
Vallarta Living
Living in Puerto Vallarta Mexico
For many the thought of living in - or even near - a major tourist resort is about as appealing as a buying a condo in Disneyland. But here in Vallarta, the incredible natural beauty, combined with a small town atmosphere and the inherent warmth and friendliness of the local people, attracts foreign residents who enjoy the good life.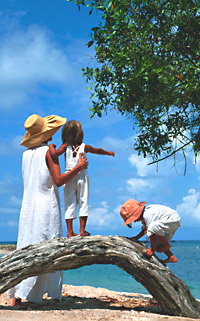 With a colorful blend of the old and the new, the Banderas Bay region offers an unrivaled combination of simple pleasures and sophisticated charms. Fine dining restaurants, art galleries, upscale shopping centers, internet cafes and nightclubs peacefully coexist alongside taco stands, street-side vendors and open air markets selling Mexican handcrafts, and strolling Mariachi bands.


But much of Puerto Vallarta's magic is in the hearts of her people. Often described as "one big, happy family," Vallartenses are known for their hospitality and for going out of their way to welcome foreign residents. And, since the Mexican people are extremely tolerant of different lifestyles, international residents and Mexican locals can live side-by-side in harmony - provided that the expatriate can learn to be creative and adaptable.


Puerto Vallarta is an unhurried refuge for people seeking more than just a beautiful beach. Those of us who choose to live here embrace the challenge of learning patience and understanding. Taking the time to "stop and smell the roses" along the road to becoming bicultural gives us the opportunity to grow - and to enjoy a more relaxed way of life.

• B E L O W T H E F O L D •
Voice, Forever Plaid are Taking Vallarta By Storm

Daniel R. Mininni

If you haven't been to the ACT II Entertainment complex recently, you don't know what you're missing! In addition to the Main Stage theater productions listed here, there's a full line-up of musical entertainment going on in The Red Room Cabaret and Encore Piano Bar.

---
Chiropractic Care Comes to Old Town Farmers' Market

Erin Staley

Everyone knows that the Puerto Vallarta Old Town Farmers Market-Tianguis Cultural is loaded with an abundance of can't-miss 'make it, bake it, grow it' products, but did you know that they also have some good-for-you personal services?

---
Fund Raiser to Save Vallarta Animals at Casa Yvonneka

BanderasNews.com

Casa Yvonneka will host its Third Annual Fund Raiser to save the dogs and cats of Puerto Vallarta on Sunday, March 29, 2015 at 6:00 pm. 100% of ticket sales will go directly to the non-profit organizations that save and care for neglected animals in the Banderas Bay area.

---
PV Authorities Coordinate '2015 Semana Santa Segura'

Nuestras Noticias

With Semana Santa - a time of religious celebration and vacationing of the masses - fast approaching, the Preventive Police, Transportation, Fire and Civil Protection Commissioners are getting everything ready to deploy operation 'Semana Santa Segura en Vallarta.'

---
500 Attend 3rd Annual American Legion Chili Cook-off

David F. Lilley

The American Legion Post 14 scores big again with over 500 hungry people attending their 3rd Annual Chili Cook-off Festival, held March 14th at El Rio BBQ Bar in Paso Ancho. Guests enjoyed 'All-You-Can-Eat' chili tasting, while raising $55,000 pesos for Vallarta charities.

---
This Week, Daiquiri Dick's Serves Up a Taste of Thailand

Laura Gelezunas

For this week's special at Daiquiri Dick's, Executive Chef Ignacio Uribe and Sous Chef Hugo Mejia have created a wonderful Taste of Thailand menu that offers Vallarta diners some interesting choices. This special menu is being served from 5 to 11 pm through March 29, 2015.

---
LGBT Art & Culture Showcased During Vallarta Pride 2015

VallartaPride.com

The Vallarta Pride Organizing Committee is pleased to announce that during the third annual event that celebrates the vibrant LGBT community in our city, a number of art and cultural events will take place to add to the various entertainment options scheduled from May 17 to 25.

---
2015 Puerto Vallarta Cruise Arrivals Increase by 26%

Union Jalisco

Puerto Vallarta has been gaining ground in the international cruise industry in recent years, and this year is no exception with arrivals expected to increase 26% over 2014. Last year 120 cruise ships anchored in Vallarta. This year 139 arrivals are already confirmed.

---
Democrats Abroad Wednesday Film: 'Which Way Home'

David Kamp

As part of their Every Wednesday Night Film series, the Costa Banderas Chapter of Democrats Abroad Mexico is proud to present this week's movie, 'Which Way Home.' This timely documentary will be shown at the International Friendship Club on Wednesday, March 25th at 7:00 pm.

---
Time to Eat! Vallarta Restaurant Week, May 15-31, 2015

BanderasNews.com

From May 15-31, 2015, Vallarta Restaurant Week will celebrate its 11th year as one of Puerto Vallarta's most important culinary events. And, with 35 of the Banderas Bay area's most recognized restaurants participating, this year's festival promises some memorable dining experiences.

---
'Anthology of Comedy' at Vallarta's Boutique Theatre

Catherine Beeghly

Puerto Vallarta resident, T.J. Hartung is an avid fan of classic comedy sketches, and he's put his favorites together for The Boutique Theatre's new original show, 'Anthology of Comedy.' Dinners will be served at 5 pm, with the curtain rising at 6 pm, on March 26, 27 and 28th.

---
'What a Drag' Raises $400,672 for Women's Shelter

Marie Callan

Some of Puerto Vallarta's finest men went out on a limb last Wednesday, donning garish make-up, wigs, dresses and high heels to compete in 'What a Drag!' - Vallarta's first-ever drag competition for straight guys - to raise money for the Banderas Bay Women's Shelter.

---
2015 Vallarta Real Estate Fair: More Exhibitors & Fun

Timothy Real Estate Group

Scheduled to take place from 9:00 to 2:00 on Saturday, March 28th at the Rivera Molino Plaza on PV's South side, the 2015 Vallarta Real Estate Fair promises to be the very best ever with more exhibits, speakers and more entertainment than ever before.

---
March 20 Vallarta News Brief & Weekend Events

Banderas News Team

There's always so much going on in Puerto Vallarta and around Banderas Bay it can be difficult to keep up with it all. Here's a look at some of this week's Puerto Vallarta news headlines, a few community announcements, and a couple of this weekend's events that you won't want to miss.

---
Democrats Abroad-Costa Banderas Upcoming Events

BanderasNews.com

The Costa Banderas Chapter of Democrats Abroad Mexico will be holding their Annual Meeting and Fiesta on March 23 at Nacho Daddy Restaurant on PV's south side. On April 1st, anyone interested in our political future is welcome to attend a strategic planning session at Vallarta's IFC.

---
Events Scheduled Throughout Riviera Nayarit in April

Riviera Nayarit CVB

Travelers visiting Riviera Nayarit next month will have an abundance of things to see and do, as the cuisine, adventure and cultural experiences that make 'Mexico's Pacific Treasure' such a sought-after destination will be showcased in a wide variety of festivals and tournaments.

---
Daiquiri Dick's Purr Project Event was 'The Cat's Meow'

Banderas News Team

At the last big fundraiser of the season for PuRR Project, held at Daiquiri Dick's on March 10, around $15,000 pesos were raised to help fund the care and feeding of the over 130 adorable cats and kittens in residence at Puerto Vallarta's no-kill feline shelter during the lean summer months.

---
Tierra Alta Presents: El Tuito Profiles - Tino Carbajal

David Kimball

Tierra Alta, a 7 hectare mountain property for custom built mountain cabins, lies just one mile from El Tuito. Just outside of this small town, an hour's drive from Vallarta, Tino Carbajal runs La Hacienda del Divisadero, a restaurant with open air seating that offers views of the countryside.

---
Meet 'The Tamale Diva' at Puerto Vallarta's OTFM-TC

BanderasNews.com

Ready for something extraordinary? The Puerto Vallarta Old Town Farmers Market-Tianguis Cultural's 80+ 'make it, bake it, grow it' vendors are serving up must-sees, must-haves and must-tastes! Like Adriana Basail, who has added a 'tamale twist' to the OTFM-TC's international food menu.

---
OITNB's Lea DeLaria to Lead 2015 Vallarta Pride Parade

BanderasNews.com

Vallarta Pride 2015's board recently announced that the very talented comedian, jazz musician and 'Orange is the New Black' actress, Lea DeLaria, will be the 2015 Vallarta Pride Parade's Grand Marshal. She will also participate in 'Big Boo's Birthday Bash,' an exclusive party for women.

---
Meet Jorge Abraham Gonzalez, The Blue Shrimp's New Chef

Media Diva International

Jorge Abraham Gonzalez, who has worked at The Blue Shrimp Restaurant on Puerto Vallarta's Los Muertos Beach since 2007, has a passion for seafood and creating spectacular dishes for clients to enjoy. He was recently promoted, and is now the restaurant's Executive Chef.

---
Paul Fracassi's 'Walk Like A Man' in The Red Room

Debbie White

Twenty-three year old singing sensation, Paul Fracassi, returns to Puerto Vallarta's Act II Stages during March with his hit show, 'Walk like a Man,' an exciting tribute to the legendary New Jersey-based recording stars Frankie Valli and The Four Seasons.

---
'House Hunters International' Returns to PV Next Month

Timothy Real Estate Group

'House Hunters International,' the wildly popular HGTV show that airs in over 50 countries will return to Puerto Vallarta next month to film their sixth episode featuring the famous tropical resort destination, as well as Taniel Chemsian, an agent with Timothy Real Estate Group.

---
Site Map
•
Print this Page
•
Email Us
•
Top