Free Newsletter!
Click HERE to read a serialized and updated version of
Polly G. Vicars' sell-out book, Tales of Retirement in Paradise
.
Vallarta Living
Living in Puerto Vallarta Mexico
For many the thought of living in - or even near - a major tourist resort is about as appealing as a buying a condo in Disneyland. But here in Vallarta, the incredible natural beauty, combined with a small town atmosphere and the inherent warmth and friendliness of the local people, attracts foreign residents who enjoy the good life.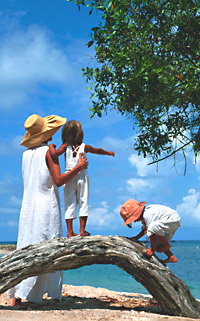 With a colorful blend of the old and the new, the Banderas Bay region offers an unrivaled combination of simple pleasures and sophisticated charms. Fine dining restaurants, art galleries, upscale shopping centers, internet cafes and nightclubs peacefully coexist alongside taco stands, street-side vendors and open air markets selling Mexican handcrafts, and strolling Mariachi bands.


But much of Puerto Vallarta's magic is in the hearts of her people. Often described as "one big, happy family," Vallartenses are known for their hospitality and for going out of their way to welcome foreign residents. And, since the Mexican people are extremely tolerant of different lifestyles, international residents and Mexican locals can live side-by-side in harmony - provided that the expatriate can learn to be creative and adaptable.


Puerto Vallarta is an unhurried refuge for people seeking more than just a beautiful beach. Those of us who choose to live here embrace the challenge of learning patience and understanding. Taking the time to "stop and smell the roses" along the road to becoming bicultural gives us the opportunity to grow - and to enjoy a more relaxed way of life.

• B E L O W T H E F O L D •
Celebrating #GivingTuesday in Puerto Vallarta

Cheryl's Shoebox

We have a day for giving thanks. We have two for getting deals. Now, we have #GivingTuesday, a global day dedicated to giving back. Please consider making a donation to any (or many!) of the charities and non-profit organizations in Puerto Vallarta on Tuesday, December 1.

---
Tourism Recovery in The Riviera Nayarit is a Done Deal

Riviera Nayarit CVB

The Vallarta-Nayarit joint promotion has been a key factor in the recovery of tourism in the Riviera Nayarit. Statistics from 2012-2015 show marked increases in hotel occupancy, room-nights and the number of passengers arriving at Puerto Vallarta's International Airport.

---
Wednesday Night BINGO Games Support Purr Project

Marilyn Khan

Are you ready for some BINGO? Join us at Margarita Grill on December 2nd for a night full of fun and Purr Project BINGO games. You'll have a great time while supporting the more than 150 adorable cats and kittens at Puerto Vallarta's no-kill cat shelter.

---
Amapas Neighborhood Assoc's Recycling Program Extended

Viviana Teston

In August 2015, Puerto Vallarta's Amapas Neighborhood Association began a free three-month Pilot Program for recycling 'plastic only.' Around 180 kilos of plastic were collected, so the program was extended through the end of the year, and is now collecting aluminum cans as well.

---
Inpats & Expats in Puerto Vallarta, Which Are You?

TREGROUP

A new expression is making the rounds describing people who choose to live in countries other than those where they were raised, educated and perhaps formerly employed: 'Inpat.' The implication of Inpat intends to replace the image of the gin-soaked tourist who decided to stay.

---
November 27 Banderas News Brief and Weekend Events

Banderas News Team

There's always so much going on in Puerto Vallarta and around the Republic, it can be difficult to keep up with it all. Here's a look at some of this week's Mexico headlines, plus Puerto Vallarta news, community announcements and weekend events you won't want to miss.

---
Democrats Abroad Discuss Medical Matters for Expats

Democrats Abroad Costa Banderas Chapter

On Tuesday, December 8 from 2:00 to 4:00 pm, the Costa Banderas Chapter of Democrats Abroad will hold a panel discussion about medical issues that expatriates often face when in Mexico. The discussion will be held in the Red Room on the South Side of Vallarta.

---
Vallarta's Favorite Boy Band, Los Bambinos, is Back!

Lorena Sonrisas

On November 24, Los Bambinos took the stage for their premiere 'Kings of Rock n' Roll' Concert to an ovation of clapping hands and intense whistles from an animated audience at The Roxy Rock House, where they'll be performing every Tuesday evening from 8-10 pm through March 29.

---
Sea Monkey Hosts Luau for Puerto Vallarta's Purr Project

Marilyn Khan

On Friday, December 11th at 5 pm, Sea Monkey Restaurant will be hosting the Third Annual Puerto Vallarta Pig Roast and Luau on the Beach to Benefit PuRR Project. Tickets have been selling quickly since we first announced this year's event, so get yours before they sell out!

---
Father Éloi Making a Difference in Puerto Vallarta

Thomas D. Landry

Almost everyone has heard the saying 'It takes a village to raise a child.' Yet few people within the great tourism gem of Puerto Vallarta know of the efforts of one man trying to raise a village, Colonia Volcanes, out of poverty.

---
ExPats in Vallarta December Happy Hours and Events

Sara Wise

ExPats in Vallarta, a totally social group with informal fellowship and assistance for Expat residents or visitors living, working, investing, or considering a move to Puerto Vallarta or the greater Banderas Bay area, has announced the events scheduled for the month of December.

---
Site Map
•
Print this Page
•
Email Us
•
Top