Free Newsletter!
Click HERE to read a serialized and updated version of
Polly G. Vicars' sell-out book, Tales of Retirement in Paradise
.
Vallarta Living
Living in Puerto Vallarta Mexico
For many the thought of living in - or even near - a major tourist resort is about as appealing as a buying a condo in Disneyland. But here in Vallarta, the incredible natural beauty, combined with a small town atmosphere and the inherent warmth and friendliness of the local people, attracts foreign residents who enjoy the good life.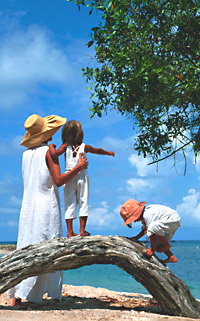 With a colorful blend of the old and the new, the Banderas Bay region offers an unrivaled combination of simple pleasures and sophisticated charms. Fine dining restaurants, art galleries, upscale shopping centers, internet cafes and nightclubs peacefully coexist alongside taco stands, street-side vendors and open air markets selling Mexican handcrafts, and strolling Mariachi bands.


But much of Puerto Vallarta's magic is in the hearts of her people. Often described as "one big, happy family," Vallartenses are known for their hospitality and for going out of their way to welcome foreign residents. And, since the Mexican people are extremely tolerant of different lifestyles, international residents and Mexican locals can live side-by-side in harmony - provided that the expatriate can learn to be creative and adaptable.


Puerto Vallarta is an unhurried refuge for people seeking more than just a beautiful beach. Those of us who choose to live here embrace the challenge of learning patience and understanding. Taking the time to "stop and smell the roses" along the road to becoming bicultural gives us the opportunity to grow - and to enjoy a more relaxed way of life.

• B E L O W T H E F O L D •
Boardwalk Realty Puerto Vallarta Welcomes Rocio Nava

Michael Green

Boardwalk Realty is extremely proud to welcome Rocio Nava to our team. The past president of APIVAC (a local PV Real Estate Agent Association), Rocio implemented new tools and courses to help other agents and was also the broker of her own real estate company in Puerto Vallarta.

---
Hard Rock Hotel Vallarta Convention Center Unveiled

BanderasNews.com

The anticipation generated with the laying of the cornerstone in October of 2014 was amply rewarded on Saturday, August 22, when the All Inclusive Collection officially unveiled Sanctuary, the Hard Rock Hotel Vallarta's new convention center in Nuevo Vallarta, Nayarit.

---
Vallarta Life: Politically Active in Puerto Vallarta

Media Diva International

Over one million expats live in Mexico, but that doesn't mean that they aren't interested in American politics. On this episode of Vallarta Life, says show host and real estate agent Laura Gelezunas takes us to an event she organized that demonstrates the democratic spirit.

---
Tianguis Lo De Marcos Looks Forward to Second Season

BanderasNews.com

The Tianguis Lo de Marcos will reopen its doors for its second season on November 7. Held every Saturday from 9 am until 2 pm, this weekly event expects to continue its growth and history of drawing visitors from around Banderas Bay to Lo de Marcos, Nayarit.

---
Radio Universidad de Guadalajara PV Celebrates 14 Years

Alan Yamil Hinojosa

This Summer, Radio Universidad de Guadalajara is celebrating 14 years of broadcasting from CUCosta in Puerto Vallarta. In celebration, Radio UdeG PV has prepared a series of events for its listeners, the university community and the general public.

---
August 28 Banderas News Brief and Weekend Events

Banderas News Team

There's always so much going on in Puerto Vallarta and around the Republic, it can be difficult to keep up with it all. Here's a look at some of this week's Mexico headlines and Banderas Bay area news, plus some of this weekend's events that you won't want to miss.

---
PVRPV Puerto Vallarta Vacation Property of the Week

V399 Condominiums Unit 504

Welcome to V399 Condo 504, brought to you by PVRPV Puerto Vallarta Vacations. Located in a luxurious new building right in the heart of Old Town, also known as the Romantic Zone, this must-see 2 bedroom, 2 bath rental property combines luxury and comfort.

---
2015 Summer Sizzle Wraps Up with a Taste of Thailand

Banderas News Team

Don't miss your last chance this season to take your taste buds on a world tour without leaving Puerto Vallarta. That's right, the 2015 Summer Sizzle at Daiquiri Dick's is wrapping up this week with a 'Taste of Thailand' menu through August 31.

---
500 Olive Ridley Turtles Released in Puerto Vallarta

PuertoVallarta.gob.mx

As part of the Sea Turtle Conservation and Preservation Program implemented by the Puerto Vallarta municipal government in June, last week saw the first turtle release of the season, in which about 500 baby Olive Ridley turtles were returned to the sea.

---
It's Raining Celebrities in The Riviera Nayarit

Jorge Jiménez

The Rivera Nayarit CVB's 'Celebrity Watch' has been very busy these last few weeks, thanks to an excess of stars that have vacationed in Mexico's Pacific Treasure this summer. Most have been bikini-clad models & celebs posing for social media pics on the destination's beautiful beaches.

---
Puerto Vallarta Mayor Recognizes the City's Bomberos

PuertoVallarta.gob.mx

During an emotional ceremony on August 20th, El Dia Nacional del Bombero (National Firemen's Day) in Mexico, the municipal government of Puerto Vallarta and acting mayor, Javier Mendez Pelayo, praised this group of heroes and their families for their selfless service to the city.

---
Santa Barbara / Puerto Vallarta Sister City News

Blas M. Garza

From the Santa Barbara/Puerto Vallarta Sister City September Newsletter: The medical equipment donated by the Goleta Valley Cottage Hospital for the Tomatlán Clinic and the fire fighting equipment donated by the Santa Barbara Fire Department are now on their way to Vallarta.

---
Wellness Holidays in Paradise on Mexico's West Coast

RivieraNayarit.com

Whether you want to soothe your mind, care for your body, or just seek rest and relief from daily stress and constant connectivity, in Puerto Vallarta and Riviera Nayarit, two idyllic coastal resorts on the Mexican Pacific, it's easy for your troubles to melt away.

---
7th Banderas Bay Rotary Club Golf Tournament, Oct. 24

Riviera Nayarit CVB

The Bahia de Banderas Rotary Club invites you to participate in their Seventh Annual Golf Tournament to benefit the people of Banderas Bay, which will be held at the Flamingos Golf course near Bucerias on Saturday, October 24, 2015, starting at 8:30 am.

---
Puerto Vallarta Garden Club Summer News & Happenings

Matthias Vogt

What a busy summer we've had! So far, 2015 has been the Puerto Vallarta Garden Club's most ambitious year ever - and we can't wait for you to see all of the work we've done when you return to Puerto Vallarta for the high season. It's beautiful.

---
August 21 Banderas News Brief and Weekend Events

Banderas News Team

There's always so much going on in Puerto Vallarta and around the Republic, it can be difficult to keep up with it all. Here's a look at some of this week's Mexico headlines and Banderas Bay area news, plus some of this weekend's events that you won't want to miss.

---
Jalisco Health Ministry Launches Free Surgery Program

NotiVallarta.com

For the third year in a row, the Jalisco Ministry of Health has launched '100 Jornadas Medico Quirurgicas,' a program that offers low-complexity surgical procedures to people with medical problems and low incomes. This year's goal is to perform more than 2,500 free operations.

---
Adios Summer! Bienvenidos Season 7 at No Way José!

Julie Guerrero

We can barely believe we are gearing up to serve our family of friends for another season at 'Tu Casa en Vallarta' - No Way José! To help us kick-start Season 7, we've opened the downstairs bar, La Cantina, with full bar service from noon to 11 pm, free botanas, Happy Hour, and more!

---
Bi-National Start-Up to Assist Expats Living in Mexico

BanderasNews.com

Young entrepreneurs in Baja Mexico have joined forces to make life simpler for expats and foreigners who own property in Mexico. SimplePay is a mobile app that will allow users to pay utility bills and services, as well as HOA fees, fideicomisos, etc. from anywhere in the world.

---
Site Map
•
Print this Page
•
Email Us
•
Top