Free Newsletter!
Click HERE to read a serialized and updated version of
Polly G. Vicars' sell-out book, Tales of Retirement in Paradise
.
Vallarta Living
Living in Puerto Vallarta Mexico
For many the thought of living in - or even near - a major tourist resort is about as appealing as a buying a condo in Disneyland. But here in Vallarta, the incredible natural beauty, combined with a small town atmosphere and the inherent warmth and friendliness of the local people, attracts foreign residents who enjoy the good life.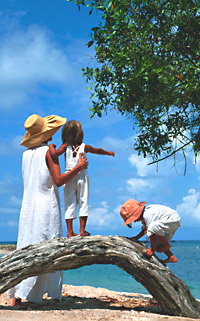 With a colorful blend of the old and the new, the Banderas Bay region offers an unrivaled combination of simple pleasures and sophisticated charms. Fine dining restaurants, art galleries, upscale shopping centers, internet cafes and nightclubs peacefully coexist alongside taco stands, street-side vendors and open air markets selling Mexican handcrafts, and strolling Mariachi bands.


But much of Puerto Vallarta's magic is in the hearts of her people. Often described as "one big, happy family," Vallartenses are known for their hospitality and for going out of their way to welcome foreign residents. And, since the Mexican people are extremely tolerant of different lifestyles, international residents and Mexican locals can live side-by-side in harmony - provided that the expatriate can learn to be creative and adaptable.


Puerto Vallarta is an unhurried refuge for people seeking more than just a beautiful beach. Those of us who choose to live here embrace the challenge of learning patience and understanding. Taking the time to "stop and smell the roses" along the road to becoming bicultural gives us the opportunity to grow - and to enjoy a more relaxed way of life.

• B E L O W T H E F O L D •
Adult BINGO at The Palm Cabaret Benefits PuRR Project

Marilyn Khan

On Monday, December 12 we'll be playing Adult Bingo at The Palm Cabaret and Bar Puerto Vallarta for great prizes like gift certificates to some great restaurants, tickets to shows at The Palm, bottles of adult beverages, edible underwear, adult water pistols and more, to benefit PuRR Project.

---
Minimum Wage in Mexico Set to Increase January 1

Mexico News Daily

The minimum wage in Mexico will rise nearly 10% in January, a significantly higher increase than others in recent years. The National Minimum Wage Commission announced a hike of seven pesos, bumping the minimum daily wage to 80.04 pesos, just under US $4, effective January 1.

---
A December to Remember with More Shows Than Ever!
Corie DuChateau

This week's cooler temperatures remind us that the holidays are just around the corner, which means that it is time to celebrate! And there's no better place to put you in a festive mood than Act II STAGES, where a full line-up of music & theater will make it a December to remember.

---
Democrats Abroad Tuesday Film: 'Where to Invade Next'

David Kamp

As part of their Every Tuesday Night Film series, the Costa Banderas Chapter of Democrats Abroad Mexico is proud to present 'Where to Invade Next.' This 2015 documentary by Michael Moore will be shown at The Jazz Foundation in downtown Puerto Vallarta on December 13 at 7 pm.

---
Toys for Tots Vallarta Fundraisers This Weekend

Jerry Lafferty

The Toys for Tots December fundraisers are always among the most popular seasonal events in Puerto Vallarta. This year, the Golf Scramble will be played on December 10th at Vista Vallarta course, and the Gala Dinner Dance will be held on the 11th at CasaMagna Marriott Resort.

---
December Fun at Vallarta's Boutique Dinner Theatre

Catherine Beeghly

Here's what's playing this month at the Boutique Dinner Theatre in Puerto Vallarta: Mikki Prost launches a new show; T.J. Hartung puts an original twist on Charles Dickens' classic, 'A Christmas Carol,' and more exciting dinner-and-a-show entertainment upstairs at Nacho Daddy.

---
The 10 Rules of Holiday Gift Giving Etiquette

Marie Callan

Thanksgiving is over and the holiday shopping season is in full swing. Buying all those gifts for everyone on your list can get expensive and overwhelming. How much do you spend? Do you have to buy for absolutely everyone? Is it alright to re-gift? What if you don't know what to get them?

---
TREG Night of Latin Stars Charity Event Breaks Record!

BanderasNews.com

Timothy Real Estate Group's 3rd 'House Hunters International' charity event, held November 21 at Casa Karma, shattered the record of $275,000 pesos raised at 2014's 'Gilligan's Island' event. This year, over $540,000 Pesos were raised for three Puerto Vallarta charitable organizations.

---
June Rosen Lopez Holiday Jewelry Party, Dec. 17 & 18

BanderasNews.com

Whether you are looking for a unique Christmas gift, or an exceptional piece of jewelry for yourself, don't miss the annual Holiday Jewelry Party at Galería June Rosen Lopez on December 17 & 18. June will be donating 10% of her sales to Corazón de Niña, a local shelter for abused children.

---
Traffic, Phones, the Internet and a Cabin 'Getaway'

BanderasNews.com

David Kimball writes about life at Tierra Alta a cabin development near El Tuito, one hour south of Puerto Vallarta. He and his wife are in the process of moving full time into what had been a weekend getaway cabin and a welcome source of rental income since its construction 4 years ago.

---
Site Map
•
Print this Page
•
Email Us
•
Top