Free Newsletter!
Click HERE to read a serialized and updated version of
Polly G. Vicars' sell-out book, Tales of Retirement in Paradise
.
Vallarta Living
Living in Puerto Vallarta Mexico
For many the thought of living in - or even near - a major tourist resort is about as appealing as a buying a condo in Disneyland. But here in Vallarta, the incredible natural beauty, combined with a small town atmosphere and the inherent warmth and friendliness of the local people, attracts foreign residents who enjoy the good life.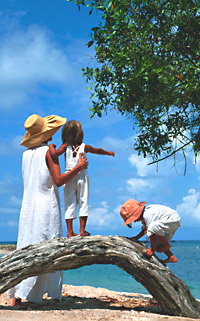 With a colorful blend of the old and the new, the Banderas Bay region offers an unrivaled combination of simple pleasures and sophisticated charms. Fine dining restaurants, art galleries, upscale shopping centers, internet cafes and nightclubs peacefully coexist alongside taco stands, street-side vendors and open air markets selling Mexican handcrafts, and strolling Mariachi bands.


But much of Puerto Vallarta's magic is in the hearts of her people. Often described as "one big, happy family," Vallartenses are known for their hospitality and for going out of their way to welcome foreign residents. And, since the Mexican people are extremely tolerant of different lifestyles, international residents and Mexican locals can live side-by-side in harmony - provided that the expatriate can learn to be creative and adaptable.


Puerto Vallarta is an unhurried refuge for people seeking more than just a beautiful beach. Those of us who choose to live here embrace the challenge of learning patience and understanding. Taking the time to "stop and smell the roses" along the road to becoming bicultural gives us the opportunity to grow - and to enjoy a more relaxed way of life.

• B E L O W T H E F O L D •
Democrats Abroad Costa Banderas Financial Forum Recap

Dean McIntyre

Democrats Abroad Costa Banderas recently sponsored a financial forum in which a financial advisor from a U.S. investment firm and an economist from a Mexican firm addressed concerns about the new U.S. political situation and how it will impact both the U.S. and Mexican economies.

---
February News from Pasitos de Luz/Casa Connor

Barb Bremner

The February 9th Casa Connor - Pasitos de Luz open house was an overwhelming success! Over 200 people visited the children, staff and volunteers at the new location the Pasitos kids started attending on January 9. It's a huge step up from the humble beginnings of Pasitos de Luz.

---
Adult BINGO at The Palm Cabaret Benefits PuRR Project

Marilyn Khan

Come play Adult Bingo at The Palm Puerto Vallarta on Monday, February 27 for great prizes like gift certificates to great restaurants, bottles of adult beverages, show tickets, edible body paint, risqué party candy, X-rated playing cards and more! Proceeds benefit PuRR Project.

---
Handmade Tortillas at Vallarta's Mercado Los Mangos

Adriana Garcia

Mercado Los Mangos will be open this Saturday for another day of sunshine, community and locally produced artisan products. Choose from honey, yogurt, fermented foods, sauces and dips, sweet and savory baked goods, and this week's featured corn-based products from Everything Corn.

---
3Ktrinas Serving 'Tapas with a Twist' at Nima Bay

Tropicasa Realty

For tapas lovers, a new jewel has opened in the Puerto Vallarta Marina district with the launch of 3Ktrinas. A tiny restaurant tucked into the Nima Bay Shoppes, with a few tables located on the sidewalk in front, 3Ktrinas is sure to become a new favorite on PV's restaurant scene.

---
Vallarta's Homeless Animals are Everyone's Business

Amapas Neighborhood Association

The Amapas area has become a popular place for people who can no longer keep pets to just dump them on the beach, on the highway near Pemex, or in the Conchas Chinas area. Most of these dogs and some cats are not street animals and have no chance of survival on their own.

---
'Laurel Canyon' Returns to The Red Room in March

Debbie White

Renee Armand and Paul Aleman are excited to return to Puerto Vallarta in March for encore performances of Laurel Canyon, the untold story. Performed brilliantly in songs and stories, Renee will share things that she has never talked about, on March 7, 9, 11, 14, 16 & 18 in the Red Room.

---
Eleventh Annual Vallarta Wine Fest, March 1-5, 2017

Banderas News Team

Throughout the 2017 Vallarta Wine Fest, set to take place March 1-5th, attendees will not only enjoy wine tasting and food pairing events at some of the finest restaurants and hotels in the Banderas Bay area, but also a wide variety of wine-related public events.

---
VYC Hosts WesMex International Small Boat Regatta

Richard Williams

Vallarta Yacht Club is gearing up for the International WesMex Regatta 2017. Set for March 10-12, the event typically attracts around 300 competitors from all over the world, and this year it has again been selected as one of 5 National Qualifier Regattas for all of Mexico.

---
CarnavalPV 2017, Puerto Vallarta's Mardi Gras Parade

Adam García

Puerto Vallarta's 9th annual Mardi Gras Parade, set to kick off on Tuesday, February 28th at 8:00 pm, promises to continue to show the world our vibrant community. So gather your masks and friends and get ready to catch beads, blow whistles and kisses, and stay out late.

---
Purr Project Offers Cat Lovers 'Superior' Vallarta Tours!

Marilyn Khan

You've heard about the 175+ cats and kittens living happily at Puerto Vallarta's feline shelter. Now you can meet them! Purr Project is offering visits to the ranch in roomy, 10-passenger air-conditioned vans every other Wednesday. The next tour is set for February 22, 2017.

---
MEXLend: The Many Benefits of Moving to the Beach

MEXLend Mortgages for Mexico

Over 15,000 North Americans turn 55 each day. As aging Baby Boomers retire, their search begins for a place to retire or for a possible second home. MEXLend not only provides mortgages in Mexico, but also information about the unique lifestyle that makes this country so appealing.

---
Act II Brings the Music of The Beatles to Puerto Vallarta

BanderasNews.com

Are you a 'Fab Four' fan? Head over to Act II tonight for the debut of 'Come Together,' a celebration of the music of The Beatles, starring many of your favorite local entertainers. Not a Beatles fan? No worries. There's always a wide variety of music, theater and fun at STAGES.

---
Vallarta Pride 2017 "Together with Pride," May 21-28

Author

One of the first celebrities to confirm his participation in Vallarta Pride 2017, set for May 21 to 28, is Johnathan Celestin, a singer and songwriter from New York City who, in addition to being the Grand Marshal of the Pride parade, will have presentations at various events of the festival.

---
Quench Your Thirst for Shopping at Mercado Los Mangos

Adriana Garcia

Immerse yourself in the culture of Puerto Vallarta at it's newest 'buy local' market, Mercado Los Mangos. We offer a great selection of artisan products, live music and a children's crafting tent. When you're ready to quench your thirst, try the flavored waters of Refresca Aguas Artesanales.

---
Fearless Frida Exhibition Opens Feb 18 at Art VallARTa

Bill Makley

In 2016, record crowds at Art VallARTa's 'Fearless Frida' art exhibition inspired an even bigger revival of the theme for this year's redux: 'Frida and All Fearless (Persistent) Women - and the Men Who Champion Them.' The exhibit will open on February 18 and remain on display through March 11.

---
Lorena Peril & Ray Jon Narbaitz Rocked Vallarta

Debbie White

Act II Entertainment was thrilled to welcome Lorena and Ray Jon back this month. With seating for around 200, the Main Stage theater was filled to the rafters with eager fans. On the last night of their three show engagement, I was fortunate to hear these incredible musicians.

---
'Voces Unidas por Los Niños' to Benefit Casa Hogar

Rodrigo López

On February 18 at 6:30 pm, Platform 322 in Colonia Versalles will present sopranist Gabriel Delgadillo and singer-songwriter Kharla Barragan in 'Voces Unidas por Los Ninos,' a benefit concert for the 42 children who live at the Casa Hogar Máximo Cornejo orphanage in Puerto Vallarta.

---
Democrats Abroad Presents 'Academy Awards Week'

David Kamp

From February 18-25th, the Costa Banderas Chapter of Democrats Abroad Mexico will present 'Academy Award Week,' featuring seven of 2016's best films - all of which have been nominated for Oscars. The venue for the screenings will be the Jazz Foundation in downtown Puerto Vallarta.

---
How to Have a Good Laugh While Helping Others

Marie Callan

Avenue Q, the delightful laugh-out-loud American musical that has broken all box office records and raised 120,000 pesos for Puerto Vallarta charities, returns to Act II for 5 more shows! This week, monies will be raised for Cheryl's Shoebox after school soccer teams. Let's help make this goal!

---
'Que Viva El Canto' to Benefit Biblioteca Los Mangos

Cecile Scriban

Do you love opera? If so, don't miss 'Que Viva El Canto,' an opera recital featuring vocal solos and duets from classical operas, beloved Latin ballads, and a sprinkling of piano solos at the Sheraton Buganvilias Resort on March 9 to benefit the Puerto Vallarta Public Library, Biblioteca Los Mangos.

---
A PuRRfectly Fun Wednesday Afternoon at Margarita Grill

Marilyn Khan

Join us on Wednesday, February 15, for another fun afternoon of Purr Project BINGO at Margarita Grill. As always, we'll have purr-fectly primo BINGO prizes, a 50/50 raffle, and food and drink specials just for us BINGO players! Tickets go on sale at 4:30; the fun starts at 5 pm.

---
Cooks, Musicians Tune Up for 5th Charity Chili Cook-Off

Stan Francis

Puerto Vallarta's chili cooks and musical groups are tuning up for the 5th Charity Chili Cook-Off, set for February 25 from 1-5 pm at El Rio BBQ Bar and Grill. Enjoy an all-you-can-eat chili fest and dancing to live music provided by Mikki Prost, The Bones, Dave Whitty & Texas Embassy Blues Band.

---
Site Map
•
Print this Page
•
Email Us
•
Top