Free Newsletter!
Click HERE to read a serialized and updated version of
Polly G. Vicars' sell-out book, Tales of Retirement in Paradise
.
Vallarta Living
Living in Puerto Vallarta Mexico
For many the thought of living in - or even near - a major tourist resort is about as appealing as a buying a condo in Disneyland. But here in Vallarta, the incredible natural beauty, combined with a small town atmosphere and the inherent warmth and friendliness of the local people, attracts foreign residents who enjoy the good life.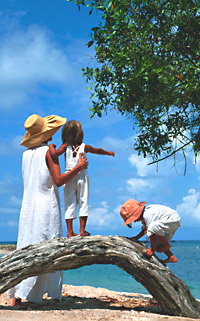 With a colorful blend of the old and the new, the Banderas Bay region offers an unrivaled combination of simple pleasures and sophisticated charms. Fine dining restaurants, art galleries, upscale shopping centers, internet cafes and nightclubs peacefully coexist alongside taco stands, street-side vendors and open air markets selling Mexican handcrafts, and strolling Mariachi bands.


But much of Puerto Vallarta's magic is in the hearts of her people. Often described as "one big, happy family," Vallartenses are known for their hospitality and for going out of their way to welcome foreign residents. And, since the Mexican people are extremely tolerant of different lifestyles, international residents and Mexican locals can live side-by-side in harmony - provided that the expatriate can learn to be creative and adaptable.


Puerto Vallarta is an unhurried refuge for people seeking more than just a beautiful beach. Those of us who choose to live here embrace the challenge of learning patience and understanding. Taking the time to "stop and smell the roses" along the road to becoming bicultural gives us the opportunity to grow - and to enjoy a more relaxed way of life.

• B E L O W T H E F O L D •
Vallarta Vacation Property of the Week from PVRPV.com

Santa Barbara Shores II - Condo

PVRPV, Vallarta's #1 Team of Vacation Experts, presents Santa Barbara Shores II Beachfront Condo. Ideally located in one of the most desirable neighborhoods on the south side of Vallarta, this gorgeous 2 bedroom 2.5 bath condo boasts a spectacular oceanfront view of Banderas Bay.

---
Vallarta Ceviche & Aguachile Festival Returns July 29

BanderasNews.com

Puerto Vallarta restaurants are busy preparing to serve the hundreds of people expected to attend the fourth edition of the Festival del Ceviche y Aguachile, scheduled to be held from 12:00 noon to 7:00 pm at Lazaro Cardenas Park on Saturday, July 29, 2017.

---
Vallarta Living: Transferring Your Money to Mexico

Tropicasa Realty

If you are buying a home in Puerto Vallarta and planning on living in Mexico full or part-time, being able to access funds from home is an important concern, particularly if you maintain bank accounts in the US or Canada. Tropicasa offers tips for accessing your money in Mexico.

---
ExPats in Vallarta August Happy Hours and Events

Sara Wise

During the month of August, ExPats in Vallarta will be having two Happy Hours and three ExPat Dinners. Everyone is enjoying getting out and mingling with other ExPats during this time of year. Getting out is great therapy for everyone, so make plans now to join us!

---
Act II's Main Stage Announces Exciting 5th Season Shows

BanderasNews.com

For weeks, we've been telling you that Act II Stages has been gearing up for the best season of entertainment that Puerto Vallarta has ever seen. Now they have announced the exciting line-up of shows coming to The Main Stage for their upcoming 5th season, which begins October 31.

---
Mexico, Canada Boost Security for Laptops on US Flights

UPI

Laptops and tablets on US-bound flights from Mexico will be subjected to heightened carry-on security measures at the request of the US Dept. of Homeland Security. Canada also began enforcing enhanced security measures on 'electronics larger than a cellphone.'

---
July 21 Vallarta-Nayarit News Brief & Weekend Events

Banderas News Team

There's always so much going on in Puerto Vallarta and around Banderas Bay it can be difficult to keep up with it all. Here's a look at some of this week's Vallarta-Nayarit news, a few community announcements and a couple of this weekend's events that you won't want to miss.

---
Daiquiri Dick's Summer Sizzle: A Taste of Italy

Laura Gelezunas

Each region of Italy has its own traditional recipes that reflect the history and culture of that area, so to get a taste of it all, you'll have to do a lot of traveling. Unless you happen to be in Puerto Vallarta, where Daiquiri Dick's Summer Sizzle offers A Taste of Italy through July 31.

---
Act II Strikes Gold with Spotlight on Vallarta Series

Marie Callan

There are just two words that must be said to Act II Entertainment's Managing Partner Danny Mininni and Musical Director Alfonso Lopez: 'Mission accomplished!' The Mission? Scouring Vallarta for the very best local talent and giving them a stage. The result? A hit series of shows.

---
SPCA de PV: Animals Have Rich & Deep Emotional Lives

Clare Leach

Gregory Burns, a professor of Neuroeconomics at Emory University in Atlanta Georgia, says that dogs have emotions just like people. Why is this important to our community? Because Vallarta has a large population of homeless animals and our ability to help is what makes us human.

---
2017 NIIJIMA San Pancho Mexican Surf Open, July 21-23

Riviera Nayarti CVB

The beautiful beaches of the Riviera Nayarit will host the 2017 NIIJIMA San Pancho Mexican Surf Open from July 21-23. Mexicans and foreigners, professionals and amateurs: all surfers are invited to participate in this competition that offers $100 thousand pesos in prizes.

---
Summer Courses Return to Entreamigos in San Pancho

BanderasNews.com

Entreamigos Community Center in San Pancho recently announced its 2017 Summer Workshops for children ages 3-16. The camp will run from July 24-August 11, and offer kids art, ecology and other workshops limited only by the imagination of the volunteer teachers - which are needed!

---
24 Hour Rowathon to Raise Money for Kids with Cancer

BanderasNews.com

On July 28, Greg & Hillary Kennon, along with the members of Crossfit Zapata, will row (on rowing machines) for 24 hours to raise money for CANICA, a center in Puerto Vallarta that helps children with cancer. They'll be doing it during a free community fiesta that starts at 6 pm.

---
July 14 Banderas News Brief and This Weekend's Events

Banderas News Team

There's always so much going on in Puerto Vallarta and around Banderas Bay it can be difficult to keep up with it all. Here's a look at some of this week's Puerto Vallarta news, a few community announcements and a couple of this weekend's events that you won't want to miss.

---
This Month's Hot Property from Tropicasa Realty

Casa Las Palmas

This hacienda-style 7 bedroom, 8 bath villa is situated just a few blocks to the beach and all the shops and restaurants in the Hotel Zone, yet private and secure on a quiet side street. Near the Sheraton, Casa Las Palmas is within walking distance to all the best that Vallarta has to offer.

---
5th Playa Platanitos Sea Turtle Festival, July 22-23

Norma Hernández

Set to be held July 22-23, the Riviera Nayarit's 5th annual Playa Platanitos Sea Turtle Festival is bigger than ever, as in addition to the usual activities - including an Environmental Tourism Fair - there will also be a volleyball tournament, a bicycle circuit and a swimming competition.

---
Amapas Neighborhood Association Summer Newsletter

Tom Swale

The Amapas Neighborhood Association, a group of Puerto Vallarta residents and business owners who work together to enhance our quality of life through improvements in security, infrastructure and responsible development, brings us up to date on what's happening in Amapas.

---
Vallarta Mayor Suspends Uber Service in Downtown Area

El Informador

After at least 12 violent incidents in which Puerto Vallarta taxi drivers and Uber drivers have been involved, Mayor Arturo Dávalos Peña announced Monday that he's launched a security operation to prevent the ride-hailing service from operating in downtown and tourist areas.

---
This Month at Act II: New Shows, Returning Favorites

Danny Mininni

The Summer is flying by and shows no sign of slowing down at Act II Stages, where you can hear some of the best voices in Puerto Vallarta, get a sneak-peek at two upcoming Red Room cabaret shows, and audition for the Winter season's shows, like 'Rocky Horror' and 'Xanadu: The Musical.'

---
New Projects on the Horizon in The Riviera Nayarit

Travel Pulse

As it approaches its 10-year anniversary, the Riviera Nayarit has not only scheduled a year's worth of celebrations to honor the milestone, but is also looking forward with a bevy of new developments. New resorts are in the works, as are upgrades to the area's highway system.

---
This Week's Events & Activities at Los Mangos Library

Adriana García

Puerto Vallarta's Public Library, Biblioteca Los Mangos, is not 'just a library,' it is a true cultural and community center that also serves as a venue for entertaining and educational workshops, art exhibits, concerts, and cultural events. Here's what's happening this week at Los Mangos.

---
Cheryl's Shoebox 2nd Annual Summer Bash, August 6

Vicki Steuteville

To raise funds for school shoes and supplies for local primary and secondary students and after-school programs in Colonias Progresso, Lomas de Enmedio and El Satrillo, Cheryl's Shoebox is hosting their 2nd Annual Summer Bash on August 6th at Babel Bar on La Isla Rio Cuale.

---
Why Expat Retirees Feel Like They're in 1950s America

Chuck Bolotin - nextavenue.org

I'm seeing a yearning of many people around my age to return to a simpler time. If you long for the sense of community, respect and family you recall growing up, you'll find lots to appreciate and enjoy about life today in the popular expat destinations of Mexico, Panama and Nicaragua.

---
11th Banderas Bay Marlin and Tuna Fishing Tournament

Riviera Nayarit CVB

Fishing teams with up to four members per boat are invited to participate in the Bahía de Banderas Sport Fishing Club's 11th International Tuna and Marlin Fishing Tournament, which will take place July 20-22 at the Vallarta Yacht Club in the Paradise Village Marina in Nuevo Vallarta.

---
Importing Household Goods to Your New Home in Mexico

Tropicasa Realty

The saying goes 'you can't take it with you,' but if you have purchased a second or retirement home in Puerto Vallarta or the Riviera Nayarit, Mexico, and want to move some of your household goods with you, this old adage doesn't always hold true.

---
Site Map
•
Print this Page
•
Email Us
•
Top