Free Newsletter!
Click HERE to read a serialized and updated version of
Polly G. Vicars' sell-out book, Tales of Retirement in Paradise
.
Vallarta Living
Living in Puerto Vallarta Mexico
For many the thought of living in - or even near - a major tourist resort is about as appealing as a buying a condo in Disneyland. But here in Vallarta, the incredible natural beauty, combined with a small town atmosphere and the inherent warmth and friendliness of the local people, attracts foreign residents who enjoy the good life.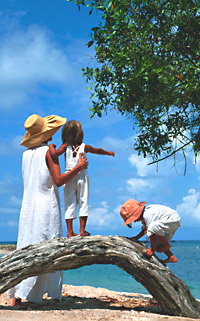 With a colorful blend of the old and the new, the Banderas Bay region offers an unrivaled combination of simple pleasures and sophisticated charms. Fine dining restaurants, art galleries, upscale shopping centers, internet cafes and nightclubs peacefully coexist alongside taco stands, street-side vendors and open air markets selling Mexican handcrafts, and strolling Mariachi bands.


But much of Puerto Vallarta's magic is in the hearts of her people. Often described as "one big, happy family," Vallartenses are known for their hospitality and for going out of their way to welcome foreign residents. And, since the Mexican people are extremely tolerant of different lifestyles, international residents and Mexican locals can live side-by-side in harmony - provided that the expatriate can learn to be creative and adaptable.


Puerto Vallarta is an unhurried refuge for people seeking more than just a beautiful beach. Those of us who choose to live here embrace the challenge of learning patience and understanding. Taking the time to "stop and smell the roses" along the road to becoming bicultural gives us the opportunity to grow - and to enjoy a more relaxed way of life.

• B E L O W T H E F O L D •
December 19 Vallarta Happenings and Weekend Events

Banderas News Team

There's always so much going on in Puerto Vallarta and around Banderas Bay, it can be difficult to keep up with it all. Here's a look at some upcoming happenings around the Bay, a few community announcements, and a couple of this weekend's events that you won't want to miss.

---
Festival Sayulita 2015: Movies and Music in Mexico

Sara Lieberman

Cinephiles looking to enjoy a film with their feet in the sand can do so from January 14 to 18 at the second Festival Sayulita, a five-day culture and food fest in the chilled-out coastal town of Sayulita, 45 minutes north of Puerto Vallarta, Mexico.

---
Vallarta Taxi Drivers Raising Rates for High Season?

Pedro Castillo

With the onset of peak season, Christmas, and New Years, the Jalisco Department of Transportation wants to inform tourists and citizens alike that there are no such thing as 'seasonal' taxi rates, and are urging anyone who is overcharged to file a complaint.

---
Christmas Dinner at Restaurants in Puerto Vallarta, Mexico

Banderas News Team

Spending the holidays in Vallarta? Whether you are in the mood for traditional Christmas fare or want to try something a little different, we've listed Puerto Vallarta area restaurants that are serving up holiday meals that'll keep you out of the kitchen - and in a festive mood!

---
Vallarta-Nayarit Classic Rock Festival Recap

Gary W. Lichtenstein

The setting, weather, sound system, and performances by legendary rock groups were all rockin' at the Vallarta-Nayarit Classic Rock Festival. Held in the Sunset Garden adjacent to the Hard Rock Hotel Vallarta in Nuevo Vallarta, attendees enjoyed three days of 'Rock and Roll Heaven.'

---
Holiday Shopping at Old Town Farmers Market

Erin Staley

Who needs big box retailers when you can shop local from Vallarta-based vendors for the holidays? At the Puerto Vallarta Old Town Farmers Market-Tianguis Cultural, over 80 'make it, bake it, grow it' vendors will help you 'get your shop on' this holiday season.

---
Celebrate Christmas Eve with Dinner at Kaiser Maximilian

Laura Gelezunas

Kaiser Maximilian Restaurant in the heart of Vallarta's Zona Romantica will be celebrating Christmas on December 24th with a splendid holiday dinner. Executive Chef Juan Carlos Palomera and his team have developed a memorable four-course menu for $550 pesos per person.

---
Puerto Vallarta Wins More Travelers' Choice Awards

Banderas News Team

TripAdvisor, the world's largest travel website, has just released more results from their 2014 Travelers' Choice Awards, and Puerto Vallarta is ranked #2 in the 'Most Popular Destinations in Mexico' category. This is the third consecutive year that Puerto Vallarta has been recognized.

---
Waterside Art Shows on Marina Nuevo Vallarta Malecón

Riviera Nayarit CVB

Every Saturday from 9 am to 12 noon, the 'Waterside Art Show' along the Marina Nuevo Vallarta boardwalk reinforces cultural tourism in the Riviera Nayarit. Now in its fourth year, the art show features mostly local artists creating painting and sculpture installations.

---
Vallarta Expecting a Half-Million Holiday Tourists

BanderasNews.com

According to Mayor Ramón Guerrero Martínez, during the Christmas and winter holidays the city of Puerto Vallarta will receive more than half a million domestic and international tourists, representing an economic impact of at least $500 million pesos.

---
Pulpito Plaza Christmas Carolers Delighted Audience

Tim Wilson

In just three shows - and thanks to the help of Morgan Granander of The Swedes and Javier Jimenez from Garbos - the Pulpito Plaza Christmas performances by the kids from Colonia Volcanes raised $30,280 pesos for the Volcanes Community Education Project in Puerto Vallarta.

---
Wednesday Night BINGO Games Support Purr Project

Marilyn Khan

Help us put some pesos in Purr Project's 'kitty' by joining us beside the pool under the beautiful new indoor palapa at Los Arcos Hotel on Olas Altas in Old Town Vallarta every other Wednesday at 5 pm for a fun-filled evening of playing Kitty BINGO!

---
Puerto Vallarta is All Aglow Over 2014 Visitor Numbers

Paloma Villaverde de Rico

Between its lush Sierra Madre Mountains landscape, its passionate people, its array of unique neighborhoods, and its shoreline, Puerto Vallarta is an alluring destination, so it's no surprise that 2014 is set to become one of the best years on record for its tourism industry.

---
Enjoy Christmas Dinner on the Beach at Daiquiri Dick's

Laura Gelezunas

When it comes to a wonderful Christmas meal, the sky is the limit and your choice will mark the holiday. Let the crash of the waves and ocean breeze be the back drop for your Christmas dinner at Daiquiri Dick's Restaurant, right on Los Muertos Beach in Puerto Vallarta, Mexico.

---
Southwest Airlines to Service Vallarta From Houston

PRNewswire.com

In 2015, Southwest plans to fly to 4 Mexico destinations — Mexico City, Cancun, Puerto Vallarta and Los Cabos — and to San Jose, Costa Rica, from a new international concourse being built at Houston Hobby Airport. The carrier applied for government approval late last week.

---
Vallarta-Nayarit Classic Rock Festival Underway

Gary W. Lichtenstein

The Vallarta-Nayarit Classic Rock Festival, a rock fest like nothing seen before in the Banderas Bay region, continues this weekend in the Sunset Garden adjacent to the Hard Rock Hotel Vallarta with performances by some of the greatest musicians from the 60s, 70s and 80s.

---
Becas Vallarta December & January Event Schedule

Polly G. Vicars

The first Becas Vallarta Breakfast of the season, at Vitea, was a sold out success. Our next event is the December 17th breakfast at Restaurant La Palapa on beautiful Los Muertos Beach. Festivities will begin at 9:30 am with breakfast, a raffle and a large silent auction.

---
December 12 Vallarta News Brief and Weekend Events

Banderas News Team

There's always so much going on in Puerto Vallarta and around Banderas Bay, it can be difficult to keep up with it all. Here's a look at some upcoming happenings around the Bay, a few community announcements, and a couple of this weekend's events that you won't want to miss.

---
Project in Mexico Benefits Impoverished Vallarta School

HaysPost.com

The Volcanes Community Education Project is a non-government funded English and computer program free of charge for students in the impoverished community of Volcanes in Puerta Vallarta. The program is designed to help students develop future employment qualifications.

---
Upcoming Shows at Nuevo Vallarta's Stage and Forum

D. White

If you live or are currently vacationing in Puerto Vallarta or Riviera Nayarit, there is a new entertainment venue this season. Stage and Forum Theatre, Nuevo Vallarta's newest stage, is introducing some of Puerto Vallarta's top rated shows to their Nayarit residents and visitors.

---
IFC Begins 30th Season of Puerto Vallarta Home Tours

Janie Albright Blank

This season marks thirty years since the International Friendship Club started offering Puerto Vallarta Home Tours as a way to raise funds to support the fledgling Cleft Palate Clinic. For 2014-15, the IFC Home Tours will run every Tuesday and Wednesday morning through March.

---
A Star Studded Line Up at The Red Room Cabaret

Nancy Page

If you love live music, there's no better place to go in Puerto Vallarta than The Red Room at the Act II STAGES entertainment complex, where both superstars and rising stars are ready to entertain you every night of the week. Here's a sampling of this month's upcoming shows...

---
Site Map
•
Print this Page
•
Email Us
•
Top