Free Newsletter!
Click HERE to read a serialized and updated version of
Polly G. Vicars' sell-out book, Tales of Retirement in Paradise
.
Vallarta Living
Living in Puerto Vallarta Mexico
For many the thought of living in - or even near - a major tourist resort is about as appealing as a buying a condo in Disneyland. But here in Vallarta, the incredible natural beauty, combined with a small town atmosphere and the inherent warmth and friendliness of the local people, attracts foreign residents who enjoy the good life.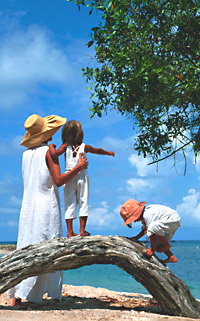 With a colorful blend of the old and the new, the Banderas Bay region offers an unrivaled combination of simple pleasures and sophisticated charms. Fine dining restaurants, art galleries, upscale shopping centers, internet cafes and nightclubs peacefully coexist alongside taco stands, street-side vendors and open air markets selling Mexican handcrafts, and strolling Mariachi bands.


But much of Puerto Vallarta's magic is in the hearts of her people. Often described as "one big, happy family," Vallartenses are known for their hospitality and for going out of their way to welcome foreign residents. And, since the Mexican people are extremely tolerant of different lifestyles, international residents and Mexican locals can live side-by-side in harmony - provided that the expatriate can learn to be creative and adaptable.


Puerto Vallarta is an unhurried refuge for people seeking more than just a beautiful beach. Those of us who choose to live here embrace the challenge of learning patience and understanding. Taking the time to "stop and smell the roses" along the road to becoming bicultural gives us the opportunity to grow - and to enjoy a more relaxed way of life.

• B E L O W T H E F O L D •
Puerto Vallarta Malecón & Plazas Now Have Free Internet

Banderas News Team

As part of Mayor Ramon Guerrero Martinez's strategy to make it easier for Puerto Vallarta residents and visitors to discover all of the benefits that this resort destination offers, Telecable has installed free Internet access in many of the city's public areas.

---
Second Annual Punta Mita Beach Festival a Great Success

Paulina Feltrin

The Second Annual Punta Mita Beach Festival, held July 17-20 at the renowned beach resort, offered activities ranging from surfing, snorkeling, stand-up paddle and yoga, to sand castle-building for the kids and exceptional culinary offerings by prestigious international chefs.

---
North American Optimist Sailing Championship Results

Ibis de Teresa

After the tenth and final race of the 2014 North American Optimist Sailing Championship on Banderas Bay, 175 young sailors met at the Paradise Village Convention Center for the Awards ceremony. Singapore won the Open Nations Cup and the USA was awarded the North American Cup.

---
July 25 Puerto Vallarta Weekend & Upcoming Events

Banderas News Team

Even in the summertime, there's so much going on in Puerto Vallarta and around Banderas Bay, it can be difficult to keep up with it all. Here's a look at some of this weekend's happenings, plus a not-to-be-missed upcoming event that you'll want to mark on your calendar.

---
ART VallARTa Creative Clay Cooking Classes & Workshops

Banderas News Team

This October, ART VallARTa will be reopening with weekly classes and events. And, since food is Art when prepared with heart and soul, owner Nathalie Herling will be conducting 'The Art of Creative Clay Cooking' classes and workshops in the studio's Mexican tile ART Kitchen.

---
Team Ana María Wins Banderas Bay Fishing Tournament

Adán Leyva Avalos

For the second consecutive year, the Ana María team, consisting of Esteban Torres, J. Mark Martínez, Freddy Rodríguez León and Alejandro Nájera Osuna, won first place in the Marlin fishing category of the annual Banderas Bay Marlin & Tuna Fishing Tournament.

---
5 Sun Care Tips from Vallarta's R Salon

Christina Silvestri

If you are in Puerto Vallarta this Summer, staying out of the sun probably seems like a no-brainer by now. Put your health first and protect your skin from the sun, both outdoors and indoors, with these five sun safety tips provided by the professionals at R Salon.

---
Mosquitoes Have Blood-Sucking Preferences

Marie Callan

It's Summer in the tropics, and you know what that means... Mosquitoes! Puerto Vallarta's rainy season means it's mosquito season, too. The little buggers are not just annoying, but also carry diseases like dengue fever. But why do they bite some people more than others?

---
A Guide for First-Time Visitors to Mexico City

Maria O'Connor

Puerto Vallarta is ideally located as a jumping-off point to discover other parts of Mexico. We have all major luxury bus lines at our disposal and, finally, some new options for domestic flights - like to Mexico City, for example - that will not break the bank.

---
Daiquiri Dick's Offers Vallarta a Taste of Italy

Laura Gelezunas

During the Summer Sizzle at Daiquiri Dick's Restaurant in Puerto Vallarta, Mexico, you can visit a different country every week. From July 23-28, Italy is the chosen culinary destination. Enjoy three courses and choices for each course, plus a complimentary drink, for only $299 pesos.

---
Iconic Sculpture Planned for Marina Nuevo Vallarta

Riviera Nayarit CVB

A new Sailboat Sculpture will be installed in the Marina Nuevo Vallarta this winter. Conceived by Federico León de la Vega and developed with sculptor Octavio González, the bronze piece will weigh over 2,800 pounds and stand nearly 10 feet tall with a span of over 11 feet.

---
Vallarta's Xiutla Folkloric Ballet Celebrates 20 Years

Vallarta Opina

To thank the community that has helped them become the worthy representative of Puerto Vallarta that they are today, the Xiutla Municipal Folkloric Ballet will celebrate its 20 year anniversary with a Gala Show at Teatro Vallarta on July 27th at 1:00 pm.

---
Carlos Slim Says You Should Only Work 3 Days a Week

Kirk Maltais

Mexico's richest man, Carlos Slim Helu, told attendees at a business conference in Paraguay last week that it was time for 'a radical overhaul' in people's working lives. Slim said that people should take more time off, working only three days a week instead of five.

---
Bisexual Dracula the Star of 'The Sultan's Boy'

Teresa E. Preski

Alex Gomez has written a dangerous book. Dangerous because when you read 'The Sultan's Boy,' you'll run the risk of falling in love with it. Dangerous because its main character is a Dracula, but a beautiful, bisexual Dracula, or Radu, Vlad the Impaler's youngest brother.

---
Mayor Raises Blue Flag on Vallarta's Playa de Palmares

Gerardo González

Puerto Vallarta Mayor Ramón Guerrero Martínez recently raised the Foundation for Environmental Education's Blue Flag on Playa de Palmares, which distinguishes this public beach for its high standards of cleanliness, safety, accessibility, amenities and environmental management.

---
Las Alamandas Resort Offers Tequila Immersion Getaways

BanderasNews.com

Las Alamandas Resort, located 80 miles south of Puerto Vallarta along Mexico's famed Costalegre coast, is Mexico's ultimate escape. Especially between now and October 31st, when you can enjoy a special four-day, three-night tequila immersion getaway.

---
New Temporary Import Permit for US Boaters in Mexico

Capt. Pat Rains

Revamped import permits for boaters entering Mexico were unveiled last month by three federal officials during a seminar at the San Diego International Boat Show. Last year, problems with the permit lead Mexican tax investigators to impound 338 foreign owned yachts.

---
How Mexico's New Telecoms Laws Will Affect Consumers

BanderasNews.com

Everybody is talking about Mexico's new telecommunications laws and the impact they will have on the country's telephone and television companies, like Grupo Televisa and TelMex, and the people who own them, like Carlos Slim, but how will they affect consumers?

---
$500 Million Pesos to be Invested in Downtown Vallarta

Maria Francesca

According to a recent report, the Federal Government is willing to invest $500 million pesos in the downtown area of Puerto Vallarta. State officials are now working with the city's director of Infrastructure and Municipal Services to refine the details of the proposed projects.

---
Save 50% On Main Courses at Kaiser Maximilian

Banderas News Team

July is a great time to visit Kaiser Maximilian. Every Tues-Sat through July 26, this popular restaurant on the southside of Puerto Vallarta offers Early Bird Specials on selected entrées from their regular dinner menu. From 12-6 pm, you'll save 50% off the regular prices!

---
July 18 Puerto Vallarta News Brief & Weekend Events

Banderas News Team

There's always so much going on in Puerto Vallarta and around Banderas Bay, it can be difficult to keep up with it all. Here's a look at some of this week's Puerto Vallarta news headlines and community announcements, plus a couple of this weekend's events that you won't want to miss.

---
Mario Batali's Authentic Mexican Tacos Asada Recipe

The Tribune-Review

My recent travels to Mexico City reminded me how much I admire classic Mexican preparation in cooking. While I may not be able to re-create the carne asada street taco I had at La Merced Market, I was inspired to whip out my own version that I mastered a few years back.

---
Site Map
•
Print this Page
•
Email Us
•
Top