Free Newsletter!
Click HERE to read a serialized and updated version of
Polly G. Vicars' sell-out book, Tales of Retirement in Paradise
.
Vallarta Living
Living in Puerto Vallarta Mexico
For many the thought of living in - or even near - a major tourist resort is about as appealing as a buying a condo in Disneyland. But here in Vallarta, the incredible natural beauty, combined with a small town atmosphere and the inherent warmth and friendliness of the local people, attracts foreign residents who enjoy the good life.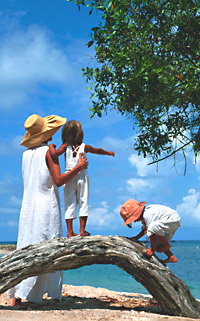 With a colorful blend of the old and the new, the Banderas Bay region offers an unrivaled combination of simple pleasures and sophisticated charms. Fine dining restaurants, art galleries, upscale shopping centers, internet cafes and nightclubs peacefully coexist alongside taco stands, street-side vendors and open air markets selling Mexican handcrafts, and strolling Mariachi bands.


But much of Puerto Vallarta's magic is in the hearts of her people. Often described as "one big, happy family," Vallartenses are known for their hospitality and for going out of their way to welcome foreign residents. And, since the Mexican people are extremely tolerant of different lifestyles, international residents and Mexican locals can live side-by-side in harmony - provided that the expatriate can learn to be creative and adaptable.


Puerto Vallarta is an unhurried refuge for people seeking more than just a beautiful beach. Those of us who choose to live here embrace the challenge of learning patience and understanding. Taking the time to "stop and smell the roses" along the road to becoming bicultural gives us the opportunity to grow - and to enjoy a more relaxed way of life.

• B E L O W T H E F O L D •
SETAC Nominated for UdeG's Irene Robledo Award

Lorena Sonrisas

Recognizing the vital social contribution that the SETAC Community Center's Brigadas por la Vida program is making in Puerto Vallarta and around Banderas Bay, the University of Guadalajara has nominated the non-profit organization for the 'Irene Robledo Presea' social services award.

---
Vallarta-Nayarit Featured at MLT Vacations' Conference

Marie Callan

In preparation for the coming 'High Season,' the Puerto Vallarta and Riviera Nayarit Convention and Visitors Bureaus recently spent three days in Minneapolis familiarizing more than 2000 travel agents from different regions of the US with everything this destination offers visitors.

---
SSPV's New 'Pinnicular' to be Completed in November

GAYPV Magazine

The 'Pinnicular' - a new funicular by Pinnacle Properties connecting Olas Altas with upper Púlpito street on Puerto Vallarta's south side - is scheduled for completion at the end of November 2014. Work began in September 2014 and the entire neighborhood is anxiously awaiting its arrival.

---
Vallarta-Nayarit Paint Out and Plein Air Festival

BanderasNews.com

Tierra Alta, a pristine ecological cabin development in an oak forest on the edge of the Sierra Madre Mountains less than an hour from Puerto Vallarta, has just announced the date for the first ever 'Paint Out and Plein-Air Festival,' to take place on the weekend of January 17, 2015.

---
Second Annual Athletic Race in The Riviera Nayarit

Riviera Nayarit CVB

On September 27, the Riviera Nayarit will celebrate World Tourism Day with the 2nd Annual Athletic Race. The route starts at Samba Vallarta and ends at Marival Residences, and will be attended by the proper authorities to guarantee participant safety. The race starts at 7 am.

---
September 26 Vallarta Happenings & Upcoming Events

Banderas News Team

There's always so much going on in Puerto Vallarta and around Banderas Bay, it can be difficult to keep up with it all. Here's a look at some of this week's local happenings and important community announcements, plus a couple of upcoming events that you won't want to miss.

---
SETAC Brigades for Life on the Move in Puerto Vallarta

BanderasNews.com

With the majority of the population in Puerto Vallarta 'floating,' that is to say people come to work on a seasonal or non-permanent basis, the SETAC non-profit association has implemented the 'Movihilizándote' program to help find and treat people with HIV/AIDS and other STDs.

---
Vallarta Life: Much More than Coffee at El Sofá Café

BanderasNews.com

Getting to know your neighbors in a relaxed atmosphere is one of the best parts about living in Puerto Vallarta, Mexico. In this episode of Vallarta Life, Laura Gelezunas talks with Amarant Torre Alcala, the owner of El Sofá Café, a charming coffee house on Vallarta's south side.

---
Cruise Ships Steer Away from Cabo, to Puerto Vallarta

Marie Callan

With Mexico's Baja peninsula still recovering from Hurricane Odile, Princess Cruises has become the first cruise line to cancel a port call to Cabo San Lucas. Its 1,970-passenger Coral Princess, which was scheduled to stop in Los Cabos on September 26, will now dock in Puerto Vallarta.

---
Stan's Late September Puerto Vallarta Fishing Report

Stan Gabruk

Fishing here in Puerto Vallarta is hot, Smoking Hot, and that could be an understatement. Abundant bait fish in the water, perfect blue water, perfect water temps, abandoned fishing grounds. I mean, if you sat down and wrote what your perfect fishing day would be like, this would be it!

---
Vallarta-Nayarit Classic Rock Festival, December 11-14

Riviera Nayarit CVB

The first Vallarta-Nayarit Classic Rock Festival is scheduled for December 11-14, 2014 at the Hard Rock Hotel Vallarta in Nuevo Vallarta. It's billed as the 'Only Classic Rock Festival in The World,' and will feature an entire week of some of the best music from the 60s, 70s and 80s.

---
Measuring Absence: Extremes in Population Densities

David Kimball

Are you dreaming of getting away from it (or them) all? Just South of Vallarta, the Municipio de Cabo Corrientes, which is home to the Tierra Alta eco-cabin development, has a population of only 10,000 people scattered over 1,540 square kms - that's just 6.5 persons per square kilometer.

---
Investours Mexico becomes Human Connections

Alex McCue

The Mexico branch of the international non-profit called Investours is now a new, independent organization called Human Connections. This transpired on June 1. Elly Rohrer, former Director of Investours Mexico, closed the existing program and founded Human Connections in its place.

---
CUCosta Offers Free Courses & Workshops to Seniors

Guadalupe Daniela Moreno Wulff

In a recent press conference, the academic committee of the University System for the Elderly announced that free academic courses and workshops for senior citizens will be offered by the University of Guadalajara's Centro Universitario de la Costa in Puerto Vallarta, starting October 14.

---
Site Map
•
Print this Page
•
Email Us
•
Top