Free Newsletter!
Click HERE to read a serialized and updated version of
Polly G. Vicars' sell-out book, Tales of Retirement in Paradise
.
Vallarta Living
Living in Puerto Vallarta Mexico
For many the thought of living in - or even near - a major tourist resort is about as appealing as a buying a condo in Disneyland. But here in Vallarta, the incredible natural beauty, combined with a small town atmosphere and the inherent warmth and friendliness of the local people, attracts foreign residents who enjoy the good life.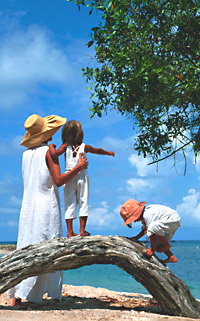 With a colorful blend of the old and the new, the Banderas Bay region offers an unrivaled combination of simple pleasures and sophisticated charms. Fine dining restaurants, art galleries, upscale shopping centers, internet cafes and nightclubs peacefully coexist alongside taco stands, street-side vendors and open air markets selling Mexican handcrafts, and strolling Mariachi bands.


But much of Puerto Vallarta's magic is in the hearts of her people. Often described as "one big, happy family," Vallartenses are known for their hospitality and for going out of their way to welcome foreign residents. And, since the Mexican people are extremely tolerant of different lifestyles, international residents and Mexican locals can live side-by-side in harmony - provided that the expatriate can learn to be creative and adaptable.


Puerto Vallarta is an unhurried refuge for people seeking more than just a beautiful beach. Those of us who choose to live here embrace the challenge of learning patience and understanding. Taking the time to "stop and smell the roses" along the road to becoming bicultural gives us the opportunity to grow - and to enjoy a more relaxed way of life.

• B E L O W T H E F O L D •
News from the PV Garden Club - Beautifying Vallarta!

Matthias Vogt

In a town that relies on tourism, the Puerto Vallarta Garden Club's mission of 'Beautifying Vallarta' makes all other endeavors here more successful. With 200 new planters to be installed before the rainy season, the PVGC will be busy fulfilling that mission for the next few months.

---
May 27 Banderas News Brief and Weekend Events

Banderas News Team

There's always so much going on in the Banderas Bay area and around the Republic, it can be difficult to keep up with it all. Here's a look at some of this week's Mexico headlines, plus Puerto Vallarta news and a couple of this weekend's events that you won't want to miss.

---
No Way José! Wraps Up Another Spectacular Season

Julie Guerrero

Award-winning Puerto Vallarta Restaurant, No Way Jose!, invites you to enjoy this year's Restaurant Week Menu as they celebrate the closing another amazing season as 'Tu Casa en Vallarta' with their last dinner service of the season on Sunday, May 29 from 4:00 pm to 11:00 pm.

---
Events Galore this June in Mexico's Pacific Treasure

Jorge Jiménez

The Riviera Nayarit Convention and Visitors Bureau's Groups and Events Department recently announced the list of events on the Destination's calendar for June, which will take place in different locations from Nuevo Vallarta all the way to the Isla de Mexcaltitán.

---
Restaurant Week is a Great Time to Enjoy Archie's Wok

Media Diva International

Archie's Wok helped establish the culinary foundation of Puerto Vallarta and continues to be one of Banderas Bay's most beloved eating establishments. Don't miss your chance to sample the Pan-Asian dishes on Archie's Restaurant Week menu, which offers 3 courses for $229 pesos.

---
Celebrating El Día De La Marina in Puerto Vallarta

Adam García

A great time to honor the bay we all love is Dia de la Marina, observed annually on June 1st, when sailing competitions, tournaments, parades and fireworks are scheduled throughout the day. The first Navy Day was celebrated in Mexico in 1942 and Vallarta followed suit in 1949.

---
Tierra Alta News: El Tuito Now Has High Speed Internet

Banderas News Team

Residents of El Tuito and surrounding areas will now have access to state of the art high speed internet service. Technician Felipe Sanchez Flores developed the high speed system for the La Huerta region and is now installing the equipment for his first 10 customers in El Tuito.

---
6 Ways to Celebrate Memorial Day in Puerto Vallarta

BanderasNews.com

For most Americans, Memorial Day is an annual holiday to honor all who died while defending our nation and its values. For others, it marks the start of summer. Whatever you do, and wherever you are this holiday weekend, there are ways to acknowledge this annual observance.

---
Fun & Friendship Come Together at Act II STAGES

Daniel R. Mininni

Between the closing night of the PVGMC's 'Dance All Night' Vallarta Pride Concert Series, weekly Karaoke and Music Sing Alongs, and a new show starring three of your Voice of Vallarta favorites coming in June, the fun never ends at the biggest entertainment venue in the Bay - Act II STAGES.

---
Mariachi Institute Coming to Chacala this June

Jerry Van Eeckhout

The Chacala Mariachi Institute is set to take place June 11-19, 2016 at Mar de Jade Resort in Chacala, Nayarit. This intensive 8 day course provides music teachers and college music education majors the training and materials necessary to become successful mariachi educators.

---
3rd Riviera Nayarit Mountain Bike Race, May 28

BanderasNews.com

400 participants are preparing for the Third Riviera Nayarit Mountain Bike Race, an intense, one-of-a-kind biking competition that combines beach tracks and mountain trails. The race, which is open to riders from 4 to 59 years, starts at 3 pm on May 28 in Litibú-Higuera Blanca.

---
ExPats in Vallarta June Happy Hour Gatherings

Sara Wise

ExPats in Vallarta, a totally social group offering informal fellowship and assistance to Expat residents or visitors living, working or investing in Puerto Vallarta and around Banderas Bay, will be hosting two happy hour gatherings in June at Langostinos on Los Muertos Beach.

---
U.S. Voter Registration Assistance in Puerto Vallarta

Democrats Abroad Mexico

You can vote in the 2016 Presidential Election from Mexico and members of the Costa Banderas Chapter of Democrats Abroad Mexico are here to help. During the month of June they will have voter assistance tables set up in Vallarta to help you register and request your absentee ballot.

---
US Coast Guard Cutter 'Active' Lends Vallarta a Hand

Consulate General Guadalajara

The US Coast Guard Cutter Active completed a four-day visit to Puerto Vallarta on Saturday. During the visit, nine of the ship's crew members volunteered at the food bank, where they painted, made electrical and plumbing repairs, and unloaded a truck full of food donations from Guadalajara.

---
Spend a Day at the Puerto Vallarta SPCA Sanctuary

Janice Gonzalez

Ordinary people come to Vallarta to vacation. Extraordinary people come to Vallarta and volunteer! Spend a rewarding afternoon cuddling with the animals at Puerto Vallarta's SPCA. Our dogs and cats are awaiting 'forever homes,' and need your help to jump start their socialization.

---
Get Ready for a Long Weekend Full of Vallarta Pride!

Banderas News Team

The Vallarta Pride Organizing Committee would like to invite the general public to enjoy the highlight events of Vallarta Pride 2016, which are set to take place over the long closing weekend (May 26-29) of this annual festival that celebrates the LGBTTIQ community in our city.

---
Vallarta Adventures Declines La Isla Dolphinarium Offer

Marie Callan

The Delfines en Libertad (Free Dolphins) organization reports that Vallarta Adventures, through its founder Ricardo Farkas, has declined to participate in the operation of a new dolphinarium in the La Isla shopping plaza. The mall is currently under construction in the hotel zone.

---
Breathe In the Fountain of Youth at Holistic Bio Spa

Jaqui Karr

Oxidative stress eats away at your health, which in turn ages you faster inside and out. Here's the sad truth: Everyone suffers from oxidative stress. Holistic Bio Spa in Puerto Vallarta offers glutathione nebulizer treatments that reverse damage from yesterday and protect you for tomorrow.

---
PVRPV's Vallarta Vacation Property of the Week

V177 Penthouse 3

PVRPV just added another luxurious penthouse to its inventory of Puerto Vallarta vacation rental properties. V177 Penthouse 3 is a beautifully decorated two-story, 1 bedroom, 2 bath vacation rental located in one of the newest buildings in the city's Zona Romantica - V177 Condominiums.

---
Site Map
•
Print this Page
•
Email Us
•
Top