Free Newsletter!
Click HERE to read a serialized and updated version of
Polly G. Vicars' sell-out book, Tales of Retirement in Paradise
.
Vallarta Living
Living in Puerto Vallarta Mexico
For many the thought of living in - or even near - a major tourist resort is about as appealing as a buying a condo in Disneyland. But here in Vallarta, the incredible natural beauty, combined with a small town atmosphere and the inherent warmth and friendliness of the local people, attracts foreign residents who enjoy the good life.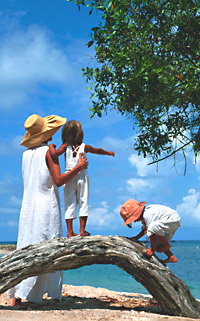 With a colorful blend of the old and the new, the Banderas Bay region offers an unrivaled combination of simple pleasures and sophisticated charms. Fine dining restaurants, art galleries, upscale shopping centers, internet cafes and nightclubs peacefully coexist alongside taco stands, street-side vendors and open air markets selling Mexican handcrafts, and strolling Mariachi bands.


But much of Puerto Vallarta's magic is in the hearts of her people. Often described as "one big, happy family," Vallartenses are known for their hospitality and for going out of their way to welcome foreign residents. And, since the Mexican people are extremely tolerant of different lifestyles, international residents and Mexican locals can live side-by-side in harmony - provided that the expatriate can learn to be creative and adaptable.


Puerto Vallarta is an unhurried refuge for people seeking more than just a beautiful beach. Those of us who choose to live here embrace the challenge of learning patience and understanding. Taking the time to "stop and smell the roses" along the road to becoming bicultural gives us the opportunity to grow - and to enjoy a more relaxed way of life.

• B E L O W T H E F O L D •
Mexico Celebrates Constitution Day on February 2nd

Maria Francesca

February 5th is Mexican Constitution Day, commemorating the day the Constitución Política de los Estados Unidos Mexicanos was signed in 1917. Nowadays the official observance is on the first Monday in February, so everyone can enjoy a long weekend of festivities.

---
IFC Actively Supports Vallarta Educational Projects

John Warren

The International Friendship Club supports many people and organizations in Puerto Vallarta. Some of their most important work is focused on education. Last year's education budget was allocated to 7 organizations, and the IFC Education Committee is now assessing 2015 grant proposals.

---
January 30 Vallarta News Brief and Weekend Events

Banderas News Team

There's always so much going on in Puerto Vallarta and around the Republic, it can be difficult to keep up with it all. Here's a look at some of this week's Vallarta and Mexico news headlines, some community announcements, and a couple of this weekend's events that you won't want to miss.

---
2015 Events Scheduled Throughout Riviera Nayarit

Riviera Nayarit CVB

Travelers visiting Riviera Nayarit this year will have an abundance of things to see and do, including culinary competitions, luxury yacht regattas, and new events such as the International Surfing Association World Stand Up Paddle and Paddleboard Championship to be held in Sayulita.

---
Democrats Abroad Presents 'Academy Awards Week' at IFC

David Kamp

From February 12-21, 2015 the Costa Banderas Chapter of Democrats Abroad and the Puerto Vallarta International Friendship Club (IFC) will present 'Academy Award Week,' featuring five of 2014's best films - all of which have been nominated for Oscars - at the IFC.

---
2015 Vallarta Mardi Gras Parade Keeps Getting Bigger!

Tim Longpré

If your plans are still 'up in the air' for Tuesday, February 17th, join over 20,000 other spectators and 45 + crowd-wowing entries for Puerto Vallarta's Annual Mardi Gras Carnaval Parade. This year's glittery, bead-hurling parade will take to the cobblestone streets at 8:00 pm.

---
Treat Yourself to Chantel~Vintage Spoon Jewelry

Erin Staley

This Saturday you can scoop up farm-fresh produce, artisan décor, clothing and accessories at Puerto Vallarta's Old Town Farmers Market-Tianguis Cultural. While you're checking out all of the producer-only goodies, be sure to visit Chantel~Vintage Spoon Jewelry.

---
2015: The Year to Step Out of Your Comfort Zone

Sara Wise

Whether you are planning to sometime retire, visit or move to Puerto Vallarta, make 2015 the year you take control and 'just do it.' Make 2015 the year you get involved with Expats in Vallarta and either visit Vallarta, move here, or sign up for our February events and make new friends.

---
2nd Annual Taste of Lo De Marcos Set for February 22

Alonso Diaz

The 2nd Annual Taste of Lo De Marcos, to be held at the Centro de Fiestas Los Delfines on Sunday, February 22 from 3-7 pm, will feature local restaurants, artisanal booths and live music, with proceeds benefiting local non-profits Amigos de Lo de Marcos and Comité de Acción Ciudadana.

---
Los Mangos Library 15th Annual Art Auction, January 29

BibliotecaLosMangos.com

Get ready folks! It's time for the annual 'Subasta de Arte' at Puerto Vallarta's Public Library, Biblioteca Los Mangos. Scheduled to take place on Thursday, January 29 at 6 pm, this is the art auction/fundraiser's 15th year - and it promises to be the largest and most entertaining to date!

---
TREG's Third Annual Vallarta Real Estate Fair

BanderasNews.com

Vallarta's Third Annual Real Estate Fair will be held on Saturday, March 28, 2015. Professionals from every field will be there to answer your questions about home ownership, maximizing your real estate investment, and many other topics that effect both national and foreign residents.

---
Michael Walters Brings 'Dame Edna' to Puerto Vallarta

Debbie White

Those of you of a certain age, especially if you're been a fan of late night talk shows, have probably seen the flamboyant, aging Australian character called Dame Edna Everage on TV. Michael Walters' Dame Edna show, playing now at The Red Room, is an immersive experience.

---
Site Map
•
Print this Page
•
Email Us
•
Top