Free Newsletter!
Click HERE to read a serialized and updated version of
Polly G. Vicars' sell-out book, Tales of Retirement in Paradise
.
Vallarta Living
Living in Puerto Vallarta Mexico
For many the thought of living in - or even near - a major tourist resort is about as appealing as a buying a condo in Disneyland. But here in Vallarta, the incredible natural beauty, combined with a small town atmosphere and the inherent warmth and friendliness of the local people, attracts foreign residents who enjoy the good life.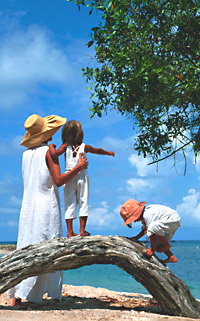 With a colorful blend of the old and the new, the Banderas Bay region offers an unrivaled combination of simple pleasures and sophisticated charms. Fine dining restaurants, art galleries, upscale shopping centers, internet cafes and nightclubs peacefully coexist alongside taco stands, street-side vendors and open air markets selling Mexican handcrafts, and strolling Mariachi bands.


But much of Puerto Vallarta's magic is in the hearts of her people. Often described as "one big, happy family," Vallartenses are known for their hospitality and for going out of their way to welcome foreign residents. And, since the Mexican people are extremely tolerant of different lifestyles, international residents and Mexican locals can live side-by-side in harmony - provided that the expatriate can learn to be creative and adaptable.


Puerto Vallarta is an unhurried refuge for people seeking more than just a beautiful beach. Those of us who choose to live here embrace the challenge of learning patience and understanding. Taking the time to "stop and smell the roses" along the road to becoming bicultural gives us the opportunity to grow - and to enjoy a more relaxed way of life.

• B E L O W T H E F O L D •
Double Weekend Challenge at Barceló Puerto Vallarta

Puerto Vallarta CVB

If you are into Crossfit, Puerto Vallarta is the place to be Sept 29-Oct 2, as the Hotel Barceló hosts the Double Weekend Challenge, an event that will bring groups of multi-discipline athletes of both genders and all ages together for a weekend of challenging Crossfit competitions.

---
Puerto Vallarta DIF Gives Disabled New Wheelchairs

BanderasNews.com

Thanks to the efforts of DIF Puerto Vallarta President, Candelaria Tovar de Dávalos, 65 adults and 13 children now have wheelchairs. The new wheelchairs, provided by the National System for Integral Family Development, were presented at a ceremony attended by 104 disabled Jaliscans.

---
Puerto Vallarta, Mexico News Brief and Upcoming Events

Banderas News Team

There's always so much going on in Puerto Vallarta and around the Republic, it can be difficult to keep up with it all. So we've put together a brief overview of some of this week's Mexico headlines, plus Puerto Vallarta news and a few upcoming events that you won't want to miss.

---
San Pancho Days Honor San Francisco's Patron Saint

Lorena Sonrisas

If you're looking for an authentic taste of Mexican culture, head north of Puerto Vallarta to San Francisco, Nayarit. From September 25 to October 4 this small village, better known as 'San Pancho,' will celebrate a nine-day festival honoring its namesake, Saint Francis of Assisi.

---
2 Tons of Trash Removed from Puerto Vallarta Beaches

puertovallarta.gob.mx

On Saturday, September 17, more than 300 volunteers, including public officials, school students, hotel and restaurant staff and members of the general public, celebrated International Coastal Cleanup Day 2016 by removing two tons of trash from Puerto Vallarta beaches.

---
September 26 through October 3 is Absentee Voting Week

Democrats Abroad Mexico

In many states, the US voter registration deadline for the November 8, 2016 elections is October 10. All US voters in Puerto Vallarta can get voting registration and ballot submission assistance from the Democrats Abroad Banderas Bay Voting Assistance Team Sept 27-30 and October 3.

---
Puerto Vallarta Lawyers 'Master' New Oral Trial System

Ricardo Acerco

Puerto Vallarta's Mayor recently congratulated the second group of local lawyers who have obtained a Masters Degree in Criminal Procedure for Mexico's new accusatory judicial system, which employs oral trials rather than the submission of written evidence.

---
Call of Duties: Importing Household Items to Mexico

Ron Morgan Properties

Ready to leave it all behind and move to Mexico, but would like to bring some of it with you? Importing goods to Mexico can be a confusing endeavor - particularly when trying to navigate what items are subject to duties and what you may bring in without taxation.

---
4th Annual 3–7K Flamingos Run in The Riviera Nayarit

Jorge Jiménez

The Hotel Samba Vallarta's 4th Annual 3–7K Flamingos Run is set for September 24, 2016. Using the tagline 'Running For Our Health' and with the objective of helping those in need, the registration cost for the race is cans or kilos of non-perishable food items for the most vulnerable.

---
Chacala Fall Artist Residency Program, November 7-19

Gerald Van Eeckhout

Are you a professional or budding artist? The 2016 Fall Chacalart Artist Residency Program, scheduled to be held from November 7-19, 2016, will give you the time to create, grow and expand your horizons in the tropical and soulful setting of Puerto de Chacala, on Mexico's Riviera Nayarit.

---
4th Annual La Cruz International Fishing Tournament

Ricardo Acerco

Offering over 3 million pesos in prizes, the 4th Annual La Cruz International Fishing Tournament, scheduled to be held Sept 28-Oct 1, 2016 at Marina Riviera Nayarit in La Cruz de Huanacaxtle, promises some hot and heavy competition in the sailfish, marlin, tuna and dorado categories.

---
Volunteer for Coastal Cleanup Day in Puerto Vallarta

Marie Callan

While scientists, inventors, governments and agencies try to figure out how to clean up the estimated millions of tons of garbage in the world's oceans, those of us in Puerto Vallarta can help staunch the flow by participating in Coastal Cleanup Day at various beaches on September 17, 2016.

---
September 16 Vallarta News Brief and Upcoming Events

Banderas News Team

There's always so much going on in Puerto Vallarta and around Banderas Bay, it can be difficult to keep up with it all. Here's a look at some of this week's Vallarta-Nayarit news headlines, community announcements and a couple of upcoming events that you won't want to miss.

---
2016-2017 Centro Historico ArtWalk Starts October 26

Lorena Sonrisas

Art lovers can explore numerous artistic offerings during the Puerto Vallarta Centro Historico ArtWalk, a self-guided tour of 8 downtown galleries with cocktail exhibitions that can be enjoyed every Wednesday evening from 6-10 pm from October 26, 2016 through May 31, 2017.

---
Puerto Vallarta Rated a Top Destination by Cruise Critic

Puerto Vallarta Tourism Board

A world-class destination where cruisers are welcomed with Mariachi bands and can enjoy a wide array of activities, Puerto Vallarta, Mexico has been rated the top Mexican Riviera and South America Port in Cruise Critic's first-ever Cruisers' Choice Destination Awards.

---
El Grito de Dolores: Mexico's Cry of Independence

Banderas News Team

Every year on September 16, the first and most significant episode of Mexico's history - Independence from Spain - is celebrated. The annual celebrations really begin at 11 pm on the 15th with the 'El Grito' ceremony. But what's the story behind Mexico's Cry of Independence?

---
Vallarta Int'l Festival Gourmet Returns November 11-20

The News

The International Gourmet Festival is one of a handful of events that has put Puerto Vallarta on the map, and keeps people coming back year after year. The 22nd edition of the Festival will take place November 11-20 and extends from Puerto Vallarta along the Rivera Nayarit to Tepic.

---
You Can Make a Difference in Puerto Vallarta

TREGROUP

Pasitos de Luz is a day care for disabled children from low income families in Puerto Vallarta. Anyone who wants to have a rewarding experience with some really beautiful kids is welcome to visit. It doesn't matter how much time you have to spare, even an hour will be of great help.

---
National Charro Day Celebrations in Puerto Vallarta

María Francesca

On September 14th, Charro Associations throughout Mexico celebrate National Charro Day with competitions, exhibitions, parades and parties that extol and ratify their commitment to this truly Mexican tradition. Here in Puerto Vallarta, the celebrations start at 10:00 am.

---
PV Mayor Delivers New Public Safety Patrol Vehicles

puertovallarta.gob.mx

On Friday, just before he delivered his First Government Report at the Puerto Vallarta International Convention Center, Mayor Arturo Dávalos Peña presented Police and Public Safety officers with 22 of the 40 new patrol vehicles that will strengthen security in the municipality.

---
Colonia 5 de Diciembre: Vallarta Living at its Best

Warren Brander

Options for housing in Colonia 5 de diciembre are many and the price per square foot tends to be lower than that in the south side of downtown Puerto Vallarta. There is something for everyone in this neighborhood with prices to fit any budget.

---
Site Map
•
Print this Page
•
Email Us
•
Top