Free Newsletter!
Click HERE to read a serialized and updated version of
Polly G. Vicars' sell-out book, Tales of Retirement in Paradise
.
Vallarta Living
Living in Puerto Vallarta Mexico
For many the thought of living in - or even near - a major tourist resort is about as appealing as a buying a condo in Disneyland. But here in Vallarta, the incredible natural beauty, combined with a small town atmosphere and the inherent warmth and friendliness of the local people, attracts foreign residents who enjoy the good life.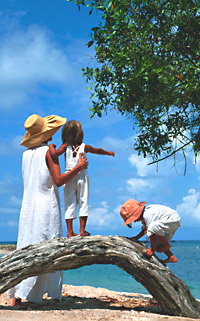 With a colorful blend of the old and the new, the Banderas Bay region offers an unrivaled combination of simple pleasures and sophisticated charms. Fine dining restaurants, art galleries, upscale shopping centers, internet cafes and nightclubs peacefully coexist alongside taco stands, street-side vendors and open air markets selling Mexican handcrafts, and strolling Mariachi bands.


But much of Puerto Vallarta's magic is in the hearts of her people. Often described as "one big, happy family," Vallartenses are known for their hospitality and for going out of their way to welcome foreign residents. And, since the Mexican people are extremely tolerant of different lifestyles, international residents and Mexican locals can live side-by-side in harmony - provided that the expatriate can learn to be creative and adaptable.


Puerto Vallarta is an unhurried refuge for people seeking more than just a beautiful beach. Those of us who choose to live here embrace the challenge of learning patience and understanding. Taking the time to "stop and smell the roses" along the road to becoming bicultural gives us the opportunity to grow - and to enjoy a more relaxed way of life.

• B E L O W T H E F O L D •
City of Vallarta Caring for 223 Sea Turtle Nests

puertovallarta.gob.mx

After only about a month since the sea turtle nesting season began in Puerto Vallarta, the Department of Environment and Ecology has already collected 223 nests comprising around 22,331 sea turtle eggs. They have been transferred to a nesting corral on Holi Beach.

---
Plaza Caracol Shopping Center is Now Pet Friendly

Ubardo Aguilar

As Puerto Vallarta is rapidly becoming known as a 'Pet Friendly' city, the Plaza Caracol shopping center recently launched a new campaign to promote the pet friendly concept, and is now allowing shoppers to bring their pets into the mall.

---
HealthCare Resources Puerto Vallarta August Clinics

Pamela Thompson

We have a full month of clinics in August but we take a break in September from all clinics and programs. Of course we will be available for everything else. October will bring a full month of our regular clinics, some new ones and a lot of speakers programs.

---
Banderas Bay Women's Shelter July 2015 Newsletter

David Zude

Non disclosure of the location of the Banderas Bay Women's Shelter is imperative to provide abused women and their children in the greater Puerto Vallarta area with a safe refuge, but we can give you the latest news from Compassion for the Family Inc.

---
July 31 Puerto Vallarta News Brief and Weekend Events

Banderas News Team

There's always so much going on in Puerto Vallarta and around the Republic, it can be difficult to keep up with it all. Here's a look at some of this week's Mexico headlines and Banderas Bay area news, plus some weekend events you won't want to miss.

---
Vallarta #2 on 2015 List of Best Places to Retire Abroad

Marie Callan

Live and Invest Overseas recently published their annual '21 Best Places To Retire Overseas' report for 2015, and Puerto Vallarta, Mexico is listed as the world's second most accommodating city for foreign retirees who enjoy the good life.

---
Discovering the Hidden Charms of Puerto Vallarta

Kate Silver

When I think of Puerto Vallarta, my mind goes back to that first bite of taco al pastor, sold by a street vendor in Old Town. But the stuff we really remember is what we found off the beaten path on the Power Walk the Hidden Streets of Puerto Vallarta tour.

---
Puerto Vallarta Pro Am Golf Tournament Registration Open

Banderas News Team

Registration is now open for the Puerto Vallarta Pro Am tournament's 26th Anniversary, scheduled to take place December 7-12, 2015. Past participation includes PGA Tour winners, club professionals, and some of the game's most prominent and influential amateurs.

---
PVRPV's Puerto Vallarta Vacation Property of the Week

La Samba Penthouse - Condo

PVRPV presents La Samba. Nestled in a very lively Mexican neighborhood called 5 de Diciembre, this 1 bedroom, 2 bath, two-level penthouse is perfectly situated 3 blocks away from the buzz and activity of the famous Malecon in downtown Puerto Vallarta.

---
Vallarta Tourism Board Commits to Promoting Downtown

Marie Callan

Earlier this month, the Puerto Vallarta Tourism Board promised to increase its work in the promotion of the city's Downtown and South Side areas, incorporating promotions, public relations, and advertising of the zones' hotels and unique attractions.

---
CANIETI High-Tech Congress to be Held in Nuevo Vallarta

BanderasNews.com

The CCO of the ModusLink Corporation will be discussing the state of e-commerce in Mexico and across Latin America at the XX Congreso de la Industria de Alta Tecnologia, taking place from July 30-August 2, 2015, at the Grand Velas Hotel in Nuevo Vallarta.

---
Site Map
•
Print this Page
•
Email Us
•
Top