Free Newsletter!
Click HERE to read a serialized and updated version of
Polly G. Vicars' sell-out book, Tales of Retirement in Paradise
.
Vallarta Living
Living in Puerto Vallarta Mexico
For many the thought of living in - or even near - a major tourist resort is about as appealing as a buying a condo in Disneyland. But here in Vallarta, the incredible natural beauty, combined with a small town atmosphere and the inherent warmth and friendliness of the local people, attracts foreign residents who enjoy the good life.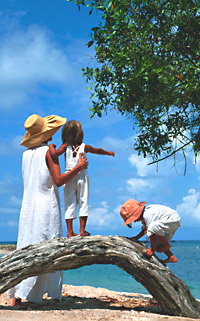 With a colorful blend of the old and the new, the Banderas Bay region offers an unrivaled combination of simple pleasures and sophisticated charms. Fine dining restaurants, art galleries, upscale shopping centers, internet cafes and nightclubs peacefully coexist alongside taco stands, street-side vendors and open air markets selling Mexican handcrafts, and strolling Mariachi bands.


But much of Puerto Vallarta's magic is in the hearts of her people. Often described as "one big, happy family," Vallartenses are known for their hospitality and for going out of their way to welcome foreign residents. And, since the Mexican people are extremely tolerant of different lifestyles, international residents and Mexican locals can live side-by-side in harmony - provided that the expatriate can learn to be creative and adaptable.


Puerto Vallarta is an unhurried refuge for people seeking more than just a beautiful beach. Those of us who choose to live here embrace the challenge of learning patience and understanding. Taking the time to "stop and smell the roses" along the road to becoming bicultural gives us the opportunity to grow - and to enjoy a more relaxed way of life.

• B E L O W T H E F O L D •
Puerto Vallarta, Mexico News Brief & Upcoming Events

BanderasNews.com

There's always so much going on in Puerto Vallarta and around the Republic, it can be difficult to keep up with it all. Here's a look at some of this week's Mexico headlines, plus Puerto Vallarta news, community announcements and a couple of upcoming events you won't want to miss.

---
'Heckler's Delight' US Presidential Debate Party @ Taste

Banderas News Team

Over one million expats live in Mexico, but that doesn't mean that they aren't interested in U.S. politics. The political circus is headed toward the grand finale and the first of the big top events is taking place at the end of September. Join in the fun at Casa Cupula's Taste Restaurant.

---
Construction of Simona's Senior Center Underway

PuRR Project

Thanks to the generosity of Purr Project supporters, enough money was raised to not only build a 'Senior Center' at this non-profit no-kill feline shelter in Puerto Vallarta, but there are also a few pesos left over to cover the costs of veterinary attention unique to senior cats.

---
Taiji Dolphin Drive Protest in Puerto Vallarta, Sept. 1

Banderas News Team

On Thursday, September 1, a group of concerned citizens in Puerto Vallarta, Mexico is planning a peaceful protest of the annual dolphin drive in Taiji, Japan. Held every year from September through March, the dolphin hunt results in the capture and slaughter of thousands of cetaceans.

---
PVRPV's Puerto Vallarta Vacation Property of the Week

Balcon Vallarta - Condo

This week, PVRPV Puerto Vallarta Vacations proudly presents Balcon Vallarta, a brand new unit in the Zenith Complex, ideally situated in the Romantic Zone of Old Town. This one bedroom two bath condominium sleeps four comfortably and has every amenity to satisfy all of your needs.

---
What You Need to Know About Health Insurance in Mexico

MEXLend Mortgages for Mexico

Though Mexico is well-known for having inexpensive, quality medical care available through a variety of private and public providers, one of the considerations for Americans and Canadians who are considering a move to Mexico on a part- or full- time basis is health insurance.

---
911 Emergency Telephone Number Coming to PV in 2017

Timothy Real Estate Group

For many years we were taught to dial 066 in Puerto Vallarta in case of emergency but, starting in January of 2017, Banderas Bay area residents and visitors will be able to request assistance from police, firefighters, or rescue personnel by dialing 911.

---
El Día del Bombero Celebrated in Puerto Vallarta

Lorena Sonrisas

Puerto Vallarta's Bomberos had a busy day on Monday, August 22, as our fire fighters were honored in an early morning ceremony and participated in a variety of National Fire Fighters' Day celebrations, in addition to attending to their daily duties.

---
Yoga Legend Suggest 7 Ways to Have a Better Morning

Alex Smith

What if you could turn morning time into your favorite time of the day, where waking up is actually easy and more enjoyable? Yoga legend Aadil Palkhivala, known across the world as the 'Godfather of yoga in the west,' offers these tips that will make it easier to get going in the morning.

---
Vallarta on 30 Most Popular Vacation Destinations

BanderasNews.com

The world's largest online hotel search site, trivago.com, has just released their Travel Advice Guide for the second half of 2016, and Puerto Vallarta, Cancun and Playa del Carmen, Mexico are listed among the 30 most popular vacation destinations in North America.

---
August 19 Vallarta News Brief & Upcoming Events

Banderas News Team

There's always so much going on in Puerto Vallarta, the Riviera Nayarit and the towns around Banderas Bay, it can be difficult to keep up with it all. Here's a look at some of this week's Puerto Vallarta news, community announcements and a few upcoming events you won't want to miss.

---
Puerto Vallarta Tourism Board Issues Second Statement

BanderasNews.com

On August 18, the Puerto Vallarta Tourism Board issued a second statement regarding the August 15 kidnapping, saying, '...rest assured that national, state and local law enforcement are in town to ensure the safety of tourists, and our tourism offerings continue to be completely operational.'

---
Dionisio Theater Group Presents 'La Ley del Ranchero'

Banderas News Team

Dionisio Theater Group is celebrating its fourth season this month by presenting 'La Ley del Ranchero.' This award-winning Spanish-launguage play takes the Main Stage at Puerto Vallarta's largest entertainment venue, Act II STAGES, every Friday and Saturday night in August at 8 pm.

---
Archie's Wok Goes on Vacation August 21

Laura Gelezunas

In the mood for some bold and innovative cuisine influenced by the exotic flavors of Thailand, China, and the Philippines? Get your Archie's fix today! Archie's Wok, recognized as Puerto Vallarta's best Asian fusion restaurant, will close for vacation Aug 21 and reopen Oct 10th.

---
Vallarta's Festival Vibra Joven a Smashing Success

María Francesca

More than a thousand rock fans of all ages gathered at Puerto de Luna's Parota Park on Saturday to enjoy the 2016 Festival Vibra Joven, which was organized by the Puerto Vallarta Municipal Institute for Youth Care and featured Cirko Candela and Plastiko, along with four local bands.

---
Puerto Vallarta Recognizes its Outstanding Athletes

PuertoVallarta.gob.mx

Last week, Mayor Arturo Pena Davalos led an awards ceremony to honor the Puerto Vallarta athletes who, representing the state of Jalisco, won a total of 37 medals (22 gold, 8 silver and 7 bronze) in the 2016 National Youth Olympics and the 2016 National Paralympic games.

---
Site Map
•
Print this Page
•
Email Us
•
Top