Free Newsletter!
Click HERE to read a serialized and updated version of
Polly G. Vicars' sell-out book, Tales of Retirement in Paradise
.
Vallarta Living
Living in Puerto Vallarta Mexico
For many the thought of living in - or even near - a major tourist resort is about as appealing as a buying a condo in Disneyland. But here in Vallarta, the incredible natural beauty, combined with a small town atmosphere and the inherent warmth and friendliness of the local people, attracts foreign residents who enjoy the good life.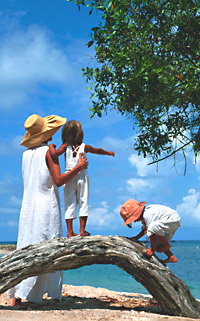 With a colorful blend of the old and the new, the Banderas Bay region offers an unrivaled combination of simple pleasures and sophisticated charms. Fine dining restaurants, art galleries, upscale shopping centers, internet cafes and nightclubs peacefully coexist alongside taco stands, street-side vendors and open air markets selling Mexican handcrafts, and strolling Mariachi bands.


But much of Puerto Vallarta's magic is in the hearts of her people. Often described as "one big, happy family," Vallartenses are known for their hospitality and for going out of their way to welcome foreign residents. And, since the Mexican people are extremely tolerant of different lifestyles, international residents and Mexican locals can live side-by-side in harmony - provided that the expatriate can learn to be creative and adaptable.


Puerto Vallarta is an unhurried refuge for people seeking more than just a beautiful beach. Those of us who choose to live here embrace the challenge of learning patience and understanding. Taking the time to "stop and smell the roses" along the road to becoming bicultural gives us the opportunity to grow - and to enjoy a more relaxed way of life.

• B E L O W T H E F O L D •
Rotary Club of Santa Barbara North Supports Vallarta

Banderas News Team

Gil Garcia, a member of Rotary Club of Santa Barbara North was recently recognized by the Instituto Jaliciense de Asistencia Social of Puerto Vallarta for his efforts to bring comfort and support to the citizens of Jalisco.

---
Puerto Vallarta DIF Offers Kids Fun Summer Courses

Lorena Sonrisas

The System for Integral Family Development and the Centro de Capacitación of Puerto Vallarta invite all parents to enroll their children in summer courses that allow young children to have some good healthy fun with other kids in a safe environment.

---
PV's Playa Camarones Gets Blue Flag Certification

PuertoVallarta.gob.mx

On June 21st, Puerto Vallarta's Playa Camarones received Blue Flag certification and Palmares Beach received a re-certification of this award during the XI National Clean Beaches Meeting held in Cancun. The flag will be hoisted on the beaches on July 13.

---
Summer Fun at Puerto Vallarta's ACT II Entertainment

Daniel R. Mininni

Get ready for a Summer full of fun at Puerto Vallarta's ACT II Entertainment! There's always something entertaining happening at STAGES, whether it be on the Main Stage, in The Red Room Cabaret or at the Encore Piano Bar. Join in the fun!

---
Puerto Vallarta DIF Food Collection Campaign Underway

Observatorio Bahia

With the goal of providing timely care to vulnerable families, particularly during the rainy season, the System for Integral Family Development (DIF) of Puerto Vallarta has launched a food collection campaign.

---
Captain Morgan Promotes Sayulita in the United States

Jorge Jiménez

Sayulita, a 'hippie chic' surfing village on Mexico's Riviera Nayarit, was chosen as a location for the latest commercial touting Captain Morgan's newest drinks. It is now showing on TV screens throughout the United States and on social media channels.

---
Olas Altas and Manuel M. Diéguez Get Speed Bumps

BanderasNews.com

In an effort to improve pedestrian and vehicular traffic in Puerto Vallarta's Romantic Zone, speed bumps have been installed on Olas Altas and Manuel M. Dieguez streets to reduce motorists' speed and thus reduce the possibility of accidents.

---
June 26 Puerto Vallarta News Brief and Weekend Events

Banderas News Team

There's always so much going on in Puerto Vallarta and around the Republic, it can be difficult to keep up with it all. Here's a look at some of this week's local news and Mexico headlines, plus some not-to-be-missed events happening this weekend around Banderas Bay.

---
Puerto Vallarta Chef Given a Larger Piece of The Pie

Media Diva International

Daiquiri Dick's is proud to announce that Executive Chef Ignacio Uribe is now also the restaurant's new General Manager. Ignacio has grasped his new position with a 'what ever it takes' attitude and plans to introduce new dining experiences to Puerto Vallarta.

---
CUCosta Saturdays in Science: The Wonders of the World

María Francesca

This weekend, come out to the Juan Luis Cifuentes Lemus auditorium at CUCosta, where the University of Guadalajara and the Mexican Academy of Sciences will present 'Maravillas del Mundo en Clave del Sol,' a musical presentation of The Wonders of the World.

---
Nayarit Chef Betty Vázquez to Judge Master Chef Mexico

Riviera Nayarit CVB

Chef Betty Vazquez, Culinary Ambassador for the Riviera Nayarit, was named as one of three judges for the first-ever 'Master Chef Mexico,' which will air on Tv Azteca for 16 consecutive Sundays starting June 28, and throughout Latin America on Discovery Home & Health starting July 9.

---
Vallarta Celebrates National Botanical Garden Day

Vallarta Botanical Gardens

Mexico's National Botanical Garden Day will be celebrated this year on July 2. Here in the Banderas Bay area, Vallarta Botanical Gardens has won international accolades as a highlight of any trip to Puerto Vallarta, so what better place to celebrate the day?

---
Puerto Vallarta Begins La Isla Rio Cuale Renovations

NotiVallarta

Puerto Vallarta's Institute of Culture has begun the restoration of the Cuale River Island. The city is busy cleaning, painting and adding new signage that blends seamlessly with the natural environment of this cool and refreshing oasis in the heart of El Centro.

---
Life is Just a Little Sweeter in Puerto Vallarta

BanderasNews.com

Everyone who has made the move to Puerto Vallarta knows that life is sweeter South of the Border. We enjoy sunny days, balmy nights and a more relaxed way of life that's easier on the pocketbook. A recent Huffington Post article corroborates our claim.

---
Hook the Cure Tournament Returns to Puerto Vallarta

Cystic Fibrosis Foundation

The Tenth Annual Hook the Cure powered by IOTEC will return to Puerto Vallarta, Mexico on November 5, 2015. The four-day catch-and-release offshore tournament, an official event of the Redbone Celebrity Series, will benefit the Cystic Fibrosis Foundation.

---
Site Map
•
Print this Page
•
Email Us
•
Top