Free Newsletter!
Click HERE to read a serialized and updated version of
Polly G. Vicars' sell-out book, Tales of Retirement in Paradise
.
Vallarta Living
Living in Puerto Vallarta Mexico
For many the thought of living in - or even near - a major tourist resort is about as appealing as a buying a condo in Disneyland. But here in Vallarta, the incredible natural beauty, combined with a small town atmosphere and the inherent warmth and friendliness of the local people, attracts foreign residents who enjoy the good life.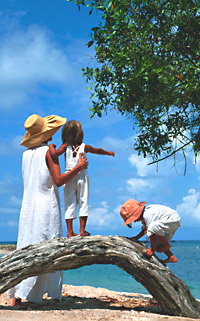 With a colorful blend of the old and the new, the Banderas Bay region offers an unrivaled combination of simple pleasures and sophisticated charms. Fine dining restaurants, art galleries, upscale shopping centers, internet cafes and nightclubs peacefully coexist alongside taco stands, street-side vendors and open air markets selling Mexican handcrafts, and strolling Mariachi bands.


But much of Puerto Vallarta's magic is in the hearts of her people. Often described as "one big, happy family," Vallartenses are known for their hospitality and for going out of their way to welcome foreign residents. And, since the Mexican people are extremely tolerant of different lifestyles, international residents and Mexican locals can live side-by-side in harmony - provided that the expatriate can learn to be creative and adaptable.


Puerto Vallarta is an unhurried refuge for people seeking more than just a beautiful beach. Those of us who choose to live here embrace the challenge of learning patience and understanding. Taking the time to "stop and smell the roses" along the road to becoming bicultural gives us the opportunity to grow - and to enjoy a more relaxed way of life.

• B E L O W T H E F O L D •
Trash Can Fire Causes Evacuation of Galerías Vallarta

Lorena Sonrisas

Approximately 60 people were evacuated from the Galerias Vallarta shopping center on Tuesday night after a fire broke out in a hallway within the mall. At 10:30 pm, the city's Civil Protection and Fire Departments responded to a call reporting a trash can fire near the mall's casino.

---
Mexican Wedding Traditions for Your Vallarta Ceremony

Rev. Lynn Rogers

With so many romantic and picture-perfect venue options and a wide variety of cultural and culinary delights, Puerto Vallarta is a great choice for your dream wedding. As you plan your personalized ceremony, you might consider incorporating some local Mexican wedding traditions.

---
El Arrayán Restaurant Celebrates El Día de Los Muertos

BanderasNews.com

Every year on November 1 and 2, Mexicans celebrate Día de los Muertos in honor of their deceased loves ones. Here in Puerto Vallarta, El Arrayán is serving a traditional menu and erecting an altar as part of the Asociación Vallarta Centro's 'Pasaporte del Festival de Muertos.'

---
Dog Saved on Vallarta Beach Sheds Light on Strays

Amy Judd

Vancouver resident Kathryn Richardson was on vacation with her husband in Puerto Vallarta when they spotted a stray dog on the beach in front of the Barcelo Hotel. The dog had clearly not eaten in weeks, so she called the SPCA PV, and they picked up 'Sandy' the next morning.

---
Recipes & Real Estate: Sweet Salsa at Paramount Bay
Media Diva International

Recipes and Real Estate, because it's the kitchen that sells the house. In this episode, Laura Gelezunas and the Kitchenettes show us how to make Tangy Sweet Salsa and Avocado Margaritas at Paramount Bay Condo 708 in Colonia Amapas, just 5 minutes south of downtown Puerto Vallarta.

---
Charity Bingo Resumes at Nacho Daddy November 12th

Kathleen Palmer

Are you ready for some BINGO? We are delighted to announce that Nacho Daddy Restaurant & Bar in Puerto Vallarta's Zona Romántica is hosting the new season of the ever-popular Charity BINGO in support of two very special local charities: Pasitos de Luz and Colina Spay & Neuter Clinic.

---
SEMARNAT Establishes 2014-2015 Whale Watching Season

El Sol de Nayarit

Each year from December to March, the waters off the coast of Puerto Vallarta offer some of the most spectacular whale watching in the world. SEMARNAT recently announced the 2014-15 whale watching season in the Banderas Bay region will begin on Dec 8 and end March 23.

---
IFC Opens the Season with Brunch at Casa Fantasia

Janie Albright Blank

To start off the 2014-2015 Season the Puerto Vallarta IFC is hosting a Brunch at Casa Fantasia on November 11. President Dan Grippo will present an update on our Cleft Palate program, educational programs, and other charitable giving activities that have continued over the summer.

---
Arrecifes Hosts 5th Annual Vallarta Concierge Festival

Marie Callan

On Friday, November 7th at 7 pm, Arrecifes Restaurant in the Puerto Vallarta Westin Resort and Spa will be hosting the 5th Annual Asociación de Concierges Región Pacifico (Pacific Region Concierge Association) 'Festival del Concierge' to benefit two local charities: Pasitos de Luz and Canica.

---
ART VallARTA Sugar Skull Making Workshop, October 29

artvallarta.com

Come to ART VallARTa at 10 am on Wednesday, October 29th and learn how to make edible Sugar Skulls for your El Día de los Muertos Altar in Puerto Vallarta, Mexico. ART VallARTa is a collaborative art space located at Pilitas #213, just off Olas Altas in the heart of the Romantic Zone.

---
October 17 Banderas News Brief & Upcoming PV Events

Banderas News Team

There's always so much going on in Puerto Vallarta and around the Republic, it can be difficult to keep up with it all. Here's a look at some of this week's Vallarta and Mexico news headlines, some community announcements, and a few upcoming local events you won't want to miss.

---
Unexpected Visitor at Sheraton Puerto Vallarta Resort

SheratonVallarta.com

The natural habitats of several species of marine animals were affected by Hurricane Odile's destruction in Baja California. This resulted in an unexpected visitor who arrived at the Sheraton Buganvilias Puerto Vallarta Resort jetty on Sunday, October 12th.

---
Timothy Real Estate Group Opens Two New Sales Offices

TREGROUP

Timothy Real Estate Group is very excited to announce the opening of two new sales centers in Puerto Vallarta. The first new sales center is at V177 on Amapas street in the heart of the Romantic Zone, and the second is on Lazaro Cardenas Road in Bucerias, Nayarit.

---
Isla Redonda: The Hidden Gem Still Baffles Geologists

Brandon Presser

There's an islet off the Pacific coast of Mexico with a pristine beach drilled into its central core like the hole of a donut. Isla Redonda, one of the Marieta Islands, is a hidden Eden near Puerto Vallarta that continues to baffle geologists with its oculus of volcanic stone.

---
Hard Rock Vallarta Hosts 5K Run for Breast Cancer

Ubardo Aguilar

As part of their Third Annual 'Pinktober' campaign, the Hard Rock Hotel Vallarta will be hosting a 5K 'run for the cause' on Sunday, October 19th at 8 am. The $290 pesos registration fees benefit Grupo Bennu, a non-profit organization that supports Banderas Bay area women with cancer.

---
ACT II Entertainment Presents Del Shores' Sordid Best

Banderas News Team

The 2014-2015 theater season officially opens in Puerto Vallarta with the return of funny man and playwright, Del Shores who'll present 'My Sordid Best' on the ACT II Main Stage on Oct 25 & Nov 1; and the international premiere of his award-winning movie, 'Southern Baptist Sissies,' Nov 1.

---
No Way José! 6th Annual Season Kick-Off Party, Nov. 2nd

BanderasNews.com

Vallarta's favorite Restaurant/Bar, No Way José!, will be celebrating El Día de Los Muertos and the re-opening of the No Way José! Terrace on November 2 with a classic No Way José! fiesta. Julie, José Alfredo and the NWJ! team invite you to help them kick off Season 6 with a bang!

---
American School of Puerto Vallarta's 'Spook du Soleil'

Eduardo Garcia

Come one and all to the fantastic Halloween event at the American School of Puerto Vallarta! Scheduled to take place on October 30th from 6-11 pm, this year's theme is 'Spook du Soleil,' so there will be lots of color, amazing shows and fun for all ages.

---
Cruise Lines' Interest in the Mexican Riviera is Growing

Vallarta Opina

During the 21st Annual Florida-Caribbean Cruise Association Conference and Trade Show, held October 6th on the island of Saint Maarten, representatives of Norwegian and Carnival Cruise Lines expressed a growing interest in bringing more ships to ports on the Mexican Riviera.

---
1st Annual Guayabitos Bike Fest October 17-19, 2014

Riviera Nayarit CVB

The 1st Annual Guayabitos Bike Fest 2014, scheduled to be held from October 17-19, promises plenty of fun for the entire family. Expect a night ride, beach activities, a BMX and antique bike exhibit, mountain routes, street rides for every skill level, and more.

---
Economic Solvency Requirement for Resident Visas Lowered

Oscar Magaña León

The Mexican Foreign Relations Secretary published on Friday, October 10th new guidelines to issue VISAS. These guidelines will replace the current ones for Visas issued at Mexican consulates Outside of Mexico, and will be applicable starting October 17, 2014.

---
TREG's 2014 House Hunters International Charity Event

Timothy Real Estate Group

Don't miss Timothy Real Estate Group's 2nd House Hunters International Charity Event benefiting Becas Vallarta, Make-A-Wish Foundation, Asilo San Juan Diego and the Vallarta Botanical Gardens. The 'Gilligan's Island' themed-event will be held on November 24 at Mantamar Beach Club.

---
Abelardo Favela's Newest Paintings at Galeria Contempo

Banderas News Team

After his successful museum show at the Capilla Del Arte in Puebla, and having published a hard cover book featuring a retrospective of his work, Abelardo Favela has been busy painting in his studio once again. See his newest oil paintings at Galería Contempo on Vallarta's south side.

---
ACT LGBT Working to Boost Tourism in PV's Romantic Zone

BanderasNews.com

The LGBT Association of Commerce and Tourism (ACT LGBT A.C.) started the fourth quarter with a series of activities to promote tourism for the upcoming winter season in Puerto Vallarta. The group's next meeting will be held on October 14 at Taste Restaurant at Casa Cupula.

---
Bonita Hill: Luxury Living in Puerto Vallarta, Mexico

Because You Only Live Once...

Because you only live once, you should live your life in style at Bonita Hill, a new ecologically-friendly real estate development in the most desirable area of Puerto Vallarta, La Zona Romantica. This gated community of low-rise condominiums offers amazing views and contemporary style.

---
Tourism Board Promoting Vallarta via Social Media

Puerto Vallarta CVB

The Puerto Vallarta Tourism Board continued its proactive social media campaign last week with a Twitter party and a bloggers' trip. Both efforts promoted the fact that PV is 100% operational despite hurricanes Nobert, Odile & Polo, which came close to the destination last month.

---
Help ASPV Students Bring Cheryl's Shoe Box Back

Elena Garcia

Several years ago, a wonderful lady named Cheryl Schrean started a charitable organization called 'Cheryl's Shoebox,' which provided shoes to Puerto Vallarta children in need. Though she's no longer with us, ASPV & her supporters hope to get this worthy cause up and running again.

---
October 10 Banderas News Brief & Upcoming PV Events

Banderas News Team

There's always so much going on in Puerto Vallarta and around the Republic, it can be difficult to keep up with it all. Here's a look at some of this week's Puerto Vallarta news headlines, some breaking Mexico news stories, and a few upcoming local events you won't want to miss.

---
Site Map
•
Print this Page
•
Email Us
•
Top