Free Newsletter!
Click HERE to read a serialized and updated version of
Polly G. Vicars' sell-out book, Tales of Retirement in Paradise
.
Vallarta Living
Living in Puerto Vallarta Mexico
For many the thought of living in - or even near - a major tourist resort is about as appealing as a buying a condo in Disneyland. But here in Vallarta, the incredible natural beauty, combined with a small town atmosphere and the inherent warmth and friendliness of the local people, attracts foreign residents who enjoy the good life.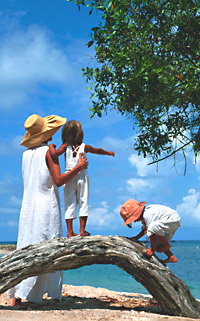 With a colorful blend of the old and the new, the Banderas Bay region offers an unrivaled combination of simple pleasures and sophisticated charms. Fine dining restaurants, art galleries, upscale shopping centers, internet cafes and nightclubs peacefully coexist alongside taco stands, street-side vendors and open air markets selling Mexican handcrafts, and strolling Mariachi bands.


But much of Puerto Vallarta's magic is in the hearts of her people. Often described as "one big, happy family," Vallartenses are known for their hospitality and for going out of their way to welcome foreign residents. And, since the Mexican people are extremely tolerant of different lifestyles, international residents and Mexican locals can live side-by-side in harmony - provided that the expatriate can learn to be creative and adaptable.


Puerto Vallarta is an unhurried refuge for people seeking more than just a beautiful beach. Those of us who choose to live here embrace the challenge of learning patience and understanding. Taking the time to "stop and smell the roses" along the road to becoming bicultural gives us the opportunity to grow - and to enjoy a more relaxed way of life.

• B E L O W T H E F O L D •
September 19 Vallarta Happenings & Upcoming Events

Banderas News Team

There's always so much going on in Puerto Vallarta and around Banderas Bay, it can be difficult to keep up with it all. Here's a look at some recent local happenings and important community announcements, plus a couple of upcoming events that you won't want to miss.

---
International Community Foundation Odile Relief Fund

BanderasNews.com

The International Community Foundation is actively working to assess needs of local communities in those areas of Baja California Sur most directly affected by Hurricane Odile, and is working to mobilize needed resources for immediate disaster relief and rebuilding efforts.

---
Mexi-Go! Brings Vallarta-Nayarit Real Estate to Canada

Jeff Castañeda

In an effort to help educate and influence potential Canadian buyers, Mexi-Go! is holding two Real Estate Expos in Vallarta's most popular markets, Vancouver and Calgary. If you are in Canada this fall, don't miss the Mexi-Go! Expos being held in Calgary on Sept 27 Vancouver on Oct 4.

---
Vallarta Real Estate Market Review: 2014 versus 2013

Wayne Franklin

The real estate market in the Bay of Banderas to include Puerto Vallarta, Nuevo Vallarta, Bucerias and beyond, have experienced a significant increase in sales activity this year over last. Buyers have a renewed interest and a sense of urgency seems to be creeping back to the marketplace.

---
Sapphire: A Brilliant New Jewel Coming to Puerto Vallarta

BanderasNews.com

Michel Pascal Ferrari's newest Puerto Vallarta hospitality concept, Sapphire, will open in November on Los Muertos Beach. This exciting, multifaceted entertainment destination will usher in a new level of casual sophistication to Puerto Vallarta's vibrant day and night life.

---
Vallarta Life: Volunteering at El Centro de Acopio
BanderasNews.com

In this edition of Vallarta Life, Laura visits the Centro de Acopio. This is the city run animal shelter where street dogs and cats are housed and cared for by a dedicated staff and two vets, who depend on the support of local and vacationing volunteers to get them ready for loving homes.

---
Vallarta Passes Security Assessment with Flying Colors

latitude-intl.com

At a time when most tourism destinations hesitate to speak about safety, Puerto Vallarta, Mexico has hired another leading international security assessment firm to review the municipality's security status. This is the third time the city's safety has been assessed since 2011.

---
Register Now for MITA TechTalks, November 9-11, 2014

Live Punta Mita

Once again, and thanks to the smashing success of previous editions, MITA TechTalks will be celebrated in Punta Mita. From November 9th to the 11th, the MITA Institute will host the premier tech and venture capital event of the year in Latin America.

---
Vallarta-Nayarit Restaurants on USA Today's 'Best' List

Masrie Callan

With four out of the eight restaurants listed by USA Today as 'Top Beachside Restaurants on Mexico's Pacific Coast,' located in Puerto Vallarta and Riiviera Nayarit, the Banderas Bay region's status as a 'Must Visit' gourmet destination has once again been confirmed.

---
American School of Puerto Vallarta 2014 University Fair

Eduardo Xavier García

The American School of Puerto Vallarta invites high school students to participate in its 2014 University Fair. Scheduled to be held at the Westin Resort in Marina Vallarta on September 20th, over 39 universities from the U.S., Canada, Mexico and Europe will participate.

---
'El Grito' Marks Mexico's Independence from Spain

Banderas News Team

One of the most popular Mexican patriotic holidays is September 16th, Mexico's Independence Day. But September 15th is when the celebration really begins, as Mexicans commemorate the first and most significant episode of Mexico's history, Independence from Spain, with 'El Grito.'

---
Vallarta Bomberos Control Ammonia Leak at Ice Factory

Josue Pelayo

Elements of the Municipal Coordination of Civil Protection and Firefighters managed to control an ammonia leak that occurred Friday morning in an ice manufacturing plant in Puerto Vallarta's Colonia Primero de Mayo. The area was evacuated, and no injuries were reported.

---
2014 Fiestas Patrias Events in Puerto Vallarta

BanderasNews.com

As is tradition, from September 13th through the 16th (Independence Day) Puerto Vallarta will commemorate Mexico's Independence with a series of colorful and patriotic festivities celebrating the events and people that eventually resulted in Mexico's Independence from Spain.

---
Seapal Vallarta Water Fountains Benefit 900 Students

BanderasNews.com

On Monday, September 8th, the Lions Club Elementary School in Colonia Lázaro Cárdenas became the first public education institution to benefit from the Seapal Vallarta 'School Water Fountain Program,' an initiative that provides free drinking fountains to local schools.

---
September 12 Vallarta News Brief and Upcoming Events

Banderas News Team

There's always so much going on in Puerto Vallarta and around Banderas Bay, it can be difficult to keep up with it all. Here's a look at some of this week's Puerto Vallarta news headlines, community announcements, and a couple of Independence Day events that you won't want to miss.

---
59th Annual Billfish Tournament in Puerto Vallarta

Richard Dangler

In 2014, the International Sailfish and Marlin Tournament celebrates its 59th year. Scheduled to take place in Puerto Vallarta from November 12th-15th, this popular annual event promises to be even bigger and better than ever - with thousands of dollars in cash and prizes to be awarded.

---
Free Rabies Vaccinations for Dogs and Cats in Jalisco

NuestrasNoticias.net

For the last 19 years Jalisco has been free of rabies. This month, during the Reforzamiento de Vacunación Antirrábica Canina y Felina campaign, 924,000 free rabies vaccines are expected to be administered to pets throughout the state in order to keep Jalisco rabies free.

---
Mamas in Puerto Vallarta Host Picnic / Charity Benefit

Nicole Martin

Pack up your picnic basket and join Mamas in PV at El Jardin de la Luna on Saturday, September 27th from 10 am to 2 pm for an action packed morning filled with friends and fun at a Picnic to benefit Pasitos de Luz, a Puerto Vallarta non-profit that supports children with disabilities.

---
NOW is the Right Time to Buy Puerto Vallarta Real Estate

Richard Bartholomew

Like many investment/vacation home markets, Mexico's real estate prices are on the rise again. Timothy Real Estate Group's Richard Bartholomew lists six reasons why NOW is the time to purchase an investment, retirement or vacation property in Puerto Vallarta, Mexico.

---
Tropical Storm Odile Threatens Mexico's Pacific Coast
BanderasNews.com

Tropical Storm Odile is spinning in the Eastern Pacific threatening catastrophic flooding in areas recently affected by Hurricane Norbert. From Manzanillo to Puerto Vallarta, coastal cities and the mountains near the coast could be at risk of flooding rains and mudslides.

---
Site Map
•
Print this Page
•
Email Us
•
Top