Free Newsletter!
Click HERE to read a serialized and updated version of
Polly G. Vicars' sell-out book, Tales of Retirement in Paradise
.
Vallarta Living
Living in Puerto Vallarta Mexico
For many the thought of living in - or even near - a major tourist resort is about as appealing as a buying a condo in Disneyland. But here in Vallarta, the incredible natural beauty, combined with a small town atmosphere and the inherent warmth and friendliness of the local people, attracts foreign residents who enjoy the good life.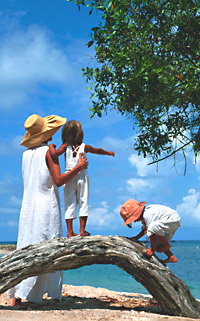 With a colorful blend of the old and the new, the Banderas Bay region offers an unrivaled combination of simple pleasures and sophisticated charms. Fine dining restaurants, art galleries, upscale shopping centers, internet cafes and nightclubs peacefully coexist alongside taco stands, street-side vendors and open air markets selling Mexican handcrafts, and strolling Mariachi bands.


But much of Puerto Vallarta's magic is in the hearts of her people. Often described as "one big, happy family," Vallartenses are known for their hospitality and for going out of their way to welcome foreign residents. And, since the Mexican people are extremely tolerant of different lifestyles, international residents and Mexican locals can live side-by-side in harmony - provided that the expatriate can learn to be creative and adaptable.


Puerto Vallarta is an unhurried refuge for people seeking more than just a beautiful beach. Those of us who choose to live here embrace the challenge of learning patience and understanding. Taking the time to "stop and smell the roses" along the road to becoming bicultural gives us the opportunity to grow - and to enjoy a more relaxed way of life.

• B E L O W T H E F O L D •
Kaiser Maximilian Celebrates Las Fiestas Patrias

Banderas News Team

This month, Cafe Maximilian is celebrating El Mes de la Patria by offering Traditional Mexican Dishes in addition to the Austrian delights featured on the regular menu. Don't miss their special Chile en Nogada, the Mexican dish that is most emblematic of the holiday.

---
Mexico's 'Hot Sale' Offers Online Deals & Discounts

BanderasNews.com

From September 5th through 8th, some of Mexico's largest online retail companies and e-commerce sites will participate in the country's first-ever Internet shopping event. 'Hot Sale,' a four-day version of 'Cyber Monday,' offers online shoppers incredible discounts and deals.

---
ExPats in Vallarta September Happy Hour Schedule

Sara Wise

During September, ExPats in Vallarta will be having two Happy Hour gatherings at Langostinos. The first one will be on Tuesday, September 9th and the second on Tuesday, September 23rd from 5:00 to 7:00 pm. Langostinos is located on Los Muertos Beach just north of the pier.

---
Vallarta Celebrates Mexico's Independence in September

Betsua Salazar

Mexico's Independence Day celebrations are coming up. Don't miss the opportunity to escape the routine and enjoy the long September 15th weekend in Puerto Vallarta. The city's main parade is held downtown, in conjunction with a free concert and fireworks display on the Malecón.

---
Vallarta Life: Keeping it Sweet with PV Cupcakes

Laura Gelezunas

When you make your move to Mexico, you expect that you'll be celebrating life as it should be celebrated, and that every day is going to be pretty sweet. Well, there ARE a lot of sweet things to be experienced in Puerto Vallarta, and you can find some of them at PV Cupcakes.

---
News from the P.V. Garden Club - Beautifying Vallarta!

VallartaGardenClub.com

Francisca Rodriguez, or the 'Los Muertos Pier Street,' is a street in transition. This past April, the city made the final block to the pier a pedestrian-only street and the Puerto Vallarta Garden Club provided funds to put in trees, bougainvillea plants, and other flowers.

---
AMMJE Scholarship Program for Riviera Nayarit Students

Nuestra Noticias

On August 21, 2014, the Riviera Nayarit chapter of the Asociación Mexicana de Mujeres Empresarias, a non-profit organization of women entrepreneurs in Mexico, launched a scholarship program for low-income students in the Riviera Nayarit.

---
August 29 Vallarta News Brief & Upcoming Events

Banderas News Team

There's always so much going on in Puerto Vallarta and around the Republic, it can be difficult to keep up with it all. Here's a look at some of this week's Vallarta news headlines, some breaking Mexico news stories, and a few upcoming local events you won't want to miss.

---
House Hunters International: Puerto Vallarta Episode 4

Timothy Real Estate Group

The new House Hunters International episode featuring Puerto Vallarta and Timothy Real Estate Group will premiere September 9, 2014 on HGTV USA. This will mark the fourth time the hugely popular and addictive TV show returns to this tropical Mexican resort town.

---
Vallarta Joins Second 500px Worldwide Photo Walk

Alex Naranjo

On Saturday, September 6th, thousands of photographers around the world will participate in the Second Annual 500px Worldwide Photo Walk. Here in Puerto Vallarta, we are ready to be a part of the growing community of photographers that take part in this incredible event.

---
World-Class Medical Care in Puerto Vallarta Hospitals

Glynna Prentice

While I've never fallen ill in Puerto Vallarta, I know I'd be in good hands there. Puerto Vallarta has half a dozen wonderful private hospitals, including Amerimed, Cornerstone, CMQ, Medasist, and San Javier. Take your pick — PV's many expats seem happy with all of them.

---
150 Vallartenses Take the ALS 'Ice Bucket Challenge'

PVRPV.com

What do 150 people in Puerto Vallarta have in common with Cristiano Ronaldo, Lady Gaga, and Bill Gates? They all took the Ice Bucket Challenge, a campaign that has lit social media on fire raising money and awareness for ALS, also known as 'Lou Gehrig's Disease.'

---
Daiquiri Dick's Extends 2014 Summer Sizzle to Sept. 1

Banderas News Team

There are still a few days left to enjoy flavors from around the world at one of Vallarta's favorite beachfront restaurants - Daiquiri Dick's. Don't miss your last chance to enjoy three delicious courses of old favorites and new tastes for $299 pesos, through September 1st.

---
Camping in Mexico: Doing it Right in Lo de Marcos

Alonso Diaz

Stellar beaches, incredible food, mountains, jungle, and wonderfully friendly people are much of what makes camping in Mexico so very intriguing. And now there's a new country camping spot in Lo de Marcos, Nayarit, approximately one hour's drive north of Puerto Vallarta.

---
Act II Entertainment, Where the Fun Never Stops

Banderas News Team

The fun never stops at Act II Entertainment! Partners David Restivo, Elizabeth Ensor and Danny Mininni appreciate all the community's love and support over the past year. With your support, Act II will continue to provide year-round entertainment for the people of Puerto Vallarta.

---
Vallarta Welcomed 400,000 Vacationers this Summer

Gerardo González

According to Municipal Tourism Director, Carlos Gerard, about 400,000 national and international tourists visited Puerto Vallarta during the 2014 Summer vacation period, bringing the seasonal tourism numbers up 15 percent from the same time period last year.

---
El Arrayán's Mexican Cooking Classes Resume October 6

BanderasNews.com

Puerto Vallarta's El Arrayán restaurant is happy to announce that starting October 6th they will resume their popular Traditional Mexican Cooking Classes. Owner/Chef Carmen Porras and Chef Alfonso Corona will teach you how to make a wide variety of classical Mexican dishes.

---
Becas Vallarta Changing Lives Through Education

Nelly Castellanos López

Becas Vallarta volunteers recently handed out $900,000 pesos in scholarships to middle school, high school and college students at Los Mangos Library. According to the President of the non-profit association, Mariel Fregoso, 409 young people from various institutions were benefited.

---
Update for Mexico Real Estate Buyers & Sellers

BanderasNews.com

Following up on the 'Important News for Mexico Real Estate Buyers & Sellers' article we published on August 6th, we asked Tropicasa Realty's Maria O'Connor if there were any updates on the new requirements for buyers and sellers of real estate in Mexico.

---
Downtown Businesses Want Malecón Reopened to Traffic

Martha Ramírez Ruiz

After business owners on Morelos Street began placing signs on the windows or outside walls of their establishments that attribute the drop in sales to the closing of Diaz Ordaz (the Malecón) to vehicular traffic, the Mayor of Puerto Vallarta spoke on the subject last week.

---
Vallarta Mayor Gives Students School Uniforms & Shoes

Gerardo González

Last week, 30,000 Puerto Vallarta preschool, primary and secondary school students were supplied with school uniforms, shoes and insurance as part of Mayor Ramón Guerrero Martínez's commitment to ensuring that the children and youth of this city receive a quality education.

---
3rd Night Free at Las Alamandas Luxury Boutique Hotel

BanderasNews.com

From September 12-21st, you can escape to paradise and enjoy the third night free during Las Alamandas Resort's Independence Day celebration. Located 80 miles south of Puerto Vallarta along Mexico's famed Costalegre coast, Las Alamandas is Mexico's ultimate escape.

---
Site Map
•
Print this Page
•
Email Us
•
Top