Free Newsletter!
Click HERE to read a serialized and updated version of
Polly G. Vicars' sell-out book, Tales of Retirement in Paradise
.
Vallarta Living
Living in Puerto Vallarta Mexico
For many the thought of living in - or even near - a major tourist resort is about as appealing as a buying a condo in Disneyland. But here in Vallarta, the incredible natural beauty, combined with a small town atmosphere and the inherent warmth and friendliness of the local people, attracts foreign residents who enjoy the good life.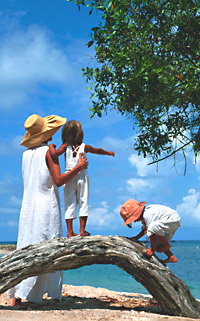 With a colorful blend of the old and the new, the Banderas Bay region offers an unrivaled combination of simple pleasures and sophisticated charms. Fine dining restaurants, art galleries, upscale shopping centers, internet cafes and nightclubs peacefully coexist alongside taco stands, street-side vendors and open air markets selling Mexican handcrafts, and strolling Mariachi bands.


But much of Puerto Vallarta's magic is in the hearts of her people. Often described as "one big, happy family," Vallartenses are known for their hospitality and for going out of their way to welcome foreign residents. And, since the Mexican people are extremely tolerant of different lifestyles, international residents and Mexican locals can live side-by-side in harmony - provided that the expatriate can learn to be creative and adaptable.


Puerto Vallarta is an unhurried refuge for people seeking more than just a beautiful beach. Those of us who choose to live here embrace the challenge of learning patience and understanding. Taking the time to "stop and smell the roses" along the road to becoming bicultural gives us the opportunity to grow - and to enjoy a more relaxed way of life.

• B E L O W T H E F O L D •
The Puerto Vallarta Tourism Trust Has a New Director

AZ Noticias

At a press conference held last Friday, Javier Aranda Pedrero was officially presented as the new director of the Tourism Trust (Fidetur) of Puerto Vallarta, which is the agency responsible for the promotion, advertising and public relations of the destination.

---
Stand-Up Paddle Yoga Classes on Banderas Bay

BanderasNews.com

Twice a year SUP Yoga Vallarta hosts mini retreats where you can spend the day immersed in all things yoga, SUP and wellness. This month's SUP Yoga Retreat, hosted by Café Rizado in Bucerias, will be held on April 30th and feature workshops with local sex guru, Dr. Shelly Persad.

---
April 21 Vallarta News Brief and Weekend Events

Banderas News Team

There's always so much going on in Puerto Vallarta and around Banderas Bay it can be difficult to keep up with it all. Here's a look at some of this week's Puerto Vallarta news headlines, a few community announcements, and a couple of this weekend's events that you won't want to miss.

---
ExPats in Vallarta May 2017 Happy Hours and Events

Sara Wise

ExPats in Vallarta has announced their schedule of events for May 2017. During the month of May, the Expats are changing things up a bit; they will be having three Happy Hour gatherings at three new locations! They'll also be hosting a Special Dinner at Las Adelitas Restaurant.

---
Get Ready for the 28th International Sports Classic

BanderasNews.com

Every May, just when it seems the high season is winding down, hot and heavy sporting events fire up competitive spirits at the Puerto Vallarta International Sports Classic. This year's competitons will be held from May 5-7, and everyone is invited to come out and watch the games - for Free!

---
2017 Fiestas de Mayo de La Parroquia de La Santa Cruz

Benjamin Martinez

If you would like to experience a true Mexican tradition in Old Town Puerto Vallarta, then come join in all the festivities during the Fiestas de Mayo being held outside of Parroquia de la Santa Cruz in Colonia Emiliano Zapata from Sunday, April 23 until Wednesday, May 3, 2017.

---
Exhibit by Artist Bill Megrail Opens at Galleria Dante

Claire Guarniere

An exhibition by artist Bill Megrail opens at Galleria Dante on Friday, April 21st, as part of the last Southside Shuffle of the 2016-2017 season. Stop by the largest and most eclectic art gallery in Puerto Vallarta to meet the artist and enjoy complimentary cocktails from 6-10 pm.

---
8th Annual Riviera Nayarit Wind Festival in Bucerías

Marie Callan

Kitesurfers from all over Mexico are ready to hit the beaches of Riviera Nayarit as they prepare for 3 days of spectacular kitesurfing during the 2017 Festival del Viento. Competitions are scheduled to take place on the waters between Bucerias and La Cruz de Huanacaxtle May 19-21.

---
Mercado Los Mangos Benefits Vallarta Area Farmers

Paco Ojeda

When Mercado Los Mangos announced a one-month extension of its season, until the end of June, both vendors and shoppers responded enthusiastically. In particular, Mercado Los Mangos is attracting local farmers in search of shaded places to present and sell their products.

---
Spring / Summer Season of Entertainment at Act II STAGES

Corie DuChateau

Act II STAGES, the biggest entertainment venue in Puerto Vallarta, is kicking off the Spring / Summer season with a bang! New shows are wowing audiences, Karaoke night returns this week, and there's a fun-filled line-up of music, theater and amusement planned all summer long.

---
'A Night in Argentina' with Bohemia Viva, April 19 & 26

Debbie White

After wowing audiences at Banderas Bay live music venues all season long, Bohemia Viva will soon be heading back to the US for the summer. Before they leave, Andrea and Luis, one of Vallarta's favorite performance duos, will present 'A Night in Argentina' on April 19 and 26.

---
Unsung Heroes of Puerto Vallarta - Garbage Collectors

Tropicasa Realty

It may seem like a humble job, but during and after the busy Semana Santa holiday period, Vallarta garbage collectors are the unsung heroes of our city, restoring order, beauty and cleanliness. It doesn't afford these men a high rate of pay, but there they are, making our city beautiful.

---
Daiquiri Dick's Special Menu Features a Taste of Asia

BanderasNews.com

Asia is a huge continent with many different cultures and each has its own way of cooking. To get a taste of it all, you'd have to do a lot of traveling. Unless you happen to be in Puerto Vallarta, where Daiquiri Dick's special menu will feature a Taste of Asia from April 19-30th. (Closed on Tuesdays.)

---
Delta, Aeromexico Build 6 Homes in Chulavista, Nayarit

PR Newswire

Delta Air Lines completed its 13th Global Build with Habitat for Humanity last week with the construction of six homes in Chulavista, Nayarit, 35 miles north of Puerto Vallarta, Mexico. Sixty-five volunteers participated in the joint build with Delta's alliance partner Aeromexico.

---
April 23 Bucerias Oyster Festival Offers Free Food & Fun

Banderas News Team

Since oyster harvesting is the mainstay of the economy in Bucerías, every year after Easter this laid-back seaside community hosts the Feria de Ostiones. This year the fun begins at 5 pm with the hosts welcoming attendees to enjoy thousands of oysters & hundreds of kilos of ceviche - for free!

---
'Semana Santa Protegida' Underway in Puerto Vallarta

Ricardo Acerco

SETAC's 2017 Semana Santa Protegida campaign kicked off Thursday at Lázaro Cárdenas Park, where information on the HIV virus and other STDs, condoms and lubricants, and rapid tests for HIV and syphilis are free for the asking from 11:00 am to 6:00 pm through Saturday.

---
Puerto Vallarta Offers Easter Vacationers Exciting Events

Banderas News Team

Municipal authorities, the Puerto Vallarta Tourism Trust and local businesses are working together to offer an exciting schedule of events with an emphasis on food, music and Mexican traditions for the thousands of visitors who will be here during the Easter holidays - and beyond! - to enjoy.

---
Earth Day Weekend at the Vallarta Botanical Garden

Neil Gerlowski

Make plans now to celebrate Earth Day Weekend at Vallarta Botanical Garden. This family-friendly community event aims to educates Puerto Vallarta residents and visitors on the importance of environmental stewardship and appreciation for our natural wonders - while having a ton of fun!

---
Act II STAGES Not Slowing Down For the Spring Season

Marie Callan

It may be April but, with new shows wowing audiences, ongoing favorites still 'packing them in,' encore performances of some of PV's favorites, and the return of the best Karaoke party in town, the fun never ends at the biggest entertainment venue in Puerto Vallarta - Act II STAGES.

---
Vallarta Yacht Club Junior Sailing Program Fundraiser

vallartayachtclub.org

The Vallarta Yacht Club will hold it's Semi-Annual Fundraiser for Banderas Bay's only Junior sailing program on Saturday, April 29th at the Vallarta Yacht Club in Nuevo Vallarta's Paradise Village. You'll enjoy a 3 course dinner, raffles, live and silent auctions - all for a good cause!

---
Salty Paw Jazz Orchestra at The Jazz Foundation May 7

Andrea Jupina

The Salty Paw Jazz Orchestra, Vallarta's first and only youth-based jazz orchestra, will be returning to The Jazz Foundation on Sunday, May 7th for the 3rd presentation in their First-Sunday-of-the-Month concert series.

---
Site Map
•
Print this Page
•
Email Us
•
Top