Free Newsletter!
Click HERE to read a serialized and updated version of
Polly G. Vicars' sell-out book, Tales of Retirement in Paradise
.
Vallarta Living
Living in Puerto Vallarta Mexico
For many the thought of living in - or even near - a major tourist resort is about as appealing as a buying a condo in Disneyland. But here in Vallarta, the incredible natural beauty, combined with a small town atmosphere and the inherent warmth and friendliness of the local people, attracts foreign residents who enjoy the good life.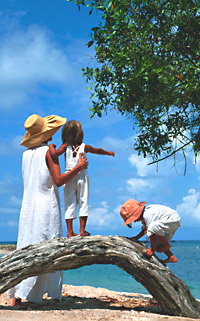 With a colorful blend of the old and the new, the Banderas Bay region offers an unrivaled combination of simple pleasures and sophisticated charms. Fine dining restaurants, art galleries, upscale shopping centers, internet cafes and nightclubs peacefully coexist alongside taco stands, street-side vendors and open air markets selling Mexican handcrafts, and strolling Mariachi bands.


But much of Puerto Vallarta's magic is in the hearts of her people. Often described as "one big, happy family," Vallartenses are known for their hospitality and for going out of their way to welcome foreign residents. And, since the Mexican people are extremely tolerant of different lifestyles, international residents and Mexican locals can live side-by-side in harmony - provided that the expatriate can learn to be creative and adaptable.


Puerto Vallarta is an unhurried refuge for people seeking more than just a beautiful beach. Those of us who choose to live here embrace the challenge of learning patience and understanding. Taking the time to "stop and smell the roses" along the road to becoming bicultural gives us the opportunity to grow - and to enjoy a more relaxed way of life.

• B E L O W T H E F O L D •
Vallarta Welcomed 400,000 Vacationers this Summer

Gerardo González

According to Municipal Tourism Director, Carlos Gerard, about 400,000 national and international tourists visited Puerto Vallarta during the 2014 Summer vacation period, bringing the seasonal tourism numbers up 15 percent from the same time period last year.

---
El Arrayán's Mexican Cooking Classes Resume October 6

BanderasNews.com

Puerto Vallarta's El Arrayán restaurant is happy to announce that starting October 6th they will resume their popular Traditional Mexican Cooking Classes. Owner/Chef Carmen Porras and Chef Alfonso Corona will teach you how to make a wide variety of classical Mexican dishes.

---
Becas Vallarta Changing Lives Through Education

Nelly Castellanos López

Becas Vallarta volunteers recently handed out $900,000 pesos in scholarships to middle school, high school and college students at Los Mangos Library. According to the President of the non-profit association, Mariel Fregoso, 409 young people from various institutions were benefited.

---
Update for Mexico Real Estate Buyers & Sellers

BanderasNews.com

Following up on the 'Important News for Mexico Real Estate Buyers & Sellers' article we published on August 6th, we asked Tropicasa Realty's Maria O'Connor if there were any updates on the new requirements for buyers and sellers of real estate in Mexico.

---
Downtown Businesses Want Malecón Reopened to Traffic

Martha Ramírez Ruiz

After business owners on Morelos Street began placing signs on the windows or outside walls of their establishments that attribute the drop in sales to the closing of Diaz Ordaz (the Malecón) to vehicular traffic, the Mayor of Puerto Vallarta spoke on the subject last week.

---
Vallarta Mayor Gives Students School Uniforms & Shoes

Gerardo González

Last week, 30,000 Puerto Vallarta preschool, primary and secondary school students were supplied with school uniforms, shoes and insurance as part of Mayor Ramón Guerrero Martínez's commitment to ensuring that the children and youth of this city receive a quality education.

---
3rd Night Free at Las Alamandas Luxury Boutique Hotel

BanderasNews.com

From September 12-21st, you can escape to paradise and enjoy the third night free during Las Alamandas Resort's Independence Day celebration. Located 80 miles south of Puerto Vallarta along Mexico's famed Costalegre coast, Las Alamandas is Mexico's ultimate escape.

---
UdeG CUCosta Joins Mexican Geothermal Innovation Center

Guadalupe Daniela Moreno Wulff

The University of Guadalajara's Academic Center for Seismology and Volcanology de Occidente (SisVoc) is developing an investigation to determine the areas of Jalisco, Nayarit and Tlaxcala in which geothermal energy, which is considered renewable and clean, can be exploited.

---
Vallarta Odds and Ends - Late Summer Edition

Maria O'Connor

Another summer is nearly behind us and although we still have a couple of more months of heat and humidity, the kids are back to school, business owners are planning their vacations and everyone seems to be gearing up for what looks to be an extremely busy high season.

---
August 22 Vallarta Happenings & Upcoming Events

Banderas News Team

There's always so much going on in Puerto Vallarta and around Banderas Bay, it can be difficult to keep up with it all. Here's a look at some of this week's local happenings, some community announcements, and a couple of upcoming events that you won't want to miss.

---
Puerto Vallarta Takes on the Ice Bucket Challenge

Tim Longpré

The 'Ice Bucket Challenge' is the latest Internet craze, involving people pouring cold water over themselves and posting their videos online to spread ALS awareness. And now it's our turn! Everyone in Vallarta is invited to 'take the plunge' at Los Muertos Pier on Tuesday, August 26.

---
Vallarta Nayarit Joint Campaign is Gaining Traction

travelpulse.com

The Vallarta Nayarit ad campaign, which is co-sponsored by the Mexico Tourism Board, is gaining traction. Tourism, especially from Canada and the U.S. West Coast and Midwest, was strong for both destinations during the first half of 2014, and is expected to increase.

---
Recipes & Real Estate: Mexican Pizza & Tabachines 6

Media Diva International

In this edition of Recipes & Real Estate, Laura Gelezunas show us how to make Mexican Pizza from the spacious kitchen at Tabachines 6 in Puerto Vallarta. The home is showcased with some extra window dressing in the form of the 'Kitchenettes,' who assist Laura with the recipe.

---
Puerto Vallarta Athlete Featured on CBS Sports Network

Puerto Vallarta Tourism Board

Puerto Vallarta star athlete, Karen Jacobson gains international attention as CBS sports announces it will broadcast the newly recognized 'Ultimate SUP Showdown' taking place August 17th-18th on the surfer favorite beaches of Waikiki.

---
Vallarta's R Salon Introduces the Gel Manicure

Christina Silvestri

Imagine a manicure with color that stays put for weeks. Puerto Vallarta's R Salon introduces the gel manicure: a hybrid of nail polish and gel, Shellac polish is applied similarly to nail polish, but lends varnished nails a special kind of long-lasting durability.

---
Anchors Aweigh! Sailing on Vallarta's Banderas Bay

Riviera Nayarit CVB

Located between the states of Nayarit and Jalisco, Banderas Bay is ideal for the practice of sailing sports of every kind. Its unique characteristics make it the perfect host destination for world-class sailing events, including regattas, kitesurfing and windsurfing.

---
Vallarta-Nayarit Tourism Numbers Rise Dramatically

Banderas News Team

New figures released from the Mexico Tourism Board illustrate how Vallarta-Nayarit is making a strong comeback, thanks to the destination's promotional campaign. State authorities recently met with Vallarta & Nayarit tourism delegates to discuss the joint campaign's success.

---
Daiquiri Dick's 2014 Summer Sizzle Ends August 25th

Banderas News Team

There are just a few days left to enjoy flavors from around the world at one of Vallarta's favorite beachfront restaurants - Daiquiri Dick's. Don't miss your last chance to enjoy three irresistible courses of old favorites and new tastes for $299 pesos, through August 25th.

---
Vallarta Life: Keep Cool with Fresh Squeezed Limonada

Laura Gelezunas

If you are going to be living in Puerto Vallarta, you'll soon learn that there's nothing like a cold drink to keep you cool on a hot day. One of Mexico's favorite thirst quenchers is called 'limonada,' or limeade. Here's a quick and easy recipe for fresh squeezed limonada.

---
New U.S. Travel Warnings Exempt Mexico Tourist Spots

Marie Callan

The latest travel warning for Mexico, issued by the US State Department on August 15, 2014, exempts the tourist destinations of Puerto Vallarta, Riviera Nayarit, Cabo San Lucas, Riviera Maya, San Miguel de Allende, Guadalajara and Mexico City from any warnings or advisories.

---
Galleria Dante's Vallarta Summer News and Art Sale

BanderasNews.com

The owners of Galleria Dante, the largest and most eclectic art gallery in Puerto Vallarta, have been keeping busy this Summer. They've been marking down selected art works from 20-60% for their Summer Art and Estate Sales, which means you can save big through September 30, 2014.

---
MEXLend Mortgages: Closing Loans and Seeing Mexico

BanderasNews.com

For MEXLend co-founders David Schwendeman & Terence Reilly, one of the best things about owning Mexico's leading residential mortgage brokerage is the opportunity to travel throughout the country & explore new places while helping foreigners secure financing for their dream homes.

---
Highway Construction Causes High Tech Jaguar Research

Riviera Nayarit CVB

This month, Mexico's Alianza Jaguar will initiate the capture of five jaguars to fit them with GPS collars. This measure is being taken to study their habits in an effort to reduce the impact of the Jala-Bahía de Banderas highway on the jaguar population in the Sierra de Valleja.

---
Puerto Vallarta Stars in HGTV's Beachfront Bargain Hunt

John Swanson

Home and Garden Television network recently shot their very popular 'Beachfront Bargain Hunt' program in Puerto Vallarta, and the results could not have been better. From state-of-the-art aerial photography to capturing the local flavor, this show is nothing short of amazing!

---
Las Alamandas' Baby Sea Turtle Protection Program

Ed Placidi

The Sea Turtle Protection Program at Las Alamandas has been a great success over the years, and now guests can participate in two action phases of the program - collecting the eggs and protecting the newly hatched babies - integral parts in boosting the sea turtle population.

---
August 15 Vallarta Happenings & Upcoming Events
Banderas News Team

There's always so much going on in Puerto Vallarta and around Banderas Bay, it can be difficult to keep up with it all. Here's a look at some of this week's local happenings, some community announcements, and a couple of upcoming events that you won't want to miss.

---
Grasshopper Snacks at Four Seasons Punta Mita Resort

Jo Piazza

There's a new addition to the menu at the high-end Four Seasons Resort Punta Mita in Mexico. Chapulines, more commonly known as grasshoppers and a delicacy in Mexico, are a result of the collaboration between Executive Chef Philippe Piel and his team of talented Mexican chefs.

---
Stan Gabruk's Puerto Vallarta Mid-August Fishing Report

BanderasNews.com

Summer is 'high season' for sportfishing in Puerto Vallarta, and it's getting better by the day for anglers - professional and amateur alike. August is when world class gamefish start to move into the Banderas Bay area, and right now Black and Blue Marlin are picking up in numbers.

---
Vallarta Botanical Gardens Cacao & Vanilla Celebration

Marie Callan

Come out and enjoy the Vallarta Botanical Garden's annual Rainforest Festival, where two important plant species native to the rain forests of Mexico, vanilla and chocolate, are being celebrated from August 19-31.

---
Site Map
•
Print this Page
•
Email Us
•
Top