Free Newsletter!
Click HERE to read a serialized and updated version of
Polly G. Vicars' sell-out book, Tales of Retirement in Paradise
.
Vallarta Living
Living in Puerto Vallarta Mexico
For many the thought of living in - or even near - a major tourist resort is about as appealing as a buying a condo in Disneyland. But here in Vallarta, the incredible natural beauty, combined with a small town atmosphere and the inherent warmth and friendliness of the local people, attracts foreign residents who enjoy the good life.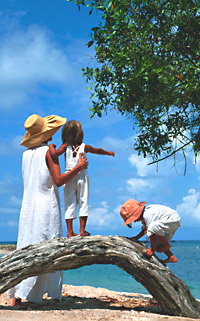 With a colorful blend of the old and the new, the Banderas Bay region offers an unrivaled combination of simple pleasures and sophisticated charms. Fine dining restaurants, art galleries, upscale shopping centers, internet cafes and nightclubs peacefully coexist alongside taco stands, street-side vendors and open air markets selling Mexican handcrafts, and strolling Mariachi bands.


But much of Puerto Vallarta's magic is in the hearts of her people. Often described as "one big, happy family," Vallartenses are known for their hospitality and for going out of their way to welcome foreign residents. And, since the Mexican people are extremely tolerant of different lifestyles, international residents and Mexican locals can live side-by-side in harmony - provided that the expatriate can learn to be creative and adaptable.


Puerto Vallarta is an unhurried refuge for people seeking more than just a beautiful beach. Those of us who choose to live here embrace the challenge of learning patience and understanding. Taking the time to "stop and smell the roses" along the road to becoming bicultural gives us the opportunity to grow - and to enjoy a more relaxed way of life.

• B E L O W T H E F O L D •
Riviera Nayarit Remains a Hot Destination in Mexico

Meagan Drillinger

According to the Riviera Nayarit tourism board, 2013 saw 2.3 million visitors to the destination, spending more than $1.6 billion. From the US, travel to Riviera Nayarit is highest from California, with 31% of the market, followed by Illinois at 11%, Texas at 9%, and Colorado at 8%.

---
Moving to Mexico: Box & Bring it - or Bag & Donate it?

Grace Ramirez

What does it take to make the move to Mexico? The subject came up the other day when one of our home buyers asked, 'Along with all the other changes - from immigration to capital gains and car importation - what can I bring to my new home in Mexico, and what is the procedure?'

---
Mamas in PV Party at El Rio BBQ Bar in Paso Ancho

BanderasNews.com

On Saturday, April 26, starting at 12 noon, Mamas in PV will throw a huge party to celebrate the little ones in a family friendly gathering with surprises, activities and tons of fun for kids of all ages at El Rio BBQ Bar & Restaurant in Puerto Vallarta's Colonia Paso Ancho.

---
Tierra Alta: Cabin Getaways Just One Hour from Vallarta

Eco-friendly Cabins for Vacation and Retirement

Set on 5 hectares of rolling hillsides, the Tierra Alta eco cabin development will comprise 28 country cabins built for weekend enjoyment or full-time living. Located near El Tuito, about an hour south of Puerto Vallarta, Tierra Alta offers all the modern conveniences of urban living.

---
Spring and Summer Specials at Daiquiri Dick's

Marie Callan

Puerto Vallarta's Spring and Summer months are made for entertaining, but who wants to spend their time standing over a hot stove? Especially now that Daiquiri Dick's is bringing back their nightly specials that will get you out of the kitchen and on to the beach!

---
IHG Opens Holiday Inn Express in Puerto Vallarta

InterContinental Hotel Group

InterContinental Hotels Group has introduced one of its most successful brands to Puerto Vallarta with the opening of the 115-room Holiday Inn Express Puerto Vallarta hotel. Equipped with 15 suites, this is IHG's second hotel in Vallarta, adding to the company's hotels in the area.

---
Vallarta Garden Club Ready for 2014 Bugambilia Fest

Suzanne Kirkpatrick

With only eighteen days before the festivities begin, the Puerto Vallarta Garden Club is deep into planning the city's Second Annual Bugambilia Festival, to be held May 9-11th. It is our wish that the event continues to grow into a powerful economic and tourism generator for Vallarta.

---
Vallarta Hosts 4th LGBT International Business Expo

Carlos Lopez

LGBT Confex's 4th International LGBT Business Expo has ended its early-bird special period with almost 30 entities already confirmed to participate in the Puerto Vallarta and Riviera Nayarit edition at the CasaMagna Marriott Puerto Vallarta Resort and Spa, June 12-14, 2014.

---
Meet Tierra Alta Eco Cabin Development's Horticulturist

BanderasNews.com

Canadian horticulturist, Bruce Beckler, will serve as the 'Master Gardener' for the Tierra Alta eco development. Located near El Tuito, about an hour south of Puerto Vallarta, Mexico, Tierra Alta offers eco-friendly cabins built for weekend enjoyment, full-time living, or retirement.

---
Democrats Abroad Presents 'Chasing Ice' on Earth Day

David Kamp and Judy Snow

In recognition of Earth Day 2014, the Costa Banderas Chapter of Democrats Abroad Mexico will present 'Chasing Ice' on April 22 at 7 pm at the Paradise Community Center. While there, US citizens can also get voter registration assistance from Democrats Abroad volunteers.

---
April 18th Vallarta News Brief and Upcoming Events

Banderas News Team

There's always so much going on in Puerto Vallarta and around Banderas Bay, it can be difficult to keep up with it all. Here's a look at some of this week's Puerto Vallarta news headlines and community announcements, plus a couple of upcoming local events that you won't want to miss.

---
Site Map
•
Print this Page
•
Email Us
•
Top