Free Newsletter!
Click HERE to read a serialized and updated version of
Polly G. Vicars' sell-out book, Tales of Retirement in Paradise
.
Vallarta Living
Living in Puerto Vallarta Mexico
For many the thought of living in - or even near - a major tourist resort is about as appealing as a buying a condo in Disneyland. But here in Vallarta, the incredible natural beauty, combined with a small town atmosphere and the inherent warmth and friendliness of the local people, attracts foreign residents who enjoy the good life.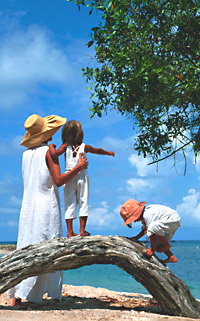 With a colorful blend of the old and the new, the Banderas Bay region offers an unrivaled combination of simple pleasures and sophisticated charms. Fine dining restaurants, art galleries, upscale shopping centers, internet cafes and nightclubs peacefully coexist alongside taco stands, street-side vendors and open air markets selling Mexican handcrafts, and strolling Mariachi bands.


But much of Puerto Vallarta's magic is in the hearts of her people. Often described as "one big, happy family," Vallartenses are known for their hospitality and for going out of their way to welcome foreign residents. And, since the Mexican people are extremely tolerant of different lifestyles, international residents and Mexican locals can live side-by-side in harmony - provided that the expatriate can learn to be creative and adaptable.


Puerto Vallarta is an unhurried refuge for people seeking more than just a beautiful beach. Those of us who choose to live here embrace the challenge of learning patience and understanding. Taking the time to "stop and smell the roses" along the road to becoming bicultural gives us the opportunity to grow - and to enjoy a more relaxed way of life.

• B E L O W T H E F O L D •
'Semana Santa Protegida' to Distribute 60,000 Condoms

Paco Arjona

From April 17-19, 'Semana Santa Protegida' booths at the Holiday Inn Beach, the Malecón, Plaza Lázaro Cárdenas, Los Muertos Beach and Pier, Blue Chairs, and the bus station, will be giving away free condoms, HIV rapid test coupons and HIV and STD information, from 11 am to 5 pm.

---
This Month's Hot Property at Tropicasa Realty

Casa del Sol - Nuevo Vallarta

Strategically located on the south end of Nuevo Vallarta on an endless stretch of beach between two of the finest developments in the Bay of Banderas - Paradise Village and Mayan Palace - you'll find Casa del Sol, an ocean front boutique condominium complex.

---
Spruce Up Your Home with Décor from the OTFM-TC

Erin Staley

April is National Decorating Month, which means it's time to spruce up your home with 'make it, bake it, grow it' must-haves from Puerto Vallarta's favorite weekend attraction, the Old Town Farmers' Market-Tianguis Cultural. Stop and shop this Saturday from 9:30 am-2 pm.

---
Vallarta Increases Tourism Services for Semana Santa

puertovallarta.gob.mx

To ensure Semana Santa visitors' stay in our city is pleasant, Tourism Director Gerard Carlos Guzman has increased the number of tourist information booths to six modules, each manned by a bilingual staff that provides information about Puerto Vallarta's many attractions.

---
Vallarta Offers Visitors More than Just Sun and Surf

Wayne Franklin

With the country's ever-improving economy, Semana Santa provides coastal communities with a huge influx of beachcombers from the interior of Mexico. But, for some Puerto Vallarta businesses, the number of visitors during these two weeks doesn't always translate into extra income.

---
Peña Nieto Unveils Holy Week Highway Safety Program

Maurilio Soto

During the opening ceremonies of the newly renovated stretch of the Jerez–Tlaltenango highway in Zacatecas, Peña Nieto launched a federal plan to provide for the safety of Mexican nationals and foreign visitors as they travel on the highways during these Holy Week holidays.

---
Marina Riviera Nayarit in La Cruz Celebrates Earth Day

Katrina Liana

Celebrate Earth Day on Tuesday, April 22nd at Marina Riviera Nayarit. The La Cruz Earth Day celebrations, sponsored by The Marina Poolside Deli, offer outdoor fun for all ages that includes a beach clean-up, great food and drink, games, live music, and even a bonfire!

---
Riviera Nayarit Hosts Open Water Swimming Competition

Lorena Sonrisas

The fourth annual Aguas Abiertas Open Water Swimming Competition organized by Nado Seguro has been announced, and it is scheduled to take place on May 17, 2014 at Marina Riviera Nayarit in La Cruz de Huanacaxtle. Come watch some of the most important athletes in Mexico compete!

---
2014 PV Bomberos Calendar Funds Support CPR Training

Tim Longpré

The 2014 Heroes calendar, which featured two dozen Puerto Vallarta fire fighters and lifeguards, generated over $200,000 pesos to support local community programs. Some of these funds will go to American Heart Association first aid and emergency CPR training and education.

---
Democrats Abroad Tuesday Film: 'The Impossible'

David Kamp and Judy Snow

As part of their Every Tuesday Night Film series, the Costa Banderas Chapter of Democrats Abroad Mexico is proud to present this week's movie, 'The Impossible.' This 2012 heart-stopping film will be shown at the Paradise Community Center on April 15th, at 7:00 pm.

---
Vallarta Yacht Club's 2014 Jim Ketler Award Winner

Richard Williams

The Vallarta Yacht Club's 2014 Jim Ketler Service Award has been given to Dee Cockerham of Nuevo Vallarta. This award is given annually to the person that has displayed active, positive support for the mission and goals endorsed by the VYC to benefit the greater Banderas Bay Community.

---
Beat the Heat with a Brazilian Blowout from R Salon

Christina Silvestri

Revitalize and avoid lackluster, frizzy locks caused by humidity and enjoy dipping into the ocean without consequence with a sleek and long-lasting Brazilian blowout from R Salon on the South side of Vallarta. Previously unruly hair will be beautifully sleek in just 90 minutes.

---
Puerto Vallarta Garden Club Meets at PCC on April 17

Suzanne Kirkpatrick

The Vallarta Garden Club's monthly meeting will be held at the Paradise Community Center on April 17th, and will feature researcher, educator and clinician-healer, Dr. Leslie Korn, who will speak on 'Traditional Healing and Medicinal Plants of Bahia de Banderas.' Join us!

---
April 11th Vallarta News Brief & Upcoming Events

Banderas News Team

There's always so much going on in Puerto Vallarta and around Banderas Bay, it can be difficult to keep up with it all. Here's a look at some of this week's Puerto Vallarta news headlines and community announcements, plus a couple of upcoming local events that you won't want to miss.

---
Punta Mita Gourmet & Golf Classic a Smashing Success

LivePuntaMita.com

Every year, the Punta Mita Gourmet & Golf Classic keeps topping itself in terms of events, guest chefs and winemakers, golf play, and participants! The IV edition, which took place April 4-6, was a smashing success, with flawless organization and all events filled to capacity.

---
Celebrate Earth Day at Vallarta Botanical Gardens

Marie Callan

Every year on April 22, over a billion people celebrate Earth Day by inspiring awareness of and appreciation for earth's environment. If you are in the Banderas Bay area, consider visiting the Vallarta Botanical Gardens. Traditionally, they celebrate with tree plantings and Gardens tours.

---
Old Town Farmers' Market Keeps the Celebrations Going

Erin Staley

This week Mexico will be celebrating Semana Santa. If you're in Vallarta, be sure to stop by the Old Town Farmers' Market-Tianguis Cultural for a whirlwind of fun. With live music, international edibles, and unique arts & crafts, we've got it all to keep the celebrations going.

---
Site Map
•
Print this Page
•
Email Us
•
Top