Entertainment
Around the Bay and Beyond
No matter what your interests are, Puerto Vallarta is always ready to entertain, offering a wide variety of entertainment options that will keep everyone amused. But it's up to you to decide how you want to spend your time here....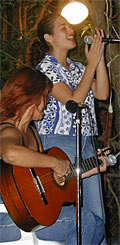 While every destination in Mexico has something to offer visitors, romantic Puerto Vallarta delivers something for everyone: beaches on a beautiful bay, great dining, a sizzling nightlife, Broadway quality stage plays, live music, movie theaters, cultural events, art galleries, excellent shopping, world-class golf and tennis, activities and excursions galore, and fun, fun, fun!


In Puerto Vallarta you can relax on a beautiful beach, play a round of championship golf, shop for Mexican handcrafts and dine in a wide variety of restaurants. There are also countless tours and activities to enjoy - from exciting jeep safaris and canopy tours in the tropical jungle to whale watching, sailing, snorkeling or scuba diving in Banderas Bay.


Visitors who appreciate cultural experiences will love the festivals and events hosted in Puerto Vallarta each year. A variety of cultural events, including the Gourmet Festival and an International Film Festival are designed for the cosmopolitan visitor, while Fishing, Tennis and Golf Tournaments are complemented by the Old Mexico flavor of this cozy seaside village.


And many visitors prefer to spend their days relaxing on the beach soaking up the warm tropical rays. Puerto Vallarta is a haven for weary vacationers who want nothing more than a good book, a tan and icy cold beers or margaritas delivered at regular intervals by an adept, and usually bilingual, waiter.

• B E L O W T H E F O L D •
Act II Celebrates Four Critically Acclaimed Shows

BanderasNews.com

As the only 5-Star venue in Puerto Vallarta, Act II is celebrating its biggest and best season ever! 'Little Shop of Horrors', 'Nunsense A-Men', 'Twist & Shout,' and 'Cinderella, The Musical' are getting rave reviews - and two new shows are opening this week!

---
Toys for Tots Vallarta Getting into the Christmas Spirit

VallartaNavyLeague.org

The Toys for Tots December fundraisers are always among the most popular seasonal events in Puerto Vallarta. This year, the Golf Tournament will be played on Saturday, December 8 at the Vista Vallarta course, and the Gala Dinner on the 9th at CasaMagna Marriott Resort.

---
Puerto Vallarta Garden Club Sunset Reception, Dec. 11

David Muck

Puerto Vallarta Garden Club members are invited to grab some friends and join us on December 11 for a sunset reception in the Molino de Agua garden. Uncork Mexico will offer a variety of Mexican wines and Jim Eckardt Catering will prepare appetizers to pair with the wine.

---
Theater, Music & More at Nacho Daddy / The Boutique

Catherine Caldera

As we head into the holiday season, The Boutique Theater and Nacho Daddy invite everyone to come out and have some fun! With new shows, movies, TED Talks and more, along with the best bands in Puerto Vallarta playing most every night, there's something fun for everyone!

---
Emilio Rama Art Exhibit Opens Dec. 14 at Galleria Dante

Claire Guarniere

On Friday, December 14 from 6-10 pm, a cocktail reception will open an art exhibition by Emilio Rama at Galleria Dante, Basilio Badillo #269, in Puerto Vallarta's Romantic Zone. Be sure to stop by and meet him while you're out doing next week's South Side Shuffle.

---
Vallarta Botanical Garden Chocolate & Vanilla Festival

Lorena Sonrisas

On January 11 Vallarta Botanical Garden will celebrate two plant species native to Mexico: Chocolate and Vanilla. Make plans now to come out and learn more about these botanical treasures while enjoying tours, tastings, food specials, Folkloric dance performances, and more.

---
Daiquiri Dick's Special Menu Features World Flavors

Laura Gelezunas

Take your taste buds on a world tour and you don't even have to leave Puerto Vallarta to do it! Daiquiri Dick's Restaurant is known for its international cuisine, and their bi-weekly dinner specials offer a wide selection of tastes through December 15, 2018.

---
Puerto Vallarta Chamber Orchestra Christmas Concerts

Patricia Jamison

Puerto Vallarta Chamber Orchestra Christmas Concerts are scheduled to take place on Sunday, December 16 in Puerto Vallarta and on Monday, December 17 in Nuevo Vallarta. The PVCO's holiday concerts have become an annual tradition, and this year's show promises to be extra-special.

---
Salty Paw Jazz Orchestra to Perform Free Concert Dec. 9

María Francesca

The Salty Paw Jazz Orchestra, the first and only youth-based jazz orchestra in Puerto Vallarta, will be performing a free concert at 5:00 pm on Sunday, December 9 at Plaza Caracol. Make plans now to come out and and show your support of these aspiring local musicians.

---
Vallarta Botanical Garden Tour & Culinary Adventure

Neil Gerlowski

There's no place quite like the Vallarta Botanical Garden, and the Botanical Delights Tour and Culinary Adventure is the best way to get the most from your experience there. This guided tour immerses guests in the natural beauty of Mexico and the richness of Mexican cuisine.

---
November at Act II Stages Exceeded All Expectations!

Daniel R. Mininni

Between all-new shows and the return of audience favorites, Act II continues to 'Rock' Puerto Vallarta with the best season of entertainment that this town has ever seen! And the hits just keep on coming at STAGES, where you can enjoy live entertainment every night of the week.

---
Vallarta Garden Club Holiday Luncheon at River Café

David Muck

Every year in December, Puerto Vallarta Garden Club members look forward to celebrating the season at our annual holiday luncheon. This year's party, set to take place at The River Café on Wednesday, December 5 at 12:00 noon, promises to be a festive affair!

---
ExPats in Vallarta December 2018 Happy Hours & Events

Sara Wise

In December ExPats in Vallarta, a totally social group offering informal fellowship and assistance for expat residents and visitors, will host Happy Hour Gatherings on Tuesdays the 4th, 11th & 18th; and a Special Dinner on Thursday the 13th. Make your reservations now!

---
'SkyDivas' Will Attempt to Set New Skydiving Record

Puerto Vallarta Tourism Trust

Puerto Vallarta will undoubtedly be called 'Mexico's Skydiving Capital' from December 5-8, when a group of 30 women will attempt to set a new record for the 'Most Mexican Women to Jump in a Skydiving Formation,' during an exciting 4-day event organized by Mextreme Skydiving.

---
Guillermo del Toro Offers Mexican Students Scholarships

Mexico News Today

Guillermo del Toro says he will provide scholarships to young Mexicans who want to study film at some of the world's leading universities. The selection will begin December 20, and the winner announced during the Guadalajara International Film Fair in March 2019.

---
2018 Festival Gourmet Events at The River Café

Ricardo Acerco

The River Café has been participating in the Vallarta Gourmet Festival for 21 years and, in this 24th edition, they have once again invited a world-renowned Guest Chef, Antoine Poitevin, from France. They are also hosting a special event, The Vintage Wine Fair, on December 1st.

---
Two Artist Exhibit Opens at Galleria Dante this Friday

Gena Guarniere

Exhibits by artists Jean Jaques Hudon and Gerald Gallant open at Galleria Dante on Friday, November 30, as part of this week's South Side Shuffle. Stop by Puerto Vallarta's largest and most eclectic art gallery to meet the artists and enjoy complimentary cocktails from 6-10 pm.

---
Kaiser Maximilian Hosts 2 Festival Gourmet Guest Chefs

Banderas News Team

Kaiser Maximilian has been participating in the Vallarta Gourmet Festival every year and, in this 24th edition, they're hosting guest chefs from France who, along with the restaurant's talented team of chefs, are cooking up a 'French Connection' menu that's being served through December 15.

---
Vallarta Chefs & Broadway Stars Unite for SETAC

Robert M. Schley

The Second Annual Red Ribbon Gala to benefit SETAC, Puerto Vallarta's LGBT Wellness Center, will be held on Wednesday, December 5, at Mantamar Beach Club on Los Muertos Beach. Last year's event sold out, and we expect this year's Gala to sell out again, so get your tickets TODAY!

---
The Palm Cabaret Officially Opens to a Sold-Out House

Alex Bourgeau

November 21 marked the beginning of the new season for The Palm Cabaret & Bar. Now in its 19th year, we welcome back some of Puerto Vallarta's favorite entertainers, and usher in some new fresh faces to the 2018/2019 season lineup of live entertainment.

---
Gourmet Dinner Benefits Puerto Vallarta Senior Center

María Francesca

On Tuesday, December 4, 2018, La Leche Restaurant will host a gourmet dinner to benefit Asilo San Juan Diego, a non-profit senior citizen's home and activity center in Puerto Vallarta that has been serving the elderly members of our community since 2011.

---
Act II the #1 Entertainment Venue in Puerto Vallarta

Daniel R. Mininni

Puerto Vallarta has recently become an 'entertainment destination,' and Act II is THE PLACE to go for the best in live cabaret, music, comedy, stage plays and drag shows. Here's a look at what Stages has planned to keep you entertained this week, including the opening of two new shows!

---
Riviera Nayarit Polo Cup Celebrates the 'Sport of Kings'

Norma Hernández

The VII Riviera Nayarit Polo Cup, set to take place from December 6-9 at La Patrona Polo & Equestrian Club in San Pancho, Nayarit, celebrates all the passion of the 'Sport of Kings.' More than just a polo match, this luxury event will feature food, fashion, art, music and more.

---
Puerto Vallarta Gearing Up for CarnavalPV 2019 Parade

Banderas News Team

With Mardi Gras just a few months away, Puerto Vallarta is gearing up for a special edition of its annual parade. This year's three-kilometer-long carnival parade will begin at 8:00 pm on Tuesday, March 5th in the hotel zone and proceed on the world-famous Malecón to Los Muertos Pier.

---
Thanksgiving Dinner & a Show at Qulture Jazz Bistro

Marie Callan

Enjoy an amazing Southern-Cajun Thanksgiving Dinner and one of two cabaret singers on stage at Qulture, a unique venue that blends art, music and food in one beautiful setting in the heart of Old Town Puerto Vallarta. Two seatings, at 6:30 and 8:30 pm, ensure personalized service.

---
Site Map
•
Print this Page
•
Email Us
•
Top