Entertainment
Around the Bay and Beyond
No matter what your interests are, Puerto Vallarta is always ready to entertain, offering a wide variety of entertainment options that will keep everyone amused. But it's up to you to decide how you want to spend your time here....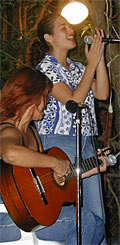 While every destination in Mexico has something to offer visitors, romantic Puerto Vallarta delivers something for everyone: beaches on a beautiful bay, great dining, a sizzling nightlife, movie theaters, cultural events, art galleries, excellent shopping, world-class golf and tennis, activities and excursions galore, and fun, fun, fun!


In Puerto Vallarta you can relax on a beautiful beach, play a round of championship golf, shop for Mexican handcrafts and dine in a wide variety of restaurants. There are also countless tours and activities to enjoy - from exciting jeep safaris and canopy tours in the tropical jungle to whale watching, sailing, snorkeling or scuba diving in Banderas Bay.


Visitors who appreciate cultural experiences will love the festivals and events hosted in Puerto Vallarta each year. A variety of cultural events, including the Gourmet Festival and an International Film Festival are designed for the cosmopolitan visitor, while Fishing, Tennis and Golf Tournaments are complemented by the Old Mexico flavor of this cozy seaside village.


And many visitors prefer to spend their days relaxing on the beach soaking up the warm tropical rays. Puerto Vallarta is a haven for weary vacationers who want nothing more than a good book, a tan and icy cold beers or margaritas delivered at regular intervals by an adept, and usually bilingual, waiter.

• B E L O W T H E F O L D •
Act II Closes Winter Entertainment Season With a Bang!

Marie Callan

Between award-winning musicals, captivating cabaret acts and the most outrageously entertaining drag shows in Puerto Vallarta, Act II has enjoyed record-breaking attendance throughout the winter season, and the Spring-Summer season promises even more quality entertainment!

---
17th Puerto Vallarta International Film Festival

Lorena Sonrisas

Puerto Vallarta's 17th International Film Festival will be ending on March 24, but there's still time to see some great movies - for free! On March 23, 'In America' will be shown in Salón Paraiso at Paradise Village at 7:00 pm, and 'Jonathan' at Barracuda on El Solar Beach at 9:00 pm.

---
ExPats in Vallarta April Happy Hours and Events

Sara Wise

ExPats in Vallarta, a totally social group with informal fellowship and assistance for Expat residents or visitors living, working, investing, or considering a move to Puerto Vallarta or the greater Banderas Bay area, has announced the events scheduled for the month of April 2017.

---
The Virtues of Natural Medicine for Pets & Their Humans

Paco Ojeda

While you are out doing your Saturday shopping at Mercados Los Mangos, be sure to stop by and say 'hello' to Claudia Hernández & Luis Estrada, who moved to PV less than 3 months ago. They own Alquimiate, a source of natural medicine products and therapies for pets and their humans.

---
Puerto Vallarta Chamber Orchestra's Spring Concerts

Andrea Jupina

Attention, classical music lovers! The Vallarta Chamber Orchestra will present its spring concert, 'Dvorak & the Balkans,' on Sunday, March 26 at 8 pm at the American School in Puerto Vallarta, and on Monday, March 27 at 8 pm, at the Centro Empresarial in Nuevo Vallarta.

---
Two PuRR-fectly Wonderful Fundraising Events This Week

Marilyn Khan

With two PuRRfectly wonderful fundraising events scheduled, the March 21 Sunset Fundraiser at Daiquiri Dick's and the season's LAST Ranch Tour on March 22, it is going to be a busy week for PuRR Project, the non-profit, no-kill shelter just north of Puerto Vallarta.

---
Weekend and Upcoming Events in Vallarta-Nayarit

Banderas News Team

There's always so much going on in Puerto Vallarta and around Banderas Bay it can be difficult to keep up with it all. Here's a look at some of this weekend's happenings in Vallarta-Nayarit, a few community announcements and a couple of upcoming events that you won't want to miss.

---
Hit Musical 'They're Playing Our Song' at Act II

Debbie White

What do you get when you combine the music of Marvin Hamlisch, the lyrics of Carole Bayer Sager, a story from playwright Neil Simon, and two of Puerto Vallarta's most talented actors? You get the phenomenal musical, 'They're Playing Our Song,' now playing at Act II Entertainment.

---
3rd Edition of Bike Fest Guayabitos, March 17-19

Riviera Nayarit CVB

The third edition of Bike Fest Guayabitos kicks off today, Friday, March 17th, in the Riviera Nayarit, offering cycling enthusiasts 3 days of bike rides and cycling competitions, talks on bicycles as a means of transportation, exhibitions, food, music, and contests.

---
Spring Happenings at Tu Casa en Vallarta, No Way José!

José Alfredo Gonzalez

Spring is in the air! Come celebrate Winter's last gasps with us at No Way José! In addition to great food and friends, there's always something fun going on at Tu Casa en Vallarta - like 2 for 1 Happy Hour every day from 4-6 pm and the Luz de Luna Trio playing every weekend.

---
San Pancho Circo de Los Niños' Fundraising Performances

Paco Ojeda

Circo de los Niños, a social and artistic program founded by Cirque du Soleil co-creator Gilles St. Croix, will present their annual fundraising performances March 22-25 at 7:30 pm in the Circo Bodega in San Pancho. This year's show, 'Sueño de una Noche de Verano,' promises to entertain.

---
Site Map
•
Print this Page
•
Email Us
•
Top