Entertainment
Around the Bay and Beyond
No matter what your interests are, Puerto Vallarta is always ready to entertain, offering a wide variety of entertainment options that will keep everyone amused. But it's up to you to decide how you want to spend your time here....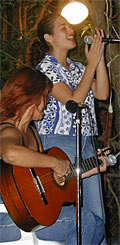 While every destination in Mexico has something to offer visitors, romantic Puerto Vallarta delivers something for everyone: beaches on a beautiful bay, great dining, a sizzling nightlife, movie theaters, cultural events, art galleries, excellent shopping, world-class golf and tennis, activities and excursions galore, and fun, fun, fun!


In Puerto Vallarta you can relax on a beautiful beach, play a round of championship golf, shop for Mexican handcrafts and dine in a wide variety of restaurants. There are also countless tours and activities to enjoy - from exciting jeep safaris and canopy tours in the tropical jungle to whale watching, sailing, snorkeling or scuba diving in Banderas Bay.


Visitors who appreciate cultural experiences will love the festivals and events hosted in Puerto Vallarta each year. A variety of cultural events, including the Gourmet Festival and an International Film Festival are designed for the cosmopolitan visitor, while Fishing, Tennis and Golf Tournaments are complemented by the Old Mexico flavor of this cozy seaside village.


And many visitors prefer to spend their days relaxing on the beach soaking up the warm tropical rays. Puerto Vallarta is a haven for weary vacationers who want nothing more than a good book, a tan and icy cold beers or margaritas delivered at regular intervals by an adept, and usually bilingual, waiter.

• B E L O W T H E F O L D •
The Boutique Theatre Welcomes New Managing Director

Catherine Caldera

Puerto Vallarta's Boutique Dinner Theatre is thrilled to announce the newest addition to its team. Melissa Tropp has stepped into the role of Managing Director, and is expected to release their schedule of shows and events for the 2017-2018 season in the next few weeks.

---
ASPV Students to Present 'Fiddler on the Roof JR.'

Amanda González Moreno

The American School of Puerto Vallarta has the answer to those who might think: 'If I were a rich man...' I'd go to Broadway to see 'Fiddler on the Roof.' The show, featuring around 40 students, premieres October 12, with additional shows on Oct. 13 & 14. All shows are at 8 pm.

---
VII American Express Punta Mita Gourmet & Golf Classic

Ricardo Acerco

The Punta Mita Gourmet and Golf Classic returns to Riviera Nayarit November 30-December 3. Now in its 7th year, this prestigious event offers everything a lover of luxury could wish for: a long weekend filled with food, wine and golf, in one of the most beautiful destinations in the world.

---
San Pancho Patron Saint Festival Sept 25-Oct 4

Lorena Sonrisas

Every year from September 25 through October 4, the small town of San Francisco (known as 'San Pancho') Nayarit, celebrates a nine-day festival honoring its namesake, Saint Francis of Assisi, that includes not only veneration of the patron saint, but a whole lot of merry making too.

---
A New Tour for Chocoholics and History Buffs Alike

BanderasNews.com

Puerto Vallarta Walking Tours has just announced a new walking tour for the coming season: Vallarta's first Chocolate Walk! For chocoholics and history buffs alike, this tour visits three chocolate shops, where you will see, smell, and taste chocolate of all types being made.

---
Puerto Vallarta Celebrates International Car-Free Day

Paco Ojeda

Puerto Vallarta will join the thousands of cities around the globe in celebration of International Car-Free Day on September 22. The celebration encourages people to spend one carefully prepared day without cars, and to reflect publicly and collectively on the lessons of this experience.

---
Expats in Mexico Launches 'I Love Mexico' Video Contest

PRNewswire

Expats In Mexico celebrated its first anniversary by launching an 'I Love Mexico' video contest on September 16. The winner of the contest will receive a $300 Amazon gift certificate. Second place will win a $200 gift certificate and third place a $100 gift certificate.

---
2017-2018 Centro Historico ArtWalk Starts October 25

Lorena Sonrisas

Thirteen art galleries in downtown Puerto Vallarta are busy getting ready for the 2017-2018 season's first Centro Historico ArtWalk and cocktail reception, which will be held on October 25th. This year's art walk will run every Wednesday evening from 6-10 pm through May 30, 2018.

---
Roberto's to Host Democrats Abroad's September Social

Democrats Abroad Mexico

The Costa Banderas Chapter of Democrats Abroad Mexico invites you to join us for our September Social in the air conditioned comfort of Roberto's Seafood Restaurant, located at Basilio Badillo 283 on the south side of Puerto Vallarta, on Tuesday, September 19th from 5:00-7:00 pm.

---
'Reina Fiestas Patrias 2017' Participants Presented

María Francesca

On Friday, the eight beautiful participants of the 'Reina Fiestas Patrias 2017' contest, which will be held in the courtyard of the municipal presidency on September 14 as part of the Independence Day celebrations in Puerto Vallarta, were officially presented to Mayor Arturo Dávalos Peña.

---
Mexico Commemorates Independence from Spain This Month

Maria O'Connor

September is El Més de la Patria, the month of the country, when Mexico celebrates its Independence from Spain on September 16th. In true Mexican style, there are plenty of festivities, entertainment and activities going on in Puerto Vallarta from September 13th through 17th.

---
Act II Entertainment Announces 2017-18 Season Shows

Marie Callan

Act II wraps up their Summer of Entertainment this week with the closing of Bob's Karaoke Party tonight, the last 'Spotlight on Vallarta' show on Thursday, and a special performance by Christine Deaver on Friday. But, as promised, Act II has released their full line-up of 2017-2018 shows.

---
Tianguis Lo De Marcos' Fourth Season Begins November 4

Galvan Real Estate

On Saturday, November 4, 2017, The Tianguis Lo de Marcos will reopen its doors for its fourth season, and you are invited to stop by and check it out! If you can't make opening day, this weekly market will be held every Saturday from 9 am until 2 pm through March 31, 2018.

---
StreetBar Puerto Vallarta Serves Up 'La Vida Social'

Ed Walsh

One of Puerto Vallarta's newest bars began as a passing comment from a bartender at Palm Springs' oldest gay bar. Joe McClaskey mentioned to StreetBar owner Dick Haskamp that a Chinese restaurant in a perfect location in the gay-popular Zona Romantica neighborhood was up for sale.

---
Starboard Yachts: The Ultimate Way to Tour Banderas Bay

Marie Callan

For those looking for a one-of-a-kind Puerto Vallarta experience, Starboard Yachts offers the ultimate in luxury yacht tours. With Starboard Yachts, you'll enjoy a truly luxurious day on the water aboard the most elegant, yet affordable, yacht charter available in Banderas Bay.

---
Traditional September Events in The Riviera Nayarit

Norma Hernández

Tourism promotion of the Riviera Nayarit continues throughout September with a series of activities backed by the Groups and Events office. Even though Mexican traditions and culture dominate this very patriotic month, there's also plenty of room for sports.

---
Vallarta's 5th Doctor's Day Great Race, October 22

Ricardo Acerco

The V Doctor's Day Great Race, to be held October 22 in Puerto Vallarta, offers competitions in three categories - 5k, 10k and Half Marathon (21 kilometers) on a panoramic circuit that begins and ends in Marina Vallarta - and more than $75,000 pesos in prizes up for grabs.

---
ExPats in Vallarta September Happy Hours and Events

Sara Wise

In September ExPats in Vallarta, a totally social group offering informal fellowship and assistance for expat residents and visitors, will be having two Happy Hour Gatherings, on Tuesdays the 5th & 19th; and two Special Dinners, on Thursdays the 14th & 28th. Make your reservations now!

---
Site Map
•
Print this Page
•
Email Us
•
Top