Entertainment
Around the Bay and Beyond
No matter what your interests are, Puerto Vallarta is always ready to entertain, offering a wide variety of entertainment options that will keep everyone amused. But it's up to you to decide how you want to spend your time here....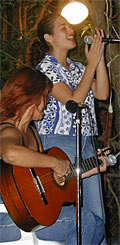 While every destination in Mexico has something to offer visitors, romantic Puerto Vallarta delivers something for everyone: beaches on a beautiful bay, great dining, a sizzling nightlife, movie theaters, cultural events, art galleries, excellent shopping, world-class golf and tennis, activities and excursions galore, and fun, fun, fun!


In Puerto Vallarta you can relax on a beautiful beach, play a round of championship golf, shop for Mexican handcrafts and dine in a wide variety of restaurants. There are also countless tours and activities to enjoy - from exciting jeep safaris and canopy tours in the tropical jungle to whale watching, sailing, snorkeling or scuba diving in Banderas Bay.


Visitors who appreciate cultural experiences will love the festivals and events hosted in Puerto Vallarta each year. A variety of cultural events, including the Gourmet Festival and an International Film Festival are designed for the cosmopolitan visitor, while Fishing, Tennis and Golf Tournaments are complemented by the Old Mexico flavor of this cozy seaside village.


And many visitors prefer to spend their days relaxing on the beach soaking up the warm tropical rays. Puerto Vallarta is a haven for weary vacationers who want nothing more than a good book, a tan and icy cold beers or margaritas delivered at regular intervals by an adept, and usually bilingual, waiter.

• B E L O W T H E F O L D •
Vallarta Ceviche & Aguachile Festival Returns July 29

BanderasNews.com

Puerto Vallarta restaurants are busy preparing to serve the hundreds of people expected to attend the fourth edition of the Festival del Ceviche y Aguachile, scheduled to be held from 12:00 noon to 7:00 pm at Lazaro Cardenas Park on Saturday, July 29, 2017.

---
ExPats in Vallarta August Happy Hours and Events

Sara Wise

During the month of August, ExPats in Vallarta will be having two Happy Hours and three ExPat Dinners. Everyone is enjoying getting out and mingling with other ExPats during this time of year. Getting out is great therapy for everyone, so make plans now to join us!

---
Act II's Main Stage Announces Exciting 5th Season Shows

BanderasNews.com

For weeks, we've been telling you that Act II Stages has been gearing up for the best season of entertainment that Puerto Vallarta has ever seen. Now they have announced the exciting line-up of shows coming to The Main Stage for their upcoming 5th season, which begins October 31.

---
Daiquiri Dick's Summer Sizzle: A Taste of Italy

Laura Gelezunas

Each region of Italy has its own traditional recipes that reflect the history and culture of that area, so to get a taste of it all, you'll have to do a lot of traveling. Unless you happen to be in Puerto Vallarta, where Daiquiri Dick's Summer Sizzle offers A Taste of Italy through July 31.

---
Act II Strikes Gold with Spotlight on Vallarta Series

Marie Callan

There are just two words that must be said to Act II Entertainment's Managing Partner Danny Mininni and Musical Director Alfonso Lopez: 'Mission accomplished!' The Mission? Scouring Vallarta for the very best local talent and giving them a stage. The result? A hit series of shows.

---
2017 NIIJIMA San Pancho Mexican Surf Open, July 21-23

Riviera Nayarti CVB

The beautiful beaches of the Riviera Nayarit will host the 2017 NIIJIMA San Pancho Mexican Surf Open from July 21-23. Mexicans and foreigners, professionals and amateurs: all surfers are invited to participate in this competition that offers $100 thousand pesos in prizes.

---
Summer Courses Return to Entreamigos in San Pancho

BanderasNews.com

Entreamigos Community Center in San Pancho recently announced its 2017 Summer Workshops for children ages 3-16. The camp will run from July 24-August 11, and offer kids art, ecology and other workshops limited only by the imagination of the volunteer teachers - which are needed!

---
24 Hour Rowathon to Raise Money for Kids with Cancer

BanderasNews.com

On July 28, Greg & Hillary Kennon, along with the members of Crossfit Zapata, will row (on rowing machines) for 24 hours to raise money for CANICA, a center in Puerto Vallarta that helps children with cancer. They'll be doing it during a free community fiesta that starts at 6 pm.

---
5th Playa Platanitos Sea Turtle Festival, July 22-23

Norma Hernández

Set to be held July 22-23, the Riviera Nayarit's 5th annual Playa Platanitos Sea Turtle Festival is bigger than ever, as in addition to the usual activities - including an Environmental Tourism Fair - there will also be a volleyball tournament, a bicycle circuit and a swimming competition.

---
This Month at Act II: New Shows, Returning Favorites

Danny Mininni

The Summer is flying by and shows no sign of slowing down at Act II Stages, where you can hear some of the best voices in Puerto Vallarta, get a sneak-peek at two upcoming Red Room cabaret shows, and audition for the Winter season's shows, like 'Rocky Horror' and 'Xanadu: The Musical.'

---
This Week's Events & Activities at Los Mangos Library

Adriana García

Puerto Vallarta's Public Library, Biblioteca Los Mangos, is not 'just a library,' it is a true cultural and community center that also serves as a venue for entertaining and educational workshops, art exhibits, concerts, and cultural events. Here's what's happening this week at Los Mangos.

---
Cheryl's Shoebox 2nd Annual Summer Bash, August 6

Vicki Steuteville

To raise funds for school shoes and supplies for local primary and secondary students and after-school programs in Colonias Progresso, Lomas de Enmedio and El Satrillo, Cheryl's Shoebox is hosting their 2nd Annual Summer Bash on August 6th at Babel Bar on La Isla Rio Cuale.

---
11th Banderas Bay Marlin and Tuna Fishing Tournament

Riviera Nayarit CVB

Fishing teams with up to four members per boat are invited to participate in the Bahía de Banderas Sport Fishing Club's 11th International Tuna and Marlin Fishing Tournament, which will take place July 20-22 at the Vallarta Yacht Club in the Paradise Village Marina in Nuevo Vallarta.

---
Jala & Xalisco, Nayarit Corn Festival, August 6–15

María Francesca

During the first two weeks of August, the annual Corn Festival in Jala & Xalisco, Nayarit, a region where the largest corncobs in the world are grown, gives everyone a chance to experience a very Mexican tradition. This year's Feria del Elote is set to take place from August 6–15.

---
Site Map
•
Print this Page
•
Email Us
•
Top