Entertainment
Around the Bay and Beyond
No matter what your interests are, Puerto Vallarta is always ready to entertain, offering a wide variety of entertainment options that will keep everyone amused. But it's up to you to decide how you want to spend your time here....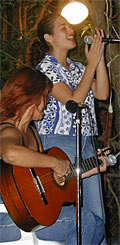 While every destination in Mexico has something to offer visitors, romantic Puerto Vallarta delivers something for everyone: beaches on a beautiful bay, great dining, a sizzling nightlife, movie theaters, cultural events, art galleries, excellent shopping, world-class golf and tennis, activities and excursions galore, and fun, fun, fun!


In Puerto Vallarta you can relax on a beautiful beach, play a round of championship golf, shop for Mexican handcrafts and dine in a wide variety of restaurants. There are also countless tours and activities to enjoy - from exciting jeep safaris and canopy tours in the tropical jungle to whale watching, sailing, snorkeling or scuba diving in Banderas Bay.


Visitors who appreciate cultural experiences will love the festivals and events hosted in Puerto Vallarta each year. A variety of cultural events, including the Gourmet Festival and an International Film Festival are designed for the cosmopolitan visitor, while Fishing, Tennis and Golf Tournaments are complemented by the Old Mexico flavor of this cozy seaside village.


And many visitors prefer to spend their days relaxing on the beach soaking up the warm tropical rays. Puerto Vallarta is a haven for weary vacationers who want nothing more than a good book, a tan and icy cold beers or margaritas delivered at regular intervals by an adept, and usually bilingual, waiter.

• B E L O W T H E F O L D •
ExPats in Vallarta June Happy Hours and Events

Sara Wise

ExPats in Vallarta, a totally social group with informal fellowship and assistance for Expat residents or visitors living, working, investing, or considering a move to Puerto Vallarta or the greater Banderas Bay area, has announced the events scheduled for the month of June 2017.

---
Vallarta Institute of Musical Arts Summer Concerts

Andrea Jupina

IAM PV recently announced the first two performances of its summer concert series. First, the Salty Paw Jazz Orchestra will be returning to The Jazz Foundation on Sunday, June 4; followed by an evening with the Puerto Vallarta Chamber Orchestra at Los Mangos Library on Friday, June 9.

---
Kaiser Maximilian Celebrates 22 Years & Restaurant Week

Banderas News Team

Kaiser Maximilian is celebrating 22 years as one of Puerto Vallarta's finest restaurants so, in addition to participating in Restaurant Week 2017, which runs through May 31st, they'll be serving their special $399 peso, three-course menu for lunch and dinner through June 8th.

---
The Riviera Nayarit Has Great Events Lined Up for June

Riviera Nayarit CVB

Travelers visiting the Riviera Nayarit in June will have an abundance of things to see and do, as the fun-filled experiences that make 'Mexico's Pacific Treasure' such a highly sought-after destination continue with a variety of top-notch festivals and tournaments scheduled.

---
Puerto Vallarta Celebrates 99th Anniversary May 26-31

Marie Callan

From May 26-31, 2017 Puerto Vallarta will commemorate its 99th anniversary of its induction as municipality and 49th of its elevation to the category of city during the Festival Cultural de Mayo, an annual 'May Fest' celebration that includes free concerts, sporting and cultural events.

---
RHA Electronic Music Festival Comes to Riviera Nayarit

Jorge Jiménez

More than 15 DJs from around the world will spin their house music at the La Cruz de Huanacaxtle Marina during the first-ever RHA Festival, June 30-July 1. The Festival was organized by DJs from Mexico and the US who saw the Riviera Nayarit as the ideal place to unveil this new project.

---
Restaurant Week 2017: Pan-Asian Cuisine at Archie's Wok

Banderas News Team

Archie's Wok has been serving up original Asian cuisine influenced by the flavors of Thailand, China, and the Philippines since 1986. Don't miss your chance to sample the fresh, Pan-Asian dishes on Archie's 2017 Vallarta Restaurant Week menu, which offers three courses for $269 pesos.

---
'You Are Here: Dichotomies of Landscape' Exhibit at OPC

Pilar Perez

Every year in May, the Office for Cultural Projects organizes an exhibition dedicated to Puerto Vallarta to celebrate both the city's and the gallery's anniversary. This year's exhibit, 'You Are Here: Dichotomies of Landscape,' opens on May 27 and runs through August 26.

---
Vegas-Style Pool Parties Coming to Vallarta This Summer

PubClub.com

La Coleccion Resorts introduces 'Hot Summer Extravaganza,' two months of themed pool parties that feature a lineup of six Mexican artists including DJs and fashion designers. They're set to take place in July and August at its all-inclusive Grand Fiesta Americana Puerto Vallarta.

---
Enjoy Vallarta Restaurant Week 2017 at Daiquiri Dick's

Banderas News Team

If you like sunset dining, be sure to add Daiquiri Dick's on Playa Los Muertos to your 'must visit' list during Vallarta Restaurant Week 2017. Daiquiri Dick's has participated every year, and this year Executive Chef Ignacio Uribe and his team have designed a wonderful 3-course menu for $399.

---
2017 Vallarta Restaurant Week at No Way José!

Patricia Martinez

What better place to enjoy Vallarta Restaurant Week 2017 than at Tu Casa en Vallarta? Award-winning Mexican restaurant, No Way José! is offering a scrumptious three course menu for just $399 pesos. Come enjoy an unforgettable meal that will exceed expectations.

---
'Todos Juntos - Together' PVGMC Gay Pride Concerts

Daniel Arzola

Join the Puerto Vallarta Gay Men's Chorus at 8:00 pm on Thursday, May 25th and on Saturday, May 27 for their fourth Gay Pride concert at Act II STAGES. These performances are part of Vallarta Pride, an annual event that celebrates the city's diverse and vibrant LGBTQI community.

---
Vallarta Will Host Intense Sporting Events This Month

puertovallarta.gob.mx

Last weekend's VII Festival of Basketball kicked off a series of sporting events that are scheduled to take place in Puerto Vallarta through the end of May. From vollyball and soccer tournaments to open water swimming and running competitions, there's something for everyone to enjoy.

---
This Week's Events & Activities at Los Mangos Library

Adriana García

Puerto Vallarta's Public Library, Biblioteca Los Mangos, is not 'just a library,' it is a true cultural and community center that also serves as a venue for entertaining and educational workshops, art exhibits, concerts, and cultural events. Here's what's happening this week at Los Mangos.

---
A Full Week of Vallarta Pride Entertainment at Act II

Banderas News Team

The fun never stops at the biggest entertainment venue in the Banderas Bay area! Especially during the 2017 Vallarta Pride celebrations, when Act II STAGES has planned a special line-up of shows to entertain the vibrant LGBT community that live in and visit Puerto Vallarta.

---
6th Jarretaderas Shore Fishing Tournament, May 21st

Riviera Nayarit CVB

The 2017 Jarretaderas Shore Fishing Tournament will take place on Sunday, May 21st. Now in its 6th year, the event was designed not only to search for the largest catch, but also to bring families together and promote surf fishing in the greater Banderas Bay area.

---
Bob's Karaoke Party, Wednesday Nights in Encore Lounge

Danny Mininni

Bob's Famous Karaoke Party has returned to Act II Entertainment STAGES! The fun starts every Wednesday at 6:00 pm with no cover and a 2 x 1 drink special that lasts til 8:00 pm. At 8:00 pm, some of the best voices in PV gather in Encore Lounge to sing, mingle and have fun!

---
May 26 Pulpito Drag Derby Part of 2017 Vallarta Pride

Tom Swale

The 4th annual Pulpito Drag Derby is set to be held at 6 pm on May 26, as part of 2017 Vallarta Pride. As many as twenty Drag Queens will race for $8,000 pesos in cash prizes, compete in six crazy challenges, and lip-sync for their lives in a quest to win the coveted 'Ruby Tacon' award.

---
Vallarta Restaurant Week 2017 Kicks Off on May 15

Banderas News Team

The organizers of Vallarta Restaurant Week have announced the details of the 13th edition of this gastronomic event, which is set to take place from May 15-31, 2017 at the 44 restaurants in Vallarta-Nayarit that are offering special three-course menus at reduced prices.

---
Vallarta Pride 2017 Schedule of Events Announced

BanderasNews.com

The fifth edition of Vallarta Pride, Puerto Vallarta's annual gay pride festival, is set to take place from May 21 to 28, 2017, and its Organizing Committee is proud to announce all of the events that will honor the vibrant LGBT community that live and visit our tourist destination.

---
Act II STAGES Announces Plans for the Summer Season

Danny Mininni

With the return of 'Whose Line Is It Anyway,' an improv show featuring the PV Players; Karaoke; the PVGMC Gay Pride Concert; the return of Mama Tits and Elvis Martinez; and 'Spotlight on Vallarta,' a Cabaret series featuring local talent; there'll be plenty of fun at Act II this summer!

---
Site Map
•
Print this Page
•
Email Us
•
Top