Entertainment
Around the Bay and Beyond
No matter what your interests are, Puerto Vallarta is always ready to entertain, offering a wide variety of entertainment options that will keep everyone amused. But it's up to you to decide how you want to spend your time here....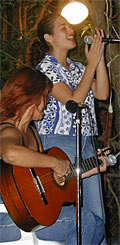 While every destination in Mexico has something to offer visitors, romantic Puerto Vallarta delivers something for everyone: beaches on a beautiful bay, great dining, a sizzling nightlife, Broadway quality stage plays, live music, movie theaters, cultural events, art galleries, excellent shopping, world-class golf and tennis, activities and excursions galore, and fun, fun, fun!


In Puerto Vallarta you can relax on a beautiful beach, play a round of championship golf, shop for Mexican handcrafts and dine in a wide variety of restaurants. There are also countless tours and activities to enjoy - from exciting jeep safaris and canopy tours in the tropical jungle to whale watching, sailing, snorkeling or scuba diving in Banderas Bay.


Visitors who appreciate cultural experiences will love the festivals and events hosted in Puerto Vallarta each year. A variety of cultural events, including the Gourmet Festival and an International Film Festival are designed for the cosmopolitan visitor, while Fishing, Tennis and Golf Tournaments are complemented by the Old Mexico flavor of this cozy seaside village.


And many visitors prefer to spend their days relaxing on the beach soaking up the warm tropical rays. Puerto Vallarta is a haven for weary vacationers who want nothing more than a good book, a tan and icy cold beers or margaritas delivered at regular intervals by an adept, and usually bilingual, waiter.

• B E L O W T H E F O L D •
Vallarta Entertainment Season in Full Swing at Act2PV
Marsha Ross

Between all-new shows opening and audience favorites continuing, Act2PV is 'Rocking' Puerto Vallarta with the best season of entertainment this town has ever seen! And the hits just keep on coming at Act II, where you can enjoy exceptional live performances 7 days a week.

---
'Movember' is All About Men's Health in Puerto Vallarta
Pamela Thompson

Healthcare Resources Puerto Vallarta is celebrating Men's Health Month by turning the DiagnostiK parking lot into a 'Movember' carnival - complete with free games, beer, tacos & live music! Join us on November 30, from 3-8 pm, as we promote prostate and testicular cancer awareness.

---
Celebrate Thanksgiving in Vallarta at Daiquiri Dick's
Banderas News Team

Holidays are a wonderful time to get together with family and friends and, if you are in Puerto Vallarta, Daiquiri Dick's is the perfect place to celebrate. Especially on November 28, when the restaurant will be serving a special Thanksgiving Dinner Menu right on Los Muertos Beach.

---
Shopping for Talavera Pottery in Puerto Vallarta, Mexico
Sandra Cesca

Blue & white pottery has always been a favorite of mine since my grandmother gave me a small pitcher from Italy. So, imagine my joy when I discovered Señor Talavera, a local shop operated by Moises Jimenez. His is one of four Talavera shops that I know of in Puerto Vallarta.

---
Timothy Real Estate Group: 105° Sail View Open House
Taniel Chemsian

Mark your calendar for Tuesday, November 26, so you won't miss Timothy Real Estate Group's Open House at 105° Sail View, a new condominium development, located just two blocks from the world-famous Los Muertos Beach Pier in Puerto Vallarta's trendy Romantic Zone.

---
A Festival of Comedy, Circus & Street Arts, with a Cause
Diego Sancho

Vida Fest, an International Comedy, Circus and Street Arts Festival, will be held Nov 15-16, 2019 at Los Arcos del Malecon in downtown Puerto Vallarta. The festival is a non-profit event designed to raise social awareness about the problem of suicide through free cultural activities.

---
Puerto Vallarta Taco Festival Returns November 16-17
María Francesca

The Puerto Vallarta Taco Festival returns November 16-17, 2019 and will feature some of PV's best taco restaurants offering a variety of Mexico's most representative dish, plus beer and tequila, Lucha Libre, live music and more, from 2-11 pm at Predio IPEJAL in the city's Hotel Zone.

---
Mariachis, Margaritas & More - a Real Mexican Fiesta
Amapas Neighborhood Association

On Saturday, November 30, the fourth edition of 'Mariachis, Margaritas, and More' will once again bring the amazing sights, exhilarating sounds, and authentic flavors of Mexico to the Puerto Vallarta Municipal Presidency courtyard - for a good cause!

---
A New Selection of World Flavors at Daiquiri Dick's
Banderas News Team

An authentic world kitchen can be found at Daiquiri Dick's. The menu at this popular restaurant on Los Muertos Beach is always evolving, and their bi-weekly dinner specials make it easy to sample cuisines from all over the world - right here in Puerto Vallarta.

---
64th Sailfish & Marlin Tournament, November 13-16
Richard Dangler

The 2019 Puerto Vallarta International Sailfish and Marlin Fishing Tournament is scheduled to take place in the waters of Banderas Bay Nov. 13-16. Now in its 64th year, this is one of the Mexican Pacific's most prestigious sportfishing tournaments, attracting anglers from all over the world.

---
Site Map
•
Print this Page
•
Email Us
•
Top