Entertainment
Around the Bay and Beyond
No matter what your interests are, Puerto Vallarta is always ready to entertain, offering a wide variety of entertainment options that will keep everyone amused. But it's up to you to decide how you want to spend your time here....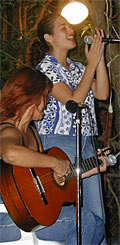 While every destination in Mexico has something to offer visitors, romantic Puerto Vallarta delivers something for everyone: beaches on a beautiful bay, great dining, a sizzling nightlife, movie theaters, cultural events, art galleries, excellent shopping, world-class golf and tennis, activities and excursions galore, and fun, fun, fun!


In Puerto Vallarta you can relax on a beautiful beach, play a round of championship golf, shop for Mexican handcrafts and dine in a wide variety of restaurants. There are also countless tours and activities to enjoy - from exciting jeep safaris and canopy tours in the tropical jungle to whale watching, sailing, snorkeling or scuba diving in Banderas Bay.


Visitors who appreciate cultural experiences will love the festivals and events hosted in Puerto Vallarta each year. A variety of cultural events, including the Gourmet Festival and an International Film Festival are designed for the cosmopolitan visitor, while Fishing, Tennis and Golf Tournaments are complemented by the Old Mexico flavor of this cozy seaside village.


And many visitors prefer to spend their days relaxing on the beach soaking up the warm tropical rays. Puerto Vallarta is a haven for weary vacationers who want nothing more than a good book, a tan and icy cold beers or margaritas delivered at regular intervals by an adept, and usually bilingual, waiter.

• B E L O W T H E F O L D •
Season's First South Side Shuffle at Galleria Dante

Banderas News Team

An exhibition by Canadian artist Marc Galipeau opens at Galleria Dante on Friday, November 24, as part of the first Southside Shuffle of the 2017-2018 season. Stop by PV's largest and most eclectic art gallery to meet the artist and enjoy complimentary cocktails from 6-10 pm.

---
New Pixar Movie 'Coco' Already Set a Box Office Record

Fortune

Walt Disney's 'Coco,' an animated Pixar movie set in Mexico during its Dia de los Muertos (Day of the Dead) holiday and featuring several Mexican voice actors, has performed extremely well since its release on October 27, 2017. In fact, it has already made box office history.

---
Vallarta's Entertainment Season in Full Swing at Act II

Daniel R. Mininni

Act II is 'On Top of the World' - or, with new shows opening and ongoing favorites selling out nightly, at least on top of Vallarta's entertainment scene! And the hits just keep on coming at STAGES, where you can enjoy live entertainment in all three venues every night of the week.

---
2017 Punta Mita Charity Golf Classic, Nov. 18

Ricardo Acerco

On Saturday, November 18, for one day only, Punta Mita will open its exclusive golf course to players from all around the bay - regardless of their membership status. Fundación Punta de Mita and PEACE Punta de Mita invite you to play for a cause at the Punta Mita Charity Golf Classic.

---
Beachfront Fashion Show to Benefit Corazón de Niña

Banderas News Team

Tired of wearing the same old beachwear day in and day out? Then come to El Dorado Beach Club on Playa de Los Muertos on Saturday, November 25 for the second annual Beachfront Fashion Show to benefit Corazón de Niña, a shelter for abused and abandoned children in Puerto Vallarta.

---
Cynthia Lee Fontaine to Headline Casa Cupula Quinceañera

George Rivas

Cynthia Lee Fontaine, undisputed Miss Congeniality of hit reality TV show 'RuPaul's Drag Race,' has been selected by the team at Casa Cupula Boutique Hotel to headline the property's highly anticipated quinceañera - or 15th anniversary - celebration, to take place January 19, 2018.

---
November 15 Texas Festival Benefits Pasitos de Luz

Banderas News Team

On November 15, Hotel Secrets Vallarta Bay will be throwing a Texas Experience FUNdraiser that includes music, food, and a lot of Texas-size fun to benefit Pasitos de Luz, a Puerto Vallarta non-profit that provides free vital services to disabled children living in extreme poverty.

---
Punta Raza Surf Fishing Tournament, November 25-26

Riviera Nayarit CVB

The Tepic Surf Fishing Club is inviting all surf fishing aficionados to participate in the eleventh edition of their annual Shore Fishing Tournament, set to be held on the shores of Playa Punta Raza in the Riviera Nayarit on November 25 and 26, 2017.

---
Puerto Vallarta Taco Festival Returns November 18-19

María Francesca

The 2017 Puerto Vallarta Taco Festival returns November 18-19th and will feature some of PV's best taco restaurants offering a wide variety of Mexico's most representative dish, plus beer and tequila tastings, Lucha Libre, live music and more, at the Municipal Sports Stadium.

---
Act II Opens With a BANG! Breaking Box Office Records

Daniel R. Mininni

Sporting an all new look and box office record breaking shows, Act II Entertainment is very excited about the 2017-2018 season. Featuring 42 different shows, many of Vallarta's favorite performers have already returned to STAGES, but there's also some hot, new surprises in store!

---
Sea Monkey Hosts 'Luau' in Support of PuRR Project

Marilyn Khan

On Friday, December 8th at 5 pm, Sea Monkey Restaurant will be hosting the Fifth Annual Luau on the Beach to benefit the 180+ cats living at the PuRR Project shelter in Puerto Vallarta. Tickets to this fun-filled charity event always go quickly, so get yours before they sell out!

---
Salty Paw Jazz Orchestra Presents 'A Salty Winter'

BanderasNews.com

As a big supporter of the arts in Puerto Vallarta, Act II is excited to present 'A Salty Winter,' a concert by the Salty Paw Jazz Orchestra on December 3. The Big Band Orchestra-style concert will feature performances by young musicians who have been learning to improvise their solo style.

---
Beverly & Willow Bring Smooth Jazz to No Way José!

Julie Guerrero

Award-winning Puerto Vallarta favorite, No Way Jose! Restaurant/Bar announces an exciting addition to their live music entertainment roster with Beverly & Willow. Enjoy traditional jazz seasoned with Latin spices and delicious Mexican contemporary cuisine every Thursday & Saturday.

---
Site Map
•
Print this Page
•
Email Us
•
Top