Editorials | Opinions | December 2009
Transgender/Transsexual People

Alex Gomez - PVNN
December 09, 2009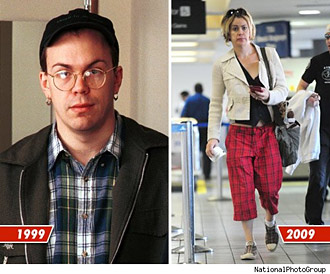 Larry/Lana Wachowski
It must have been about ten years ago that Paco Paco was the 'in' gay bar in Vallarta. It had a gorgeous bouncer, who was apparently in love with one of the transvestite performers there, Marilyn. I hit on him more than once, but he always insisted that he was straight, not gay. At first I was confused. How could a man who claimed to be in love with a drag queen not be gay? Then it occurred to me that the bouncer viewed Marilyn as a woman. I never found out if Marilyn had had a sex change, but I do remember that she had very real, Marilyn Monroe-style breasts, so I thought to myself, if I can be gay, why can't this good-looking bouncer be straight, and Marilyn a woman?


A few years later, at university, I learned much more about transgender and transsexual people. For one thing, they don't like labels, particularly medical labels. Transgender, as well as transsexual people, consider themselves to have been born into the body of the wrong sex (presuming, of course, that there are only two sexes). Transsexual people go one step further and have their sex changed to that of the 'opposite' sex. Many TG and TS people don't consider themselves homosexual, although some may have thought they were, and have tried out same sex relationships, only to wind up disappointed. Some TG and TS people are actually homophobic; conversely, some gays, lesbians and bisexuals are transphobic.


What brought this endlessly fascinating subject to my mind recently was that I was watching a show about upcoming movies on T.V. and heard the commentator say, "And now, for the Wachowski brothers' latest..."


Immediately I recoiled, because I'd met a woman in Vallarta about a year ago, who worked with the Wachowskis. She informed me, after I'd asked her if one of the brothers was gay, because their movies often had marked gay and lesbian sensibilities that Larry Wachowski was transgender, and would soon become a woman, but that she would still love other women.


As such, the commentator's labelling of the Wachowski "brothers," instead of "siblings," struck me as a kind of erasure, and pissed me off.


I realize I'm different from most people in accepting these kinds of things without a second thought. I think the more we mess with straight people's minds, the better.


Last year, I began to watch a T.V. show called Dirty, Sexy Money, about the fabulously wealthy New York family, the Darlings, who are both generous and corrupt. I loved it immediately, because I started with the episode in which Juliet (Samaire Armstrong) and Jeremy Darling (Seth Gabel), twins, as well as the youngest of the brood, were each hosting their own birthday parties; Juliet in her home, the theme of which was Marie Antoinette, and Jeremy his on the Brooklyn bridge, the theme of which was himself. At one point Juliet is spurned by a man she was attracted to, and as she is about to go to her twin's party instead, two of her friends try to stop her. "What about all your guests?" they protest. "Let them eat cake," replies Juliet, as the elevator door closes before her.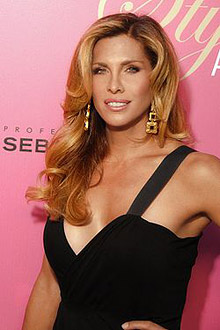 Candis Cayne
It wasn't long into the story of the show that a woman named Carmelita appeared, as Patrick Darling's (William Baldwin) mistress. I knew immediately that there was something different about Carmelita, who, while being beautiful and sexy, had a voice didn't match her looks. I soon found out that Carmelita was really Candis Cayne, a transsexual woman who'd started out performing in New York with her now husband, a DJ named Marco McDermott. For those of you who are more than 100% heterosexual, the name Candis Cayne is a play on the words candy cane. Most drag performers adopt such tongue-in-cheek names, such as Sofonda Cox and Debora Hombres.


Transsexuals don't mind being called transgender, as I learnt from watching a YouTube of Candis being interviewed by Chelsea Handler. Her original name was Brendan McDaniels, and she has a fraternal twin named Dylan, with whom she grew up in Maui, Hawaii, where her parents went to teach at a Waldorf school. After graduating from high school, and being pestered by the kind of stupid questions one might expect, such as "are you a boy or a girl?" or, "which restroom do you use?" she moved to Los Angeles, where she studied dance for a year. After this, she moved to New York, and it wasn't until she'd being doing drag and choreography there for three years that she realized the term "transsexual" applied to herself.


Before she broke ground by being the first transgender woman to star on a T.V. show, Candis had already acted in such films as Wigstock: The Movie, the comedy-drama film Stonewall, and the Universal Studios comedy film To Wong Foo, Thanks for Everything! Julie Newmar, for which she also did choreography In 1997. Cayne co-starred in the music video for RuPaul's "A Little Bit of Love" with female impersonator Jazzmun. Cayne also starred as the title character in the 1998 independent film Mob Queen, and won the 2001 Miss Continental pageant. In 2007 Cayne was cast as Annaka Manners in the 2007 RuPaul film Starrbooty.


Cayne once called the LGBT community "the last great minority" and supports the Gay and Lesbian Alliance Against Defamation. Her goal is to one day star as a woman, which she clearly is.
---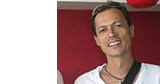 Alex Gomez is an award-winning writer, who'd die if he couldn't write. To date, he has written numerous short stories, hundreds of articles and two serious novels.

Click HERE to read more articles by Alex Gomez.
Tell a Friend
•
Site Map
•
Print this Page
•
Email Us
•
Top