Travel Writers' Resources
Honduran Journalist Shot Dead, 9th Slain this Year

Freddy Cuevas - Associated Press
go to original
June 16, 2010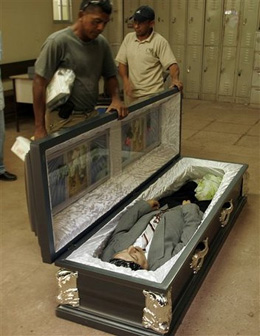 Morgue workers prepare to close a casket containing the body of television Honduran journalist Luis Arturo Mondragon in Tegucigalpa, Tuesday, June 15, 2010. Mondragon was murdered Monday by unknown gunmen in Tegucigalpa, turning into the ninth journalist killed in Honduras since the year began. (AP/Fernando Antonio)
Tegucigalpa, Honduras — A television reporter was shot dead outside his station, becoming the ninth journalist killed in Honduras this year, officials said Tuesday.


Two gunmen killed Luis Arturo Mondragon on Monday night as he left Channel 19 station in Santa Clara de Danli, a town outside Tegucigalpa, Security Department spokesman Leonel Sauceda said. Mondragon had just finished broadcasting his show.


Police have no suspects or clear motive, but are looking into criminal complaints filed against Mondragon last year for sexual assault and for stealing cattle, Sauceda said.


"Both situations are still being investigated and could be key to the reasons the journalist lost his life," he said.


International and local news-media advocacy groups have denounced a string of attacks on reporters since the June 28, 2009 coup that ousted President Manuel Zelaya.


Last week, Channel 8 journalist Karol Cabrera fled to Canada after surviving two attempts on her life. The first attack, in December, killed her pregnant 16-year-old daughter.


Cabrera was a sympathizer of the interim government that ruled after the coup until the January inauguration of newly elected President Porfirio Lobo.


Colleagues said Mondragon also backed the coup and was known in Danli for carrying a gun.


Journalist and activists who opposed the coup have also been attacked.


Honduras is one of Latin America's most violent countries, and the bloodshed has many roots, including political tensions, drug trafficking and street gang wars.


More than 50 lawyers, politicians, businessmen, journalists have been killed in the past two years.


Nobody has been arrested in the slayings.
Tell a Friend
•
Site Map
•
Print this Page
•
Email Us
•
Top