Travel Writers' Resources
President Expresses Condolences over Death of Journalist Fidel Samaniego

Suzanne Stephens Waller - Presidencia de la República
go to original
August 07, 2010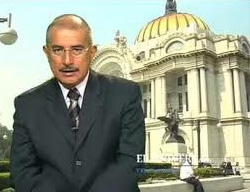 Fidel Samaniego Reyes (El Universal)
The Presidency reports that President Felipe Calderón and his wife Margarita Zavala expressed their deepest condolences over the death of journalist Fidel Samaniego Reyes, distinguished contributor to El Universal Newspaper, which occurred today.


President Calderón declared that today is a sad day for national journalism and the contemporary history of Mexico, since we lost one of our most prestigious chroniclers who managed to transmit the events of national life in Mexico through his writing.


He said that the winner of the National Journalism Prize 1989 was able to capture and transmit the political events that have shaped the reality of our country in addition to contributing to the construction of a political culture based, among other values on the plurality of ideas and freedom of the press.


The Calderón Zavala family sympathized with his wife, Olivia Behar de Samaniego and their children Nitza and Yoab Samaniego Behar and expressed their solidarity at this time of grief, wishing them solace from this irreparable loss.
Tell a Friend
•
Site Map
•
Print this Page
•
Email Us
•
Top