Editorials | Issues
Mexico Marks Revolution Centennial Amid New Struggles

Agence France-Presse
go to original
November 22, 2010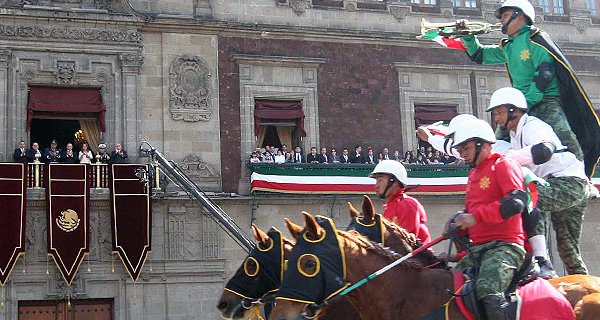 Mexico's President Felipe Calderon oversees a parade commemorating the 100 anniversary of the Mexican Revolution in Mexico City's Zocalo plaza, Saturday Nov. 20, 2010. (Presidencia de la República)
Mexico on Saturday marked the centenary of its revolution - the first major social revolution of the 20th century - with its goal of greater justice in mind as the country battles poverty and violent crime.


"We acknowledge the thousands of Mexicans who struggled and gave their lives to achieve a fairer and more equal Mexico for themselves and their children," President Felipe Calderon said in an address.


The movement started with a November 20 uprising led by Francisco Madero against dictator Porfirio Diaz, just months after Mexico celebrated the centenary of its 1810 independence from Spain. Its representatives produced a constitution in 1917, but outbreaks of warfare continued into the 1920s.


The revolution left more than one million people dead, maybe twice as many, according to some historians.


It led not only to the constitution, but also to education and land reforms as well as the eventual creation of the PRI, or Institutional Revolutionary Party, which was the dominant power for 71 years, creating relative stability in a region long marked by political unrest.


Although Mexico is the 12th largest economy in the world, about half its population of 107 million still lives in poverty.


And commemorations for both the centenary and bicentenary come as the country is again struck by violent upheaval, this time from vicious drug gangs blamed for more than 28,000 deaths in less than four years, amid a military crackdown involving some 50,000 troops.


"The nation is not in a party mood... I would not be surprised if it occurred to some clear thinkers that the Revolution did not achieve all that much. Because Mexico is not better off than many countries where there was no revolution," author Hector Aguilar Camin wrote in an essay in Saturday's Milenio newspaper.
Tell a Friend
•
Site Map
•
Print this Page
•
Email Us
•
Top