Editorials | Issues
In Mexico, a Legal Breakdown Invites Brutal Justice - 2

Nick Miroff & William Booth - Washington Post
go to original
December 10, 2010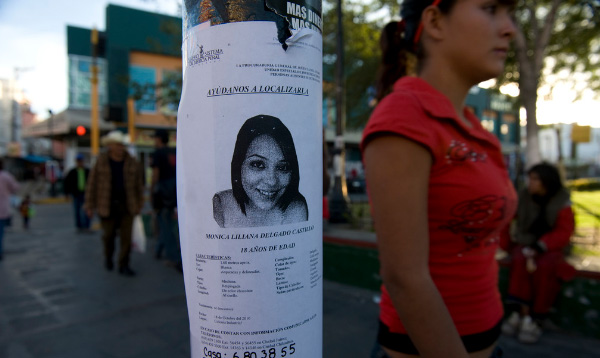 Posters about missing women hang on street posts in downtown Ciudad Juarez. Kidnapping is just one of the crimes driving a wave of rough justice. (Nikki Kahn/The Washington Post)
More than 96 percent of crimes committed in the city over the past three years remain unsolved, according to a database maintained by the city's El Diario newspaper.


At the state prosecutor's offices in Juarez, unsolved homicide cases were stacked up in manila folders, rising from investigators' desks in mountains of paper.


'We won't take it'


Members of the armed citizens' group in Ascencion said they're not trying to challenge the drug cartels or interfere with their smuggling operations, which would be suicidal. But they said they can no longer abide the kidnappings, rapes, shakedowns and other abuses that have terrorized residents.


"We won't take it anymore," said Victor Hernandez, a block captain delegated to oversee security in Ascencion, which the group has divided into quadrants.


Mexican gun control laws limit citizens to owning smaller-caliber weapons and a handful of bullets for home defense, but group members said they were not going to leave themselves vulnerable and outgunned.


In Ascension, the group has erected a siren tower, like the kind that might warn residents in Kansas of an impending tornado, to alert everyone in town that a kidnapping is in progress. Members of the group then quickly mobilize and block the highway that passes through town.


With support from local officials, the group has also dug a trench around the town, wide and deep enough that a vehicle could not escape by driving off-road.


Members of the group said they plan to turn suspects over to authorities but were prepared to "disappear" them if authorities fail to do their jobs. The body of a suspected stereo thief was found on the edge of town in October, as rumors circulated that he too had been lynched.


"This whole country is suffering," said Fernando Saenz, the citizen group's elected leader. "It's time for the people to take over, because the government isn't doing its job. We have to take care of ourselves."


Not waiting for help


Saenz, 63, was one of the residents who attacked the kidnappers on Sept. 21. Some in the crowd broke their hands and wrists as they pounded the suspects furiously, he said.


Federal police pulled the kidnappers from the mob, and then handcuffed and locked them in a police vehicle. As the crowd swelled, chanting "Kill them! Kill them!" and "We want justice!" residents blocked the police from leaving or landing helicopters.


Already bloodied from the beating, the kidnapping suspects died inside the sweltering-hot police vehicle. No one was charged, which is not surprising given the huge crowd and the widespread public support for what happened.


"These people are farmers; they're not murderers," said Julian Lebaron, a leader of the large Mormon community south of Ascension. "I don't approve of the lynching here in Ascencion, but the spirit of what happened here is what we need in Mexico."


In his own town, Lebaron said residents have erected a watchtower, and each night two men climb the ladder and peer out into the darkness through night-vision goggles. Asked what they would do to stop a kidnapping or assault, Lebaron said, "We would call the authorities, but we wouldn't sit around and wait for them to come help us. We would defend ourselves."

miroffn(at)washpost.com - boothb(at)washpost.com
Tell a Friend
•
Site Map
•
Print this Page
•
Email Us
•
Top