Editorials | Issues
American Missionary Brings Solace to Drug-Torn Mexican Region - 2

Nick Miroff - Washington Post
go to original
December 08, 2010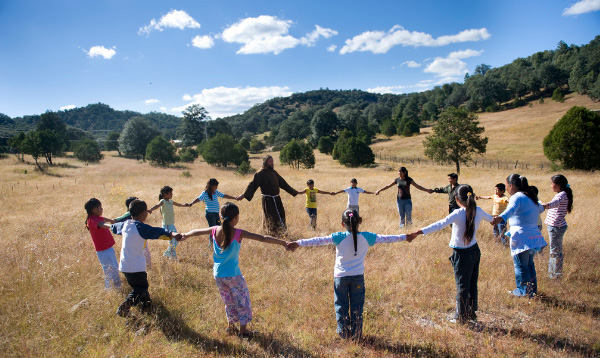 Beaumont spends the afternoon with Pima children, singing songs and playing games in Yecora. With his long beard and hair, and 6-foot-3 frame, he is an emissary for peace, humility and love. (Nikki Kahn/Washington Post)
"He brought a sense of tranquility and faith back to the people," said Isaul Holguin, a town official in Yecora. "They feel he protects them." The military also put a new checkpoint along the highway. The armed men from Chihuahua have not come back.


On a Saturday evening in late October, Beaumont made his weekly stop for Mass in Maycoba. The front door of the police station was still pocked with bullet holes.


The small, stone church filled with young women and fidgety children. There wasn't a single man in the pews. Outside, in the dark, dusty plaza, the older boys played soccer.


Beaumont's sermon that night was about Saint Francis: Three thieves came to the convent where Saint Francis lived, asking for food, but another priest chased them away. They left, furious, and began plotting to kill him. But when the priest told Saint Francis that the men were sent away hungry, Saint Francis told him to prepare a meal for the thieves and bring it to them in the forest.


"When he arrived, the priest asked for forgiveness, and the thieves did not kill him," Beaumont told the parishioners. "He offered them the food. And then the thieves and the priest sat down, and they wept. " The teen mothers hushed their fussing infants.


"I hope Maycoba can be like this," Beaumont said, "and that even criminals can come here and know they will be loved."


In May, a charred body turned up in a field outside Yecora. Soon after, two men were shot to death along the road.


Each killing seems to make Beaumont's work more urgent. He has started a youth soccer league to teach nonviolence and friendship. He is helping local Pima women sell traditional handcrafts. A program for men is next, trying to restore the traditional Pima male role of provider and protector, and gently steer teens away from drinking and crime. "I can say 'no' to many things, but I have to have to say 'yes' to something else," Beaumont said.


"Drug trafficking offers immediate relief from poverty, and a sense of power," he said. "You immediately go from misery to having a truck, a gun, food, and power over women who are hungry and suffering."


With a guitar and crates of food in his truck, Beaumont makes the rounds on weekends between small Pima settlements giving Mass, teaching catechism and performing baptisms. The churches are basic, with tin roofs and pastel-painted cinder-block walls, the interiors decorated in Pima symbols copied from nearby cave paintings. Beaumont wears white vestments with Pima embroidery over his brown habit.


"We cannot live in fear. We have to take the risk of loving, and in love there is peace," he tells the villagers, mixing Pima phrases with Spanish. When Beaumont talks about the Pima, he says "our people." He belongs in Yecora, he says, and will live the rest of his life there.


After Sunday Mass in a hillside settlement outside Yecora, kindergarten teacher Yolanda Bustillos, 29, stood not far from new classrooms built by the state government. Education is the only solution to Mexico's spiral of drug violence, Beaumont insists, but Bustillos strained to see that far into the future. "People are scared to leave town, scared to leave their homes. There are so many killers here now," she said. "There is nothing that will fix this."


When told of her comment, Beaumont was neither surprised nor saddened. Unlike almost everyone in town, the American priest said he is optimistic about Yecora's future - and Mexico's. The killing won't go on forever, he said.


Two blocks from the convent, in a small museum on the site of the original 1673 Yecora mission, there is an elegant, 400-year-old Spanish wood carving of the Bishop of Toledo that Beaumont is fond of. The statue's arms are missing and the color is gone. The wood is slightly charred.


"In 1911, during the Mexican Revolution, they sacked the church and threw this in a fire, but it didn't burn," Beaumont said. "Mexico has gone through periods of terrible violence before. It will come back."

Tell a Friend
•
Site Map
•
Print this Page
•
Email Us
•
Top