Horoscope
This Month in The Stars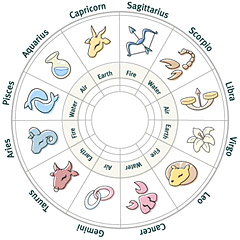 What do the constellations have in store for you in this month? See where the zodiac will lead you in the coming weeks here in Puerto Vallarta, where the pull of the tide gives added strength to the celestial sphere.


When you live in paradise you live by a different set of rules, so here's this month's horoscope, with a tropical twist. And remember, keep your eyes on the stars and your feet in the sand.


May 2017

Taurus The Enduring One (April 20 - May 20)


A heart pumping month because Mars is in the house. The blood will certainly run faster because passion along with impulses are in the air. Take a breather and truly examine the intimate and personal you. There could be room for improvement so take some positive action. You'll need to establish good working relationships with colleagues, subordinates and bosses. It's not a time to challenge the system!


Gemini The Chatterbox (May 21 - June 20)


Be aware of your own limitations this month. These could be physical, emotional or even financial. There could also be a sense of confinement and restriction. It might be a good idea to maintain a low profile and be less vocal. Changes initiated now may prove beneficial in the long run, both materially and otherwise.You are likely to plan your investment in land and property. Make sure you go through all the legal papers yourself to avoid problems, of course everyone at Boardwalk Realty can assist.


Cancer The Protector (June 21 - July 22)


It is not looking like a stellar month, unfortunately. Prepare yourself for challenges, contradictions, suffering or even hate. This is a time to make a real effort to reach out. Many snowbirds have left their winter nest in Puerto Vallarta, but many people remain. Take the time to connect and possibly make new friends. You may even want to organize your own projects or even a short getaway to a secluded beach or mountain with your new acquaintances.


Leo The Boss (July 23 - August 22)


A month where your star shines and it is a time when you are most visible and feeling magnanimous. Your effervescent ways will be noticed by everyone, including bosses, coworkers, friends and lovers. You'll be pulled in many directions, but keep your ego in check. Do not overdo it and live to regret decisions made while you are in the lime light. You could be the life of the party one night and then the butt of jokes the next.


Virgo The Perfectionist (August 23 - September 22)


May looks to be quite wishy washy. Neptune is in the house and has the means for misleading, ambiguous and doubtful circumstances. You could end up being in the wrong relationship, with the wrong person at the wrong time, or end up in too many relationships. Oh! That would have everyone's tongues wagging. Keep your eyes wide open, try to be reasonable and keep your pants zipped.


Libra The Harmonizer (September 23 - October 22)


Better late with the spring cleaning than never. What a great month to delete all your psychic junk and bad habits. With summer approaching many gyms are offering great deals to get in shape, which is funny because it always seems like summer in Vallarta, but take advantage anyway. Yoga on the beach is a great way to start your day and free your mind. Your Libra scales are about even in your relationships so separate friends from fly-by-night peeps.


Scorpio The Intense One (October 23 - November 21)


This month is hot, hot hot. Mars is in the house and that means three things for you, taking initiative, impulses and passion. Relationships are steamy and vibrant. Don't be afraid to show your kinkier side. Partnerships may go through ego conflicts or adversaries may be demanding. With winter season winding down, there are less people to deal with, so take care in choosing sides during a lively debate or even argument.


Sagittarius The Happy-Go-Lucky One (November 22 - Dec 21)


Get your to-do list out because this month you'll be checking things off. You have been making some plans in the past, but they were uncertain, even half-formed. Now is the time for truly strategic plans, as a brilliant new venture may be in the future. Yes, it is all about business this month with the implications being long-distance, perhaps even global. What a great time to keep in touch with those who have left PV for the season. Your ideas could be a vital factor in truly phenomenal growth.


Capricorn The Go-Getter (December 22 - January 19)


Looks like summer fun starts early for you and get ready for a very playful period when you are inspired creatively and emotionally. These two things could come together in some type of art, cooking or dance class. All of these things continue through the summer in Puerto Vallarta. This is a chance to meet new people and could possibly lead to a summer romance. A rich, fruitful and happy phase comes to you this month, so enjoy it.


Aquarius The Sweetheart (January 20 - February 18)


An animated month to love and be loved is in store. You'll attract more favors if you allow yourself to be pursued. Once you connect, explore your taste for the exotic. What a great period to try out new things and take a few risks to embrace the out-of-the-ordinary with regards to romantic involvements and interesting liaisons. Aquarius, the water bearer, you may need to bring your own bucket to douse the passion.


Pisces The Dreamer (February 19 - March 20)


The spirit of initiative will manifest vigorously. There will be ideas that need to be put into practice immediately, everything will move very fast, you'll take frequent trips, you'll meet a lot of people and you'll discuss many things. This is May 2017, dynamic, challenging, open to the new. There are plenty of places to explore before the weather gets too hot and humid. Take a few days to explore a new town or linger over coffee or a cocktail as you discuss your future endeavors.


Aries The Daredevil (March 21 - April 19)


What a month to take a breather. There will still be many things on your plate, but your outlook will change. This is a great time to reevaluate property and possessions, rentals, funds, investments, and even cash transactions. There may be profits or income from property, land and real estate. Don't try for fast cash. Truly contemplate your decisions and use sound judgment. There could be deals lurking that you have not thought of yet.

Laura Gelezunas, an agent at Boardwalk Realty Puerto Vallarta, not only keeps an eye on the tropical stars but keeps her eye on Banderas Bay real estate. She has lived here full time since 2002 and knows the bay and its neighborhoods. You can email her at laura(at)boardwalkrealtypv.com.
Site Map
•
Print this Page
•
Email Us
•
Top