Dazed & Confused | Barely Legal
Latest Da Vinci Mystery: Judge's Own Secret Code

Peter Graff

Three weeks after a British court passed judgment in the copyright case involving Dan Brown's bestseller "The Da Vinci Code," a lawyer has uncovered what may be a secret message buried in the text of the ruling.
more »»»
---
Crime Blotter: Woman Nailed for Polly in a Bra

ABC News

A Florida woman learns that smuggling Polly in your bra doesn't always get you a better cracker; a convenience store clerk faces jail time for falling asleep on the job; and an admitted DVD thief is tripped up by his own pants. "Crime Blotter" promises to never lull its readers into a snooze and always give them something to squawk about.
more »»»
---
Lesbian Motorcycle Brigade to get 'Dykes on Bikes' Trademark

AFP

The US patent office has reversed position and approved a request to let a lesbian San Francisco motorcycle club trademark the name "Dykes on Bikes," the office confirmed. "The original reaction of the examiner was to reject it because he considered the term (dykes) disparaging," Brigid Quinn of the US patent office told AFP.
more »»»
---
Strippers Cop Plea in Spanking Case

ABC News

Erotic dancers Kelly Eslick, Lisa Nolen and Charlene Smith were initially charged with participating in an obscene act and misdemeanor third-degree battery for allegedly going a little too far during an onstage spanking performance on truck driver Keith Lowery.
more »»»
---
Hawaiian Pets Gain Right of Inheritance

Tara Godvin

Canines of all sizes and a spotted rabbit named Roxy were among those gathered Friday at the Capitol to watch Gov. Linda Lingle sign into law a measure that allows residents to leave a trust for the care of their dog, cat, or other domestic animal.
more »»»
---
Houston Man Sues Pfizer for Viagra Blindness

Reuters

A Houston man filed a lawsuit this week in federal court against Pfizer, claiming he suffered blindness after taking its best-selling impotence drug Viagra, and is seeking more than $75,000 for his vision loss.
more »»»
---
Living Will

The Onion

A living will is a legal document that provides directives for your medical care in the event that you are physically unable to express them. Here are some things to keep in mind while creating a living will.
more »»»
---
Man Represents Self, Appeals Competence
Associated Press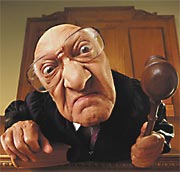 Springfield, Mass. - Thomas P. Budnick says his lawyer's incompetence was to blame for his assault conviction. The funny thing is he was representing himself.


He took his case before the state Appeals Court on Wednesday, arguing that the trial judge never should have allowed Budnick to defend himself against charges of trying to poison a friend by lacing a bottle of beer with nitric acid.


Budnick once filed mining claims on Mars and threatened to sue NASA for trespassing. Such antics should have been enough to make the judge question his competence to waive counsel, his new court-appointed lawyer said.


"This was a guy who had just come out of Bridgewater," said Linda Harvey, referring to the state mental hospital.


Budnick was charged in 2002 with trying to poison friend Ryan Gauthier by spiking a 40-ounce bottle of beer.


Budnick, who claimed he had accidentally given Gauthier a bottle of acid he kept in his garage for cleaning his collection of meteorites, was convicted of assault with a dangerous weapon and sentenced to two years in prison.


But he was cleared of the more serious charge of attempted poisoning because the liquid spilled on Gauthier's leg and burned him before he could drink it.


Hampden County prosecutor Carl Lindley told the Appeals Court that, despite his eccentricities, Budnick had "made an effective litigant."


"The jury acquitted him of the most serious charge," Lindley pointed out to the panel of justices who met Wednesday at Western New England Law School.


For more than 20 years, Budnick tried to file and peddle mining claims in such diverse places as George's Bank, the asteroid belt, Mars and the moons of Jupiter. After trying several states without success, he finally persuaded Texas authorities to accept his astral mineral rights claims in 1984.


The court did not immediately rule on Budnick's appeal. He's scheduled to be released from prison this summer.
---
Best Get-Out-Of-Jury Duty Excuses
Associated Press


Memphis - Defense attorney Leslie Ballin called it the "jury pool from hell." The group of prospective jurors was summoned to listen to a case of Tennessee trailer park violence. Right after jury selection began last week, one man got up and left, announcing, "I'm on morphine and I'm higher than a kite."


When the prosecutor asked if anyone had been convicted of a crime, a prospective juror said that he had been arrested and taken to a mental hospital after he almost shot his nephew. He said he was provoked because his nephew just would not come out from under the bed.


Another would-be juror said he had had alcohol problems and was arrested for soliciting sex from an undercover officer. "I should have known something was up," he said. "She had all her teeth."


Another prospect volunteered he probably should not be on the jury: "In my neighborhood, everyone knows that if you get Mr. Ballin (as your lawyer), you're probably guilty." He was not chosen.


The case involved a woman accused of hitting her brother's girlfriend in the face with a brick. Ballin's client was found not guilty.
---
Judge Charged with Indecent Exposure
Reuters


Oklahoma City - A former state judge, who allegedly used a sex toy called a penis pump in court, was charged with three felony counts of indecent exposure by Oklahoma authorities on Thursday.


Former Judge Donald Thompson, 58, pleaded not guilty in the Creek County District Court in the northeastern Oklahoma town of Sapulpa. If convicted, Thompson could face up to 10 years in prison for each count. At the courthouse on Thursday, Thompson was taken to a backroom where he provided a DNA sample to authorities.


Last year, a court reporter who worked for Thompson was fired after she said she saw the judge masturbate and use the penis pump during hearings. Other witnesses claimed they saw Thompson use the pump in court. Thompson stepped down in August after the allegations came to light and the state attorney general acted to remove him from the bench. Officials searched Thompson's courtroom and chambers, and performed tests on carpet, a chair, a trash can and the judge's robe.
---
Frivolous Lawsuits!
Editors Note - Names have been changed to avoid frivolous lawsuits
Milwaukee, Wisconsin: A 73-year-old woman sued a church for $90,000 after an electronic bingo scoreboard fell on her head, causing her, she said, to become attracted to other women and to have spontaneous orgasms. (She refused a psychological evaluation, and the judge threw out the case.)


New York, New York: Injured during his arrest for killing a cop, Bob Auer subsequently sued the New York Police Department for $3 million, in part for "loss of earnings" (he is, or was, a drug dealer).


Cleveland, Ohio: Greg Wacksman sued M&M's/Mars and a local candy dealer for $500,000 to cover hospitalization and surgery bills after he bit through his lip when he chomped down on a peanut M&M that didn't have a peanut in it.


Raymondville, Texas: Jose D'Avola sued a dog owner for $25,000 after tripping over the dog in the man's kitchen, claiming that the man neglected to warn him of "the dog's propensity of lying in certain areas."


Yemen: After Pathfinder landed, two guys named Dodi and Muhammad sued NASA for trespassing on Mars, which they claimed to have inherited from ancestors. They withdrew their suit only after Yemeni authorities threatened to arrest them.


Staten Island, New York: A female cop filed a suit for $10 million for injuries sustained when a station-house window fell on her hands. Two months earlier, she'd filed a separate $10 million claim after slipping on ice in the police station parking lot.


Sauget, Illinois Joe Cullen filled a $200,000 suit against a strip joint where exotic dancer Busty Heart (not her real name), as part of her act, repeatedly slammed her 40 pound, 88-inch breasts into his head and neck, causing bruises, lacerations, and contusions. Casson claims "emotional distress, mental anguish, and indignity."


Boston, Massachusetts: Would-be lifeguard Dan Alaimo, who is totally deaf, is suing the YMCA for $20 million for prejudiciously and insensitively requiring its lifeguards to be able to "hear noises and distress signals."


Jerusalem, Israel: Bennie Rabin, currently doing 10 years, is suing Israel's Prison Service for the right to keep an inflatable sex doll in his cell, saying: "If they let me be with a woman, I would give up on getting a doll."
Tell a Friend
•
Site Map
•
Print this Page
•
Email Us
•
Top