News Around the Republic of Mexico | April 2007
Mexico City at Vanguard with Gay Rights, Abortion

Gunther Hamm - Reuters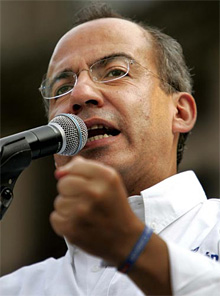 Mexican President Felipe Calderon, a practicing Catholic, accused leftist lawmakers of polarizing Mexico City.

Mexico City - A huge, gritty capital with high crime rates and snarling traffic, Mexico City is becoming a vanguard of liberalism in Latin America by backing gay civil unions and seeking to legalize abortion.


The city's leftist-dominated assembly has upset conservatives and the influential Catholic Church with a swing to the left that is challenging stereotypes of macho Mexico.


"People are a little more open. They see us, sometimes they recognize us from the papers, and smile and are really nice," said Rafael Ramirez, who joined his partner Alejandro Diaz in the city's first civil gay union last month.


The capital's Zona Rosa night-life district, home to many gay clubs, erupted with celebrations the day the pair and other homosexual couples took their vows.


City lawmakers are now to vote on April 24 whether to legalize abortion, at the moment allowed only if the mother's life is in danger, she has been raped or the fetus has certain defects.


The assembly, dominated by the leftist Party of the Democratic Revolution, or PRD, is likely to approve of abortion in the first three months of pregnancy.


That would bring Mexico City in line with Cuba, Guyana and Puerto Rico as the only places in Latin America to allow abortion without restriction as to reason, according to the U.S.-based Center for Reproductive Rights.


Leftist deputies also plan to allow euthanasia.


Christian groups have staged protests, blessed by the country's top clergyman, against the abortion plan. Pro-choice demonstrators have picketed in front of the city's main Catholic cathedral.


Mexico City, with a population of over eight million, and Mexico's states have separate laws.


The northern state of Coahuila, on the border with Texas, took the lead in January when it authorized Mexico's first gay civil union involving a lesbian couple.


At the federal level, the country's lone openly gay congressman is pushing a bill to protect transsexuals, including giving them the right to choose the gender written on their birth certificates.


CALDERON CRITICISM


Mexican President Felipe Calderon, a practicing Catholic, accused leftist lawmakers of polarizing Mexico City.


"I would rather see actions that everyone agrees with and not actions on very sensitive topics that divide society," Calderon said last month.


Long proud of a freewheeling arts scene that produced figures like Frida Kahlo and Diego Rivera, Mexico City has a liberal current going back decades.


But the city's PRD lawmakers have only stepped up their drive to soften social laws since the party's candidate Andres Manuel Lopez Obrador narrowly lost last year's presidential election and claimed vote fraud.


Opponents say the left's defeat nationally has made them more radical in the capital, ruled by a PRD mayor since 1997.


"The PRD in Mexico City is still obsessed with last year's election," said Mariana Gomez, head of Calderon's party in the assembly. "Unfortunately, it is pushing these laws and ignoring Mexico City's main problems."


Traditional Mexican values like family loyalty and religion have slipped in recent years as Mexicans travel abroad more, become richer and are exposed to the media.


"We are definitely in a much more open, much more liberal and above all much more informed society. But of course there is still discrimination," said Victor Hugo Cirigo, left-wing head of Mexico City's assembly.
Tell a Friend
•
Site Map
•
Print this Page
•
Email Us
•
Top