Entertainment | Restaurants & Dining | December 2007
A Food Lovers' Stroll Through Yelapa

Kathryn & Robert Hardin - PVNN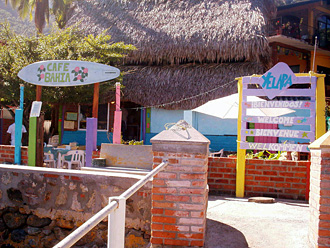 Café Bahia offers home baked bread and other baked goodies, along with innovative breakfasts and lunches Wednesday thru Saturday.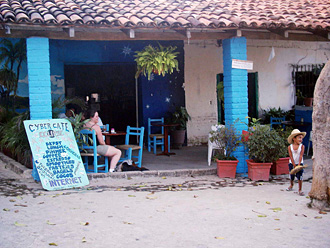 Eclipse Café which offers several computers for rent as well as a WiFi connection along with breakfast, lunch and dinner.

The dry season's warm days, cool nights, and clear ocean water bring many visitors to Yelapa - and the restaurants are open to accommodate them.


Many people's first experience of Yelapa is at the big beach. All the eating establishments on the beach are open for breakfast and lunch seven days a week. The fare in these restaurants is quite similar: fresh seafood, Mexican specialties, and hamburgers with French fries are the standard offerings. Everything is made to order - there is no fast food in Yelapa.


The Coco Bar will open up a fresh coconut for you to sip, or they can add 9 different liquors to make a tasty "Coco Loco." The Hotel Lagunita and Chico's both serve dinner. Chico's has happy hour and free snacks from 4 to 6 pm. The famous Yelapa Pie Ladies roam the beach from noon 'till about 4 pm.


Behind the beach restaurants, where the horses hang out, there is a newly cobbled path from the big beach which will lead you through the jungle and past working ranches and the Yelapa primary school to El Manguito where you can have breakfast, lunch, or dinner at a table overlooking the river. One of the most moderately priced restaurants in Yelapa. Good fresh food, excellent margaritas. Open every day.


Close by El Manguito is a pedestrian bridge to the other side of the river. A left turn on the path on that side will take you to a large waterfall that is about an hour and a half hike up river. Three-quarters of the way there is Christina's, a vegan restaurant where you can take a dip in the river while your food is being prepared.


If you turn right from the bridge the almost completely cobbled path will take you to the village. Along the way you will pass several restaurants: Passion Flower Garden has American movies at 6 pm and dinner at 7 on Monday evenings and Italian food from 6 to 9 pm on Thursday nights. The Vortex is located down the stairs to the Playa (the big beach.) Breakfast and lunch every day except Sunday. Specializes in smoothies.


Go back up the stairs, continue on the path, and you will next come to the Galleria, a hill side gourmet restaurant with a view of the Bay. Dinner only, from 6:30 to 9 pm Monday thru Saturday.


A little further down the path is Shambala, a new venture in the home of our lovely local veterinarian. Breakfast and lunch Monday thru Friday from 8 am to 2 pm. Pizza and Sushi on Tuesday nights.


As you're coming into the village you will see Ramona's on your right, just past the papelería, there you can enjoy tacos every night while you watch American movies.


Take a right off the main path at Ramona's and you will soon see the Yacht Club on the village beach. On Wednesday and Saturday nights the Yacht Club offers great salads served with their fish and chips, pasta, and other delicious dishes. They have a full bar. At 10 pm starts the popular disco music until 2 am.


Return to the main path and continue walking through the village and you will pass the community art center and the church, and then you'll come to a path on the left that passes the Rodriguez family's rosewood shop. In their house across from the shop they sell tacos, tamales, and grilled fish and shrimp Tuesday thru Saturday evenings.


Further up the path is La Cascada y Bosque, a restaurant right next to the town waterfall. La Cascada is open for breakfast and lunch from 9 am to 5 pm every day. Try their fish or shrimp empanadas.


On a street to the right of the main path in the village are three other restaurants, Yelapa's restaurant row is a triangle:


Mimi's is open every day for three meals and features live music on Fridays.


Across the street is the Eclipse Café, which offers several computers for rent as well as WiFi connection (though limited to 52 kbps) along with breakfast, lunch and dinner. Tuesday nights they feature fresh fish cooked over a wood fire. Closed Sundays.


Across from the Eclipse is Yolanda's, an amazingly inexpensive and excellent taco and quesadilla provider. Open Mondays and Wednesdays and other nights on occasion.


Down on the waterfront Café Bahia is at the end of the pier, greeting visitors with a cheerful "Welcome to Yelapa" sign. Featuring home baked bread and other baked goodies they serve innovative breakfasts and lunches Wednesday thru Saturday. Sundays are Chilling and Grilling nights with barbecued chicken, fish, and shrimp.


Back up on the main path through the village are yet two more places to eat: Pollo Bollo is moderately priced and professionally run. Dinner only Wednesday thru Sunday from 5:30 pm. barbecued pork, chicken and fresh fish. A half order costs $55 pesos here and many people are satisfied with the portion; big eaters and doggy baggers order full orders. Their Margaritas rank right up there with those from El Manguito.


Just past Pollo Bollo, on the left, is Lupi's restaurant at The Bakery. Dinner only, Monday through Saturday. After filling up on good Mexican food you can take home some cinnamon rolls or banana bread for breakfast the next morning.


This is the end of the line for established restaurants here, though you never know when somebody will start selling tamales or tacos in their front yard. Or cut fruit. Or juice. You won't go hungry in Yelapa.
---

Kathryn and Robert Hardin moved from northern California in January 2005 to a beach house in Yelapa where they live year-round with their two black cats, a canary and a tiny finch. They have no second home in the U.S. and are proud to say "there is no storage." Yelapa is their home and they have never been happier.
Tell a Friend
•
Site Map
•
Print this Page
•
Email Us
•
Top