BanderasNews is proud to present a serialized and updated version of Polly G. Vicars' sell-out book, Tales of Retirement in Paradise.
Entertainment
Books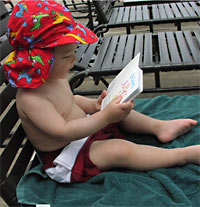 Ahhhh, vacation . . . Vacations provide us with an ocean of free time, time to rest, relax - and catch up on your reading! There's nothing quite like sitting on the beach with a good book, and deciding what to read on vacation is half the fun. If you are looking for some good "beach reading" for your Puerto Vallarta vacation, you've come to the right place!


In Puerto Vallarta there are many bookstores, sidewalk coffee shops and cyber cafes scattered around Old Town, where you can find used books in English for sale and/or exchange. "Page In the Sun," across the street from Lazaro Cardenas Park, has a good selection, "The Book Store" on Carranza offers newly released English books and magazines, and the Los Mangos Public Library on the road to Pitillal has a nice English-language section plus quite a few magazines and newspapers.


If you are staying in Nuevo Vallarta, stop by NVBookstore on the second floor of the Paradise Plaza Shopping Center for Best Sellers and newly released books in English.

• B E L O W T H E F O L D •
Are We Happy Yet? 8 Keys to Unlocking a Joyful Life

Katie Schnack

A new book written by internationally recognized positive psychology coach and talk radio show host Lisa Cypers Kamen, 'Are We Happy Yet? Eight Keys to Unlocking a Joyful Life,' will be released on March 20, 2017, which is the United Nation's International Day of Happiness.

---
Help Yvan Genest Publish Coffee Table Book of His Art

Claire Guarniere

Since painting his first watercolors more than 30 years ago, Montreal artist Yvan Genest has lived, painted, and exhibited in many countries, while building his unique iconography. Now Yvan has conceived an art book covering 30 years of his paintings, and needs your help to publish.

---
10 Secrets of Top Performers to Better Manage Time

BanderasNews.com

Have you ever felt as if there's too much going on? Not enough hours in the day? Can't seem to find the time between the kids, work and other commitments? How do the most successful people - those who have even more on their plates than most of us - manage to conquer the world?

---
10 Easy Ways to Give Your Body What it Really Needs

Dr. Susan Maples

We all know that a good diet and exercise is important to optimal health. But good intentions often have adverse consequences when people unknowingly cut out key ingredients resulting in nutritional deficiencies. Dr. Susan Maples shares 10 easy ways to give your body what it really needs.

---
Do Away with Allergy and Asthma Triggers in Your Home

Bruce Serbin

May is National Asthma and Allergy Awareness Month in the US, and the kickoff of spring and summer wheezing and sneezing here in Mexico. While you may not be able to control the outdoor environment, you can take control of the inside of your home to reduce allergy triggers.

---
10 Questions Patients Never, But Should Always, Ask

BanderasNews.com

Emergency Medicine physician, Dr. Haselhorst identifies ten important questions he recommends people carry with them when they go to the hospital or see their doctors. They are designed to help them ask the right questions, make the right decisions, and achieve the best outcomes.

---
Dr. Leslie Korn's Guide to the Food-Mood Connection

BanderasNews.com

In her latest book, 'Nutrition Essentials for Mental Health: A Complete Guide to the Food-Mood Connection,' Dr. Leslie Korn provides clinicians with a practical guide to the complex relationship between what we eat and the way we think, feel, and interact with the world.

---
Ed Schwartz: 'I Stole a Book'

BanderasNews.com

I stole a book. It was the only thing I ever stole in my life and it happened over 20 years ago. And I didn't steal this book lightly. I felt very guilty about it. Please don't condemn me as a thief until you read the reason why I had to commit this literary crime.

---
James R. Callan to Speak at PV Writers' Conference

BanderasNews.com

James R. Callan, author of a dozen books, will present a dynamic workshop on how to write novel dialog at the Puerto Vallarta International Writers' Conference. Now in its 9th year, the conference will be held at the city's public library, Biblioteca Los Mangos, March 6-8, 2015.

---
PV Writers Conference: Writing for the Digital Age

Bill Jory

The rules of writing have changed, Texas author Caleb Pirtle plans to tell participants at the upcoming Puerto Vallarta Writers' Conference, and success will only come by embracing the digital age. Pirtle, author of more than 55 books, will be keynote speaker at the March 6-8 conference.

---
9th Vallarta Writers Conference to Offer Tweeting Tips

Bill Jory

If you have written a book and you want to sell it, empowerment writer Donna Dahl will be providing a social media marketing formula at the 9th Puerto Vallarta International Writers' Conference, scheduled to be held March 6-8, 2015 at Biblioteca Los Mangos.

---
Mexican Writer Creates First Comic Book in Braille

MexicoNewsNetwork.com

The first Mexican comic book in Braille was released this past December. The brilliantly elucidated comic was published in order to approach Mexico's 1.2 million citizens who are visually impaired, as well as to raise awareness among the visually able population.

---
Second Edition Puerto Vallarta Guidebooks Have Arrived!

BanderasNews.com

The Second Editions of two popular guidebooks by local author Sandra Cesca have arrived from the printers! 'Walking Puerto Vallarta and beyond' has been updated to 150 pages of full-color photos, and 'Tropical Plants and Walks of Puerto Vallarta' has been updated to include new plants.

---
Ninth Puerto Vallarta Writers' Conference, March 6-8th

Bill Jory

If there is a book inside you bursting to get out, the ninth Puerto Vallarta Writers' Conference will be the place to release it. Scheduled to be held March 6-8 at Biblioteca Los Mangos, the conference will concentrate on helping writers get their ideas from their brain to the printed page.

---
Bisexual Dracula the Star of 'The Sultan's Boy'

Teresa E. Preski

Alex Gomez has written a dangerous book. Dangerous because when you read 'The Sultan's Boy,' you'll run the risk of falling in love with it. Dangerous because its main character is a Dracula, but a beautiful, bisexual Dracula, or Radu, Vlad the Impaler's youngest brother.

---
Dr. Leslie Korn's New Book: 'Medicinas de la Selva'

BanderasNews.com

Dr. Leslie Korn's new bilingual book, 'Medicines from the Jungle/Medicinas de la Selva,' is now available as an eBook for iPad or hard copy at the Puerto Vallarta Botanical Gardens. This full-color book was written in collaboration with her friends & colleagues in Yelapa, Cabo Corrientes.

---
Site Map
•
Print this Page
•
Email Us
•
Top