News from Around Banderas Bay | February 2008
Learning to See in Mayto Mexico

PVNN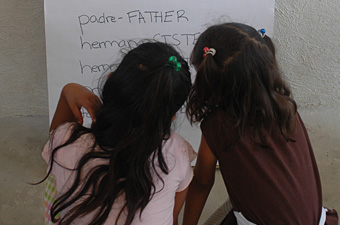 Nancy Grace Horton's website, HortonPhoto.com gives portfolios and news about her work.

Portsmouth, NH - Award-winning photographer and educator Nancy Grace Horton recently announced the completion of one of her Learning to See projects in the remote Pacific Coast village of Mayto, Mexico.


Horton has previously directed several Learning To See projects - in which students learn photography while documenting their environment - but this is the first she has done out of the country, in a very different culture.


For the Mayto project, Horton provided disposable cameras to elementary school children, none of whom had ever before used a camera. These first-time photographers then roamed their tiny town taking pictures of families, friends, and other important aspects of their lives. Horton had to travel several hours to have the film developed so that finally the children could see and discuss the first photographs they had ever taken.


Horton, who speaks only rudimentary Español, found a bilingual local who helped with communication. Eventually the photography project turned into an English lesson, as the subjects of the kids' photographs were translated into both English and Spanish.


Horton says: "What a thrill it was to work with kids from another culture. Not just to teach them how to use a camera, but to learn through their photographs something about what is important to them, about what they value in life. The biggest shock and reward was asking the kids how many of them had used a camera before: Nobody raised their hand. That's when I really understood that this project was special."


Horton's Learning to See projects bring students and community members together to photograph and learn more about their surroundings. Her most recent local project is now in progress with the Portsmouth Middle School 8th graders, doing "A Day in the Life of Portsmouth," and will culminate in a book and exhibition this spring.


A local freelance photographer, Nancy Grace Horton has recently had her photographs published in a book called "Portsmouth" written by local historian Laura Pope. In addition, during the past year she has collaborated with other local photographers on a book of images from Ghana, inspired by the work of Paul Strand.


She is also published in numerous publications and works with a variety of companies. This past fall her work was featured in the Danforth Museum of Arts's New England Photography show and in 2007 she was featured in over ten exhibitions. Her website, HortonPhoto.com gives portfolios and news about her work.
Tell a Friend
•
Site Map
•
Print this Page
•
Email Us
•
Top