Entertainment | Restaurants & Dining | March 2008
de Santos - THE Place To See and Be Seen

Gary R. Beck - PVNN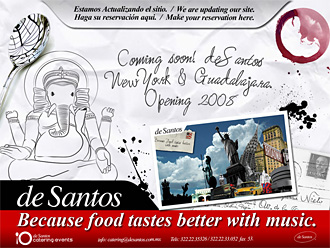 de Santos
Morelos 771, El Centro
Puerto Vallarta
Tel: 223-3052, 223-3053
Email: Info(at)deSantos.com.mx
Website: deSantos.com.mx

Since 1999, this hip and gorgeous hot spot in downtown Puerto Vallarta has operated several dining areas serving Mediterranean-inspired food for your culinary pleasure, followed by a drink of choice in their entertainment areas.


Huge staircases take you from floor to floor, starting at a pleasant outdoor garden area that is comfortable on evenings when the weather is not yet stifling hot and humid. During the summer months, one may opt for the cool A/C indoor area with its long bar and gorgeous modern touches.


A recent evening was special for me since I had never dined at this popular Puerto Vallarta restaurant, though two of my companions had enjoyed the food before and were the reason for our visit.


We started with a lovely dish to share, Mixed Mushrooms with Mozzarella, Gorgonzola and Gruyere cheeses. What a generous mixture of creamy rich flavors, perfect spread on a small bolillo, fresh from the warmer.


Next, New England Clam Chowder was offered, but the taste was not what we were accustomed to, a bit weak and thin. However, the spinach salad was very refreshing and creative with raisins, cherry tomatoes, mushrooms and goat cheese. Lightly dressed, it complimented the first courses.


Baked pastry similar to pizza dough enclosed Brie cheese, salmon, capers and fresh dill. This is a combination well-documented in recipe journals. The flavors blended and cheese oozed when crust was pierced. It actually was a Calzone, folded over stuffed pizza.


Continuing the creamy mushroom vein, Pappardelle [large fettuccine] came tossed in such a sauce. Delightful, tender and ample. A lovely Roasted Chicken Breast was served with a ginger and sherry sauce. The moist flesh had a slight tang and woodsy sweetness to it. A pleasing creation once again.


For dessert, a very Dark Chocolate Volcano Cake exuded not only the expected warm molten chocolate lava but also a thick raspberry purée. This is a marriage to be respected. The Mousse was a mixture of mocha and white with a strong Sambucca essence. Personal taste must include an appreciation of licorice.


An airy Cream Puff, called Profiterole, was filled with whipped cream and crowned with chocolate syrup. It reminded me of my French chef in the States, who made his version with plentiful ice cream inside.


Upscale, dramatic, clean and alive, de Santos, located at Morelos #177 in downtown Puerto Vallarta, offers its guests some very fine food in attractive and modern surroundings from 5 pm to 1 am. Around 11 pm the soft dining music makes way for the beat of "house" and other electronic styles, attracting a livelier crowd that keeps the place rocking till about 4 am.

---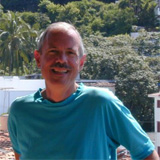 After 20 years in the San Francisco restaurant business, Gary R. Beck turned his attentions to cooking, dining out, creating recipes and exploring Puerto Vallarta's rich array of eateries. Famous for his restaurant guide, available online at CafePress.com or Lulu.com, Gary also writes restaurant reviews for Puerto Vallarta newspapers, Bay Area magazines, and now, a feature column for BanderasNews.com. Contact Gary at garyrbeck1(at)yahoo.com.
Click HERE for more articles by Gary R. Beck.
Tell a Friend
•
Site Map
•
Print this Page
•
Email Us
•
Top