News Around the Republic of Mexico | May 2008
Calderón Pleads for Energy Reform

Adam Thomson - Financial Times
go to original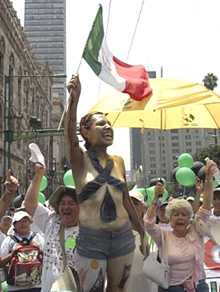 A woman painted as an 'Adelita', a female Mexican revolutionary icon, protest against the new proposed reforms to the state-run oil company Pemex front at senate building in Mexico City's main square in this April 10, 2008 file photo. When Mexico expropriated its fledgling oil industry in 1938, Mexicans handed over family jewels, silverware and chickens to fund a new state oil company and pay off the foreign firms being booted out. Today, many Mexicans' pride in their oil - still the nation's main economic motor and the No. 3 source of U.S. crude imports - is creating resistance to a government plan to modernize the now creaking energy industry. (Reuters/Stringer)

Mexican President Felipe Calderón issued a desperate plea to Congress to approve his energy reform proposals after figures showed that oil production had slumped to a nine-year low.


The rapidly declining production in one of the world's top 10 oil-producing nations comes amid a global supply crunch that has sent the price of international crude to records in recent weeks.


On Friday, Pemex, Mexico's state oil monopoly, reported that April average daily production had fallen to 2.77m a day compared with 2.85m the previous month and 3.18m barrels in April 2007.


According to Pemex, production at Cantarell – one of the world's largest oil complexes, which accounts for roughly half of Mexico's total daily output – has shrunk 24 per cent in the past 12 months alone.


The latest data highlight the increasing difficulties faced by Pemex, which has long suffered from insufficient funds for exploration, ageing existing fields, and Mexico's constitution, which prohibits it from entering joint-risk contracts with third parties.


"The rate of decline is much quicker than we had anticipated," Jordy Herrera, under-secretary for energy, told the FT this month.


The situation for Mexico, which relies on oil revenue to fund about 40 per cent of total government income, has been made worse by the fact that proven reserves have also been deteriorating so fast that the country could become a net oil importer within a few years.


A recent study published by the energy ministry and Pemex showed that the country's total proven reserves had plummeted from 20.1bn barrels equivalent in 2002 to just 14.7bn barrels last year.


On Saturday, Mr Calderón told an audience in the coastal resort of Acapulco: "My government has presented a proposal to make Pemex stronger, more transparent, with greater operational and technological capacity and, importantly, to stop falling production."


One of the main ideas is to give Pemex greater flexibility to associate with third parties and, at the same time, to give private companies working with Pemex financial incentives linked to performance.


Most analysts view the proposed changes as a tepid reform and woefully short of what Mexico needs to turn the situation around. But even this proposal has faced stiff opposition in Congress.


Ordinary sessions ended on April 30 without any sign of progress, and leftwing members of the opposition have since managed to force a so-called national debate. The debate, which began on May 13 and is scheduled to last for 71 days, includes legislators, experts and other members of Mexican society.


However, industry analysts fear the delay diminishes the chances of a reform being approved.
Tell a Friend
•
Site Map
•
Print this Page
•
Email Us
•
Top