Americas & Beyond | July 2008
Lucha Libre Taking the World by Storm

Katie Weatherall - PVNN





Video of El Hijo del Santo wrestling during the six-fighter tag-team final at The Roundhouse, London, July 2008.

The spectacle that is Mexican wrestling, with its skintight masks and high-flying nimble showmanship, is undeniably taking the world by storm. The media have shared this country's passion for Lucha Libre for some time now, with the sports colourful characters popping up in dedicated animation series.


The film Nacho Libre sees Hollywood actor Jack Black star as a priest-turned-luchador and real-life luchador Ramses takes a starring role in the film. Even computer games like Streetfighter have given in to the Lucha Libre with wrestling stars becoming popular gaming characters. Japan has long ingratiated themselves with the game and many of their professional wrestlers trained initially in Mexican Lucha Libre before embarking on their careers in Japan.


This week saw the debut of the sport in London, at The Roundhouse in Camden where sixteen of Mexico's biggest wrestling stars fought in a specially constructed arena inside the renowned venue. The Roundhouse has in the past played host to Argentinean performance group De La Guarda with their theatre triumph Fuerzabruta.


The historic venue has also staged massive acts in music since the 60s including Morrissey, Sonic Youth, Pink Floyd, Rolling Stones, Jimi Hendrix and the Ramones. This makes the Roundhouse the perfect backdrop to the delights of Lucha Libre as the sport, second in popularity in this country only to football, is more akin to a full blown rock concert than your bog-standard wrestling match.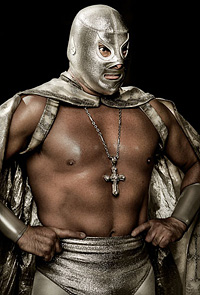 Superstar técnico El Hijo Del Santo, son of the original wrestling superstar El Santo

So how did the London audience receive the roll call of eccentric Mexican performers including the cross-dressing Cassandro, whose piéce de résistance is the 'liplock' where he plants a bog kiss on his opponent's mouth. What with stars like these, beer and Tequila flowing and semi-naked ladies announcing bouts, it is safe to say London welcomed Lucha Libre with open arms.


In fact Tim Burton, the film director who lives in London with his actress wife Helena Bonham Carter, was amongst the spectators. He was aptly accompanied by his pal Deep Roy, the actor who played the Oompa Loompa in Burton's 2005 remake of Charlie & The Chocolate Factory.


Lucha Libre has a long established tradition of dwarf wrestling. In fact, before the show began Roy jumped into the empty ring for a jog, only to be removed by security and replaced by the real-deal, 'minis' 4'5" Mascarita Sagrada and Octagoncito. Sagrado dazzled with his white cat suit and slam-downs.


In true Lucha Libre style, beer was thrown into less captivating rounds. During matches Mexico audiences can often be heard to shout "Aburrido!" when things are less entertaining or "pull your fat stomach in!" to the larger brawlers, to which the athletes usually respond with a fly-kick.


In London, the audience was won over by the battle royal headed by superstar técnico El Hijo Del Santo, son of the original wrestling superstar El Santo. This bout saw him and two other 'goodies' pitched against three 'rudos.'


For those that don't know, luchadores are either 'goodies', who play fair and wave at the children in the audience or baddies (rudos), who favour black, cheating, and dodgy groin shots. A referee can also be a rudo and will turn a blind eye to foul play. And good can even go bad. Silver King famously 'turned' rudo during a match against his nemesis, Negro Casas, in 1996, and of course subsequent matches of his sold out.


Lucha Libre television and radio commentator Carlos Hernández Valdés has observed that: "Around two years ago, audiences starting cheering for the bad guys. It's a social phenomenon. People can't break the rules in their own lives, but their wrestler's can."


In that case, Lucha Libre must have gone down a storm across the pond, look how much the UK love Pete Doherty.

Katie Weatherall is a participant with Global Volunteer Projects. Having travelled to Guadalajara, Mexico from London, England; she is working as an intern with Publico newspaper and BanderasNews.com as part of Global Volunteer's Journalism placement project for the month of July 2008. In October 2008, she starts her final year of her degree in Journalism at London College Of Communication, after which she plans to pursue a career in journalism.
Tell a Friend
•
Site Map
•
Print this Page
•
Email Us
•
Top