News from Around Banderas Bay | October 2008
NH Grand Vallarta to Open in December

PVNN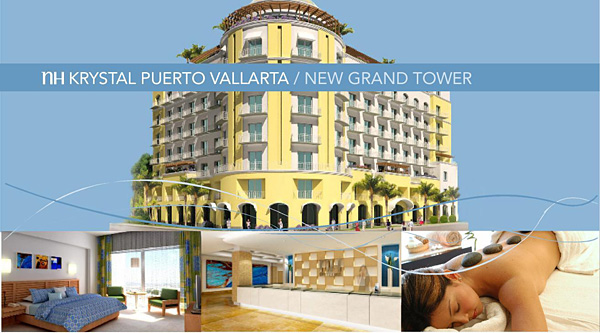 The new NH Grand section of the NH Krystal Puerto Vallarta, which includes 200 rooms with magnificent views of the Pacific Ocean, as well as leading edge technologies to facilitate customers' communication, work and entertainment, will open in December.

NH Hotels are proud to announce the expansion of the NH Krystal Puerto Vallarta. This seven-story structure will house 200 rooms and one master suite, and is situated to capitalize on the magnificent view of the Pacific Ocean.


The newly established shopping area within has been designed to suit the varied tastes of their future guests. Construction started on the NH Grand project in December of 2007 and is scheduled for completion in December of 2008.


With an investment of over 13 million dollars, this new section of the hotel will include a Spa featuring top of the line weight and cardiovascular machines, hydrotherapy equipment, and specialty areas, including a solarium, massage room, and salon offering sophisticated beauty treatments.


"The stylish avant-garde interior throughout this new section of the hotel, created by a group of top professional team of decorators, together with a skilled staff, will make you feel unique," said Francisco Medina, Director General, NH Las Americas' Business Unit.


Gastronomy is another priority for the hotels in the chain, offering guests and customers world class cuisine. NH Hoteles and the prestigious restaurateur Ferran Adrià entered into an association in the year 2000, and have launched new concepts such as "nhube", pioneering spaces in the hotel sector that combine food, leisure and rest for the chain's customers, as well as "Fast Good."


Special services to be delivered by the NH Grand Tower will include specialized areas for children such as a playground and Kids Club, Wi-Fi, a deli with a selected variety of coffees, a specialty restaurant and more. This friendly environment will exemplify the harmony and style that will make their guests' stay more pleasant.


NH Hotels ranks third among European business hotels. They currently have 265 properties with a combined total of 38,054 rooms in 19 countries throughout Europe, Latin America and Africa. This corporation currently has 18 new hotel construction projects underway around the world that will culminate with nearly 4,000 new rooms.
---
NH Krystal Vallarta inaugurará su nueva sección "NH Grand"
PVNN


La cadena hotelera NH Hoteles que cuentan actualmente con 265 hoteles en 19 países en Europa, América Latina y África de entre los que se encuentra NH Krystal Vallarta.


Ahora, como parte de un importante proceso de crecimiento y con una inversión de más de 13 millones de dólares, NH Krystal Vallarta orgullosamente anuncia la creación de la nueva torre "NH GRAND," con una arquitectura perfecta para la belleza colonial de Puerto Vallarta.


NH Grand ofrecerá 200 habitaciones, incluyendo 1 master suite en un edificio de siete pisos con una magnífica vista del Océano Pacífico, además de contar con excelentes servicios como son una nueva zona comercial donde los huéspedes podrán satisfacer todos sus gustos. La torre "NH GRAND" iniciara sus operaciones este próximo diciembre.


Además de contar con un exclusivo Spa donde se ofrecerá como de costumbre una atención personalizada de clase mundial en salud y deportes con un programa respaldado por Grupo NH Hoteles, incluyendo las mejores y más avanzadas máquinas cardiovasculares, el más completo equipo de hidroterapia, un solarium, una sala de masajes, y los más sofisticados tratamientos de belleza.


La gastronomía es otra de las prioridades de la cadena NH hoteles, que ofrece invitados y clientes una cocina de clase mundial. Además, NH Hoteles y el prestigioso restaurante de Ferran Adrià quien entró en una asociación en el año 2000, y han lanzado nuevos conceptos como "nhube", espacios pioneros en el sector hotelero que combinan la alimentación, el ocio y descanso para los clientes de la cadena, Así como "Fast Good."


El Confort y estilo de la torre "NH Grand" será latente en todas las areas, estas incluyen áreas especializadas para niños, tales como juegos y Kids Club, Wi-Fi, una tienda Deli con una variedad de seleccionados cafés, Restaurante de especialidades y mucho más. Este entorno será un ejemplo de armonía y clase que hará que nuestro huésped tenga una estancia más agradable.


"Todo ello en un entorno privilegiado con un sofisticado interior vanguardista creado por un grupo de los mejores decoradores profesionales. Contara con personal calificado que le hará sentirse único," dice Francisco Medina, Director General de NH Las Américas.


NH Hoteles ocupa el tercer lugar entre las empresas europeas Hotels. NH Hoteles NH Hoteles cuenta actualmente con 18 proyectos de construcción del hotel que se cuenta para casi 4,000 nuevas habitaciones.
Tell a Friend
•
Site Map
•
Print this Page
•
Email Us
•
Top