Entertainment | Books | December 2008
Expatriate's Personal Story Gives Baby Boomers Insider Look at Life in Puerto Vallarta

MMD Newswire
go to original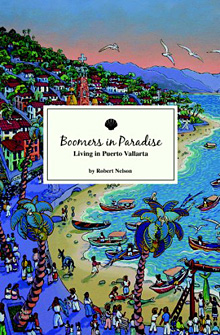 Boomers in Paradise by Robert Nelson offers 14 unique stories detailing the lives of boomers in Puerto Vallarta.
Puerto Vallarta, Mexico - Boomers in Paradise: Living in Puerto Vallarta by Robert Nelson describes how baby boomers now flooding to Mexico can realize rich, full and satisfying lives by moving to Puerta Vallarta.


Baby boomers have moved to Puerto Vallarta in droves, says author Nelson, but they are hardly retiring. After a nearly 40-year career in marketing observing the baby boom generation, Nelson moved to Mexico six years ago.


In Boomers in Paradise, he presents a first-person account of living in Puerto Vallarta through the stories of 14 other expatriate voices. Each story chronicles a unique lifestyle that includes work, play and adjusting to a new culture.


Boomers in Paradise, unlike other books on Mexico, offers insights and advice on living in the "jewel of the Mexican Riviera" from a wide range of boomers who now call Puerto Vallarta home. Blessed with the same climate as Hawaii, Puerto Vallarta offers boomers what Nelson feels is a very special and relaxed way of living and working.


To succeed here, the boomers Nelson interviews suggest that new residents learn the language and appreciate Mexico's rich culture rather than trying to make it more American. They also advise readers where and how to find bargains and how to discover innovative new ways of making a living.


Touching on ways this resort area has changed, such as significantly higher food prices and soaring real estate, Nelson reports that while over-crowding is perhaps inevitable, he feels that Puerto Vallarta still offers boomers an exciting new model for retirement, work or play in a tropical paradise.


Boomers in Paradise is available for sale online at Amazon.com, BookSurge.com, and through additional wholesale and retail channels worldwide.

About the Author: Puerto Vallarta-based writer Robert Nelson received his Master of Science degree in mass communications from San Jose State University, where he was also an adjunct advertising professor. An expert in branding and marketing to baby boomers, Nelson's clients have included Driscoll's Strawberries, Expedia.com and other global brands. He has also served as vice president of marketing and director of communications for global brands, including Samsonite, Memorex and Kensington. More information can be found at his Web site, http://www.robertnelsonwriter.com.


Well-known Puerto Vallarta artist, Ada Colorina, provided the artwork for Boomers in Paradise.
Tell a Friend
•
Site Map
•
Print this Page
•
Email Us
•
Top