News Around the Republic of Mexico | January 2009
Mexico Condemns "Excessive" Force In Gaza And Hamas Attacks

Agence France-Presse
go to original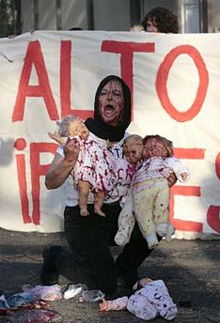 A demonstrator shouts as she holds up painted dolls during a protest against Israel's Gaza offensive outside Israel's Embassy in Mexico City, January 6, 2009. Israeli shelling killed more than 40 Palestinians on Tuesday at a U.N. school where civilians had taken shelter, medical officials said, in carnage likely to boost international pressure on Israel to halt a Gaza offensive. The Israeli army accused Hamas of using civilians as "human shields" and said its troops had fired mortars at the premises after gunmen mortared their positions from inside al-Fakhora school in Jabalya refugee camp. (Reuters/Henry Romero)
Mexico City - Mexico has condemned what it called Israel's excessive use of force in the Gaza Strip, while also rejecting the attacks on Israel by Hamas militants.


"Mexico condemns the excessive use of force associated with the Israeli army operation in Gaza. Likewise it condemns the continued launching of mortars into Israeli territory from the Gaza Strip," the foreign ministry said late Tuesday.


Mexico City's announcement came a week after Latin America's 23-nation Rio Group, of which Mexico is a member, called for a halt to Israel's military assault on the Gaza Strip and urged Israelis and Palestinians to renew a dialogue aimed at a peaceful solution to the conflict.


The Islamist movement Hamas, which controls Gaza, didn't renew a six-month truce with Israel that expired Dec. 19.


Israeli troops kept up their assault on Hamas fighters in Gaza Wednesday as diplomats pressed Israel to end an onslaught that has killed at least 660 Palestinians.
Tell a Friend
•
Site Map
•
Print this Page
•
Email Us
•
Top