News from Around Banderas Bay | May 2009
Banderas Bay Food Drive Update

PVNN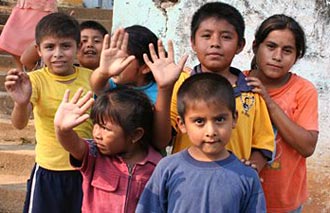 Hundreds of families in the Puerto Vallarta area are thankful for the efforts being made to help them through these tough economic times. If you'd like to help, contact Pamela Thompson at pamela(at)healthcareresourcespv.com.
Puerto Vallarta is home to many charities and non-profit organizations that offer everyone the opportunity to enhance the lives of those who are in need of a little help, and it seems that every time an opportunity to give back to the community presents itself, the good folks over at PVRPV jump in with both feet.


Most recently, they've joined Pamela Thompson in her efforts to help locals who, due to the economic challenges presented by recent global events, are struggling to meet even the most basic needs of their families by collecting and packaging food to be distributed by the Jalisco DIF (Social Services/Child Protective Services) via their various programs.


After learning about the Banderas Bay Food Drive last Saturday, May 23rd, PVRPV owner Tim Longpre and his staff stepped up to the plate by not only offering to be a donation drop-off point, but also by spreading the word through emails and postings on their PVRPV Blog.


Today, less than a week later, the following donations have been dropped off at the PVRPV office, located at Pino Suarez #210 at the corner of Francisco I. Madero on the south side of Puerto Vallarta:


Beans
255 KG or 255 packages
460 KG or 460 Packages (Thanks to New Life Mexico's Puerto Vallarta Field Director, Philippa Vernon-Powell)
Total = 715 Packages


Lentils
245 KG or 245 packages
460 KG or 460 Packages (Again, thanks to Philippa)
Total = 705 Packages


Knorr Cubes (We do not need anymore at this time)
27.912 cubes or packages 1163
Total = 1,163 Packages


Rice
268 KG or 268 packages
460 KG or 460 Packages (Philippa)
Total = 728 packages


Tiny Pasta Soup (Cost around 2 to 4 pesos per bag)
179.9 kg or 213 packages
460 KG or 460 Packages (Philippa)
Total = 672 packages


From these numbers, PVRPV has now collected enough food to prepare 672 packages for distribution on June 1st, 2009. The first week is always exciting and let's hope the donations continue for the next deadline. According to Social Services, all of these wonderful donations will feed 2688 people (1344 children and 1344 adults.)


Special thanks go to the following people who dropped donations off at PVRPV this week: Rick Hepting and Sarah Hepting, JR, Robin Spencer, Joe Ferenc, Vicky Mason, Bill Ragan, Shannon Beston, Linda Gill, Mary McLaugher, Sandra Cesca, Peter Godfrey, David Watt, Marilu Mora, Luis and Tom, Bill Amundson, Steve Snyder, Casey Colley, Linda and Ira Horowitz, Sid Goodman, Sandy Hayes, Larry jukebox, Dianna Werner Rohde, Bill Kely and the PVRPV students and teachers, all of whom donated time and money.


"Our community is made up of generous and heartwarming people and we know that we can always pull together to help those in need. What we have accomplished this week is just a sample of this and I know that by the time this food drive is over at the end of the summer, we will have exceeded our goal," said Tim.


"Thank you to all that donated the food and also to those who have given their time to help organize and deliver these packages. I know for a fact that the families that will receive this help are going to greatly appreciate what we have done," he added.


The next few months will bring even more need as we head into the summer months and "low season." If you would like to join us in our summer-long assistance program to provide food packages to local families in need, contact Pamela Thompson at pamela(at)healthcareresourcespv.com or Tim Longpre at tim(at)pvrpv.com.


If you are planning on dropping off large amounts of food donations at the PVRPV offices, please contact Tim at tim(at)pvrpv.com and he will let you know what is needed in order to complete enough food packages for the next delivery.
Tell a Friend
•
Site Map
•
Print this Page
•
Email Us
•
Top