Entertainment | Restaurants & Dining | May 2009
Cilantro's Restaurant Week Review

Gary R. Beck - PVNN
Located at Abasolo #169 in downtown Puerto Vallarta, Cilantro's Restaurant & Drinks is open Monday – Saturday from 5:30 pm to 1 am. For more information, visit CilantrosPV.com.
Owner Luis Velasco runs Cilantro's Restaurant & Drinks, a three story casual gourmet dining spot with beautiful décor and modern art on yellow walls, with the top floor being an open rooftop having one wall mirrored for sunset viewing. Al fresco dining is determined by the season... and the weather.


The first floor of this enchanting restaurant sports open windows and door with plenty of overhead and side fans supplying air movement and breezes, but the interior dining rooms are air-conditioned on warm evenings. The artful kitchen presents modern Mexican cuisine with old traditional recipes given new life through innovative combinations of only the freshest ingredients.


In addition to the unique menu selections, Cilantro's serves up a fantastic view of Puerto Vallarta's most famous landmark, the uniquely crowned Our Lady of Guadalupe Cathedral, an extensive wine list and creative cocktails, all of which we immensely enjoyed during Restaurant Week 2009.


One guest enjoyed the house specialty, a Cilantro Martini. Served blended in a tall martini glass, this unique cocktail was vibrant green, almost glowing, full of intense cilantro and lime. Warm handmade tortillas were served with three sauces: Jocoque, (a house made sour cream, minced nopales, lime and onion sauce) tomato salsa and smooth refried beans. The tortillas, flavored either pale green nopales or orange-red chipotle, were made on a "tortilladora" and then fried on a "comal."


We started this culinary excursion with another signature dish, Cream of Cilantro Soup, light in herb and garlic but rich with smooth cream, topped with swirls of jocoque. Tortilla Soup arrived in a large curved bowl filled with tender but not soggy tortilla strips, avocado, cheese and roasted peppers in a full-bodied stock which the waiter ladled over the ingredients table side. Great presentation and quite tasty with medium hotness. Basket of warm thinly sliced homemade buttered bread was added to the table. An Organic Mixed Greens Salad with tomato, cucumber and parsley was dressed in a very slightly sweet coating. The salad was fresh, light and refreshing.


Chile Relleno was served on top both a black bean and tomato salsas. Stuffed with sharp goat cheese and spinach, the pepper was tender and cooked to proper doneness, the batter thicker than expected. Three round understated Minced Shrimp Fritters were molded and deep-fried, served on mixed greens. The mango purée in a side ceramic was vibrant and up front. This salsa would be super on many foods. Cucumber-yogurt sauce (like an Indian Raita) added bright crisp coolness.


Huachinango (local red snapper) fillet was thick, flaky, moist and succulent. Expertly cooked, the underlying sauce was complimentary and the dish was completed with a round dollop of parsley mashed potatoes and julienned carrots and zucchini. In a town right on the Bahía de Banderas, this local fish is a top example of what to savor.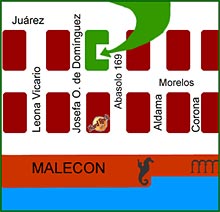 Bananas Flambe (in the kitchen,) finished with Kahlua and brandy, were golden brown and slightly crispy on the outside with soft flesh inside. The fresh red plum "ciruela" sauce matched the other fruit very well. A scoop of vanilla ice cream completed the dessert plate. Chocolate Bread Pudding with dark sweet cherries was delicate in flavor albeit the cake was extremely dark brown in color. Again, the plum sauce supplied a fine balance.


Although large in space for diners, Cilantro's Restaurant & Drinks oozes with an intimate atmosphere for all to enjoy, along with unique menu selections, an extensive wine list and creative cocktails - all at reasonable prices.


Located at Abasolo #169 in downtown Puerto Vallarta (just a block off the Malecon,) Cilantro's is open Monday – Saturday from 5:30 pm to 1:00 am. All major credit cards accepted. For more information, visit CilantrosPV.com.

The author was supplied one choice in each of the 3 courses on the special Restaurant Week menu and this review is in no way connected to his independent restaurant guide, "Puerto Vallarta Restaurant Guide Beck's Best," where write-ups receive no compensation.
---
Restaurant Week continues through May 31st at some of the most recognized restaurants in Puerto Vallarta. For a list of participating restaurants and Restaurant Week 2009 reviews click HERE.
Tell a Friend
•
Site Map
•
Print this Page
•
Email Us
•
Top