Entertainment | Restaurants & Dining | May 2009
Tikul Restaurant Week Review

Gary R. Beck - PVNN
Located at Paseo de la Marina #245, Local 113 in Marina Vallarta, Tikul is open daily from 5:30-11:30 pm. For more information, visit Tikul.com. For reservations, call (322) 209-2010. (Video Diva Productions)
When Alberto Pérez González opened his third restaurant, Tikul Pacific Cuisine, loyal customers flocked to see his newest creation. Found was an inviting, elegant, Marina view eatery oozing with style and comfort in an air-conditioned interior dining room or partially covered outdoor terrace.


Situated on the Marina Vallarta boardwalk with spectacular views of the yacht harbor and bay, Tikul upholds the reputation of her sister establishments, the elegant beachfront La Palapa and the sophisticated hilltop Vista Grill, by continuing the tradition of offering creative cuisine, fine wine and professional service in a beautiful and romantic setting.


Executive Chef Rafael Cornejo Solórzano's gourmet fusion cuisine has a distinctive quality that is complimented by Tikul's excellent service, large wine cellar and the soft, melodic sounds of live acoustic jazz, often performed by Alberto himself, who also entertains his guests at La Palapa on Monday and Tuesday nights.


The restaurant's indigenous stone bar, wooden chairs and stone floors add to Tikul's intimate and welcoming ambiance, making it the perfect place to relax and enjoy a delicious meal and a good glass of wine in a very dramatic, yet warm and comfortable, atmosphere.


All of this, plus a look at their special 3-course menu, put Tikul on the top of my list of places to visit during Vallarta Restaurant Week 2009. We started with a Baby Lettuce Salad with sliced apples, goat cheese, dried cranberries and tasty caramelized pecans in a Champagne vinaigrette. It was slightly sweet from the fruit and burst with various accents.


Cold Mango Gazpacho was a refreshing creation using fresh fruit and diced cucumber - but no tomato. Alongside lay a long crisp sesame seed-covered cracker. The soup was found to be most invigorating on a warm evening. Seafood Tartar composed of small cubes of fresh salmon, tuna, avocado and mango followed. Lemon ginger soy sauce was a perfectly subtle compliment. These dishes showed the ability of the chef to understand flavor and successfully combine ingredients from several cultures.


Entrées tasted were Grilled Succulent Shrimp over creamy shiitake risotto. The plate was garnished with swirls of red bell pepper purée oil. Chicken Teriyaki arrived with julienned zucchini and green beans and glazed with the popular sauce of soy, ginger and garlic. A soft turnip purée and sweet red pepper marmalade added intriguing flavors to the chunks of coated meat and vegetables. Pork Tenderloin was served with a light corn purée and a chorizo sausage foam with sautéed tomato and asparagus. The tender slices had a subtle ancho seasoning.


Desserts are a requisite of fine dining, and all three we ordered were shining examples of taste, color and presentation. Espresso Crème Caramel jumped out with rich coffee flavors in a smooth, rich, properly prepared texture. Banana Mousse was intense in its fruit flavor and enhanced by a scoop of pecan gelato. Underneath was a pale green slightly tangy kiwi sauce.


Fruit Cocktail defied its common representation by being assembled in a cup mold and inverted. Fresh and sweet strawberries, kiwi and blackberries exploded on the tongue along with a ginger-mint jelly. A sprig of mint garnished the cup and added a vibrant touch.


In short, Tikul's artfully prepared and presented Pacific Cuisine, excellent wine selection, elegant style, fabulous service, live acoustic jazz and spectacular views of Marina Vallarta offer discriminating diners an unforgettable experience that is purely Puerto Vallarta.


Located at Paseo de la Marina #245, Local 113 in Marina Vallarta, Tikul is open daily from 5:30-11:30 pm. For more information, visit Tikul.com. For reservations, call (322) 209-2010.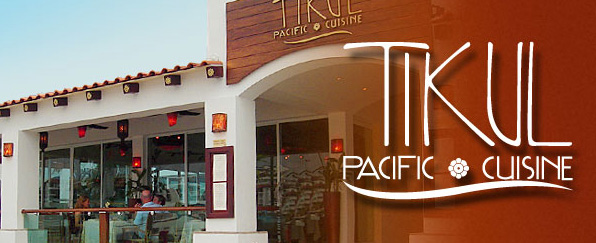 The author was supplied one choice in each of the 3 courses on the special Restaurant Week menu and this review is in no way connected to his independent restaurant guide, "Puerto Vallarta Restaurant Guide Beck's Best," where write-ups receive no compensation.
---
Restaurant Week continues through May 31st at some of the most recognized restaurants in Puerto Vallarta. For a list of participating restaurants and Restaurant Week 2009 reviews click HERE.
Tell a Friend
•
Site Map
•
Print this Page
•
Email Us
•
Top