Entertainment | Restaurants & Dining | May 2009
Trío Restaurant Week Review

Gary R. Beck - PVNN
Trio Restaurant Bar Cafe is located at Guerrero #264, in downtown Puerto Vallarta. For reservations, call (322) 222-2196 or visit TrioPV.com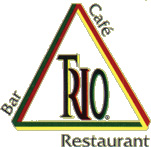 In 1997, when owners/chefs Bernhard Güth and Ulf Herniksson founded Trio Restaurant Bar Café, they modeled the interior after what was imaged inside a Tuscan country villa which they knew and had painted on the far wall as you enter. All materials are natural, from the tile work, marble floor, wooden bar and tables to the stones. One enters Tuscany right past the heavy front doors.


Trio is a formal spot with an ever changing menu and professional, efficient service, which makes this upscale Puerto Vallarta restaurant popular with devoted clientele who rave about the 5 star Diamond Award Mediterranean haute cuisine.


All nine options on the Restaurant Week 2009 menu sounded tasty, but we started with a thick slice of Smoked Salmon wrapped around a Crab Salad in a julienned cucumber chipotle yogurt dressing. It laid atop plentiful watercress tossed in seaweed rice vinegar. The subtle flavors allowed the salmon and crab to stand out front.


Ravioli stuffed with full-flavored spicy lamb nestled on ratatouille of red and green pepper, eggplant, zucchini, onion, tomato, basil and olive oil. Again, the meat flavors were dominant and not masked by but melded with various ingredients. The pasta was thin, smooth and properly tender.


Warm Spinach Soup featured two large finely chopped vegetable and ricotta Quenelles made of coarse wheat semolina bran. Light and delicate, they resembled airy gnocchi though not comprised of puréed potato. Simply divine.


Chile-Roasted Red Snapper (huachinango) fillet was thick and moist and accompanied by local San Blas shrimp and Vermouth sauce. Also included were very thin pesto ravioli with freshly grated cheese. A fish entrée at its best.


Chicken and Prosciutto Saltimbocca were arranged over Tuscan-style bread, tomato and fresh herb salad flavored with reserved, slightly sweet balsamic vinegar. Day old bread cubes are the hallmark of this country dish.


The Parmesan and Sweet Pea Risotto was moist and creamy with small pieces of rosemary-roasted veal golden brown from caramelized onion, with Marsala sauce highlighting garlic, thyme, wine and olive oil.


Then there were the desserts. Delicate and delicious Apple Strudel with vanilla ice cream featured soft apples flavored with brown sugar in a thin flaky crust, the true sign of fine pastry. Tangy and sweet Lime and Coconut Sorbet was served with mango and strawberry salad. Crème Brûlée was prepared properly, resulting in a fine texture, crisp top and forward vanilla flavor.


The three-course menu special Restaurant Week menu was just a sampling of the constantly changing menu and the special 4 course chef's menu served at this upscale continental restaurant year round.


Serving "food cooked with love," chef-owners Bernhard Guth and Ulf Henriksson personally see that every dish meets their exacting standards and that every guest is satisfied.


Located at Guerrero 264 in El Centro, Trio Restaurant Bar Café is a culinary gem - and one of Puerto Vallarta's favorite gourmet restaurants. During high season, when there are no rains, the upstairs dining rooftop tropical garden terrace is open, for those who'd rather dine al fresco than in the air conditioned interior.

The author was supplied one choice in each of the 3 courses on the special Restaurant Week menu and this review is in no way connected to his independent restaurant guide, "Puerto Vallarta Restaurant Guide Beck's Best," where write-ups receive no compensation.
---
Restaurant Week continues through May 31st at some of the most recognized restaurants in Puerto Vallarta. For a list of participating restaurants and Restaurant Week 2009 reviews click HERE.
Tell a Friend
•
Site Map
•
Print this Page
•
Email Us
•
Top