Entertainment | Restaurants & Dining | May 2009
Vista Grill Restaurant Week Review

Gary R. Beck - PVNN

Alberto Pérez of La Palapa fame raises Vallarta dining to new heights by offering creative dishes with a distinctive flair, gracious service and attention to detail along with spectacular views of Puerto Vallarta and Banderas Bay, at his hilltop gourmet restaurant, Vista Grill.


Utilizing the exquisite setting of the original Sr. Chico's Restaurant, made famous by its breathtaking views, Vista Grill's beautiful chic décor, jutting terraces and top notch service maintain the Perez family's reputation for offering fine dining in a picturesque and romantic setting.


Five Star Diamond Award Executive Chef Sergio Esquivel and his fine group of 'cocineros' present eclectic and creative cuisine, beautifully presented. This is the entire package: gorgeous view, sunsets, cityscape, top notch service, delicious and artistic food dishes and ambience.


During Restaurant Week 2009, our party started with Baby Mixed Salad with grilled pineapple and mango cubes, tossed in an orange vinaigrette. It was found to be light, crisp and refreshing.


A delightful Salmon Terrine was presented in thin slices with a texture not overly creamy. A trio of 'mermeladas' sat arranged on plate for tasting: mushroom-spinach in garlic, bell pepper purée and chopped tomato salsa. A sprig of fresh dill excited the palate. Pea Soup was a resounding success. The fresh peas were puréed smooth resulting in a rich, very flavorful course. The robust pea flavor was up front and delicious.


For the next course, we enjoyed Grilled Chicken Breast stuffed with spinach, tomato and button mushrooms that was rolled, sliced and topped with a very mild ginger-carrot purée. Added to the plate was a circle of risotto, arborio rice cooked to perfection, al dente, in chicken stock.


Not commonly found on local menus, the Sole Fillet was lightly grilled and laid in generous pieces over soft potato pancake garnished with finely chopped pepper and pineapple. Underneath was a creamy light green poblano sauce, mildly picante. All the various flavors melded quite pleasantly.


Pork Tenderloin was rolled and stuffed with portobello mushroom, served with roasted red bell pepper, sliced eggplant and chunky tomato salsa. The meat had been marinated in a reduced port wine. Underneath was a fresh plum-sherry sauce, adding a hint of sweetness.


Desserts started with a very light and creamy Coconut Mousse with caramel ice cream atop a Piña Colada sauce and a sprig of fresh mint. Caramelized pecan bits were sprinkled over the serving. Peach Tart, not overly sweet, with mango sorbet was delicately fruity and sported a fine flaky pastry crust.


Very rich, deep Chocolate Mousse was perched atop a round tender biscuit which served as the foundation. In Mexico, chocolate is forward and extremely deep flavored. A lovely passion fruit sauce added a good balance. All three dessert plates were decorated with small circles of raspberry coulis. Arrangements of various sizes were eye-catching and also added a fresh, sharp accent to each creation. Simply marvelous.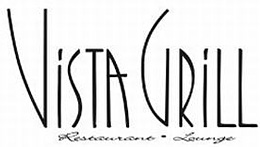 Voted Virtual Vallarta 2008 "Best Dining with a View" restaurant, Vista Grill offers a special evening with impressive food presentation, professional service, spectacular views, soft music and an elegant atmosphere - all of the essential ingredients for a "night on the town" in Puerto Vallarta that is as memorable as it is unique.


Open Daily from 5:30 pm to 11:30 pm, Vista Grill is located at Pulpito 377 in Puerto Vallarta's Colonia Alta Vista. To make your reservations, visit VistaGrill.comor call (322) 222-3570.

The author was supplied one choice in each of the 3 courses on the special Restaurant Week menu and this review is in no way connected to his independent restaurant guide, "Puerto Vallarta Restaurant Guide Beck's Best," where write-ups receive no compensation.
---
Restaurant Week continues through May 31st at some of the most recognized restaurants in Puerto Vallarta. For a list of participating restaurants and Restaurant Week 2009 reviews click HERE.
Tell a Friend
•
Site Map
•
Print this Page
•
Email Us
•
Top