Entertainment | Restaurants & Dining | May 2009
Restaurant Week at Vitea

Gary R. Beck - PVNN

In 2004, Owners/Chefs Bernhard Güth and Ulf Herniksson of Trío fame opened Vitea, an intimate oceanfront bistro and bar offering classic and contemporary European fare in a casual atmosphere reminiscent of beachside restaurants in southern France, Italy and Spain's Costa del Sol.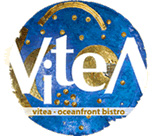 For more information or to make your reservations, call (322) 222-8703 or visit ViteaPV.com.
Located on the Malecón extension near the pedestrian foot bridge over the Rio Cuale, Vitea's Art Deco interior is cheerful and inviting, featuring mosaic glass tables and chairs, leather banquettes, sea and sky round ceiling, and a handmade mosaic bordered mirror on the back wall that ensures a panoramic view of the Bahía de Banderas from every table.


But enough about the ambiance - what counts here is the exceptional fare, which is both classic and original. Especially during Vallarta Restaurant Week 2009, when you can enjoy Vitea's special three-course menu for only $299 pesos per person!


Dinner commenced with a large whole Portobello Mushroom, thick and juicy moist, covered with mozzarella cheese, with celery, carrot, onion and garlic atop chile guajillo white wine pecan cream sauce. A double order would make a perfect vegetarian dish. It was full-flavored, rich, well-seasoned and presented with chopped arugula and tomato. Warm Mussel Soup was a thin bisque with rosemary, saffron and steamed shellfish. The texture was creamy smooth with the subtle flavors of the ingredients.


Vegetable Lasagna was a main course delight. Layers of medium thick noodles were alternated with eggplant, bell pepper, tomato, zucchini and onion. It was lightly napped with three cheese sauce. Meat was unnecessary again, allowing the creation to shine with vibrant flavors direct from the garden.


Beef Tenderloin Brochettes arrived as two large skewers of filet, bell pepper, onion and tomato. Underneath was a beef-based demi-glacé. The meat had been marinated in orange juice, chile, oregano and garlic and was cooked as ordered resulting in succulent pieces. A huge pile of fresh hot French fries were a steakhouse delight. Grilled Chicken retained both its moisture and flavor atop a base of a distinctive Lime-Tahini dressing. Eggplant, chickpeas and crisp house made potato chips filled the plate.


For dessert? Warm, sweet Strawberries with Vanilla Ice Cream were artfully displayed in a decorative bowl. A large homemade warm and thick Belgian waffle, which was crisp yet soft inside, made from a special pastry recipe, was a baked delight representing the best of its genre. Mango Sorbeto was tangy and tropical, garnished with a deep red Cassis sauce. The two main flavors complemented each other and blended smoothly.


On the restaurant's regular menu, a nice touch is the gourmet tasting menu 1/2 or full order, perfect for diners with a small appetite but wishing certain tasty treats. Whether daytime or nighttime, dining in the air-conditioned interior or at one of the 14 awning-covered tables on the Malecón, Vitea's exceptional fare, excellent service and European Riviera atmosphere have made it one of the most popular restaurants in Puerto Vallarta.


Open daily from 8 am til Midnight, Vitea Oceanfront Bistro is located at Libertad 2 on the Malecón extension in downtown Puerto Vallarta. For more information or to make your reservations, call (322) 222-8703 or visit ViteaPV.com.

The author was supplied one choice in each of the 3 courses on the special Restaurant Week menu and this review is in no way connected to his independent restaurant guide, "Puerto Vallarta Restaurant Guide Beck's Best," where write-ups receive no compensation.
---
Restaurant Week continues through May 31st at some of the most recognized restaurants in Puerto Vallarta. For a list of participating restaurants and Restaurant Week 2009 reviews click HERE.
Tell a Friend
•
Site Map
•
Print this Page
•
Email Us
•
Top