Entertainment | Restaurants & Dining | June 2009
Le Kliff Restaurant Week Review

Gary R. Beck - PVNN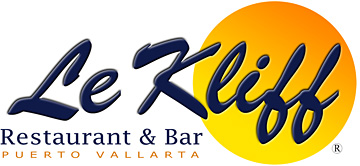 Open daily for lunch and dinner, Le Kliff is located at Km. 17.5 Boca de Tomatlan on the South Shores of Puerto Vallarta. For more information or reservations, call (322) 224-0975 or visit LeKliff.com. (Video Diva Productions)

Since 1983, the Guzmán Gutiérrez family has been offering Puerto Vallarta one of the most memorable fine dining experiences on Banderas Bay at their open-air eatery, Le Kliff Restaurant & Bar.


Famous for its beautiful natural setting and unusual architecture, this spectacular restaurant sits under a huge open-air palapa, where hanging basket lights, stone pillars and handrails guide you down winding steps that lead to descending levels perched on a steep rocky cliff above the Bahía de Banderas, with the lowest dining area boasting a 200 degree view from left to right.


This perfectly poised giant palapa plays host daily to the bay's most spectacular sunsets and Mexican Caribbean fusion cuisine, perfectly executed by Chef Everardo Robles who uses innovative molecular cooking techniques along with the freshest local ingredients to present some of the best seafood in town.


Since Le Kliff has reached international fame not only for its gourmet cuisine, but also for its unusual architecture, natural beauty and stunning sunsets, we could not pass up the opportunity to enjoy this fine dining experience - for a fraction of the regular price - during Vallarta Restaurant Week 2009.


A starter for all diners was a Steamed Mushroom Cap topped with seasoned crumbs over a Merlot sauce and accented with Blue Cheese foam. Good dinner rolls with herb and chipotle flavored butters were passed around the large table.


Tropical Fruit Salad followed, composed of strawberries, kiwi, mango and pecans topped with strawberry foam. Guayaba dressing mixed lightly with the fresh fruit flavors. Three long Pork Ribs were displayed on an oblong white ceramic plate. The meat was simply succulent, tender and moist. Sweet barbeque sauce with a hint of chocolate was drizzled on top. Caramelized Onion Soup with Gruyère cheese-covered crouton was pleasant for the fact that the reduced stock was deeply rich and sweet. Bits of pork were at the bottom.


For our main courses, we chose Flounder Fillets served on fried rice with chard and a picante tamarind barbeque sauce burst with an aroma that excited the taste buds. The fish was moist, cooked properly and enhanced by the sauce. Delicate but assertive.


A covered dish brimming with Angel Hair Pasta tossed with chicken, mild green curry, roasted corn, carrot, green beans and bacon made for a blending of cuisines, resulting in a fresh and flavorful dish. The Pork Rack was a thick, tender chop cooked to proper doneness. It was accompanied with julienned carrots, green beans and squash, plus a delicate sweet potato purée.


Desserts followed, starting with a clever and colorful Trio of Exotic Fruits with chile piquín, which arrived in shot glasses topped with a kiwi foam. Bites of strawberries, kiwi, mango, papaya and mint garnish burst with color. All the foams were airy, adding a hint of essence, whose sheer number leads one to name this a "funky foam experience."


A dense Chocolate Mousse Cake was rich and delightful, paired with pecan ice cream and drizzled with caramel sauce. Although dark in color, the cake was medium-flavored. Fine Warm Apple Pie, fruit cut in small chunks not sliced, was covered with white chocolate sauce and it too was presented with pecan ice cream. All the evening's presentations were artistic and brought complimentary approvals from the guests.


When it comes to eating out in Puerto Vallarta, Le Kliff exemplifies fine dining with a view. The prices are on the high side, but romantic dinners are enjoyed by many diners and the restaurant's view make it very popular with the cocktail/sunset crowd.

The author was supplied one choice in each of the 3 courses on the special Restaurant Week menu and this review is in no way connected to his independent restaurant guide, "Puerto Vallarta Restaurant Guide Beck's Best," where write-ups receive no compensation.
---
Restaurant Week continues through May 31st at some of the most recognized restaurants in Puerto Vallarta. For a list of participating restaurants and Restaurant Week 2009 reviews click HERE.
---

Open daily for lunch and dinner, Le Kliff is located at Km. 17.5 Boca de Tomatlan on the South Shores of Puerto Vallarta. Reservations are highly recommended and can be made online in real time at LeKliff.com, or by calling (322) 224-0975.


Click HERE to learn more about Le Kliff Restaurant.
Tell a Friend
•
Site Map
•
Print this Page
•
Email Us
•
Top