Americas & Beyond
New York Chef Offers Customers Cheese Made from Wife's Breast Milk

Tom Leonard - Telegraph UK
go to original
March 10, 2010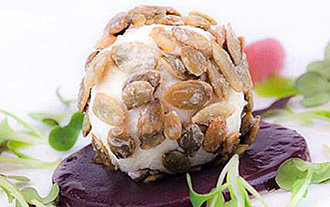 Maple caramelized pumpkin encrusted 'Mommy's Milk' cheese with texturized concord grapes. (Danielangerer.com)
A New York restaurant chef has been warned by city health officials after he offered customers the chance to taste cheese made from his wife's breast milk.

Daniel Angerer, co-owner with his wife, Lori, of Klee Brasserie in Manhattan, said he decided to experiment after their small home freezer ran out of space for the large amount of breast milk she had produced for their daughter.


He posted a recipe - which includes four cups of milk, yoghurt, rennet and sea salt - for what he called Mother's Milk Cheese on his blog, adding that "whoever wants to try it is welcome to try it as long as supply lasts".


He described the cheese as tasting like a sweet version of cow's milk cheese and said that people who had read about it on his blog had demanded the chance to try it.


Response had generally been positive but many people had been reluctant to try it, he said.


Mr Angerer, who prepared a canape of breast milk cheese with figs and Hungarian pepper, said the cheese went best with a Riesling.


However, he appeared to be backtracking on his offer yesterday, insisting that it was not officially on the menu at his restaurant and confirming that he had been warned by the city's health department not to give it to customers.


His restaurant specialises in locally-sourced, sustainable and natural foods but Mr Angerer admitted the cheese amounted to a "whole other level of 'natural'".

Tell a Friend
•
Site Map
•
Print this Page
•
Email Us
•
Top